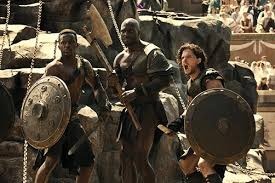 The good people of the UK Film Distributors Association welcomed film bloggers to the happening basement club that is Dstrkt in the heart of London's West End on Wednesday 30 April for the launch of the Movie Preview Show. What's Dstrkt, apart from an obvious misspelling and a fear of vowel cancer? It's a dance emporium where young people can throw shapes on the dance floor, well, bits of pineapple that they didn't fancy in their Pina Colada. Will Smith, Jay Z, RZA – these are just some of the people who would have had problems with the toilets, being locked out as we were by over-zealous security personnel. I wasn't sure about the slow-to-engage bar staff but then I don't possess what is referred to in common parlance as a 'rack'. More like a loose floor tile, I think.
What is the Movie Preview Show? Well, it is a set of clips promoting the latest film releases with a bit of exclusive content. 'So Kit Harrington, were your parents fans of Knight Rider? Did Paul W S Anderson, the director of POMPEII, a film described as an unholy mix between GLADIATOR and DANTE'S PEAK, say 'at my mark, unleash bolognaise sauce' when the volcano erupted? How else could he placate the Teamsters?' These were some of the questions that were not asked in the behind the scenes interview footage.
Our patron was Mark Batey, or Mr FDA, who personally welcomed me to the event, or perhaps was making sure that I wasn't one of the contestants from Miss Monaco which was taking place in an adjoining club. Of course, my swim suit tends to be flippers and breathing apparatus, which is what you needed to negotiate London streets during the tube strike; how else could you get a decent amount of space on the bus? I was grateful for the handshake and the plastic goblet of red wine. Space was at a premium and I found myself next to a hen party who I think were expecting master of ceremonies Alex Zane to do some sort of funny dance. Like I said, we were locked out of the bathroom.
Mr Batey opened proceedings by announcing the passing of Bob Hoskins, whose death from pneumonia was announced earlier that afternoon. Hoskins shot to fame in the television series PENNIES FROM HEAVEN, where he was replaced in the big screen version by Steve Martin. He was cast as Al Capone in THE UNTOUCHABLES by Brian de Palma, but then replaced by Robert de Niro. Hoskins wasn't the replacement guy, but a bonafide movie actor, who got his first leading role in THE LONG GOOD FRIDAY and never looked back. He was perhaps best known starring opposite a cartoon - Cher in MERMAIDS. I mean of course in WHO FRAMED ROGER RABBIT? He gave sensitive performances in MONA LISA, THE LONELY PASSION OF JUDITH HEARNE and HOOK. All right, maybe not the latter, but opposite Dustin Hoffman he was a model of naturalism. He lent his short squat frame to Shane Meadows for TWENTY-FOUR SEVEN, as a boxing coach and turned up in the film adaptation of LAST ORDERS. My favourite Hoskins moment involves his double act routine with Fred Gwynne in THE COTTON CLUB, in which Gwynne breaks his watch to present him another one. Hoskins looked genuinely surprised – it may have been his actual watch. We'll miss you Bob, maybe not for MADE IN DAGENHAM or that film you made with Denzel Washington that did neither of you anything favours, but as Sky Masterson in the London stage production of GUYS AND DOLLS or in a production of Sam Shepard's TRUE WEST. You could have gotten out at any time, and you never did it for the money.
In our minds the shambling, balding frame of Bob Hoskins melted away to reveal Alex Zane. If we were looking for stubble, we came to the right place. Zane has testosterone to spare – he was trying to let the beauty contestants in the club next door know just that, with his loose, delicately unbuttoned white shirt and the assurance that this gig would only last an hour and a half. (Perhaps he hoped they would mishear him.) He picked up on the vibe of the room straight away, playing a musical instrument, giving a speech about world peace and how President Assad could be stopped if his family gave him back his toys. It was the vibe of the other room, the louder one. Mr Zane was there to spell out the future smashes of the summer, flagging up POSTMAN PAT: THE MOVIE, THE PUDSEY MOVIE, MRS BROWN'S BOYS D'MOVIE and THE INBETWEENERS 2. What did these films have in common? They were all TV spin-offs designed to send us back to television - only a week to go until 24: LIVE ANOTHER DAY. The worst offending British movies wasn't any of these, but WALKING ON SUNSHINE, another karaoke musical featuring Hannah Arterton and Katy Brand. It is MAMMA MIA crossed with SUNSHINE ON LEITH with songs from the 1980s. Now that's what I call hell!
Mr Zane was there to flag up some genuine Hollywood blockbusters in 3D no less: TRANSFORMERS: AGE OF EXTINCTION in which Mark Wahlberg acquires a monster truck that really is a Monster Truck. Autobots and Decepticons are joined by Dinobots in what is probably a great big con. I wasn't excited.
Then we had no photos – no trailers – to illustrate X MEN: DAYS OF FUTURE PAST and GUARDIANS OF THE GALAXY in which FAST AND FUROUS star Vin Diesel voices a tree living life one-quarter leaf at a time, or turning a leaf over really slowly, or branching out into superhero fare, or twigging that he needs a new franchise after RIDDICK trunked.
Angelina Jolie will play a Disney Queen in MALEFICENT: mirror, mirror on the wall, what's the biggest cross-promotional activity of them all? I can do interviews for MALEFICENT, then stay on for the Preventing Sexual Violence in Combat Initiative conference in London (which is serious work).
Summer wouldn't be the same without a Seth Rogen comedy, BAD NEIGHBOURS. His nemesis is Zac Efron. Is that for real?
EDGE OF TOMORROW and GODZILLA are the biggies from Warner Bros, but there's no proper Disney Pixar film this year, only PLANES: FIRE AND RESCUE, another film designed to send you back to television.
I wanted there to be a plug for THE FAULT IN OUR STARS, the new Shailene Woodley film, based on the best-selling young adult fiction. A girl is, like, dying and she has to go to these counselling classes that are so lame until she meets a boy. And then...
Instead, we had an extended promotional video for THE ART OF THE STEAL in which 1912 Argentina is recreated by taking a camera crew out of contemporary Buenos Aires and showing how the President has mismanaged the economy. Jay Baruchel stars.
We had a summary of comedies and dramas being released including Daniel Radcliffe in IF ONLY (if only there were more HARRY POTTER novels). Curiously there were no documentaries in the line up, so Mike Myers' SUPERMENSCH wasn't 'mensch-ened'.
It was time for the quiz which was won by the hen party – four lively young ladies – next to me. Dividing up the goody bag was a problem: who would get the Kermit the Frog watch? Who would want the Kermit the Frog watch? One of their number was an Arsenal fan, so she was used to being served fourth.
I am contractually obliged to put out a link to the show so you can see for yourselves. Enjoy!