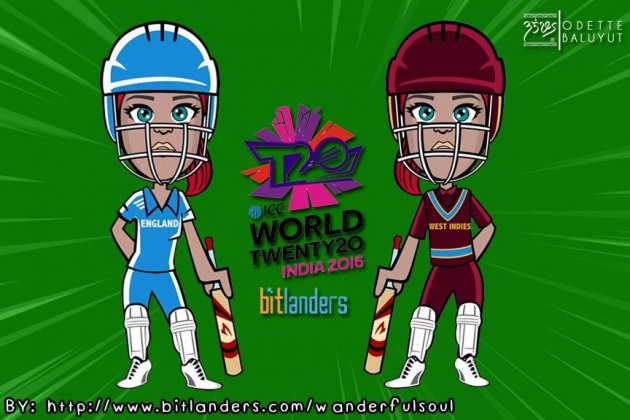 Hello there humans! It's been a month since I last posted a blog and well… I was pretty shocked when I received that review. (HAHA! Thank you very much Madam Hillary. *wink*) I was totally not expecting to get that rating 'coz I really didn't get the idea of cricket until Waratz helped me understand the sport. Thanks again Waratz! (Woot!Woot!)
Okay, I'll be straight forward to you guys, no more silly talk about how hot David Beckham and Cristiano Ronaldo is 'coz hands down baby, they are pretty hot! I think I have already proved it to you guys. Right ladies? (HAHA *wink*) Alright, the topic in this blog is related to cricket. I know what you guys are thinking; I already wrote a blog about cricket, why should I write another blog with the same topic? They don't actually have the same topic but they have the same genre which is cricket world cup 2016. Confused? Okay, since it's the end season of the Cricket World Cup 2016, I figured why not write a blog about it?
So what is the difference between my previous blog and this blog? In my previous blog, it is about a very brief overview of cricket, how bitlanders supports cricket world cup for 2 years in a row and how I support cricket world cup 2016 through my avatar. While in this blog, I will tell you guys the update of the cricket world cup 2016 and how I still support cricket until the very last game. And, since I have already explained my cricket 2016 experience in my previous blog, supporting cricket world cup 2016 through my avatar, this blog will be shorter than expected. (Hip! Hip! Hooray!) Let's start? Go!
RECAP:
Before anything else, Let's have a recap about cricket T20 world cup by watching this heart raising video!
Awesome right? As a non cricket fan, I never knew how exciting this game was until I watched that video! With the rich history between India and Pakistan during the British colonial rule, the two countries continued clashing through cricket T20 world cup. Fans from different countries around the world had a high pitched scream and the roaring crowd's hysteria made the game even more intense!
And on September 24, 2007,
"India's fairytale Twenty20 triumph: The perfect finale to the perfect competition. With up to three matches a day and no pausing for breath, the inaugural World Twenty20 in South Africa was done and dusted inside a fortnight. Though the action was exhausting there's no doubt that it was exhilarating, not least the final between India and Pakistan. Set 158 to win after Gautam Gambhir's 75, Pakistan were out of contention at 77 for 6, only for Misbah-ul-Haq to hoist them right back into the match with three sixes in an over off Harbhajan Singh. But then, with the game at his mercy, Misbah chose the wrong shot, Sreesanth claimed the catch, and India had their first global title since 1983." (www.espncricinfo.com)
...and because of this game, it made the crowd even more hysterical! Though, cricket world cup is not really only about India and Pakistan and their rivalry, but to show you guys how exciting this game is, a match between the two rivals would be a perfect example for this blog.
Since I already mentioned the history of cricket and the like under my supporting cricket world cup 2016 through my avatar blog, I don't think it will be necessary for me to post it again here. (hehehe *smirk*)
HOW BITLANDERS CONTINUED SUPPORTING CRICKET WORLD CUP 2016:
As I've mentioned before in my previous blog, Bitlanders is very supportive when it comes to cricket world cup! How? We'll Bitlanders started supporting Cricket when they introduced their free cricket outfits for all National teams during the 2015 Cricket world cup but that's not all because last 2015, Bitlanders also offered free cricket stickers for the Bitlanders users in which they can use these stickers for the comment section or in their microblogs! And because Bitlanders offered such stunning cricket outfits and stickers, during this years cricket world cup (2016), Bitlanders also offered the same cricket outfit but has a different twist. If last 2015, Bitlanders offered free cricket outfits, this year, they still offer the same cricket outfits but you have to buy for 2 gems. You shouldn't be discouraged though 'coz in exchange for 2 gems, you'll get an additional +1 buzz for 3 days for each item that you buy in the online shop. If that's not enough for you guys, Bitlanders still have these free cricket stickers that I've mentioned above! And to top it all off, Bitlanders also offered to give double rewards if you blog about cricket and avatars. Amazing right? But that's not all because since Bitlanders is super supportive for this years Cricket World Cup 2016, the blog about cricket world cup with avatar accessories and double rewards for blogs got extended up until April 3rd 2016! Supposedly, the double rewards blog is only good for 1 month but this time, Bitlanders extended it until the final game ends!

(whoa!) Now that is super!! See? i told you guys Bitlanders is so supportive when it comes to Cricket World cup 2016! *tongue hanging out*
HOW WANDERFULSOUL SUPPORTS CRICKET WORLD CUP 2016 FINAL MATCH:
Since the final match is between England V.S West Indies, I figured why not buy another set of costume to show my support of the cricket world cup final match and besides, the first team I supported which is South Africa, is not on the Final Match.(haha) The video attached below shows who I supported.
So, as you have seen in the video, I ended up buying West Indies's and England's cricket set costumes. Why? Because i figured this is how I can show my full support to the Cricket World Cup 2016!
So who is my bet between the two? I pick West Indies 'coz their Cricket Uniform
matches my hair color. *wink* (HAHAHAHAH)
CRICKET WORLD CUP 2016 UPDATE:
Since I have already told you the recap, how bitlanders continued supporting cricket world cup 2016 up until its final match, and how I supported the final match through my avatar, this brings us to the current status of Cricket world cup 2016; The Cricket World Cup 2016 was played from March 8 up until April 3, 2016 which was hosted by India this year. Matches of the game were played from eight different venues (Bengaluru, Chennai, Kolkata, New Delhi, Mohali, Nagpur, Dharamsala and Mumbai.) Below is the lists of results of Cricket world cup 2016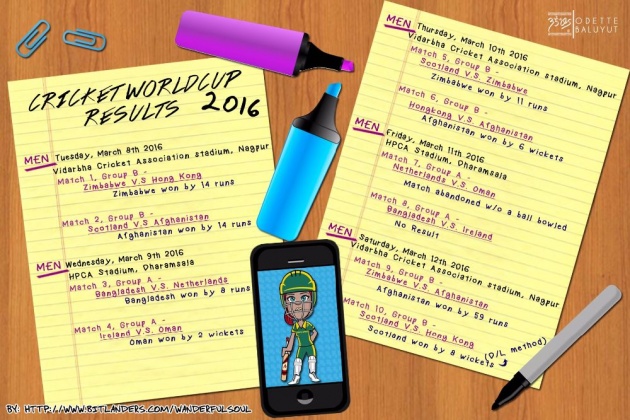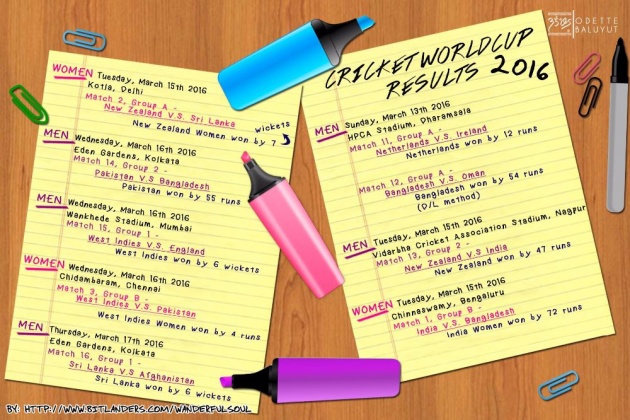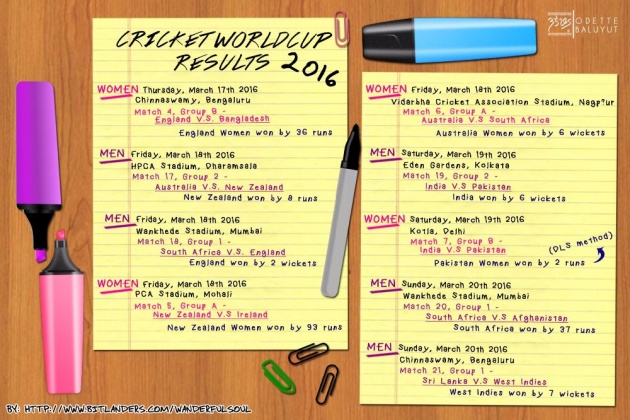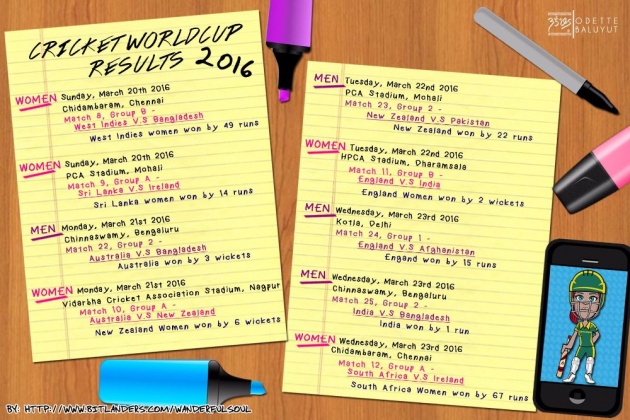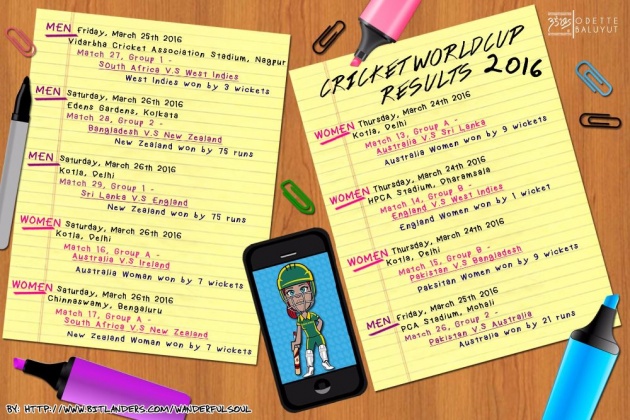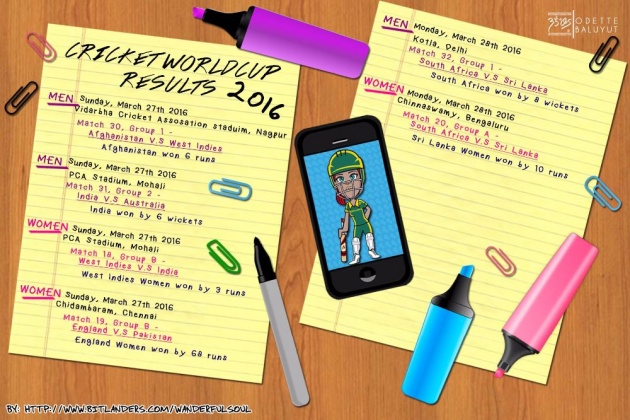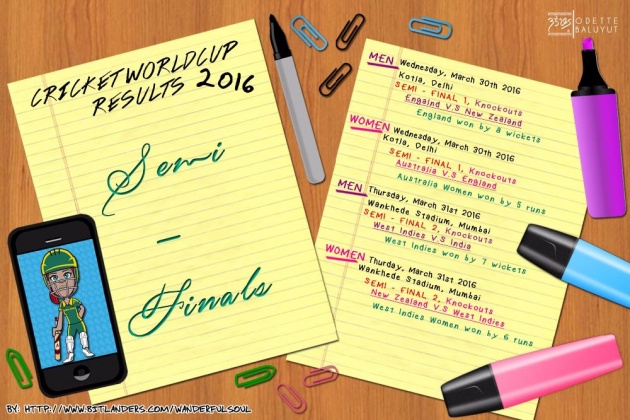 Out of all teams, Australia, England and West Indies has the chance of winning the title of becoming the Cricket World Cup 2016 Champion!
Okay, it's time to know who is the Cricket 2016 World Cup Champion...
*drum roll*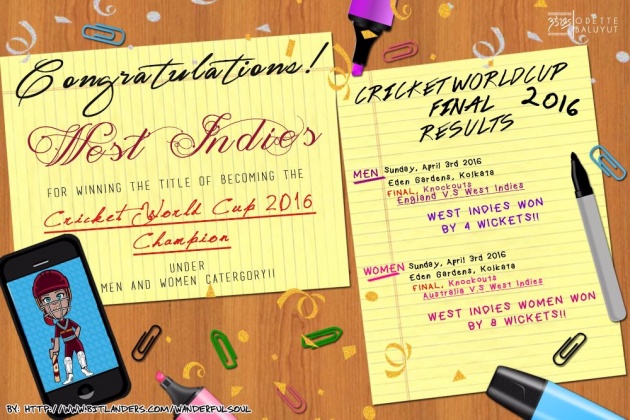 West Indies are the new champion of 2016 World Cup! Congratulations to them! (woot! woot!)
Alright humans, I have already told you guys everything I know on how Bitlanders and I support Cricket World Cup 2016 up until the last game. This has been a successful year of the International Cricket Council, it has also been a successful year to Bitlanders for supporting Cricket World cup 2016, and most of all to the winning team, the West Indies!!
Until the next Cricket game!
TTFN!
Ta! Ta! for now!
- WANDERFULSOUL -
COPYRIGHT © 2016 ODETTE BALUYUT. ALL RIGHTS RESERVED.