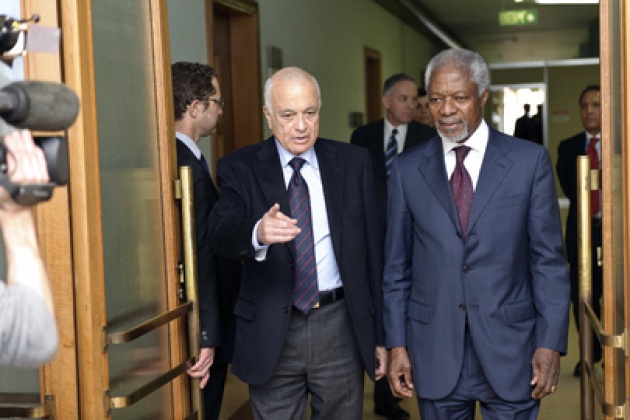 It had become more of a stand-off between the big powers than about Syria's neighbors or even that country's citizens. While Kofi Annan had been named both UN and Arab League Special Envoy on Syria, it is evident from the outset that he perceived his role defined and success determined by the big powers. In fact, from the outset, Annan revealed his mindset by referring to himself as mediator rather than a representative of and thus largely bound by the positions/resolutions adopted by the Arab League and the United Nations. Recall our Blog –"Kofi Annan: Mediator 2Old or Facilitator 4Political Transition".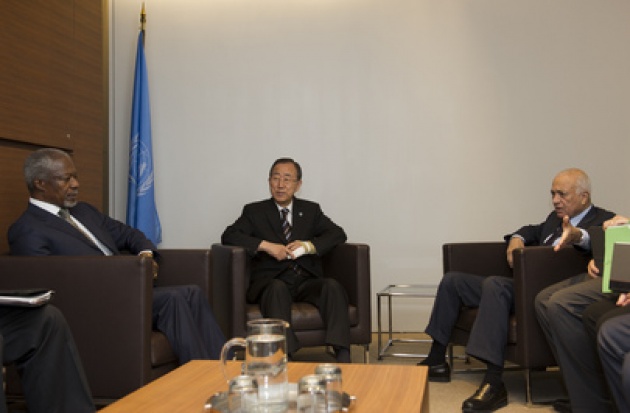 On Monday (July 23, 2012) the Arab League Secretary General announced a new position/initiative adopted by the organizations members – Bashar Assad would be provided safe passage to exile if he would agree to leave promptly and effectively adhere to the Arab League's demand for a transition of political power (also adopted by the UN General Assembly). While I'm not entirely confident of the message that such offer impresses regarding the rule of law and Syria's future political development, it is understandable perhaps as a lesser of two evils in heading of further killing and an escalating civil war. (Also, as former ICJ Judge and eminent legal scholar Arab League Secretary General Nabil el-Araby knows that ultimately grave violations of international humanitarian law cannot be amnestied-See Charles Taylor - Read: -"New Arab League Head - Right Choice for Times" (TopUN Photo - Secretary-General Ban Ki-moon (centre) meets with Nabil el-Araby (right), Secretary General of the League of Arab States, and Kofi Annan, UN-Arab League Joint Special Envoy on Syria, before their joint briefing to the General Assembly on Syria.)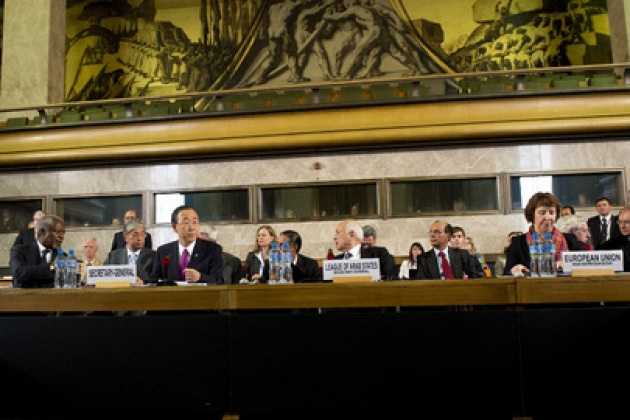 What should not be lost in the tactics is the strategy – the Arab League is retaking at least some of the initiative from both KJofi Annan and the UN Security Council currently deadlocked in a big power struggle dictated by Moscow and Beijing. Under the UN Charter, the Arab League and as direct neighbors (along with Turkey) are empowered to undertake all necessary measures what is both a direct threat to international peace and security and them. The UNSC has failed to act effectively, much in the same way as in Bosnia & Herzegovina two decades earlier. Rather than driving toward a solution, the Annan and UN Observer mission were falling into the same mistakes as in BiH. Read our Blog for Film: "Institutionalizing Syria Conflict ala Bosnia" The "Action Group for Syria" has revealed itself as another camouflage for inaction.(See UN Photo Immediately Above - Front row (from left): Kofi Annan, Joint Special Envoy of the UN and the League of Arab States for Syria; Secretary-General Ban Ki-moon; Nabil El Araby, Secretary-General of the League of Arab States; and Catherine Ashton, High Representative of the European Union for Foreign Affairs and Security Policy).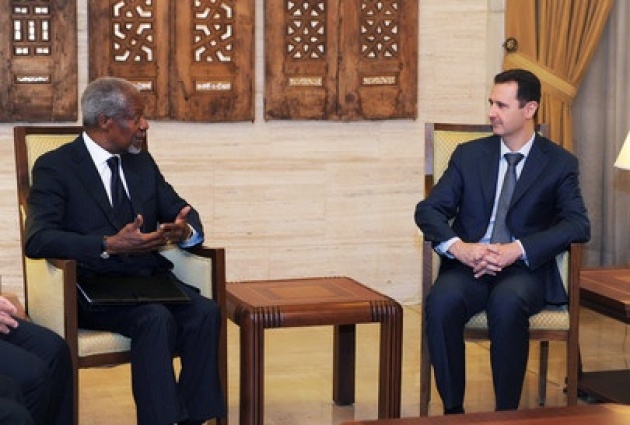 Resolution to the Syrian conflict will come from the Arab League, its neighbors and most critically Syria's own people. Neither Washington nor Brussels nor Moscow nor Beijing is likely to deliver decisive military or diplomatic intervention. It is health for the further evolution of the "Arab Spring" that more solutions and confidence rises from within – it is important for Libya, Tunisia and even Egypt as well as overall reform in the region. Video for Blog on Syria Crisis – "Syria Retaking Initiative from China, Russia & Assad Allies". With this Syria crisis back on the Arab League's table, is it challenge and prospect? It also may be an opportunity for the Arab League member states to review their relationship with the International Criminal Court and the Rome Statute as we are still convinced peace in Syria will best take root where also the rule of law as well as justice are given priority in seeking out the solution.
Ambassador Muhamed Sacirbey - FOLLOW mo @MuhamedSacirbey


Facebook-Become a Fan at "Diplomatically Incorrect"








Twitter – Follow us @DiplomaticallyX







See more at our Popular Video Blogs & Current News Event Articles – www.diplomaticallyincorrect.org