As a part of the 447th Founding Anniversary of Cebu Province, the capitol had set up another Agro Trade Fair 2016. It has been one of the activities set up which every year and has been looked forward to by the Cebu people as well. My husband and I has been looking forward for this as well because last year we were able to also buy something there before like fruits and foodies.
The opening took place on the 1st day of August, the event was a week long activity which has been participated by 43 towns of the province plus additional 46 private exhibitors and surprisingly the neighboring province of Bohol, my own home province had also joined the said activity.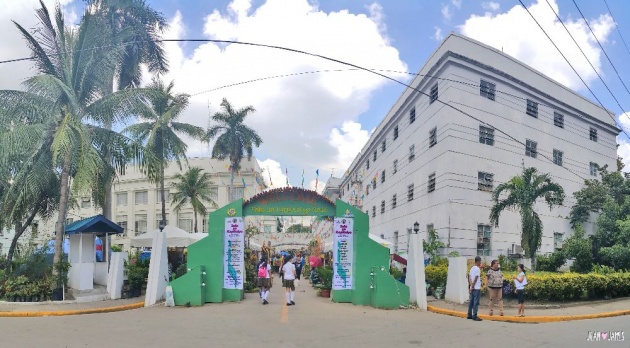 Entrance area of the Tabo sa Kapitolyo
As per the Cebu provincial agriculturist, Roldan Saragena, the products which are expected to be displayed and showcased are organic, ornamental, vegetables, handmade products coming from local government units, they had geared up their booth as there are also contents on the best booth and such which will also gain them prizes. I personally like the theme and the idea behind this because this enables the local farmers and local creators of these products which are certified Filipino made to be introduced and available to the market. This is also the reason why I had promised that we will be dropping by the area to support our co-Filipinos on the products that has been produced from each and every municipalities.
On the first day of August which was Monday, this event started and although I personally would like to visit it on its first day, both my husband and I were busy at work and that even though we can just pass by this area every single day, we couldn't get a chance to do so at the first days of the week. Finally, on Thursday, we were able to get to work earlier than the usual time and had the chance to visit the trade. I will be sharing some of the products and the things that for me were really interesting.

The Native Baskets of San Remigio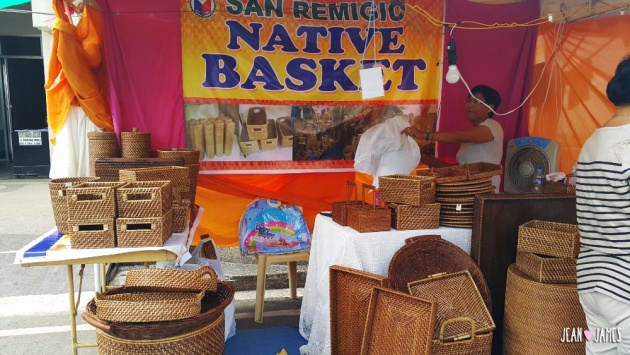 By the first time I laid my eyes on these baskets, I knew for sure that I'll be attracted to it. I tried to like ignore it at first but its color and the design compelled me to get near to it. My husband was also amazed by it and had even wanted to buy one. However, the price was a bit high for me although I am sure these will be perfect for hotels and I bet the hotel owners would not doubt buying it because it is indeed made with great quality. Plus it is made locally which means if someone buys it, they are also supporting locally made products which will help not just the livelihood of the locals who had creatively made these but also of the entire San Remigio community.
I had wished I would be able to afford the big basket which will be perfect for our laundry container but then I wouldn't be able to afford the amount. Perhaps in the future, I will be able to get one.

The Fresh Cow Milk of Pinamungajan
Pinamungajan is a town at the South Western part of Cebu. It is in the interior part of the province of Cebu and so in these areas, there high green lands perfect for cows and cattle. That is also the reason why they are proud to present their own products of milk. There were different kinds of products available and from the looks of it, the people around were enjoying the fresh milk!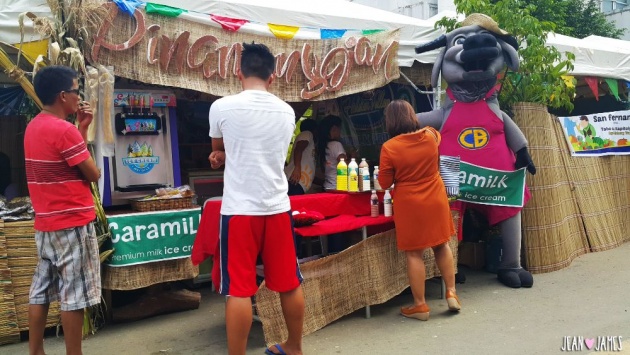 Aside from the fresh milk, they have other goodies too like cheese, ice creams and different varieties of milk! There were milk which has chocolate flavors, there were even cheesey flavors, mango and a lot more!
Unfortunately, I wasn't able to buy one because my husband and I were both in a hurry and there were people in line to get their doze of milk so we just let them take our turn and thought we should just go back after we had roamed around the entire place but then after us going around, there were still lots of people in line for their milk so we just bid goodbye. Anyways, we have already tried their fresh milk from the Molave Milk Station in Barili, just a neighboring town of Pinamungajan.

The Tropical Fruits of Tuburan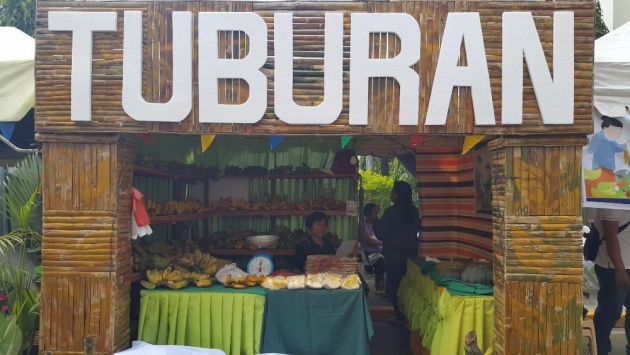 The town refer itself as the Spring of Hope. Its name was after the bisaya word "tubod" which means spring because of the number of springs available in the town. The main source of living for the people of Tuburan is agriculture although there are other means like fishing and such, agriculture is still their number one or the dominating one because of the huge land area that the town is covering. At present, it has more than seven thousand hectares of land devoted to agriculture.
Their dominant crops are also the tropical ones like the coconuts, corns, banana, mango and other fruit vegetables. As such, during the Tabo sa Kapitolyo, they had catered their best fruit vegetables too! In the image, it shows a cool design of booth with a huge imprint of their town's name plus their fruits displayed inside. There were bananas of different variety, there were also Jackfruits and lot more. It looks like since we were already there on the fourth day of the even, their supplies had lessened since there were a lot of visitors from the past days who had purchased their products.

The Pasalubong Products of Mandaue City
Mandaue City is just the neighboring city of Cebu and even so, they had also joined the week long event in Cebu City. Mandaue City is highly urbanized and so the products that they had catered during these event were more on the pasalubong items. Pasalubong means souvenir and this is because of the number of visitors and tourist coming into Cebu, the souvenir items are already a must have when going back to their respective homes.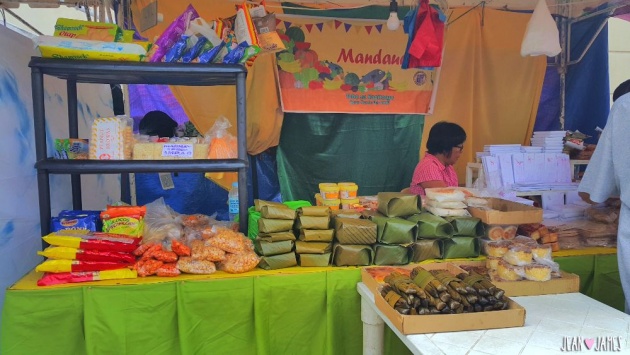 On the items available as seen on the image above are suman, masareal, puto, puyaya, otap and a lot more. These items are really famous products of Cebu and that most of the tourists coming in here are already aware of these items as part of the available ones which can be found in the supermarkets and even in Pasalubong Centers. Mandaue is actually another city which everyone has to pass by before coming to Lapu lapu City where the Mactan airport is situated.
Because of the location, most of the visitors would be passing by Mandaue and so they had also created their own Pasalubong Center thus the reason as to why these are the products featured.

The Flowers of Magno Orchid Centrum Cebu City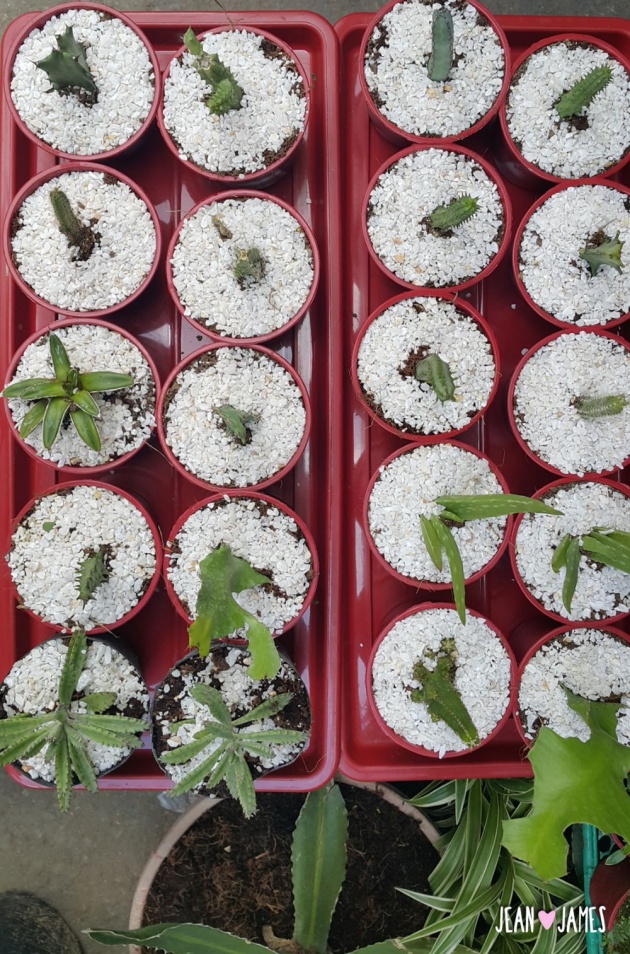 Cebu City of course won't miss this event as it is being held in the main city itself. There were many booths for Cebu City but one which had attracted my husband and I was this Magno Orchid Centrum which has cute orchids and beautiful flowers available in their booth. We had inquired for their coffee table flowers which were tiny ones and are perfect for offices and indoor house decorations. I can't resist the beauty of these flowers so I had to buy one.
After checking out some of their other products, we bumped into their compost products too which we ended up buying ten kilos of them because they were quite cheap!
In fact there were actually stores in Cebu which are also selling these composts for more than hundred bucks per kilo but then these ones were at ten pesos per kilo only and if five kilos will be bought, it will only cost forty pesos so both my husband and I agreed to buy two packs of five kilos each. I didn't realize it to be very heavy afterwards and so it caused so much hassle on my side since we were just on motorcycle. But nonetheless, it was a great deal and we are still looking forward to buying these kinds of compost in the future from Magno Orchid Centrum as well.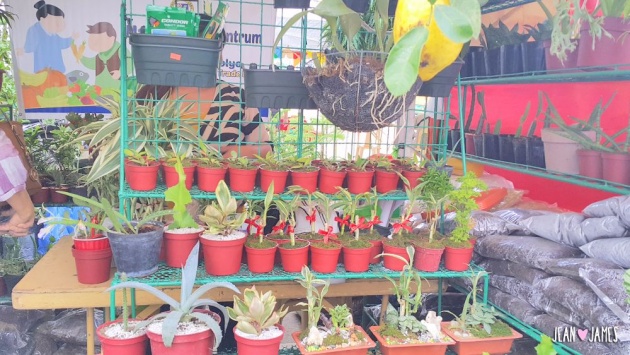 The Fruits and Vegetables of Oslob
Oslob - my husband's home town and so I have to also feature their products at the same time. Their products are also agricultural ones so there are radish, spices like chilis, the green ones, Okra or the Lady Fingers and squash and lots more.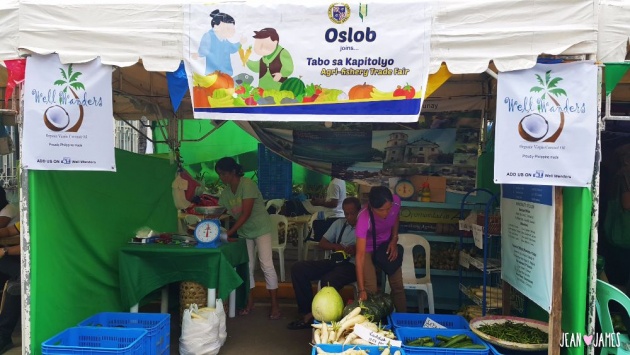 However, there's one more which I got attracted to and I don't have an idea if that was still part of their products but I saw clay pots displayed at the side of their booth.
Clay pots are really great tools for cooking specially in the province. It is used for cooking fish in vinegar and I remember it is one of my favorite viands cooked by my late grand mother. She was super good in cooking that type of viand.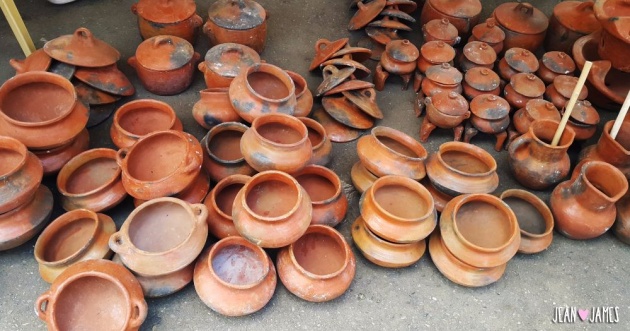 I do wonder if there were city people who had purchased them.

The Bohol-Made Products
Even if this is a Cebu Province event, it was still open for other provinces to join and I had to feature this because my home province, Bohol joined and it is something to be proud of.
However, they were located outside of the said venue but it is still fine as there are more people outside going in and out of the area and their materials were definitely visible from that part and even inside the venue.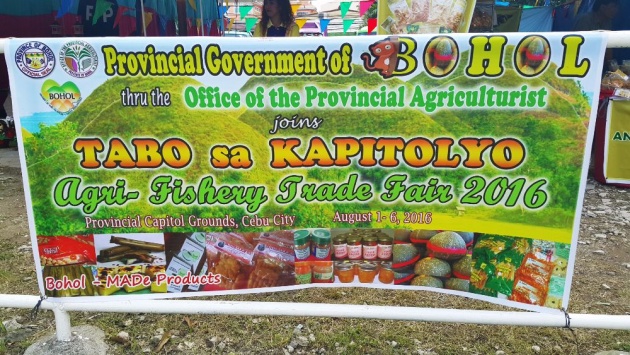 Bohol has also a huge land area and fishing and agriculture are the two main source of livelihood for the Boholanos. That is why the team Bohol had showcased their innovative products. One of which has been new to their set of products is the Banana Spread. These banana spread were actually lef overs from their production of banana chips which before was only used to be fed to the pigs and other animals. Now, this is first of its kind in the entire country and was just recently introduced in the third quarter of 2015 by the LGU of Bacong Anda Bohol.
It is just something to be proud of since this product is the first of its kind in the entire country and perhaps in the entire world. Made from the ground banana chips, sugar, vegetable oil and salt.
After a week full of agricultural products and lots more of fruits, vegetables and other native delicacies as well as sea foods and even the gardening products, the trade fair had ended on Saturday and it was a successful even dubbed as the Tabo sa Kapitolyo.
I wish I had the chance to visit it again but the schedule didn't permit us but I will be looking forward for next year and I hope to be able to support our locally made products too!
Copyright 2016. Jean Beltran-Figues all rights reserved.