Tantalize Your Taste buds at Manam's
Finding Our Way
Sister decided to treat us dinner while we were staying at St. Giles, Makati. She picked Manam Restaurant because it was a short distance from where we were staying, and she said the food is really good in the said diner.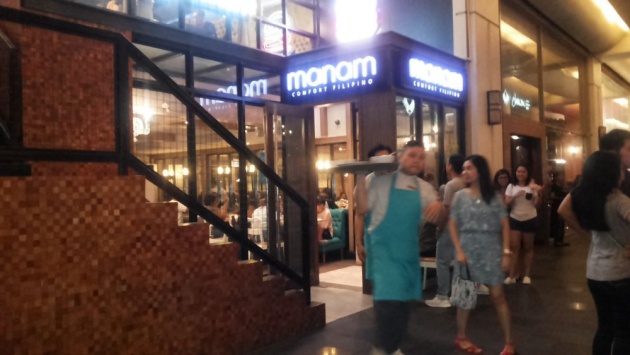 Photo credit: lapiz-lazuli
But before we headed to Manam's, they decided to attend Mass first. Off we went to Landmark but we arrived there late and they didn't manage to catch the last schedule. Anyway, we were at Landmark and our next stop was the restaurant. From there we found it hard to get to the eatery. Greenbelt is such a big place and if you don't know your way, you'll will really run around in circles.
That's what happened to us. Sis was the only navigator we can rely on. Google Maps wasn't really helping because it can't pinpoint our exact location real-time and it was only showing boxes, not the exact location of the restaurant. She was confused about the landmarks to pinpoint Manam. We then asked a couple of security guards until one really explained clearly what walkways we should tread.
Video credit:
lapiz-lazuli
via
bitlanders.com
Her Order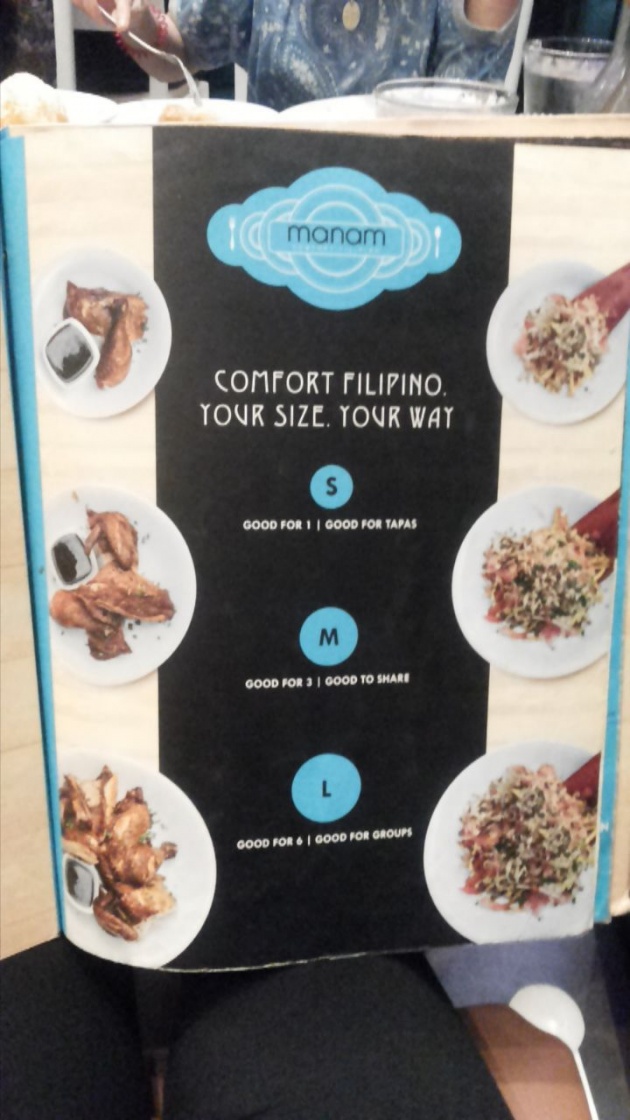 Photo credit: lapiz-lazuli
I never really heard of this restaurant until my sister told us that day. There is a myriad of bistros scattered along Greenbelt and I was wondering why she picked Manam; there were other familiar restaurants with tried and tested food. She said their specialty is Sinigang with watermelon. Yes, it sounds weird but the moment I tasted it, it was still really weird (haha) but in a good and tantalizing way.
Ensaladang Namnam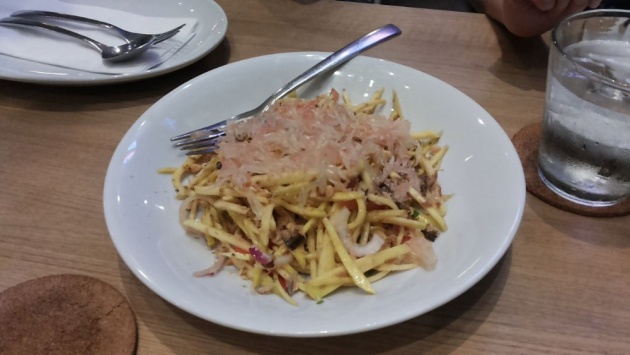 Photo credit: lapiz-lazuli
She ordered an appetizer; it was called "Ensaladang Namnam." Ensalada is a Spanish word meaning salad. Ingredients? Lots of green mango, pomelo, tinapa flakes, fish paste, tomatoes, onions and peanuts. The blend was really kind of weird: you mix something sour with something salty and add in some slight nuttiness to the already overwhelming flavor. There were no secret spices nor sauces or marinade in this dish, but the flavor will punch your taste buds. You can taste the ingredients separately, but still there was something harmonious about the mix.
Sisig (Bangus)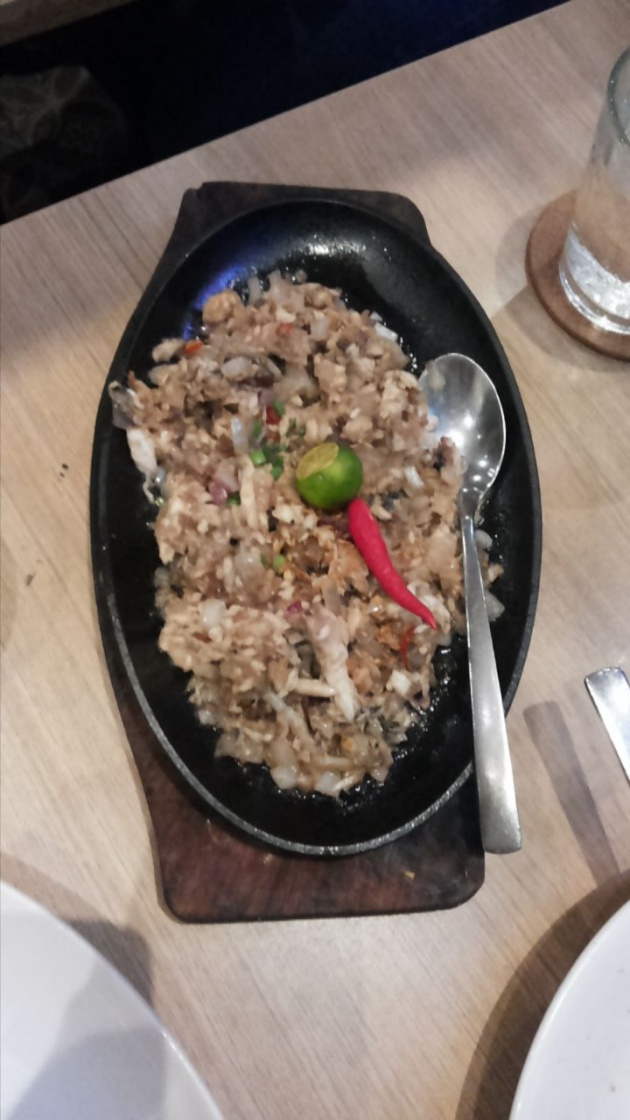 Photo credit: lapiz-lazuli
Bangus is the Filipino term for milkfish. This fish can be hyperactive when young so lactic acid tends to get stuck in its flesh, hence its slightly milky taste (because when we workout, our body expends energy from fat or carbs and ketone bodies or lactic acid is released in the body respectively). Well, enough of science and on to my food review. Well, this sisig dish from Manam was really spicy! It was peppered with red hot chili, so I had to separate the bits from the meat so I can eat it. It wasn't gummy nor crumbly, or even dry, so I guess they cooked the flesh well.
Beef Sinigang with Watermelon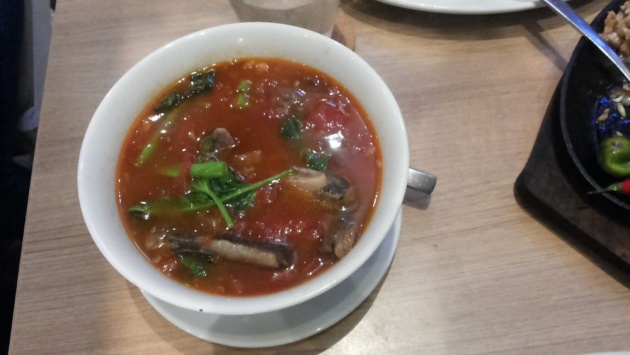 Photo credit: lapiz-lazuli
This was the star of the night. It was also our main viand but I ate it like soup with a big chunk of beef on a small bowl. Here in the Philippines, viand is almost always paired with rice, but I ate this viand like a real soup. I was satisfied with the meat because it was so soft. The veggie ingredients were not overcooked and looked fresh. At first I thought that those big red lumps were large tomatoes, but my sister corrected me later after tasting it--she was the one who ordered--that they were watermelons. First time I've heard of the ensemble! And what did it taste like? I can't really explain it; words don't give justice to how it tasted. The closest thing I can compare it to is thin evaporated cream, but the sourness was just right. It tasted creamy without the heavy creamy texture.
Mango Fritters with Ice Cream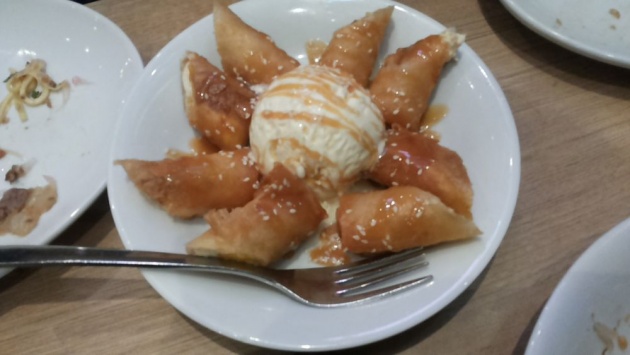 Photo credit: lapiz-lazuli
Well, fritter is a sophisticated term for the Filipino term turon. It's like a crepe but it is thinner and is deep-fried to be crispy. When they served this dessert on our table, the fritters were still hot hot hot! Can't complain though, because it was really yummy. It was slightly larger than bite size but my dad managed to gobble it whole. Thank God the mangoes used were yellow, very ripe, and sweet. Sometimes, desserts with mangoes taste slight sour which ruins the dessert experience.
Chicharon Bulaklak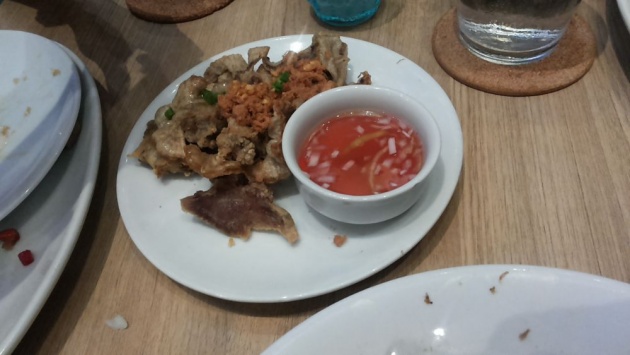 Photo credit: lapiz-lazuli
Sister ordered this (on the last minute). I think it wasn't worthwhile because of the small serving for its price. As soon as I tasted it though, I was satisfied, but I still can't shake off the hefty price tag it had. Chicharon is deep fried pork fat with bits and pieces of I don't know what, but are hard to bite. Well, Manam's version of Chicaron Bulaklak (bulaklak means flower, because this type of chicharon looks like a flower) is crunchy when bit, but soft when chewed. If you can spare some cash, try theirs.
Sights and Service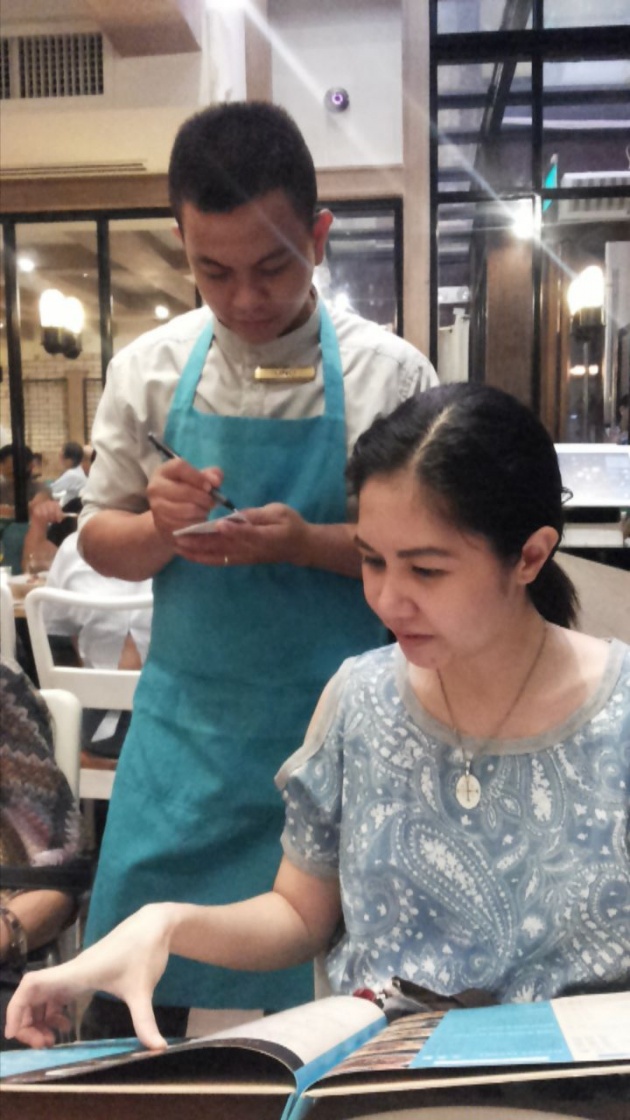 Photo credit: lapiz-lazuli
The service was prompt, eventhough the joint was really jam-packed (I mean, really, there were people standing outside just to wait for their seats). There were lots of foreigners eating at the restaurant or waiting for their turn; they probably want to try Filipino dishes with a twist. The waiter assigned at our table was polite and knowledgeable.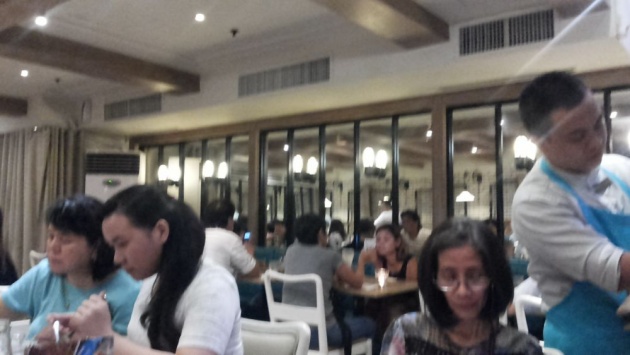 Photo credit: lapiz-lazuli
Waiting time for food was really long but good thing we were waiting for others. Food were almost always served hot but you can down it easily with service water. Though you have to ask one of the waiters walking around to refill your glass.
Video credit:
lapiz-lazuli
via
bitlanders.com
From the looks of it, many people often come at this joint for special occasions. I spotted another boisterous birthday singing in one of the tables. I think every restaurant has a different rendition of the Happy Birthday Song.
Sister intended to pay on plastic, but the card she brought had no Visa or Mastercard logo on it. The waiter explained that their reader only recognizes these forms of payment. She was a bit upset so she changed to paper instead.
Dad is already a senior citizen but he still has no ID, but they still honored his driver's license (because his birthdate was in it). Some restaurants are strict with giving senior citizen discounts, but Manam isn't.
Overall Experience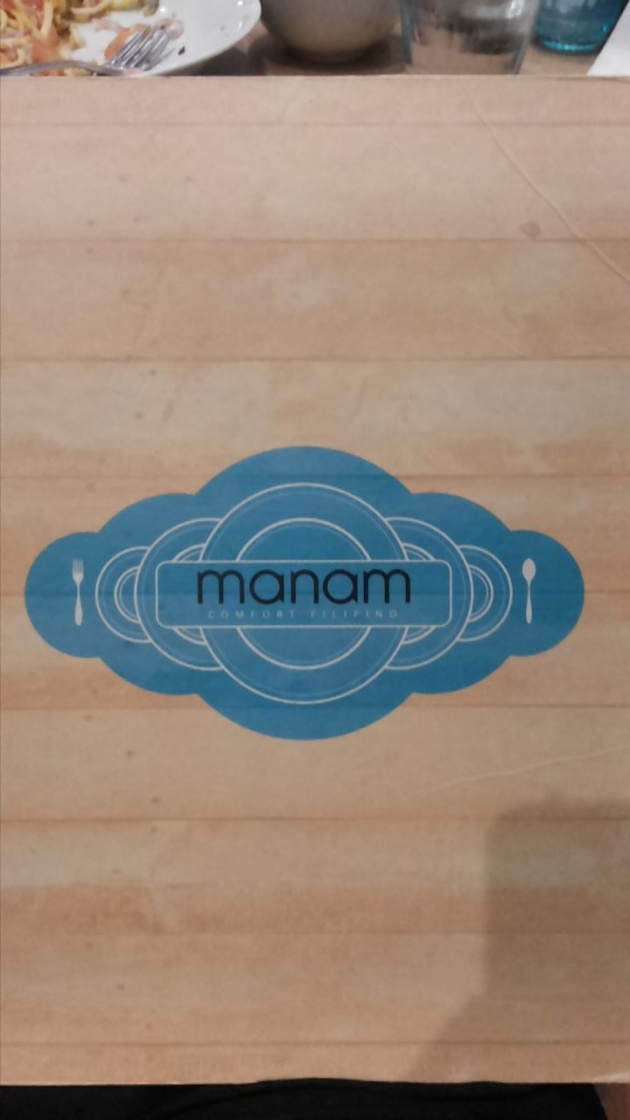 Photo credit: lapiz-lazuli
Eating at Manam's is an exotic experience on its own, even though the items on their menu are familiar. It's known for tweaking recipes from the already famous Filipino dishes, and it's successful in it. If you're tired of the same old viand, you can rekindle your love for it at Manam's.
Want to answer a survey chat about restaurants? Here's your chance:
Disclaimer: Pictures, videos and writeup are owned/made by lapiz-lazuli. Views and opinions in this blog post are subjective and are not influenced by sponsorship of any sort.