Video Credit Top Trending via Youtube
Artificial Intelligence (AI) Revolutionizing The World
Artificial intelligence (AI) is revolutionizing the world and the automotive industry is the first to reap its rewards. However, the biggest revolution of this industry will be the 'self-driving cars' also known as 'autonomous vehicles' or 'driverless cars'. These cars work using sensors and software to control, navigate and drive the vehicle.
When I read the news a few years ago about autonomous vehicles I was thrilled like many others. Who wants to drive bumper to bumper, in peak hour traffic, in a big city? I hate driving, let truth be told. I'd rather enjoy the scenery around, make my calls, check my mails, read something I need to catch up on or even watch some videos instead of watching the traffic and getting stressed.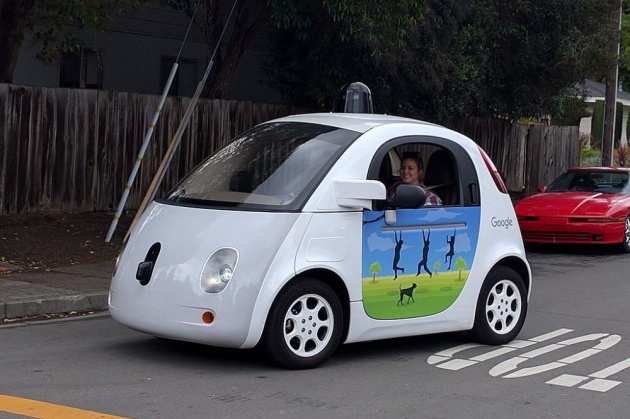 Image credit Grendelkhan via Wikimedia Commons
I think we see the merging of several worlds, the tech industry, the internet and the automotive industry. These two worlds merging is like a smart phone on wheels, or you can say it's a car that has many of the capabilities of smart phones and computers and so on." - Dieter Zetsche
Autonomous Vehicles (AV) The Future Of Transportation.
The greatest advantage of self-driving cars is that they have none of the problems humans face such as distraction, falling asleep at the wheel, and they don't drink and drive. These being some of the major causes of accidents on the road today the world over. Autonomous cars have been hailed as being 'safer than humans'.
Driverless cars follow all traffic rules and have done millions of miles of road tests before they are declared safe to be on roads. They are also good at detecting obstacles and avoiding them. They have no problems when it comes to making instant decisions under pressure like humans. Self-driving cars were a success story until an autonomous Uber killed Elaine Herberg a 49 year old pedestrian. This accident has pushed Uber back in its race to make driverless vehicles and has raised many questions on the safety of driverless cars.
For these cars to be safe and ready there are other factors that need to be taken into consideration such as shared environment, unpredictable weather which could interfere with sensors, driving practices world over, road conditions and even traffic rules different places of the world.
"Deep Learning will change the lives of all of us. What is Deep Learning? It's behind what makes self-driving cars a reality." - Dave Waters
In the following Querlo chat we will be talking about these topics related to autonomous vehicles
How adoption of driverless cars could benefit us?
Are self-driving cars for everyone?
What are the common concerns?
Practical problems facing the introduction of autonomous vehicles
The biggest question facing autonomous vehicles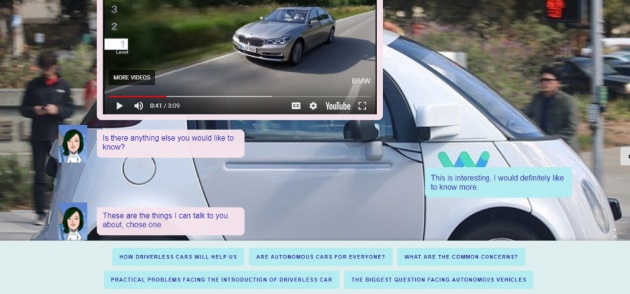 Image credit Screen shot taken from Querlo chat on AI Revolution Autonomous Cars by Sofs
Querlo chat on The Artificial Revolution Autonomous Vehicles via Bitlanders
What are people for in a world that does not need their labor, and where only a minority are needed to guide the 'bot-based economy? - Stowe Boyd, a researcher with GigaOM Research
While it is exciting to talk about driverless cars and how they can save our planet from pollution we need to take so many other factors into account. Is the world economy ready today for such a huge change? Is this the need of the hour, or should we be investing in other fields that can gives us jobs not take away what we have? Are we ready to share the roads safely with these new inventions? Is it possible to employ driverless cars the world over? Or should we just focus on improving our public transport systems? How are we going to produce so much electricity for these cars? The questions are many but we not have clear answers yet. We have a long way to go before the self driving cars are on our roads.
I have written this blog post following the announcement made by Micky about the Bitlanders AI-Themed Blogging. This blog also incorporates the C Blog (Double bonus reward topics). This article is the Third in this series on Artificial Intelligence.
In this AI series
ARTIFICIAL INTELLIGENCE - MAKING LIFE EASY AT HOME
ARTIFICIAL INTELLIGENCE IN HEALTHCARE - C- BLOGGING
You could learn more by interacting with Ms Hillary on Micky's blog by following the link.
Thank you for reading and interacting with me on this blog. I hope that information I have shared on AI has been helpful to you.
- ♥♥♥♥♥Sofs♥♥♥♥♥-
Would you like to share your thoughts and earn through Bitlanders? Follow this link and claim your first $1 reward on sign up.
Image credits
Grendelkhan via Wikimedia commons
Grendelkhan via Wikimedia commons
Zia Wadud via The conversation
Video Credits
Top Trending via Youtube
All images used in this blog have been duly credited, no copyright Infringement Intended.