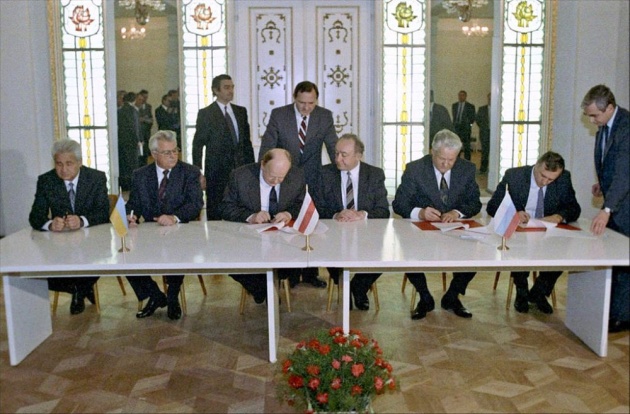 On December 12th 1991, the Supreme Soviet of Russia ratified the Belavezha Accords.
The Belavezha Accords declared the Soviet Union effectively dissolved - note, it was the Russian government that ratified these, not the Soviet Union - and had been signed by Boris Yeltsin, the Russian President, Leonid Kravchuk, the Ukrainian President and Stanislau Shushkevich, the Belarusian parliament chairman. This was three of the four original signatory states of the Declaration of the Creation of the USSR; the fourth was the Transcaucasian Socialist Federative Soviet Republic.
The Soviet Union had been falling apart for some time; this effectively put the final nail in the coffin, and established the Commonwealth of Independent States (CIS).
Image: RIA Novosti archive, image #848095 / U. Ivanov / CC-BY-SA 3.0 [CC BY-SA 3.0 (creativecommons.org/licenses/by-sa/3.0)], via Wikimedia Commons (commons.wikimedia.org/wiki/File:RIAN_archive_848095_Signing_the_Agreement_to_eliminate_the_USSR_and_establish_the_Commonwealth_of_Independent_States.jpg)