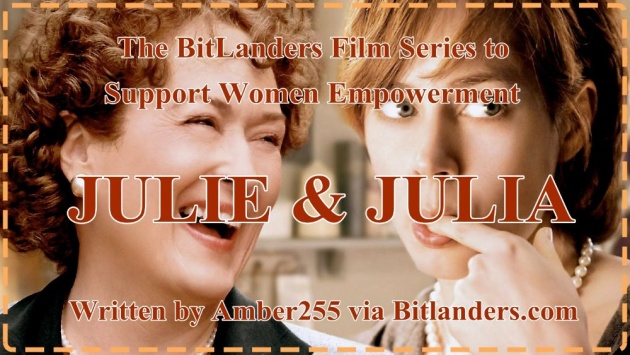 The BitLanders Film Series to Support Women Empowerment: JULIE & JULIA - Photo credit: cbblogers.com - Edition by Amber255 via Bitlanders.com
A movie that's all about cooking? Does not sound very exciting? But if you find the appropriate stories to be told and even the great actors, it can be quite a nice movie. The two parallel stories are shown in the culinary movie, a biographical drama JULIE & JULIA. This film is presented to us by BitLanders Film Series to Support Women Empowerment. It's immensely cozy, homely, and kind movie.
In 2009, director Nora Ephron created a film that brought a Golden Globe to Meryl Streep! The story of the search for the self, for the very core that for some becomes the meaning of life, and for someone only a hobby. But when you find this yours, all that you have been doing before is fading away, and only bright memories and bright prospects stay with you.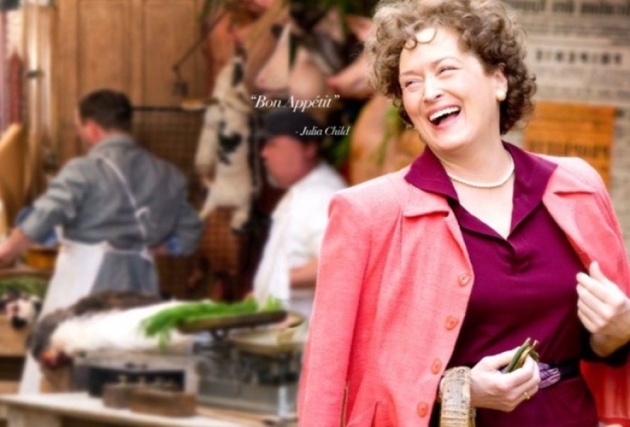 Meryl Streep and Amy Adams in biographical drama Julie & Julia (2009) - Photo credit: zen.yandex.ru
What do you know about Julia Child? Julia Child - a popular and famous chef in America. She wrote a book about French cuisine to the Americans and published it in 1961 after spending a year in Paris School of Gourmet. Another personage -Julie Powell - is a simple American woman, who also wrote memoirs about French cuisine just in different time. And director Nora Ephron, known to us from Sleepless in Seattle and You've Got Mail, decided to tell a wonderful story of these two different but, at the same time, very similar women. She not only wrote but also directed this gorgeous biographical drama.
The memorable women' stories will help us to meet and get interested in the life of a principled, caring, creative, charismatic persons. To them, the art of cooking was equal to the joy of life.
Let's watch and talk!
Julie & Julia Official Trailer - Video credit: Nora_Ephron1 via Bitlanders.com
The Short Story of Movie
Two women of different periods, one common interest and purpose. Two patient men are the greatest helpers of their beloved ones. Two magical and exciting real love stories with sweet-sour sauces. Two wonderful actresses, Meryl Streep and Amy Adams, whose precise performances will not damage any cinema's dish and will delight our delicate taste. Two women of different generations tried a new delicious recipe.
The story begins with the relocation of the main heroines in their new dwellings. The common cause of the move is the work of their husbands. Julia Child in the 50's of the last century moved to Paris. She fell in love with the new environment and her new living place. But she feels a bit boring, and have too much free time, so Julia starts searching for any interesting occupation wishing to find where is her true place in this life. It's French cuisine! Julia completely devotes herself to the cooking. While cooking, testing French dishes, she delights her beloved husband with the new food discoveries!
After completing the famous "Cordon Bleu "culinary school, Julie shared her experiences with a lot of passion and energy with American housewives, explaining the benefits of consuming fresh, deliciously prepared foods in comparison to frozen, canned foods that flooded US markets. Accumulated experience and culinary's fantasy she shared in a book. So, she found herself a passion that changed her life and gave the world a famous book on the art of cooking. But what a thorny way she had to overcome for this!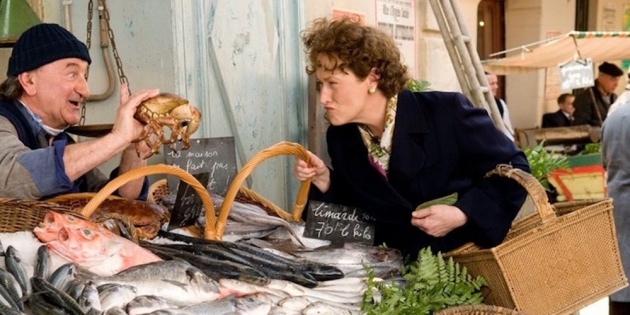 Biographical drama JULIE & JULIA - Photo credit: parisinsidersguide.com
Another heroine - Julie Powell (Amy Adams), a young writer moves to Queens. Unlike Julia, she does not like her new place of residence. Fifty years later after Julia story, a thirty-year-old writer Julie feels stuck; she is suffering from a creativity crisis. She has a simple job in call-center and feels not very successful as all her friends achieved astonishing success in life. Cooking for her is a way to get rid of everyday troubles and morally hard work. Julia Child's collection of recipes is her desk book that inspired to a very interesting life experiment, which became for her a point of inspiration at the time of a difficult and fateful life turn.
Julie makes a seemingly unimaginable plan to energize herself. Whatever happens - every day she is going to cook by this book, describe her experience in the blog, and over a year to manage more than 500 dishes in this way.
It would seem that this is so easy? But as it turned out, this is a real test for self-discipline, a test of relationships strength, and a hard way to learn how to achieve a goal at all costs. Honestly, I was always surprised, impressed and inspired by women who devote an entire life and themselves to their hobbies.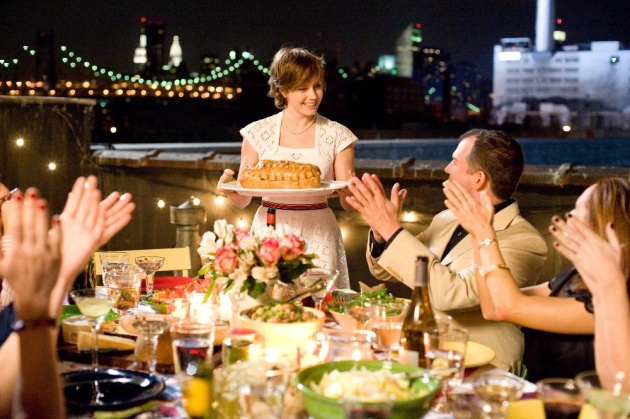 Amy Adams in Julie & Julia - Photo credit: imdb.com
The Content of The Movie
The film tells about the passion for cooking, which was discovered by two main characters: Julie Powell and Julia Child. Both heroes are women, and their stories are true: they are looking for their place in life and have loving and supporting husbands.
The film story is telling us about marriage, about the courage to escape from the frame of everyday life, about changing to a better personality, through the adventure in the kitchen area among the pots, mixers, with a cooker to a hot oven.
Both great ladies of American cuisine - Child and Powell - do not meet on the screen or in real life, and only viewers can look at the parallel stories. And when in the last scenes of the film both ladies almost simultaneously prepare a duck dish, the viewer concludes that cooking is a real art.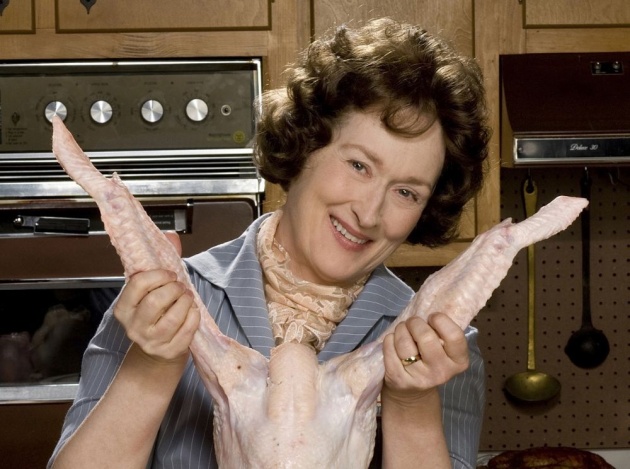 Meryl Streep in biographical drama JULIE & JULIA - Photo credit: imdb.com
I really liked how the director presented two storylines, as he showed the lives of two women at the same time: they were disappointed, rejoiced, experienced successes and failures. Such different and simultaneously identical destinies. They are united by the desire to realize their dream. The director has also perfectly shown the marital relationship of two couples. They really gave a great example of how to properly support, love, and respect each other.
Also, it pleases me that there were no intrigues, dramas, scandals, and other tensions in it.
What is so interesting about this movie?
First of all, the film is shot by a real-life story.
Secondly, this is a motivating story for anyone who dreams of achieving something greater in their lives. There are no even roads to success, there are always some difficulties, but you can not lower your hands; if there is a wish - then go to the end! And because the story is real, it is easier to perceive it: real people, real events, real success, that is, you understand that this is not an invention of the author. And the heroines did it!
Thirdly, the well-chosen cast, the emotional play of actors makes the film more motivating.
While reading movie JULIE & JULIA review, please check QUERLO CHAT: What kind of movies do you like?
This movie is an effective and sincere demonstration of the cooking mastery. It is full of family warmth, with occasional movings to the past and looking back at the time when Julie in France made her first steps. There is a drop of drama here, but it is quite small, and it is not accentuated somewhere specifically. It's like Paris: thin and barely caught.
I adore such stories that allow me to think about the meaning of life, that charge me positively, and cause to ask myself the question would I be able to do something similar?
As we follow these two parallel stories, we clearly see the differences existing in the values, marking both timeframes. We see how much Julie Powell is burdened with what today becomes very important - be successful, be popular, be perfect, do not be a loser. Actually, this is what inspires her to the cooking challenge. But what has merged these two different women, living a totally different life, is just food.
This is not just a film for women. This good movie is for all film lovers, and this is also for all lovers of good food.
Meryl Streep - Interview - Julie & Julia - Video credit: StreepChannel via YouTube.com
The Technical Side of The Movie
In the film, there is a very pleasant atmosphere: the romantic views of Paris, a simple and very cozy Julie apartment, sweet music.
In order to achieve the desired authenticity, in addition to locations in New York, some movie sets were also recorded in Paris. Mostly a selection of costumes (according to postwar time, the right fashion mode, such as in Paris) is adequate. We can say, visually it corresponds to the chosen time and does not bother by the overloaded details.
What I want to mention more is the delicious atmosphere created in this movie. It is not advisable to watch it with an empty stomach.
The selected music is also great and adequate. The praise goes to the Alexandre Desplat. Very well, so I would just say: have a good appetite!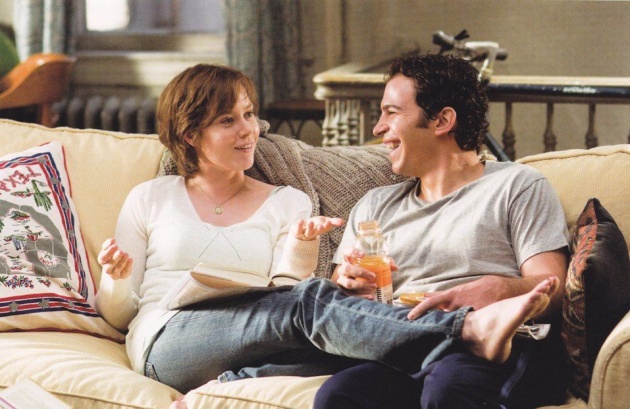 Amy Adams and Chris Messina in Julie & Julia - Photo credit: imdb.com
The Collective Work of The Actors
Blog of Julie Powell has become so popular that the book "Julie & Julia: My Year of Cooking Dangerously" was written by her too. On the basis of this book, as well as on the book "My Life in France" written by Julia Child, was made the screenplay of the film. The main roles were played by Meryl Streep (Julia Child) and Amy Adams (Julie Powell). We can also mention male roles because men were the mainstay, support, joy, happiness, and a great love of both heroes: Stanley Tucci (Paul Child) and Chris Messina (Eric Powell).
The interpretation of roles by Amy Adams and Meryl Streep are striking, presented so that an ordinary viewer thinks that the actresses are just passionate cooks.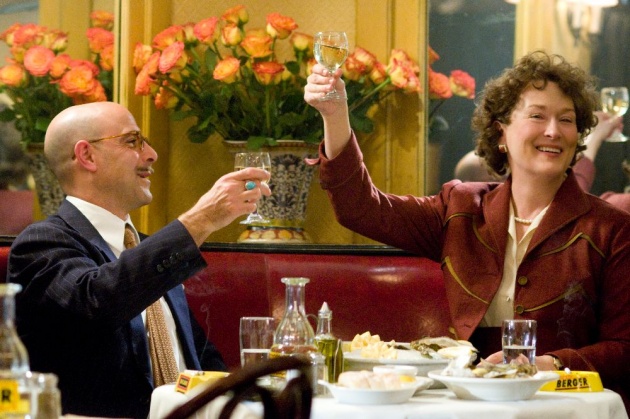 The scene from the JULIE & JULIA - Photo credit: aboutmerylstreepvn.wordpress.com
MERYL STREEP - Julia Child
The fans of Meryl Streep talent will be not disappointed. Despite some exaggerations in the exaltation of the character - Meryl Streep performs her role perfectly. Her Julia Child - a woman who in the middle of the twentieth century changed the culinary customs of a large part of Americans, and was the first to become a television star displaying French cuisine on screen - suffers from a lack of a child. She finds her fulfillment in love for her diplomatic husband and for French cuisine.
And in this role, she will delight the second group of enthusiasts - gourmets. Her stories about cooking, learning, and skills acquired at the Paris school for professional chefs, and finally the preparation of French dishes for the needs of a cookbook - all this creates a fascinating spectacle.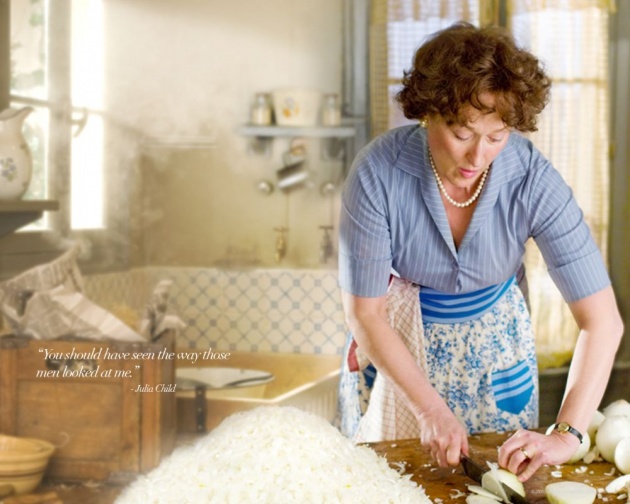 Meryl Streep in culinary movie JULIE & JULIA - Photo credit: kinopoisk.ru
It's no big surprise that Meryl Streep can cope with every role. Again, she plays with great passion and eloquently and vigorously cuts the onion slices in her kitchen. Watching her performance in the fine French cuisine is a pleasure.
Meryl Streep is really fully in the role of Julie Child. When she appears on the screen with her laughter, you enjoy it as if you just bite the most delicious cake you can imagine. Her husband was greatly played by Stanley Tucci. They faithfully showed their love and their marriage. He charmingly supports Julia, finds how to raise her mood, make her smile.
When you talk about passion, Julia Child just didn't have it for her husband or cooking; she had a passion for living. What was compelling about her was her joie de vivre and her unwillingness to be bogged down in negativity. She loved being alive and that's inspirational in itself. - Meryl Streep about Julia Child

Credit: telegraph.co.uk
She is a talented and charming actress.
While reading movie JULIE & JULIA review, please check QUERLO CHAT: Do you support women's empowerment?
AMY ADAMS - Julie Powell
Amy Adams once again is pretty in the role of Julie Powell. Her heroine is a woman under 30, a call center employee without children and prospects. The heroine is a sensitive, kind and compassionate person. Julie writes well but has not yet realized her talent in life.
What to do? How to live further? Many of us love to set ourselves goals for the motivation, sometimes difficult to reach. For her, Julia's book is a Bible, a vivid example of heights reached by the woman. A great performance as always from Amy Adams.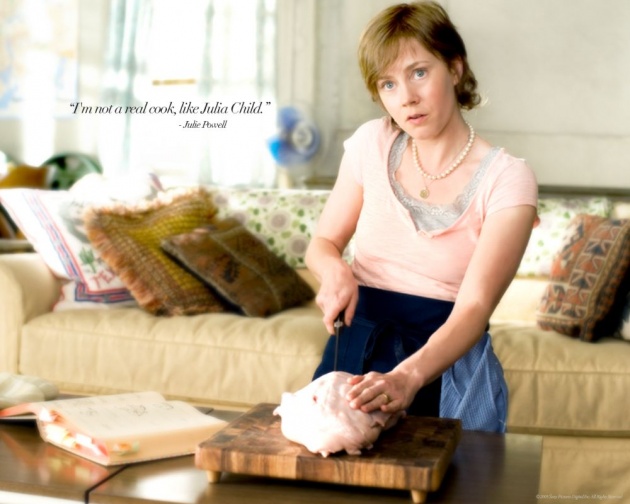 Amy Adams in culinary film JULIE & JULIA - Photo credit: hqwall.net
On The Final Note
I recommend the film JULIE & JULIA to all those who like to eat and cook, as well as those who dream about great love. For some, the movie may seem chauvinistic, because it popularizes a woman who becomes happy only when cooking. Nothing more wrong. In my opinion, the film is a story about passion, fulfilling one's dreams, pursuing a goal regardless of challenges, as well as about love that helps to survive the most difficult moments in life. Or maybe after watching the movie, you would like to prepare a tasty dinner for your loved ones?
JULIE & JULIA is a very nice and entertaining movie. Unfortunately, it moves a bit slowly. I cannot say anything negative, but even the positive impression is average. The acting performance is certainly top, but it is only partially overshadowed by a slow boring plot.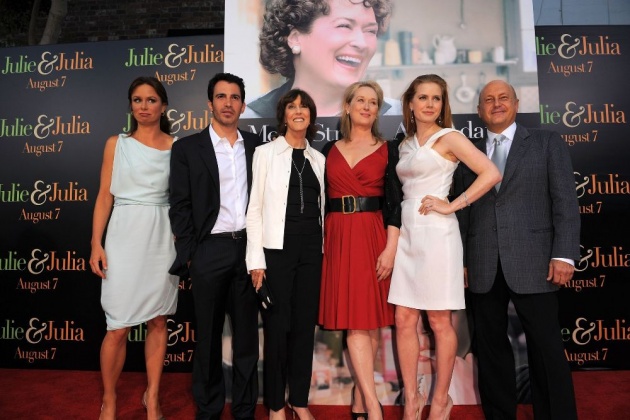 The team of JULIE & JULIA at the premiere - Photo credit: imdb.com
Cooking is something I'm really interested in, so this topic is close and dear to me. People and food are simply inseparable. Cooking is fun, and it gives pleasure when you see a final result on the table. Cooking relaxes, food brings us closer; we gather with dear people around the table to enjoy the pleasant conversations and tasty bites. Who thinks this way will love this film.
It is a strong film, with deep meaning, forcing to think, analyze, prompts for action. If you do not like such qualities, then for you this film will not be interesting but boring.
Verdict: a very appetizing film about relationships, self-discipline and, of course, culinary masterpieces! It's fabulously bright, kind, and life-affirming film for evening coffee pie. Mandatory with cinnamon.
Ebullient, witty, and wonderfully warm-hearted Julie & Julia is a celebration of how to live life to the full. - Ruth Hessey, MovieTime, ABC Radio National

Credit: rottentomatoes.com
My rating: 8.5/10
Rotten Tomatoes: 76% ( of 100)
Critics average: 70/100
IMDb: 7.0/10
Have fun watching!!!
***************************************************************************************************
Thank you for stopping by and reading my blog.
2018, All Rights Reserved.
You are very welcome to join Bitlanders and share your valuable knowledge and opinion.
***************************************************************************************************
You can check my other blogs with movie review:
1. The BitLanders Film Series to Support Women Empowerment: RED SPARROW
2. The BitLanders Film Series to Support Women Empowerment: SOPHIE AND THE RISING SUN
3. The Bitlanders film series to support women empowerment: ENCHANTED
Come back to find more...
***************************************************************************************************