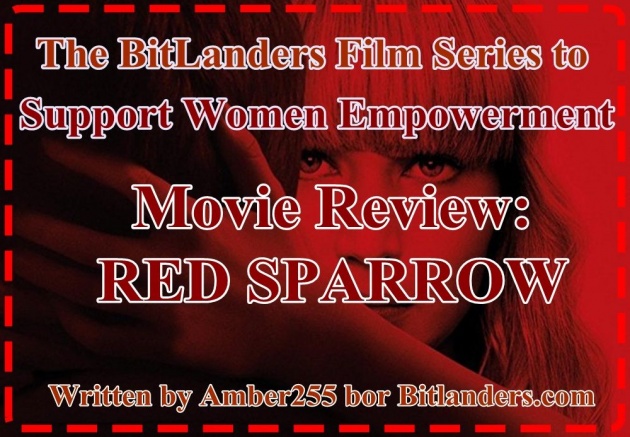 The BitLanders Film Series to Support Women Empowerment: Movie RED SPARROW review
Photo credit: imdb.com - Edition by Amber255 via Bitlanders.com
We again got four new movies in the "The BitLanders Film Series" to Support Women Empowerment - Oct 01 to Oct 14, 2018". There is no secret that I am a big movies fan, so here is a new movie review about strong women's role in RED SPARROW spy thriller.
Movies about secret agents and spies have lately been not created so many that we could enjoy them at least several times a year. Undoubtedly, they are there, but rare which attract our attention because it's hard to create something new. When James Bond's stories became action films, we only could watch old movies that became history. But sometimes new stories reach cinemas that revive that theme and allow you to look at a slightly different world of spy full of deceit. The RED SPARROW tried to do it.
The action thriller with the tense plot "Red Sparrow" immerses you in a dangerous and extremely secretive world of spies, where you cannot trust anyone. Smart and misleading, elegant and cruel, so real that the mind refuses to perceive the horrible truth - that's exactly what the tense thriller RED SPARROW is.
It's an intriguing thriller's creation based on the popular Jason Matthews novel "Red Sparrow". Francis Lawrence took the directing of this film. He is really well-known to his audience. Such films as Constantine, sensitive and dramatic movie Water For Elephants, and fantasy movie I am Legend, and a bunch of the most famous video movies have really made this director quite visible. And this is not the first movie in which he works with Jennifer Lawrence, who plays the main role in RED SPARROW.
And this time, the director did not very disappoint with his new job. No matter how many scandals have chased this film, and how it was uncomfortable for actors to play nude, but the film is really able to impress, even with all its drawbacks.
Red Sparrow - Official Trailer - Video credit: Francis Lawrence via Bitlanders.com
The Short Story of The Movie
At first glance, the simple story is really an elusive tale of the Russian spy Dominika (Jennifer Lawrence), overcame by the most dangerous feeling in the world - love. The beautiful girl fell in love with CIA officer Nate Nash (Joel Edgerton).
The RED SPARROW takes the viewer to Russia. The successful Russian ballet-dancer of the Great Theater (Jennifer Lawrence) is suffering an accident that is threatening to end her promising career. Later it turns out that the accident was not so accidental. Dominika carries out some pretty bad revenge acts. This forced her to accept the offer of the uncle Vanya, who is working in secret services in Russia. He is promising to save not only Dominika but also to help sustain a sick mother.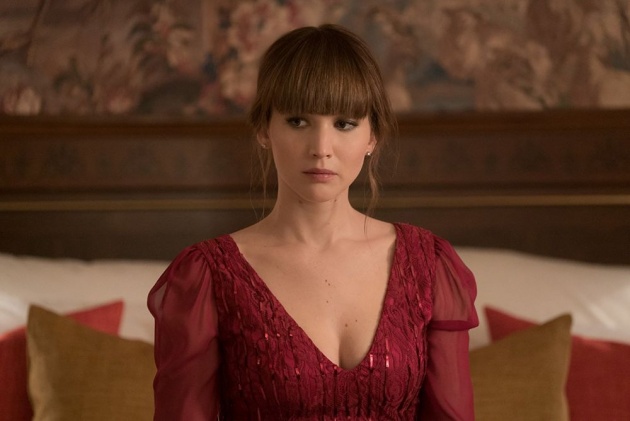 Jennifer Lawrence in Hollywood movie about spy RED SPARROW - Photo credit: imdb.com
Dominika was sent to the so-called Sparrow school. It trains elite spies, capable of using psychological and sexual manipulation. During the training, it turns out that Dominika is not only a great ballerina but also a talented spy. For this reason, she is quickly involved in the brutal, "mole" search of Russian security structures, a story that extends across Europe.
Her main weapon is her body. In other words, Dominika's specialization is the use of seduction and intimate games for the elimination of the Kremlin's enemies, for the recruitment of beneficial persons and for other manipulations.
However, the worst thing will come in the future: in the first task Dominika falls in love with her enemy and is forced to become a double agent. The situation is really tricky. Torn by the obligations to her employers and her love to American, Dominika agrees to become a double agent.
There isn't much chemistry between the leads, and their sex scenes don't sizzle, but the fault lies with the dopey, confusing script by Justin Haythe that fails to develop their characters with any depth or purpose. - Rex Reed

Credit: rottentomatoes.com
Prohibited feelings pose a huge threat not only to the security of their countries, but also to their own lives, and eventually brings them both to a fatal crossroads where she needs to choose either love or duty,
But this is not a standard story of forbidden love. It is an up to the last-minute perfectly crafted thriller that often reminds you that human limits are just one-tenth of the instinct of the beast.
While you are reading movie RED SPARROW review, check QUERLO CHAT: "Do you support women's empowerment?"
The Content Of The Movie
The work of director Francis Lawrence was positioned as a cleverly thought-out and tense plot's thriller with a seductive erotic spice. However, what I have seen in the cinema is completely out of line with the movie description. It's a very sluggishly told, stretched-to-impossible film and an overly tedious action film, which at best resembles a drama with a pinch of melodrama and erotica.
When I went to watch this band, I was expecting an intellectual thriller. One major disadvantage of the film is its duration. The 2.5-hour tape is really too long. No matter how we look, certain scenes are far too exaggerated and unnecessary. The audience that chooses such films is not one who wants to be constantly reminded that Russia is not a playful and colorful America. This waste of time ultimately leads to the fact that, sitting in the hall, you start to move in the chair and constantly peek at the clock.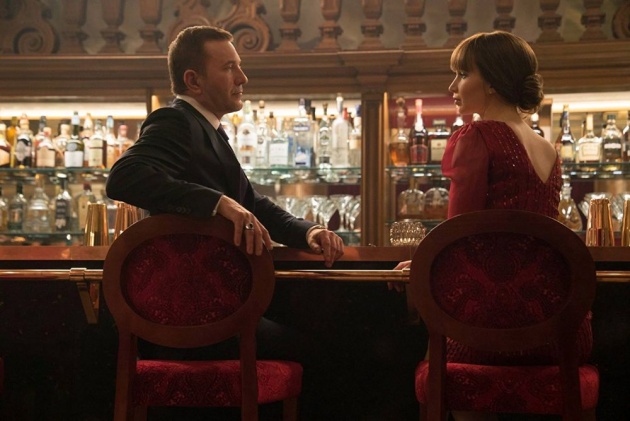 Kristof Konrad and Jennifer Lawrence in Red Sparrow - Photo credit: imdb.com
The storyline is pretty clear - it talks about the work of secret services in Russia and the United States, the recruiting of agents, and very brutal measures for questioning the suspects. The film base is an old stereotype of spy movies.
The movie shows Russians and their agents (including Dominika) as irreparable cold-blooded sadists, monsters, with stone-shaped faces executing the tasks. And They are doing that with the cruelest methods possible.
Meanwhile, Americans here seem with impeccable moral integrity. It looks they care even about the welfare of the agents of the opposing camp. "We do not do this" - Nate Nash and other American agents have repeatedly said in a film about the brutal tactics violating human rights and women's dignity used by the Russian special services. Such stereotypes may have worked well 30 years ago, but today nobody believes their reality, although fans of such imaging will surely emerge.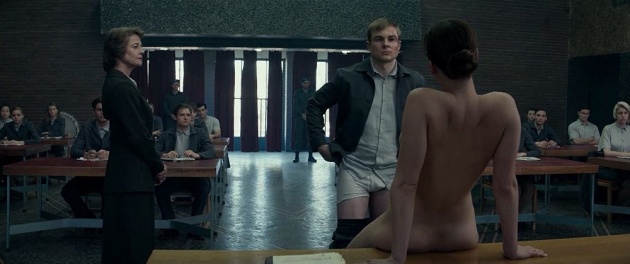 Charlotte Rampling and Jennifer Lawrence in Red Sparrow - Photo credit: imdb.com
But the band created Americans, and its base is the American literary work. It's a pity for just one thing - the movie does not involve the viewer with its story. In my opinion, the band is too long, the plot has several holes, and it has a very unbelievable view of Russia and its citizens.
The fact that the characters spoke English with a broken Russian accent as if it were any project of the nineties of the last decade. The funniest thing about English was that it was possible to hear the incredibly embedded Russian words on several occasions, which further exacerbated the current situation.
No true action was found there. Just a few very light-looking shootings, two extremely short, although realistic, fight scenes and one little tense ending, partly offset by boring two hours. Believe me, an action begins only after about two hours and ends in a few minutes, when we get the truth about one person. Of course, I am talking hints, because I do not want to spoil the view of those who are still going to go to the cinema.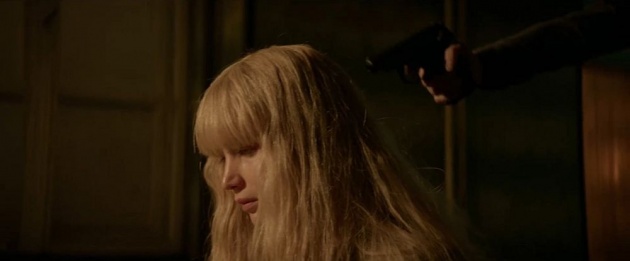 Jennifer Lawrence in Red Sparrow - Photo credit: imdb.com
Of course, I cannot say that there are no positive moments in the movie, they are. And it's quite well-developed ideology of the School of Sparrows and the overall appearance of the policy of this secret institution with various nuances of graceful art. These training courses for agents may last for twenty minutes, and this is the very best moment in all of this movie.
I can not say that the film is too open and brutal. There is no lack of nakedness, incredible sex scenes, and very superficial violence, which should shock but unfortunately, it does not do this function.
Lawrence herself claimed to have taken a role in the band due to its nature. Indeed, her personage appears being strong and able to outgrow even the old security agents.
After all, the main theme of the movie revolves around strong women who are able to manipulate men.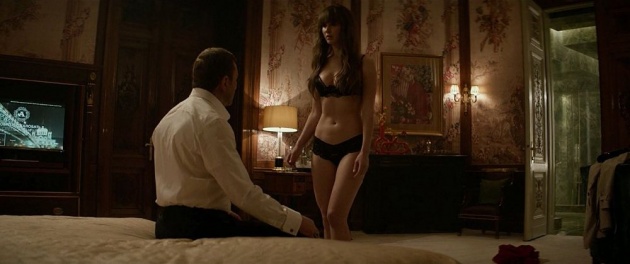 The scene from the spy thriller RED SPARROW - Photo credit: imdb.com
But perhaps the biggest problem appears on the aesthetic side. There are a lot of violence and torture scenes in the film. Although applied to both men and women, the movie shows women torture particularly sexual and voyeuristic, while male suffering is often covered by camera effects or darkness, thus preventing too much admiring the results of violence.
This is probably the biggest malfunction in a movie that could have given you something new. Perhaps this is the result of an overly strong wish to prove the attractiveness of Jennifer Lawrence? However, it only further shrinks the supposed feminist ambitions.
Anyway, for a long time, we had not such a spy thriller, where you sat and doubt with all your thoughts about the ongoing action. And the long time we had not a cinematic version of such a real, classic-type spy thriller that focuses not on the miraculous technological advances but on the human mind, a reaction in situations, and that silent, tense psychological game. It's the most fascinating thing about this movie.
While you are reading movie RED SPARROW review, check QUERLO CHAT: "What kind of movies do you like?"
The Technical Side Of the Movie
Given the technical aspects of this new Francis Lawrence movie, I applaud for a really good soundtrack. It contributes to high-quality technical implementation. It gave a perfect atmosphere to this movie. Especially, in one episode, everything is so good that everyone's body hair goes up of the music and the video showed.
The film visually looks quite attractive. More precisely, created, filmed, and installed really qualitatively. The chosen color palette perfectly revealed the mood of Russia and, in general, the world of spies. There are no bright colors except in secret missions where spies are not expected. And the other world is gray and gloomy. Both the gray-colored palette of colors, hero's suits, luxurious locations, stenography, and good makeup give us a solid picture of the film's operator, Joe Willem.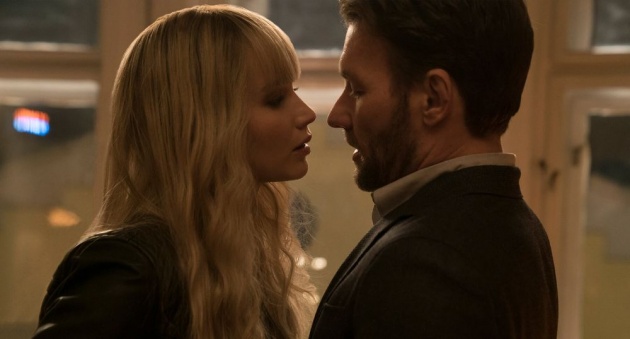 Spy thriller RED SPARROW - Photo credit: gizmodo.com.au
The operator, of course, sometimes overdone by filming too open scenes of violence that raised uncertain feelings. Some scenes looked fantastic while others were completely overdone.
The video editing looks sterile, so the movie looks solid but boring. Some of the scenes were so prolonged that I wanted they would end as soon as possible. Especially because some of them did not even have any impact on the general story. The sound in the film is well-organized. This is evidenced by too many violent scenes, with a great deal of macabre-blurred pain.
RED SPARROW interviews - Jennifer Lawrence, Joel Edgerton, Francis Lawrence
Video credit: FOX 5 DC via YouTube.com
The Collective Work Of the Actors
In the acting team, the director Francis Lawrence invited one of his beloved ones - the charming American actress Jennifer Lawrence.
Jennifer Lawrence
As we you could see when watching trailers of the film, the alpha, and omega of the RED SPARROW is popular Jennifer Lawrence, whose femme fatale appearance sometimes resembles Sharon Stone's role in Essential Instinct. She is the best-paying world-famous actress in the world, who gave the charm to the movie. It was one of the most open roles she performed in the cinema, although those who saw her stolen photographs from personal archives did not see anything new.
In addition to nudity and sex scenes with her, which is really a great deal here, I could mention her natural performance. But what to want from a talented actress who manages to empathize into her role in both action film and drama or comedy.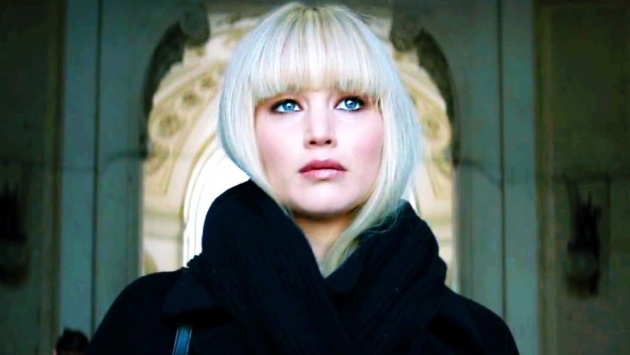 The spy Dominika - Jennifer Lawrence - Photo credit: wall.alphacoders.com
Even in spite of the really terrible attempt to speak with the Russian accent (it is, however, the most annoying problem for the movie), Jennifer Lawrence does her job well, and she attracts viewers attention every time when appears on the screen.
She spreads magnetism not only by her impeccable appearance but also by the attempt to develop a character of the strong woman.
In Red Sparrow, a woman's power seems to come from her ability to withstand sexual abuse and come out the other side. When Dominika emerges from "whore school," she's strong, capable, and ready to fight — by which, it becomes clear, means ready to seduce. Being frequently raped has hardened her, it seems, but not so much that she's able to use her feminine wiles to manipulate men into telling her their secrets. She's the perfect spy, luring her targets in with cleavage and high stilettos until it's time to put her other skills to use.

Credit: bustle.com
For me, it was hard to enjoy watching how Dominika lures and destroys the "enemies" because I realize that she does not work on her own free will. Dominika in spite of her seemingly special talent in that area is essentially a victim, turned by her own uncle into a state of a prostitute. But she endures everything.
When she does not take part in filming, Oscar winner and one of the most active actors in the world have other activities. Several years ago she spoke against unequal salary for men and women, and recently, along with many other Celebrities, Philanthropists, Academics, and politicians participated in a meeting to discuss American policy issues. So, she is strong fighting women, and her role of the spy perfectly fits her.
Dominika's trained to use her body but, ultimately, prevails by using her mind. To me she seems like a complex modern heroine, she uses her own rules. Red Sparrow was going to be my first time really going, the full Monty if you will, but then after doing it there's something that felt so freeing about it. Because I would never put my character into a situation that I myself am not comfortable being in. But as you can see in the movie it's this moment where she gains power, where she turns the tables on the people that are trying to control her and I felt that power. I found that exciting, - JenniferLawrence

Credit: hotcorn.com
When she does not take part in filming, Oscar winner and one of the most active actors in the world have other activities. Several years ago she spoke against unequal salary for men and women, and recently, along with many other Celebrities, Philanthropists, Academics, and politicians participated in a meeting to discuss American policy issues. So, she is strong fighting women, and her role of the spy perfectly fits her.
Joel Edgerton
I also would prise Joel Edgerton, who played the role of Neith. He is a great actor who did not damage his role of Nate Nash and he played well.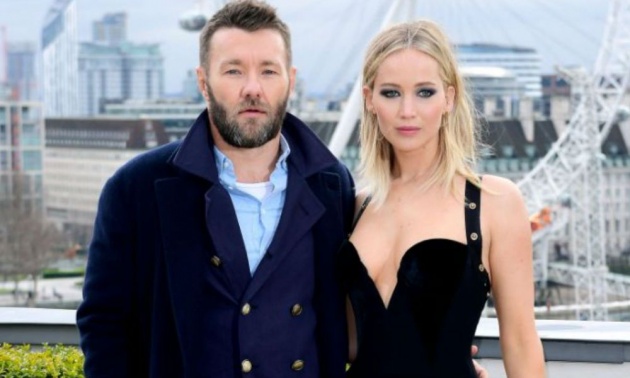 Joel Edgerton and Jennifer Lawrence - Photo credit: yahoo.com
Other Actors
There is also a lot of second-rate actors in the film, but most importantly, some of them are very talented and world-renowned masters of their field, who got poor roles. I say such because it's really hard to believe that such actors as Jeremy Irons, Charlotte Rampling, Matthias Schoenaerts, Ciaran Hinds, Jeremy Irons, and Mary-Louise Parker played such uninteresting characters.
On The Final Note
Spy games. Sex. Jennifer Lawrence. What do you need more to make a movie successful, right? The RED SPARROW uses all the elements and tells a gloomy story in which you will not really find anything like James Bond. It may sound like a promise of a great movie, but in practice, director Francis Lawrence is far from being able to perfectly use this blessing combination.
Red Sparrow aims for smart, sexy spy thriller territory, but Jennifer Lawrence's committed performance isn't enough to compensate for thin characters and a convoluted story. - Critics Consensus

Credit: rottentomatoes.com
The Hollywood film RED SPARROW is a drama with erotic and exaggerated violent scenes. The biggest plus of the movie is the tidy technical side and a quiet professional ensemble of actors that are trying to make a great story about the secret agents' everyday life.
The film has a kind of hidden morality - that even the largest state apparatus cannot always manage its created monsters.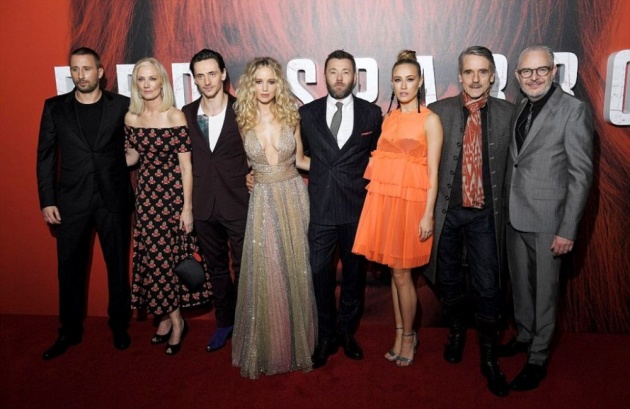 RED SPARROW European premiere London 2018 - Photo credit: imdb.com
RED SPARROW is not a perfect movie. But this is just a plus. We still have somewhere to move, and we have not seen the real spy thriller for a good few years already. And the fact that this work is on the big screen shows that we may get more such films. There is no boundary for improvement, but with the RED SPARROW, the world of spies, which has long been hidden in the shadow of action films, will return. The intrigue and constant thinking of action is not really a frequent part in modern spy movies, so this tape is like a refreshing breath of air in the cinema mosaics.
My rating: 7.0 / 10
Critics average: 50/100
Rotten Tomatoes: 47% ( of100)
IMDb: 6.6
Have a fun watching!!!
***************************************************************************************************
Thank you for stopping by and reading my blog.
2018, All Rights Reserved.
You are very welcome to join Bitlanders and share your valuable knowledge and opinion.
***************************************************************************************************
You can check my other blogs with movie review:
1. The Bitlanders Film Series to Support Women Empowerment: Star Wars: The Force Awakens
2. The Bitlanders Film Series to Support Women Empowerment: Beauty and the Beast
3. The Bitlanders Film Series to Support Women Empowerment: Arrival
Come back to find more...
***************************************************************************************************