Herat Blue Masque had been Zoroastrains temple before Islam and in 29 Hijri Qamari durin the caliphate of Hazrate Osman it turned to the first assembly Masque of Muzlim in Herat .
This masque in 372 Hijri Qamari was the most developed Mosque and Khaja Abdulahe Ansary had been teaching there from 396 to 481 Hiri Qamari. This mosque was burned in 414 Hijri Qamari which by spiritual help of KhajaMohammad Taki it extinguished and people repaired that again.
In 597 Hijri Qamari advice of

Imam Fakhruddin Razi, it was reconstructed with bricks and decorated tiles by Soltan Mahmood son of Sultan Qiyasuddin Mohammad Ebni Sam.
In 618 Hijri Qamari Changeihz attacked and ruined the Mosque and during the years 707 to 729 Hijri Qamari during the priod of Malik Qiyasuddin Kort in was again repaired and Qiyasia school was built in it. From 732 to 771 Hijri Qamari, Malik Moezuddin Kort added to beauty of this Mosque and mystic's house was made in it.
In 772 Hijri Qamari during King dom of Malik Qiyasuddin the last King of Ale Kort family a bronze pot was made for drinking portable water prayers which has remained to now.
From 807 to 832 Hijri Qamari during the kingdom of Shahrokh Mirza Timury the beauty of this mosque was added by tiles, calligraphy, and using miniature arts and Masqoora porch was made during the Kingdom of Amir Ali Sher Nawaye.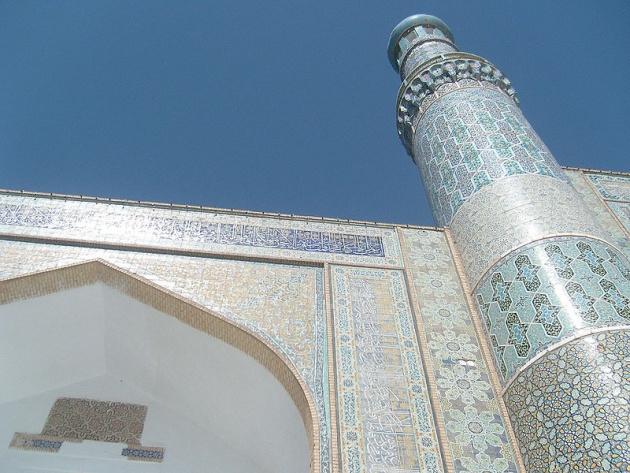 In 916 Hijri Qamari due to attack of Shah Esmail Safawi's soldiers some part of the Mosque got destroyed and 1032 Hijri Qamari was again repaired by the Hassan khan Shamloo the professional calligrapher and poet who was also governor of Herat.
In 1253 Hijri Qamari with endeavor of Minister

Yar Mohammad Khan Alokozai, the northern porch and other

parts including saloons were repaired.
From 1296 to 1319 Hijri Qamari ,Faramarz khan the General Commander of Herat Army endeavored repairing the Maqsoora Porch .
Amir Habibyllah Khan during his kingdom financially contributed ans developed additions of the mosque .Same parts of the Masque were repaired by people of Herat and Abdullah Khan Malikyar paid special attention to decorate its minarets with tiles and also bult a park the eastern part of the mosqe and paved the surrounding pavements.
In 1374 Hijri Qamari the stone adytum which is made of the alabaster was made by ustad mohammad saeed mashal .
With the endeavor of mohammad esmail mayar the governoar of Herat, a minaret was built in the middle of easterm park in 1376 .
The pavement project of the Blue Mosque started in 1353 Hijri shamsi byt ended during the Taliban regime by

mola Yar Mohammad

Khan.
This big mosque has a historical library ,and an adytum made of alabaster made by Ustad Mashal.
A big chair made of marble was made in 900 Hijri Qamari by Ustad Shamsuddin Hakak.
The total area of this mosque is 46, 760 sqm which its length is 385 meters and its width

is 121meters and the total

area of its buildings is 21,600 meters which its length is 180 meters and its width is 120 meters.Heights of its minarets are 36 meters .