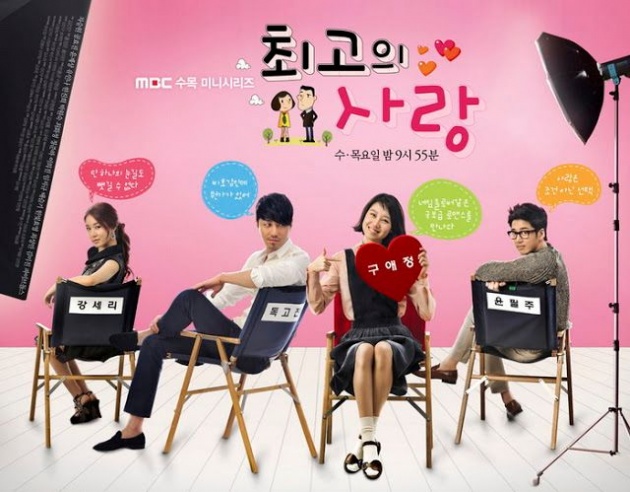 The Greatest Love
Genre: Comedy, Romance
Category: Drama Korea
Film Date: May 2011
Episode: 16
The Greatest Love is a romantic comedy starring character actor Cha Seung-won and actress Gong Hyo-jin, this drama is guaranteed to make you burst out laughing.
It started from Goo Ae-jung (Gong Hyo-jin) was once the most popular members of the girl band The National Treasure Girls, but 10 years ago the band broke and he blamed. Since then, his career plummeted and now Ae-jung should be fighting for his career in the entertainment world by trying to perform in various events and television promos.
On the other hand, Dokko Jin (Cha Seung-won), an actor whose career is now being victorious-prosperous and well-liked in the country's ginseng, but behind its popularity is that it has a pretty bad character, such as extremely narcissistic, arrogant and selfish. Well, it turns Ae-jung accidentally knows a secret Dokko Jin and leaked in a talk show that made the actor was furious.
Since then, Ae-jung and Jin are involved in hot-cold relationship, but it develops in an unexpected form. Apparently Jin unexpectedly recognize the voice of Ae-jung as a singer's voice who 10 years ago made him crazy. Jin began to fall in love with Ae-jung and even helped the woman to get a role in a reality show titled Couple Making.
The problem is when Ae-jung began to like Jin, the man even deny some affection. Not to mention the status of Jin appeared to have had a lover, Kang Se-ri (Yoo In Na). Se-ri is a former member of the same band with Ae-jung. Actually, the story of love and Jin Se-ri has foundered some time ago, but they pretend to remain a lover from being exposed to negative publicity.
Unlike Ae-jung, Se-ri career more brilliant and become the host Couple Making it. He does not like the proximity of Ae-jung with Jin because he wanted to maintain its status as the most popular actor lover even pretend. On the other hand, Jin panicked when Ae-jung began to open themselves to the love of a doctor named Yoon Pil-joo (Yoon Kye), one of the participants Couple Making.
Will Goo Ae-jung and Dokko Jin united despite many obstacles? What will happen to Kang Se-ri and Yoon Pil-joo it?