The Night Before New Year's Eve at Stonehouse Inn Bed and Breakfast
New year was just 48 hours away and my sister needed to finish her paperwork she took home. She can't concentrate inside our house as people and PUVs (public utility vehicles) strolled along our street. Adding to that the music other neighbors were playing as the end of 2017 came near.
The noise was less stressful compared to previous years. For one, fireworks and noisemaking devices became too hard to buy. Moreover, this year, the government banned playing fireworks in streets, but only on designated places. Still, the noise was frustrating her focus in her work.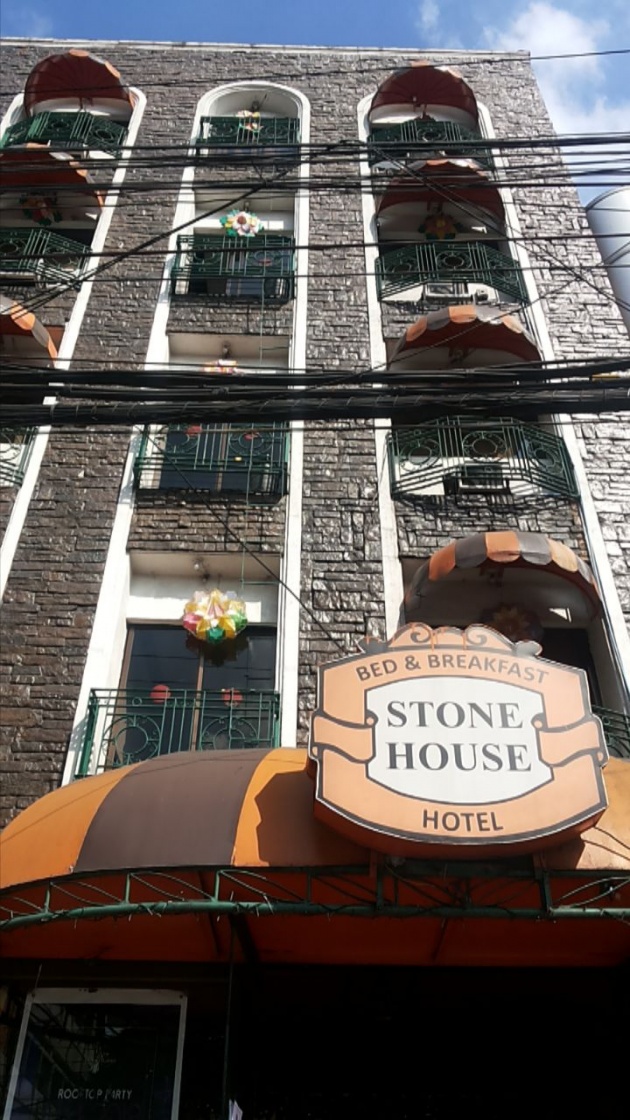 Photo credit: lapiz-lazuli
She perused through booking.com and searched for the nearest and cheapest deal she could find. Also, she was minding the rating, so she stumbled upon Stone House Bed and Breakfast along Quezon City, Philippines.
Background
Pardon me for forgetting this vital info, but I think Stone House has been here since the 90s (or earlier). They now have 3 branches and we booked our stay at their QC Branch.
Video credit: lapiz-lazuli via bitlanders.com
Here's an excerpt from their official website:
What makes Stone House Hotel, Quezon City unique is our dedication to bring you closer to home by giving you the basic comforts you need at affordable rates. We have different rooms to suit your style and budget.

All of these air-conditioned rooms are equipped with a private toilet and bath; hot and cold shower, cable TV and telephone. Free wifi is available at the restaurant and Penthouse garden. Daily newspaper is also available if you want to keep abreast with the current news and latest happenings around the globe.

Stone House Bed and Breakfast has two (2) event areas that can cater to any occasion: seminars, weddings, debuts, birthdays etc.

The facilities and services of Stonehouse Hotel in Quezon City promise you convenience and satisfaction throughout your stay.

- from stonehouse.com.ph
They have 7 types of room you can choose. They also have free wifi downstairs and a rooftop garden upstairs.
Rooftop garden and penthouse. Video credit: lapiz-lazuli via bitlanders.com
Bedroom
Sister picked the cheapest room, the Ruby it was called. It had a queen-sized bed, with windows at the side. The other side of the bed had table with mirror and phone, and a chair. It was warmly lit and the room had cabled tv which we used to the max. The Carrier aircon was cool for its setting.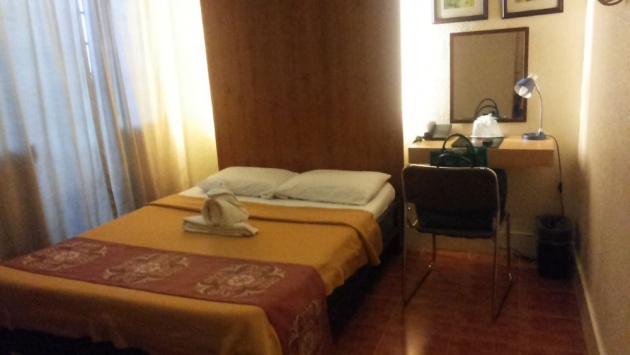 Photo credit: lapiz-lazuli
The bed was nicely decorated and neatly laid out when we entered. The pillows were a bit small for my liking, but it was soft enough for me to not have a neck ache. Sister has sensitive skin so we thoroughly shook off the bed covers and blankets. But that was after she felt itchy when we lay upon entry. I also saw (pubic) hair latched onto the fleece cover. It would seem that they don't vigorously clean the beddings...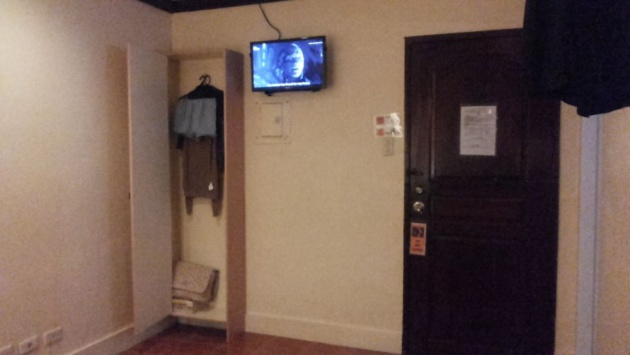 Photo credit: lapiz-lazuli
In front of the bed was a small cabinet with a few hangers. There was no mirror or safety deposit box nor a clothes iron in it. It also only had two double hooks from which you can hang your clothes; it has no bar whatsoever. There are phone directory books on its base, even if there's internet from which you can look up on for info. It was probably for the old patrons of the inn.
Bathroom
The bathroom looked very old, with white tiles and cracked ceramic sink. The toilet had modern push button fluch though. As for the shower, we found it hard to set it warm. We had to ask one of the roomkeepers on how to open the shower, as they have three knobs. If you turn one or combination of others, the water will flow through the bottom faucet. Turning only the third knob and waiting patiently did the trick.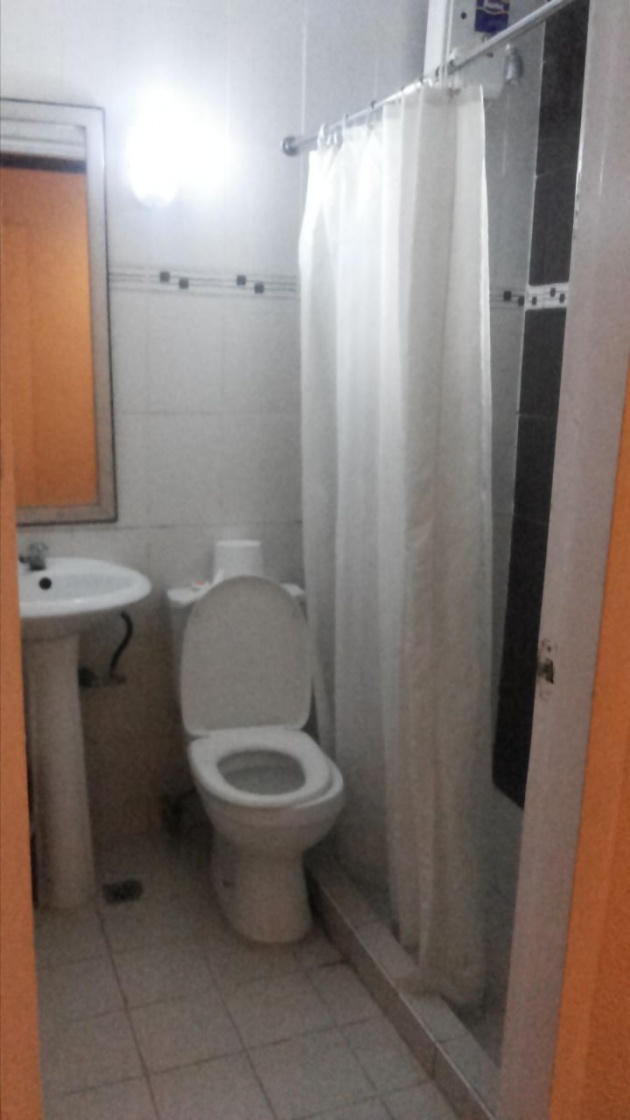 Photo credit: lapiz-lazuli
The bathroom didn't smell, but it didn't look too neat either. There were free tissues and bath soap, but you have to request for toothbrushes and other toiletries and these came with a fee.
Bar (Ground and Rooftop)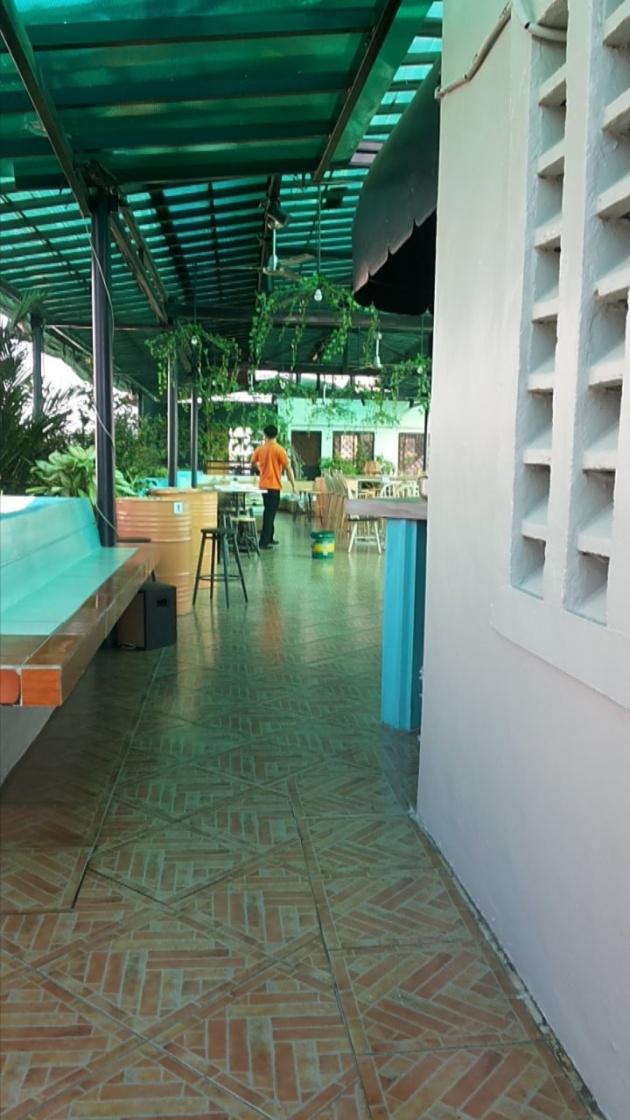 Photo credit: lapiz-lazuli
There was a restobar at the ground floor and another eatery at the roof deck. When I visited the top, the bar was closed and a janitor was cleaning the place. There was a memo then that notifies the Year End Celebration would be held in there...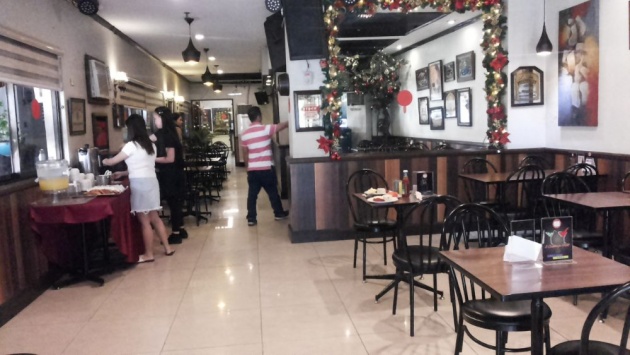 Photo credit: lapiz-lazuli
As for the restobar downstairs, it was dimly lit at night, and even when we had breakfast come morning. Because we checked in at the 30th and had an overnight stay, we also had dinner at the place. We planned to have our night meal at our room, but when sister was invited by the receptionist to eat at the restobar, we changed our minds.
I think I will write a separate blog about our dining experience at Stone House.
Breakfast
There was free breakfast for two people. It opens around 7 in the morning and you should register your room number at the diner to avail of the free breakfast before 10 o'clock.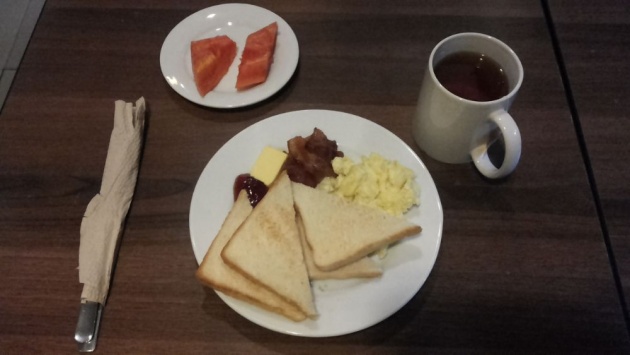 American breakfast. Photo credit: lapiz-lazuli
I chose the American breakfast, while my sister picked the Filipino breakfast. I think there were two other options: vegetarian breakfast and the one with pancakes. Our orders came with free drinks--I chose hot tea.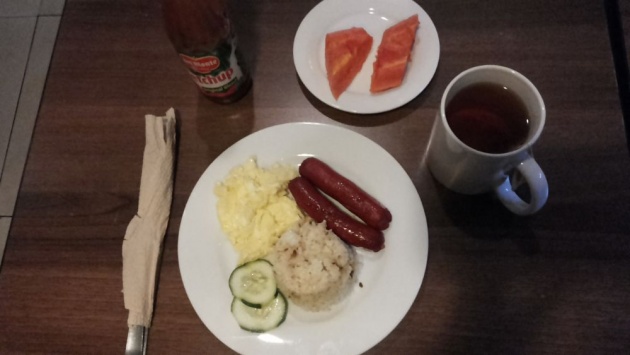 Filipino Breakfast. Photo credit: lapiz-lazuli
There's a breakfast counter were you can get hot coffee, pineapple juice and where you can toast slices of loaf bread. You can refill your drinks, also without cost. Water is also free and they'll serve it to you.
Barkeepers Etcetera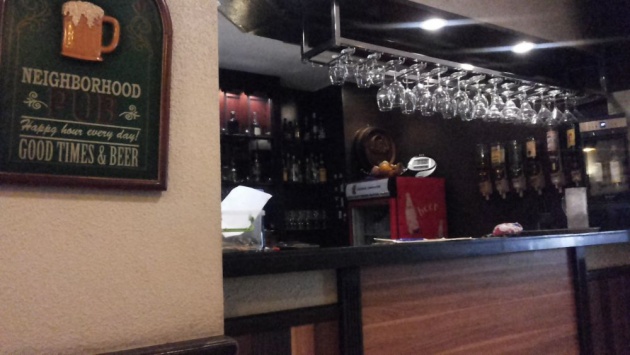 Photo credit: lapiz-lazuli
The barkeepers and other staff were very accommodating and assertive with our needs. They were the ones who kept asking us what we need or if needed beverage refills. Plus, it wasn't in an intrusive or pushy way. They also look smart and presentable.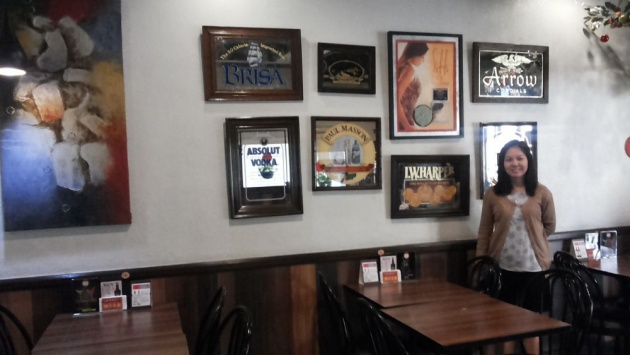 Photo credit: lapiz-lazuli
I noticed that only few people hang out at their restobar. But when my sister checked at booking.com, the rooms were almost sold out. Maybe other guests ate breakfast early. We also saw many trays with empty and used dinnerware beside almost every doorstep. Maybe they fancy privacy?
Overall, Stone House Bed and Breakfast is a good place to have a nice and quiet personal time with loved ones.
Commuting here was very easy as it is along E. Rodriguez, a route for PUVs. If you have tons of carry on, just take Uber like what we did. And enter through the restobar first to reach the reception area.
Disclaimer: Pictures, videos and write-up are originally made by lapiz-lazuli, unless otherwise stated. Views and opinions in this blog post are truthful but subjective and are not influenced by sponsorship of any sort.