Hello friends. After a week, I'm done watching another movie which I watched specifically for writing a review. It is the first time I am reviewing a movie after watching it once only. This is not a movie of my type but I had to watch it after seeing its huge recommendation on the internet. The hit movie, The Revenant is what I will be reviewing in this blog post.
The director of this movie is Alejandro G. Iñárritu who has received Academy Award for the Best Director for showing his directing skills in The Revenant, Babel and Birdman. These are only some of his notable movies that earned rewards for him. Leonardo DiCaprio also won best actor award for his role as the main character in this movie. The movie is based on novel written by Michael Punke in 2002. Genres in this movie are loads of thrill and adventure with drama. Let's proceed towards story of the movie.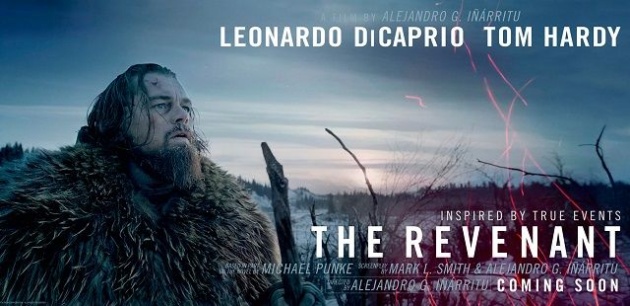 (This image is taken from Google.com.)
Story of the Movie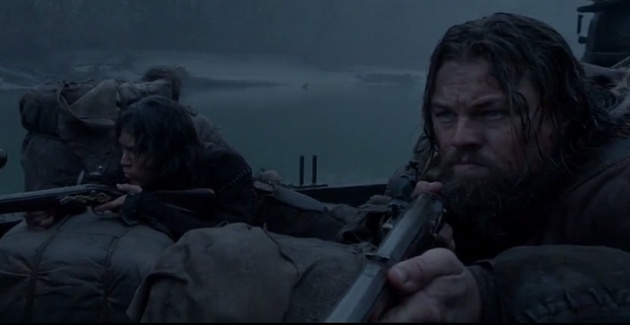 The time is 1823 and the place is an unorganized territory in the U.S. Hugh Glass, who is one of the the group members who hunt animals for their furs and skins, chases an animal down. All of a sudden, the group gets attacked by a Native American tribe Arikara. Most the people in the crew are killed and some of their pelts is taken by the attackers. Glass and his son Hawk with their captain Andrew and few members succeed to survive and flee on a boat. On the basis of his experience, Glass suggests to move through the ground and leave the boat in order to reach their destination by avoiding the Arikara people. The captain accepts the suggestion and they all take remaining pelts and horses and leave the boat. One morning during the journey, Glass scouts around and sees a bear which attacks him gets him wounded. Glass almost dies while his friends find him and try to bandage his wounds. They lay him on a wooden made stretcher and continue the trip. As days pass, it becomes more difficult for the trappers to take injured Glass with them while walking towards the outpost in an already arduous journey. The captain offers $100 for two men who will stay with Glass and give him a proper burial when he dies. Except Hawk, Fitzgerald and Bridger accept while the remaining crew carries on with the trip. Fitzgerald digs a pit and tries to bury Glass alive and when Hawk tries to save his father, Fitzgerald kills him. Bridger and Fitzgerald put Glass in the ditch and leave him alone. Glass stays alive and reaches the outpost alone. He kills Fitzgerald for killing his son, Hawk.
Watch the trailer of The Revenant below.
(This video is taken from Youtube.com and uploaded by 20th Century Fox)
Cast of the Movie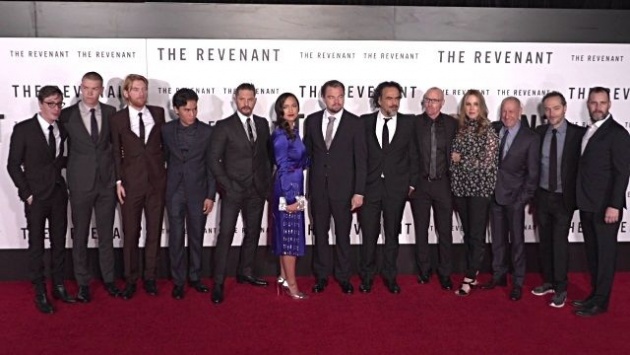 (This image is taken from Google.com.)
Cast chosen for the movie seemed perfect and the acting is one the best parts I observed in this movie. Cast of the movie is written down below.
Leonardo DiCaprio as Hugh Glass, one of the hunters crew and main role playing character in the movie.
Forrest Goodluck as Hawk, a native American son of Glass and one of the hunters.
Tom Hardy as John Fitzgerald, an hunter and has aggressive behavior towards Glass and his son.
Will Poulter as Jim Bridger, another hunter in crew.
Domhnall Gleeson as Andrew Henry, captain of the hunter crew.
Melaw Nakehk'o as Powaqa, daughter of Arikara chief.
Grace Dove as Hugh Glass's wife.
Anthony Starlight as Arikara chief.
Like every movie, cast of this movie is very big but I mentioned only main characters. Let's move forward to read some reviews about the movie.
Leonardo DiCaprio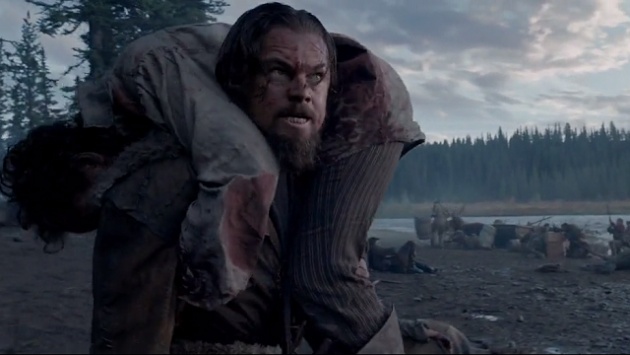 Blood Diamond and Titanic are two of DiCaprio's best acting movies where he has proved his skills of beautifying a scene. This is what I observed in this movie, The Revenant. The character was set as an invincible or tough man who has lost his wife and home. His sacrifice for making the role perfect was extreme. According to him, the weather conditions were demanding. As a vegetarian, eating bison's raw liver or fish shown him to be devoted for his character.
No Dialogue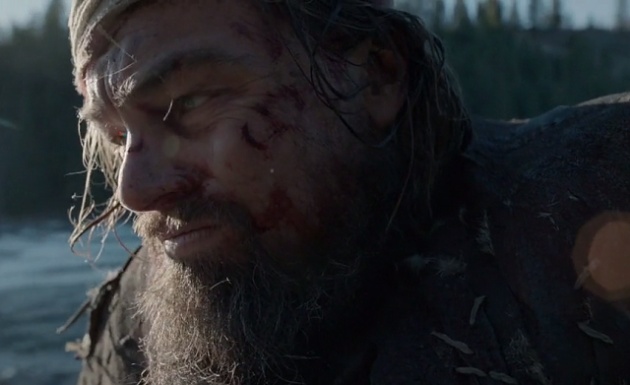 After watching his acting with almost no dialogue, it will not be wrong to call him monarch of acting. He is presented as mostly silent and alone person. The ability of communicating with audience and expressing character's feelings without saying a single word truly demonstrate the actor worth an award. Well, If you ask me, he should have already gotten the Oscar for best acting when we watched his Titanic.
Cinematography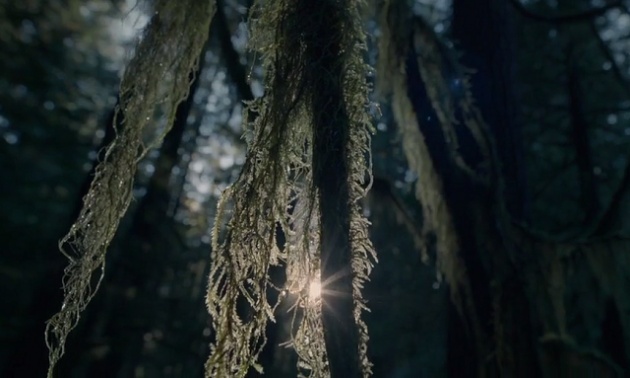 Though there are parts which I didn't like in the movie but cinematography is not one of them. From lightning to facial expressions, everything was showcased magnificently. The credit goes to the proficient and expert cinematographer Emmanuel Lubezki who has achieved Oscar for The Revenant and Birdsman. In the movie, the audience has joys of watching scenes recorded in natural light. One of the artworks in the movie which appealed me, is glitter of leaves and dripping ice.
Justified Rating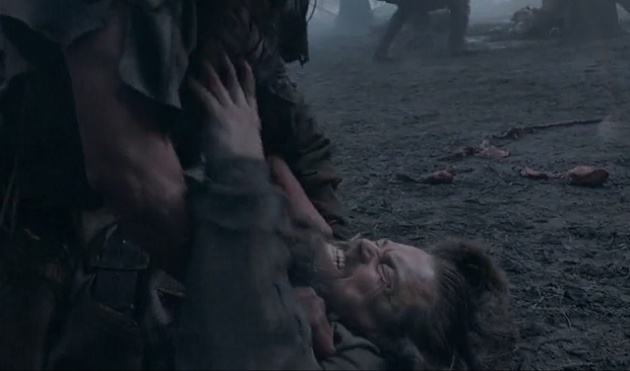 Undoubtedly, The Revenant has received an astonishing achievement and it delivers time's best acting, directing and cinematography but it is still filled with blood and several kinds of violence. The director did less focus on hitting the audience than making it more realistic.
There are scenes which include bloody war when hunters are shot with arrows in eyes and all over body. In addition to bloody battles, dialogues in the movie are not very good too. And even worse, nudity and sexual content made it impossible to watch the movie with family. Well, I am satisfied with the rating which made the movie limited to specific audience. So, the movie can be said as non versatile.
Abstract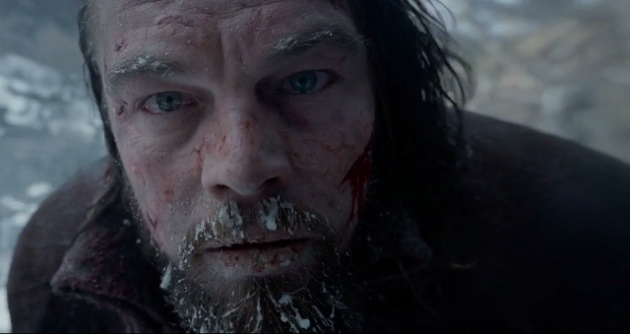 The Revenant is a good movie. The director and cinematographer are experienced and they proved their expertise in their respective fields. Personally, I loved each scene except wars and sexual content. The actor did his best in actualizing his real from the novel. The no-dialogue acting was not just satisfying but gratifying and made an hour of watching the movie really enjoyable.
The movie gets 8 out of 10 from me which is a pretty high score.