A thing of beauty is a joy forever !
.For those who want to see the Paradise on earth, must go to Kashmir .I am sure your heart will not allow you to come back. Why...?I have some reasons for it which I saw when I went for tour in Kashmir.<I and my university fellows went for Pakistan tour in our final year in July 2016 where we enjoyed and refreshed too much>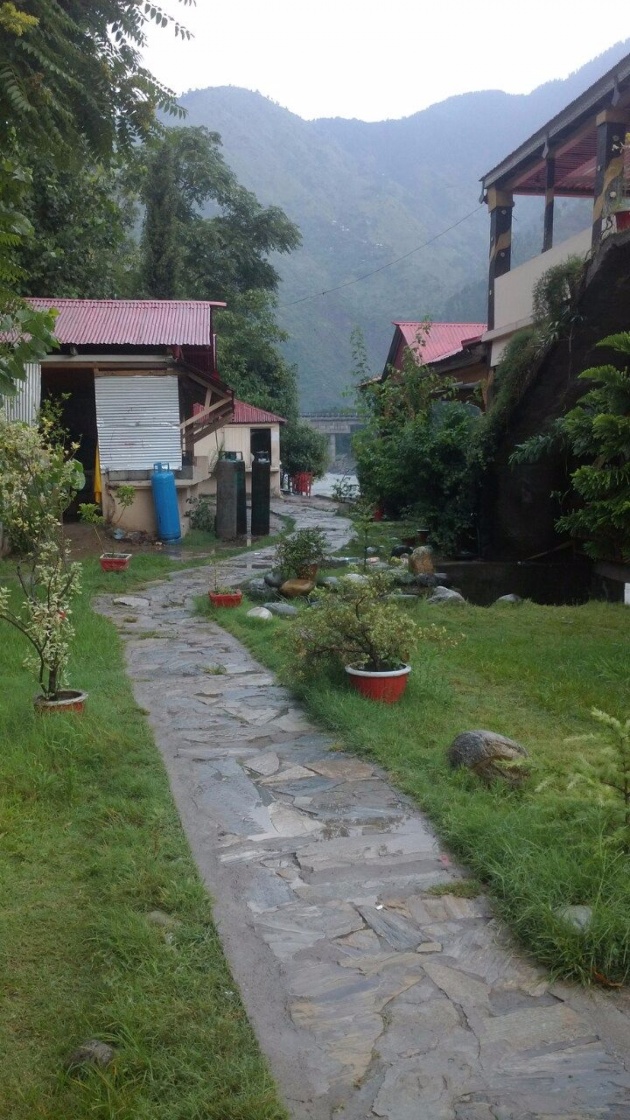 (WE stayed here)
Location of Kashmir

It is a state of valleys located in the Himalayan mountain ranges in South Asia has an average height of 1850 meters above the sea level. Many rivers flows through the state. Of which major is Jhelum river. It is monsoonal area which receives heavy rainfall during July to August. Muzaffarabad is the capital of kashmir.
Why Kashmir is called Heaven on The Earth ?
When I visited Kashmir, I realized What my grand ma said to me, "Kashmir is really a heaven on the earth. Its beauty can't be compared with any other state or country . Its such a beautiful place! " … " That's true" I answered my grand ma in my heart .She is no more in this world.Why it is called paradise on earth.?What I have observed , I will share with you.
1. Green mountains with white clouds over it:
On the way to Kashmir, mountains are scattered around but you cannot see the peaks of those green mountains.They are covered with white clouds which creates a very purified scene like you are in heaven. One can't blink his eyes when he will view such a beautiful scene filled with purity and peace of mind .Kashmir valley is surrounded by some of the highest mountains in the world.Ideal time to visit this scenic place is spring and summer .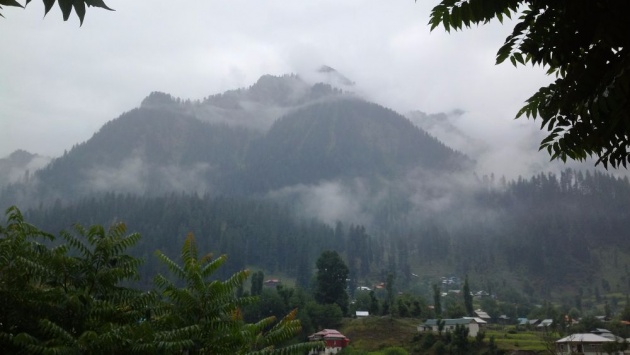 3. Greenery everywhere :
Mountains are not barren there. All mountains are covered with grass, herbs and shurbs .Lush green valleys can inspire the one who enter into them.Flora and Fauna is found in abundance there. Cattles were grazing here and there. Not only greenery exists! Flowers everywhere I saw which adds the beauty of Kashmir. Mostly I saw of yellow ,purple ,white and pink coloured which made me feel fresh. See the pics !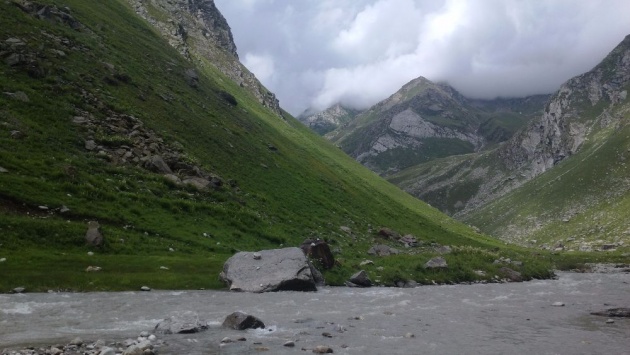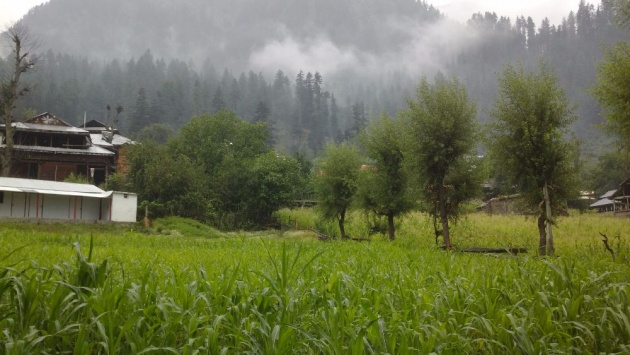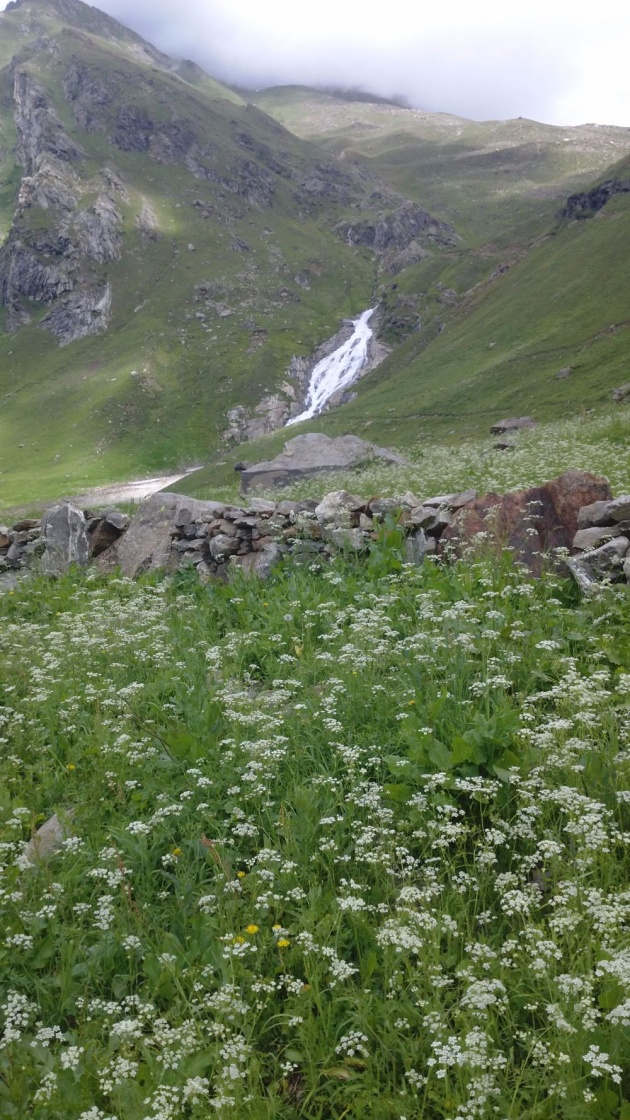 3. Cool weather :
Usually tourists visit the places where climate is too cool. As Kashmir is 1850 meters above the sea level, one can enjoy its cool weather. And if it rains, oh God! The scenes are unforgettable guys. We had enjoyed there such a raining then weather became too cool and the atmosphere relaxes you. Watch a quick video
4. Too much butterflies :
On the first day, we decided to take lunch outside the rest house. We did according to our plan.We were amazed ! Little butterflies of various colours in a plentiful amount were flying here and there!! At that time I thought really it's a paradise on earth.
5. Flowing streams :
It is the land of beautiful valleys.We saw many streams flowing from top of the mountains. I love such a running water .We drank it as it is full of minerals. That water is as clear as glass.Most tourists filled their big bottles with this mineral water. On the sides of some mountains , layers of ice is frozen there where as streams flow nearby. God can create everything ,I thought at the moment. view the scene.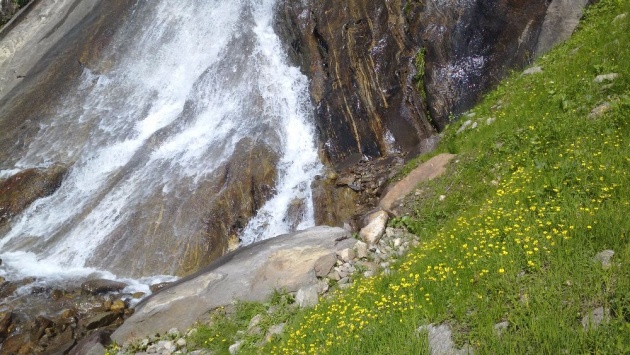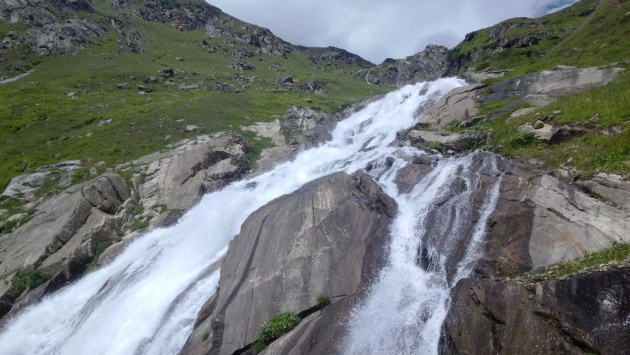 6. Silver stones :
Small and big stones, we found there but amazing feature is that the some stones upper layer is covered with silver layer like a silver metal layer, we don't know which metal is this.Focus on the silver stones while watching this video
7. View of Himalayas from Kashmir :
Himalayan mountain ranges is one of the biggest mountain ranges in the world.They are covered with snow.You can view the ranges from the top of kashmir.
Valleys in Kashmir
Kashmir comprises of many valleys of which I visited only Neelum Valley ,Pathika Valley and Shounter valley.
1. Neelum valley : This is the loveliest one about 90 miles long lies on North-South of Muzaffarabad.It has natural growth of Deodar,fir,pine and walnut trees.Lakes,springs ands trees gives you a peaceful environment.I have captured a pic of a shallow lake there which is spoon shaped called "Spoon lake"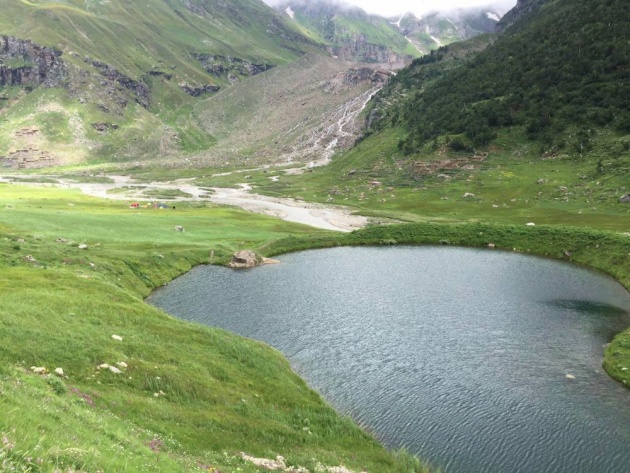 2.Pathika Valley: It is very popular among the tourists .Markets are in large quantity where you can buy finest quality embroidery shawls ,caps and jewellery items. Rest houses are available here.
3.Shounter Valley : It is very high regions of Kashmir.only Jeep wrangler take you there because the way to Shounter is quite rough.Proper construction of roads are not available in the route.However, we reached from Pathika to Shounter in 1 hour.I find no one there.No rest houses and markets are available.But weather is amazing .On the sides of mountains ,layers of ice are stuck cause the green mountains to be more beautiful.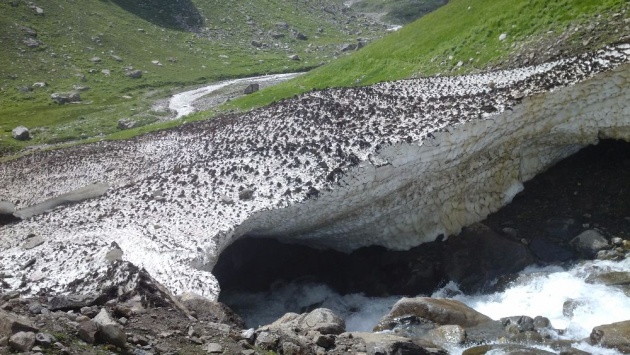 Life in Kashmir which I observed
1) WAY OF LIVING BY KASHMIRIS:
People live simple life there.They are not too rich people rather we found them hard workers Houses and shops are made of wood.Valleys are fertile and Agriculture is the main occupation of them and they mostly cultivated rice crop. Whereas tourism is the 2nd main economic activity of kashmiris. Shops are few and small .We didn't find any big shopping mall there. However, we bought fine embroidery shawls as gift for our family members from those small shops.I have captured this pic ,a shopkeeper is selling fruits.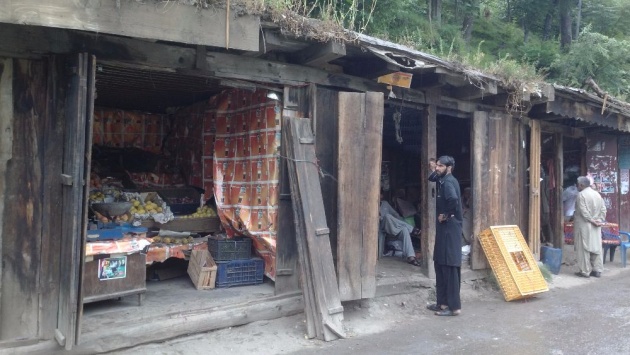 2) KASMIRI TEA:
Hmmmm!Hot KASHMIRI TEA ,light pink in colour refreshed us in the morning .It is a traditional tea of kashmir whose taste is unique creamy milk. Its one of the specialty of Kashmir.You must taste it if you go there.
3) LIFT CHAIR SET UP AS RECREATIVE PART :
Lift chair has been set up from one mountain to another mountain far away so that you can enjoy more viewing from top.
Parts of Kashmir
Here I clarify you that we visited Jammu Kashmir. Kashmir is divided into two parts:
1) Jammu Kashmir: Muslims live here with freedom but they are not developed.
2) Occupied Kashmir: Indian Hindus have occupied the Muslims here .and a boundary is set up between these 2 parts. Muslims lived as slaves of Hindus here. KASHMIR ISSUE( That I have read in different history books ):At the time of partition of India in 1947 ,Kashmiris were given choice either to join India or Pakistan.77% of kashmiris were Muslims at that time. But the British ruler had sold it to Dogra Hindu Raja for the paltry sum of Rupees. 65,000,000,000 then Hindus had occupied it.Muslims were successful to gain some part of it and called Jammu Kashmir while remaining Muslims were ocupied in occupied kashmir
(All pictures and videos are captured by me )