A couple of months ago, I and my friends planned to go for travelling and definitely we had no better option other than experiencing the interior places of our country such as the northern areas of Pakistan, the mountain range areas, historical cities etc. as that would suit us in several ways. Firstly, it's going to be an amazing experience of discovering the beautiful places of our country and that too among our own countrymen/ local people. Secondly, being a student, this trip will be a bit handy as far as the tour budget is concerned and can't exceed for more than 20K ($200) per person.
To travel is to take a journey into yourself. - DANNY KAYE
TOUR TO THE INTERIOR PLACES OF PAKISTAN
So we made our plan to leave for the trip on January 4th, just after the finish of my semester exams. As per the plan, our journey was of maximum 10 days, and we have to travel through the train. Following the plan, we leave for the trip on the planned date and formally started our journey from Karachi to Rawalpindi by train. Although the desired destination wasn't Rawalpindi which is a city too (not a recommended place for travelers), we had to make a journey through road transport after being reached at Rawalpindi.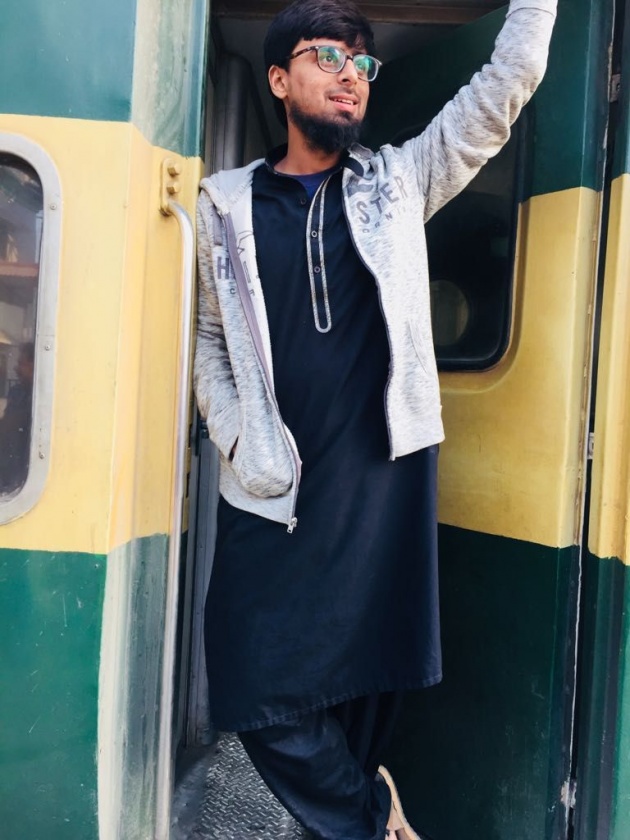 Image source: My smartphone camera
Pictured while standing at the enternace of the train.
It took us around 30 hours to reach Rawalpindi from Karachi. An entirely tiring journey, but that couldn't low our excitement as from then our next destination would be some kind of piece of heaven on earth.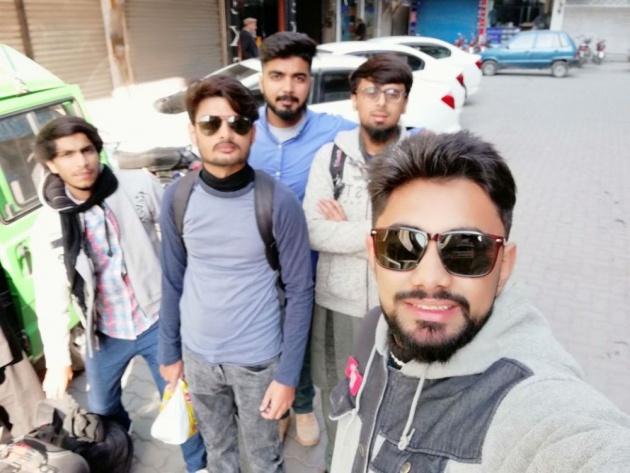 Image source: My smartphone camera
A selfie with my friends before leaving out from Rawalpindi.
So after a single day stay at Rawalpindi, we proceed to our next destination. We booked a high-roof car for the next ten days which will get us to our desired destinations. From Rawalpindi, we were off to our very first travel destination which was Swat Valley, located in the KPK province of Pakistan. And indeed, that's the time we kicked off our adventure too.
SWAT VALLEY, KPK
Located 247 Km away from Rawalpindi, Swat Valley considered as the top recommended place for the tourists. However, it contains several other beautiful valleys, lakes, rivers, and mountains under its name. After reaching Sawat by road through our booked high-roof from Rawalpindi, our next goal was to reach at Malam Jabba (a snow-capped valley) to discover the beauty of nature.

Being lived in Karachi, which is located at the south-west of Pakistan, where even a rain falls at very often and the weather remains 20 to 35 centigrade in normal days, the weather of Sawat was extraordinary cold. The weather reached 0 centigrade that night, which was kind of unbearable to a person like me who was witnessing it for the first time. But nevertheless, it was breathtaking view and experience that we had in Sawat. What could you ask more when there were high-range Mountains ready to welcome you from the balcony and a river flowing adjacent to your hotel? Nah… nothing, that's already a dream place make your life moments precious.
We were then departed for Malam Jabba Valley next morning, which is located around 2 hours from Sawat. Before this, we had only seen Malam Jabba in pictures and heard a lot about it from the tourists which absolutely doubled our excitement. From going through the dangerous paths, mounted roads and a bit of fear factor somewhere in our mind, that was all happening with at that moment during the trip. But that's all fade away as we saw the first sight of snow. Snow, which I had seen for the first time. Never ever before in my life, I had seen snow, because I belong to the city which is situated in the south-west as I mentioned before.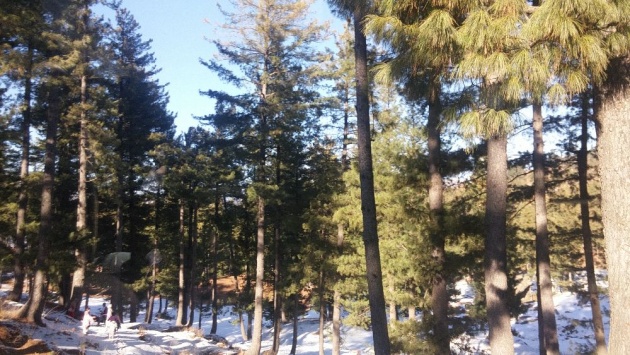 Image source: Captured by me.
Malam Jabba Valley.
But before we reached there, we got to experience some crazy scenes of nature in our way. There were many heartwarming places, but of two were those at which we can't resist ourselves to stop our car. The first one was the beautiful lake coming all the way from the mountain. The purity of water, the stones shaved on the lake and the beautiful noise of water were enough to felt us love with nature and this beautiful place.
Video source: Shot from my smartphone camera.
The beautiful Swat Lake.

We were stopped there for around half an hour, in which we took pictures and enjoyed the moment and scenes too. That was the perfect place to discover the real peace of the soul, and make your interaction with the lovely creatures of nature.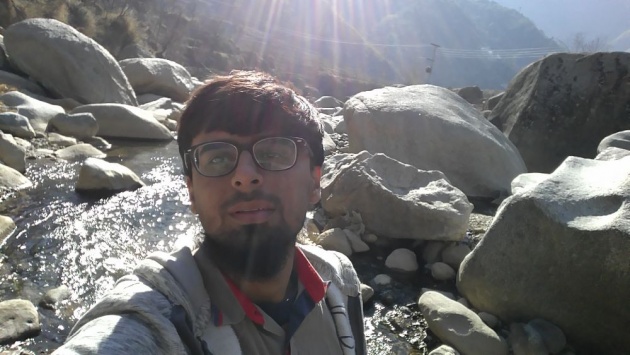 Image source: Selfie clicked by my smartphone camera.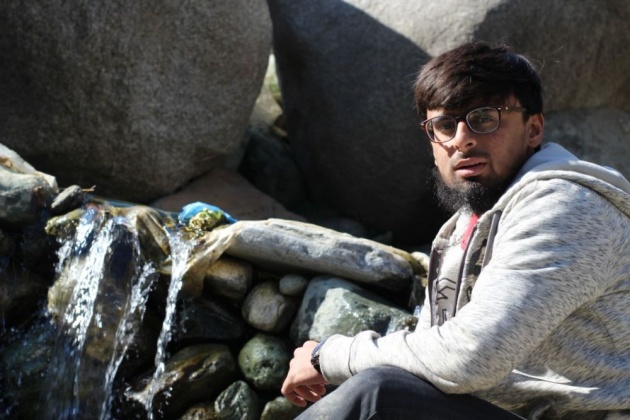 Image source: My smartphone camera.
The second place where we stopped at was the sensational Swat Suspension Bridge. It was basically a bridge that was built upon the river to make travel the local from one side to another side of the river. What the best thing about this bridge was its ancient architecture and the surrounded mountains. This bridge had been built by the locals with the help of woods and metal.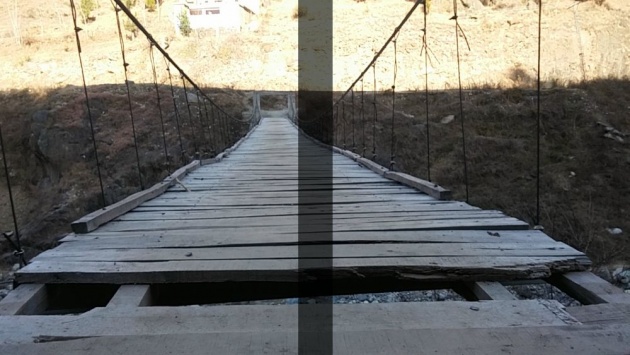 Image source: captured by me.
The Swat Suspension Bridge.
The crossing of the bridge wasn't as easy as was look like, as it gets shaking with every step to it. But remember, we came here to welcome adventure, so we crossed it to go to the other side and began our photo session.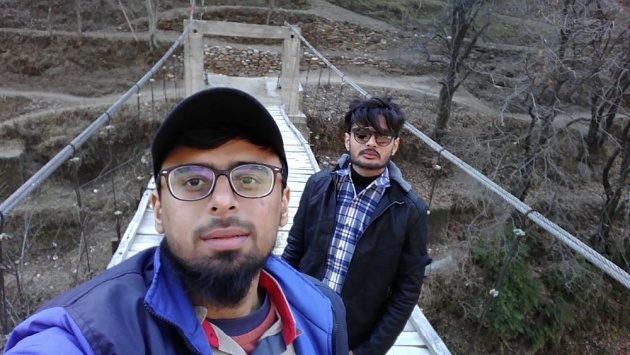 Image source: Captured by me.
A selfie at the Swat Suspension Bridge with my friend.
MALAM JABBA VALLEY:
Video source: Made by me.
The breathtaking view of Malam Jabba Valley from Chairlift.
As soon as we reached Malam Jabba, it seemed like we've surrounded by white carpets. Malam Jabba had so much to offer, such as there were Ice skating, other games and more than anything the mighty chairlift. The main thing about this place is that it is located around 8,500 feet above from the sea level.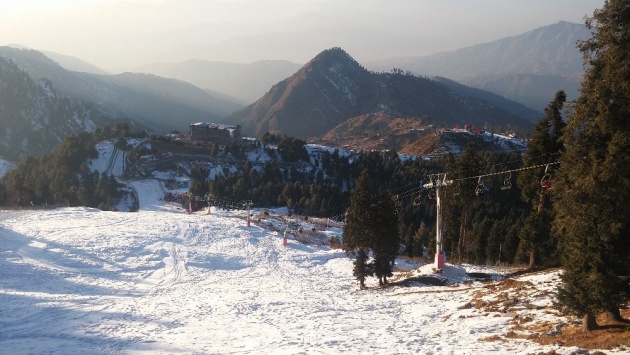 Image source: Captured by me.
The epic Malam Jabba Valley.
The first thing we did thereafter reaching was that we enjoyed a hot cup of tea in the super-cold weather of minus 6 centigrade. It was feeling same like as if we were sitting in our freezer at home. But let's talk real, what a place. I got so many memories attached to it. Never there been a moment which we hadn't enjoyed. From playing in the snow, throwing it at each other, snow games and chairlift, that's all we had at our trip to Malam Jabba Valley.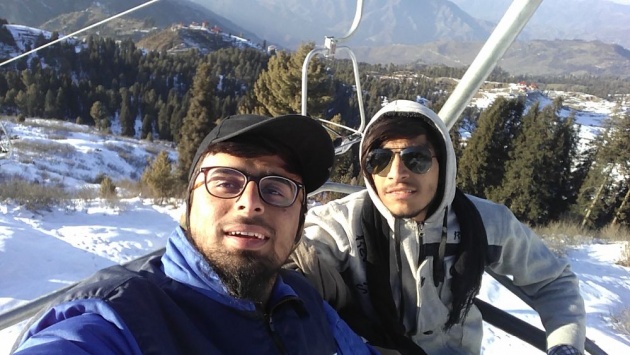 Image source: Captured by me.
At Malam Jabba Chairlift along with my friend.
That place is arguably the piece of heaven on earth and what a phenomenal creation of nature. The high peaks of snow-capped mountains along with large green trees and snow, what else you need? This is the must visit place for the Pakistani's or the ones who are planning to visit Pakistan soon.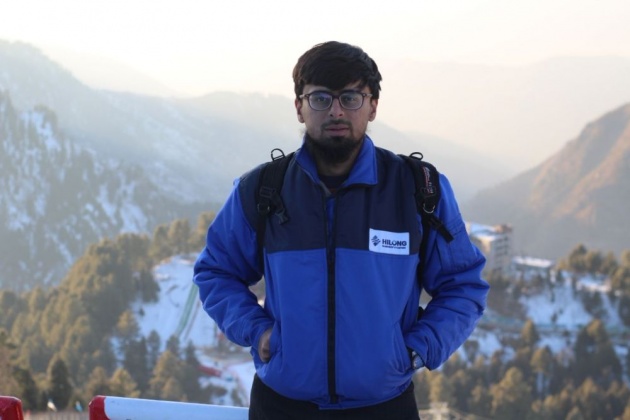 Image source: My smartphone camera.
At the top of Malam Jabba.
My travel diary hasn't completed yet. And I am sure it'll take a series of blogs to get portrayed completely. This is the first part of my blog and the next part will soon be available for your read as once I'll get complete it. Till then, I hope you've enjoyed reading it. Thanks for reading. You can also read my recent blogs by clicking below:
[Read My Recent Blog: "Stephen Hawking - The Greatest Mind of 21st Century"]