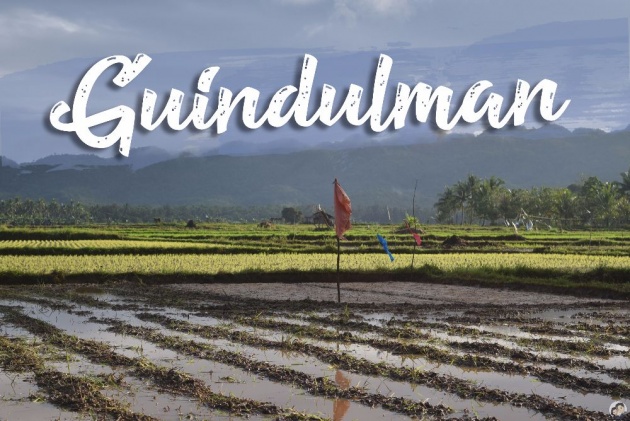 Image credit: Jean Beltran-Figues via bitLanders.com
Hi guys! I am back with another blog about my home province specifically about my hometown because I can't think of any other topic to blog about right now. I am back at work after almost three months of Maternity Leave and although I am a bit sad that I don't have much time to work on bitLanders anymore, perhaps I will just try to add contents when I am free like in the early morning or late evening after work but it is definitely hard to maintain when I am at work so hopefully I can still cope up with the need.
Now, back to the topic, I am going to share to you a piece of what my home town looks like. I actually realize that I have been talking about a lot of things about other places yet I have not shared to you what really can be done when at my home land. So, today, allow me to be your tour guide and help your way out to make the most of your time while just in case you came to Guindulman.
TELL ME MORE ABOUT GUINDULMAN
Image credit: commons.wikimedia.org
Dubbed as the Queen town of the East simply because it is known to have locals with pretty and handsome faces. Funny as it may sound but it has been branded as that, there were times when a bus conductor coming from Tagbilaran would guess its passengers' destination and would often get Guindulman for those with pretty faces. In every beauty competition as well, the town would have the prettiest face amongst the contestants. That was before though, it's all coincidences in the past.
This town is two hours away from Tagbilaran City and is one considered as a busy town as there are people 24/7 at the main town. However, those that are always at the market area are usually the tricycle and habal habal drivers.
The name Guindulman was taken from the term "guinduluman" which means overtaken by darkness because back in the days when the only transportation was by the means of walking, people who come from Jagna and the other neighboring towns who would go from this town to the next would reach Guindulman by night time and also, the town was once filled with thick forest that even at day time, the sun's light can't penetrate that much making the walkway dark. Through the past years, it has been changed to Guindulman instead.
As per Wikipedia as well:
Guindulman is a 4th municipal income class municipality in the province of Bohol, Philippines. According to the 2015 census, it has a population of 32,408. In the 2016 electoral roll, it had 20,529 registered voters. For its history, Francisca Libres Piezas cited in her compilation that the town of Guindulman was already established before the Tamblot Rebellion of 1622. So Guindulman may now be around 400 years old.

Information Reference: wikipedia.org
Image credit: www.bohol.ph
The usual livelihood in Guindulman are farming and fishing although there are lots of buildings and other kinds of livelihood available, these two are still the most common ones because there's a huge area for farming as well as the town is located at coastal area.
WHAT TO DO WHEN IN GUINDULMAN?
Because the town has its mountains and landscapes as well beaches, it is somehow considered an agile destination. One can either get to climb its mountains, perhaps see the landscapes and rice fields and go to beach resorts as well.
In this section, I'll treat you to some of the places and things that you can do to enjoy the town.
1. Climb Mount Kapakla
Image credit: Felotio Berondo via Facebook.com
This is the only thing I have not yet tried perhaps from the list I have made here. The reason as well why I have placed it as number one because I want to challenge myself and try what my other friends and highschool classmates had already done.
Mount Kapakla is located in the uptown barangay called Cansiwang. It is about 30 minutes away from the main town. Since it is overlooking, it offers a great view of the horizon and an amazing ambiance of nature. It has landscapes of its neighboring mountains, somehow reminded me of the Sunflower Resort in Jagna.
My good friend Khamis watching the horizon. Image credits: Felotio Berondo via Facebook.com
A few rice fields as well are there between mountains, in the valleys and there were lots of coconut trees. Of course, the grassy area is perfect for an early morning hike to witness the sunrise. The town is situated at the Eastern part of Bohol so sunrise is the perfect view from this part of the island. Or perhaps witness the sky moving its way for the darkness in the afternoon. Definitely, one thing that I need to do but it would require lots of hiking so one have to endure a bit of pain as how the old saying goes, no pain, no gain!
One of these days, I will also be able to get there and of course, I will definitely blog about it. This is a promise and I will make it come true very soon.
2. Chill at Balay Lingin
Video credits: Jean Beltran-Figues via bitLanders.com
In Barangay Canhaway specifically in Sitio Bunhayag nests a big circular native hut with a position that offers an overlooking view of the neighboring Cogtong Bay and the town as well. It has been preserved to be as organic as it could be with very less cemented parts. The seats are made of huge pile of rocks and the cemented ones were painted like that of a wood or bamboo.
The hut itself is semi-concrete, made of bamboo and Nipa roofing. Inside, some wooden items can be found, chairs, tables and some artifacts too!
Image credit: Jean Beltran-Figues via bitLanders.com
In the morning, one can grab their hot coffee which can be ordered from there while watching the sun rise or maybe just listen to the chirping birds from afar. In the afternoon, some cold drinks can be bought too. But in the evening, there comes good vibrant music with their chilling ice cold beer at the table, some may even prefer to have a karaoke session while on top of the town.
This is pretty much a destination for the young ones specially those who have motorcycles and vehicles at night as they can get to drink and be merry away from the noisy highway.
This spot as well has been used as wedding spots too like my childhood friend, Dennis who opted to have a garden wedding here.
3. Take an early breakfast at the main town
Image credit: Jean Beltran-Figues via bitLanders.com
One of the many traditions in the town is to eat Puto Maya(sweetened sticky rice) and Sikwate (hot chocolate) at a local carenderia in the main town. Usually being done by the weekends, preferably on Sundays after the early mass or before the sun rises.
Majority of the locals here would intentionally go to the market area, go with the flow of people and without you thinking much about it, they are already ordering this famous puto and sikwate combo which is only good at Php 25 for the combination.
Image credit: Jean Beltran-Figues via bitLanders.com
I learned eating this since I was still small where I join my parents for a Sunday early trip to the main town because there's a huge thing happening at the flee market because the vendors have just come down to sell whatever they have at a lower price plus you can haggle as much as you can. This thing has been included on the previous blog I created : Why Boholanos Love Sundays?
Go check that out!
4. Walk at muddy or dry paddies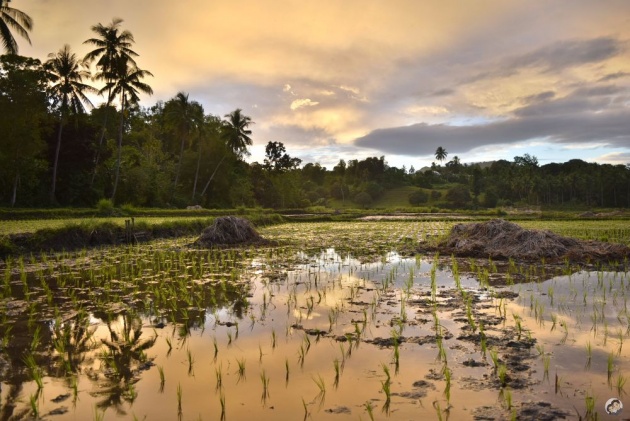 Image credit: Jean Beltran-Figues via bitLanders.com
Guindulman, just like the rest of the Philippines only have two weather season types: dry and wet. From March to August, it is most likely to be dry while September to February will be the wet season or the rainy part of the year.
But since the town is blessed with areas and lands which has been made into rice fields, it is therefore very recommended that you try to become like a local and do what a good local does!
When we were young, even after we grew up, our grandparents had taught and always ask us to help them with taking out those snails that are bearing their eggs in the rice plants. As good grand kids, we would help them thus, we have those moments of walking at the wet and muddy paddies taking out each and every snail we could see in between the plants and make sure not one is left.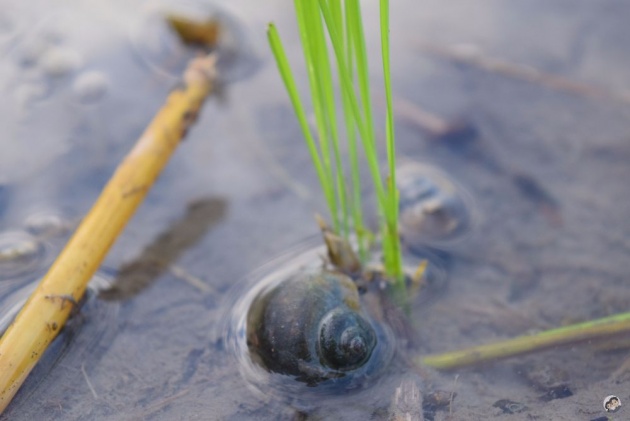 Image credit: Jean Beltran-Figues via bitLanders.com
I remember that is one of the funniest and most exciting things I have done, the most spontaneous event. So if you are up to that, you can try out the activity in one of the rice paddies of the town.
However, if it is the dry season, don't fret as the fields wither too and dry out giving way for our feet to walk and run in it for summer activities, flying kites, have a picnic under the shade of a coconut tree with a freshly picked young coconut and sipping its juice out from it through a made shift opening so you can just get it into your mouth. The choice is yours!
This is the first part of the things to do in Guindulman, my home town. I'll be sharing the second part in the next blog entry! Hope you had enjoyed this and encouraged you to visit my town.
Video credit: Jean Beltran-Figues via bitLanders.com
xoxo,
Jean