I admit, I have a tendency of going "cray" or "gaga" over new Fashionista items in the bitLanders shop. Ever since bitLanders had been offering these items, I have always buy them all, as in literally everything. There are items which are good for only a few weeks while there are also items which stays at the shop for, I don't know, maybe forever? Maybe as long as bitLanders is alive, it will be available at the shop for everyone to grab.
And I can't really figure out when this outfits started to become available in bitLanders. I am also not sure if the previous FilmAnnex do have this option but I do recall the very first outfit which I had ever purchased was the Christmas Set. It was a sexy outfit by the way and I was super lucky to be able to buy them during that time. From that time on wards, bitlanders had been surprising us with costumes and different outfits.
Well this blog is rather intended for the recent outfits which were offered by bitLanders and I would like to share what are my thoughts on these.
WHO STARTED IT ALL?
The story started with my co-Filipino bitLanders girls asking for the bitLanders team to make Filipino costumes before the Independence Day celebration. That was intended for the Independence Day Celebration which had commenced on the 12th of June. That was the 118th celebration since 1898.
All of the Filipino users here had been looking forward for it and we had received a request for an example image to be used as an inspiration for the dresses and @heartluv and @shaiera and the rest of us had provided @lry with the specific examples of how the Filipiniana and the Barong for the men should look like.
We all thought that it would just be an ordinary kind of outfits and that they would be offering one per gender but surprisingly, when Micky-the-Slanted-Salerno posted a blog about the new set of outfits, everyone when cray about it because of these:

Together with those obviously fashionably outfits were few other surprises. Read on to learn on these surprises...
Introducing : bitLanders' TIARA
First time I spotted it, I felt nostalgic and I recalled the crown which was offered before as well which I myself wasn't able to buy because I don't have enough amount of gems and I can't purchase more gems at that time.
Looking at the tiaras, I was really thinking of buying it now or never and I don't want to regret not buying it actually.
It is definitely sparkling and very attractive. I felt like it is really fit to the costume which I had purchased earlier. I couldn't wait to get a hand of it as soon as possible and I would definitely be adding it as an accessory to my avatar.
Yay or Nay?
I had been thinking about it and I had been really feeling that I badly need that Tiara. Aside from it being on a limited offer, it comes with different additional bonuses so buying it would definitely boost my scores.
I had been thinking about it and I had come up with the list of positive sides or reasons on why I should be buying it. But before that, here are the things I had considered:
1. Remaining Balace
As much as I would like to buy it, I have limited remaining balance. I have not redeemed for the month of June yet and I am quite confused if I should be redeeming the earnings. Well, I was glad I had not redeemed it yet though.
There are two available tiaras:
So the Quartz & Diamond Tiara is what I really like over Aquamarine & Diamond Tiara. It is what I opted because it has quartz of course. I like pink than blue one.
But then again, I have to consider if I should be investing on the amount as you can see, it requires 500 gems. That's 500.
2. Gems
Checking on my gems, I had only nine of them available. Gems are used for content review submission which costs 10 per submission. Anyone can do so, may it be the movie, gallery or the blogs.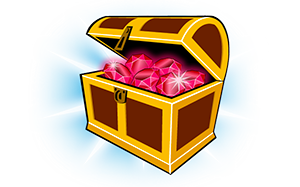 Aside from that, gems are also used to purchase items from the bitlanders shop. The bitFashionista has a long list of available outfits and other kinds of items such as shoes, stilettos, shirts, sport items, ethnic outfits and lot more. There are like jewelries, swimsuits and other summer outfits, there are also gadgets like cameras and iPads.
Now for me to get the 500 gems enough for purchasing tiara, I have to either start purchasing the packages or directly buy the 640 - Big box of gems.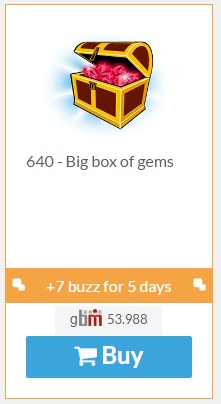 3. Additional Buzzes
With the first two things, I had thought that buying the gems would actually give me additional buzzes which will last for a few days. Aside from that, it will give me extra ones which I can use to submit more blogs and other contents.
Thinking about it, I immediately, press the buy button! Right there and then.
Bought Tiara, Now What?
I did say Yay after all the considerations. I now have my Quartz & Diamond Tiara. Now, the question is what it did for me? I have listed down the advantages of purchasing the tiara. It could have given me a headache as not being able to redeem any amount of my daily earnings but the advantages after grabbing it is definitely worth it.
Check it out:
1. Avatar Beautification
Well of course, this is one of the reasons which I had been thinking of buying it. Getting the Tiara would give my avatar that "wow" effect. The elegance of my current outfit which is the Filipiniana Confetti Gown. From the list of available gowns, this is what attracts me the most.
It is definitely a plus point to have something in my head and the Tiara fits perfectly! I don't want to put it down. I feel like I am a Queen, not the beauty queen tho but just Queen, one which has a crown in the head.
And then again, I am being reminded of that first crown which bitLanders had for a limited time as well. I was unable to grab it and I guess everyone else was not able to do so except for Francesco, the owner of the site. So having the Tiara is something which I had been hoping to since that previous crown.
I am super happy that bitLanders is able to give this option again to us and it is a coincidence that the Tiaras were given before the Philippines Independence Day! What more can I ask for? I am definitely satisfied with it!
2. +30 Buzzes Boosted my Direct Power Ups
This could be the best feature or add on of this accessory because the number of buzzes which are given to each user who would be purchasing the Tiara will make a great difference with their scores. Notice that our daily earnings here in bitLanders is directly related to the number of buzz score which is broken into two factors:
Base Buzz - this is the buzz which determines your daily activities and performance with the site. Posting quality contents, sharing information to the other social networking sites and being consistent would be some of the factors in getting higher number of base buzzes.

Direct Power Up - these are temporary buzz points which are added into the account when you purchase something from the store, when you donate to charities, when certain activities or quest boxes which are available on the right panel of the site.
The additional 30 buzzes will go to the Direct Power Up but note that the points will stay for a longer time, that's 180 days which means 6 months! How awesome is that?
During the first day that I had purchased the Tiara, 30 buzzes had spiked my earnings and so I was able to get this amount of nine GBM. See below for yourself.
3. Significant Increased in Daily Earnings
Online earning is what we are here for. If the site might not be an online earning site aside from it being a social media network, I believe most of the users here are not here at all. Well, thank goodness bitLanders is a legit site for earning.
I have been a user for more than two years and I have been constantly earning here. It is an earning which is enough to pay our internet bills and also fund my husband and I's travel fund! Yes of course! We have been traveling for years now and every single time that we would be checking out a new place, I had been bringing with my my bitLanders earning too! It allows me to buy certain keepsakes of the said place like keychains and other kinds of souvenirs.
So obviously, there have been great changes on the amount that I am receiving for my daily chest box. The photo on the left is just one of those days where my earnings had spiked up from the time that I had purchased the Tiara.
Out of these benefits, I can pretty say that this is the most outstanding one. Everyone would definitely love to see their earnings grow as big as this. Am I right guys?
So I would like to ask myself again and if you are also wondering, is buying the Tiara a good or bad investment?
Well, I would be proudly saying that this is a not a good one but instead a great investment! If you had enough balance, pretty go ahead and purchase it! Notice that purchasing it can be done by either using your current balance or you may also top it up with your PayPal account funds too!
I am pretty sure you'll be able to get the investment back in couple of weeks!
Have you purchased your Tiara? Show me your avatar looks!
Till next blog!
See yah!
xoxo,