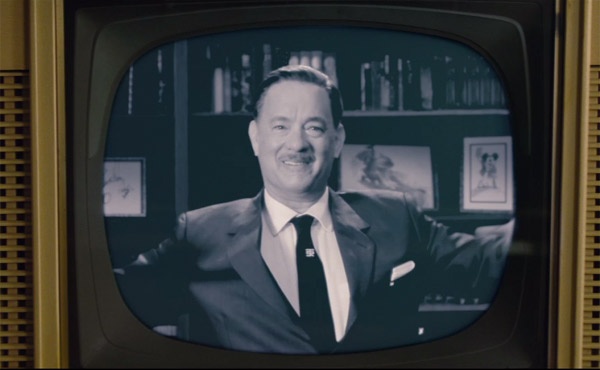 Tom Hanks star in two big Oscar contenders this year namely "Captain Phillips" and "Saving Mr. Banks" that's why it's fitting that the iconic actor will receive the Chairman's Award from the 25th annual Palm Springs International Film Festival (PSIFF). The actor joins other PSIFF recipients Sandra Bullock, Bruce Dern, Matthew McConaughey, Steve McQueen, Thomas Newman, Lupita Nyong'o, Julia Roberts, and the cast of "American Hustle." The awards gala will be on Saturday, January 4th at the Palm Springs Convention Center.
And I will be at the red carpet! So I'll bring you all the red carpet action! Stay tuned...
For now, here's the full press release:
Palm Springs, CA (December 16, 2013) – The 25th annual Palm Springs International Film Festival (PSIFF) will present Academy Award® winning actor Tom Hanks with the Chairman's Award for Captain Phillips and Saving Mr. Banks at its annual Awards Gala. The Gala will also present awards to previously announced honorees Sandra Bullock, Bruce Dern, Matthew McConaughey, Steve McQueen, Thomas Newman, Lupita Nyong'o, Julia Roberts and the cast of American Hustle. Presented by Cartier and hosted by Mary Hart, the Awards Gala will be held Saturday, January 4 at the Palm Springs Convention Center. The Festival runs January 3-13, 2014.
"Tom Hanks is one of the greatest actors of his generation," said Festival Chairman Harold Matzner. "In a remarkable feat that vividly illustrates the range of his talent, this year he portrayed two real life characters, each a powerhouse performance in its own right. In the film Captain Phillips, he plays Richard Phillips, the captain of a ship hijacked by pirates, while in Saving Mr. Banks he plays Walt Disney trying to turn the book Mary Poppins into a film - two roles that couldn't be more divergent. To this star of many talents the Palm Springs International Film Festival is proud to honor Tom Hanks and present him with the Chairman's Award."
Past recipients of the Chairman's Award include Ben Affleck, George Clooney, Richard Gere, Dustin Hoffman and Nicole Kidman.
Captain Phillips is a multi-layered examination of the 2009 hijacking of the U.S. container ship Maersk Alabama by a crew of Somali pirates. It is — through director Paul Greengrass's distinctive lens — simultaneously a pulse-pounding thriller, and a complex portrait of the myriad effects of globalization. The film focuses on the relationship between the Alabama's commanding officer, Captain Richard Phillips (two time Academy Award® -winner Tom Hanks), and the Somali pirate captain, Muse (Barkhad Abdi), who takes him hostage. Phillips and Muse are set on an unstoppable collision course when Muse and his crew target Phillips' unarmed ship; in the ensuing standoff, 145 miles off the Somali coast, both men will find themselves at the mercy of forces beyond their control. The film is directed by Academy Award® nominee Paul Greengrass, from a screenplay by Billy Ray based upon the book, "A Captain's Duty: Somali Pirates, Navy SEALs, and Dangerous Days at Sea," by Richard Phillips with Stephan Talty. The film is produced by Scott Rudin, Dana Brunetti, and Michael De Luca. The film stars Tom Hanks, Barkhad Abdi, Barkhad Abdirahman, Faysal Ahmed, Mahat M. Ali, Michael Chernus, Corey Johnson, Max Martini, Chris Mulkey, Yul Vazquez, and David Warshofsky. Hanks received a Best Actor in a Motion Picture – Drama Golden Globe nomination for his role in the film.
Two-time Academy Award® –winner Emma Thompson and fellow double Oscar® -winner Tom Hanks topline Disney's Saving Mr. Banks, inspired by the extraordinary, untold backstory of how Disney's classic Mary Poppins made it to the screen. When Walt Disney's daughters begged him to make a movie of their favorite book, P.L. Travers' "Mary Poppins," he made them a promise—one that he didn't realize would take 20 years to keep. In his quest to obtain the rights, Walt comes up against a curmudgeonly, uncompromising writer who has absolutely no intention of letting her beloved magical nanny get mauled by the Hollywood machine. But, as the books stop selling and money grows short, Travers reluctantly agrees to go to Los Angeles to hear Disney's plans for the adaptation. For those two short weeks in 1961, Walt Disney pulls out all the stops. Armed with imaginative storyboards and chirpy songs from the talented Sherman brothers, Walt launches an all-out onslaught on P.L. Travers, but the prickly author doesn't budge. He soon begins to watch helplessly as Travers becomes increasingly immovable and the rights begin to move further away from his grasp. It is only when he reaches into his own childhood that Walt discovers the truth about the ghosts that haunt her, and together they set Mary Poppins free to ultimately make one of the most endearing films in cinematic history.
Tom Hanks holds the distinction of being the first actor in 50 years to be awarded back-to-back Best Actor Academy Awards®: in 1993 as the AIDS-stricken lawyer in Philadelphia and the following year in the title role of Forrest Gump. He also received Academy Award nominations for his roles in Big, Castaway and Saving Private Ryan. His other on screen credits include Angels & Demons, Apollo 13, Bachelor Party, Catch Me If You Can, Charlie Wilson's War, Cloud Atlas, The Da Vinci Code, Extremely Loud and Incredibly Close, The Green Mile, The Ladykillers, Larry Crowne, A League of Their Own, The Money Pit, Nothing in Common, The Polar Express, Punchline, Road to Perdition, Sleepless in Seattle, Splash, The Terminal, Volunteers, and three Toy Story films.
About The Palm Springs International Film Festival
The Palm Springs International Film Festival (PSIFF) is one of the largest film festivals in North America, welcoming 135,000 attendees annually for its lineup of new and celebrated international features and documentaries. The Festival is also known for its annual Black Tie Awards Gala, honoring the best achievements of the filmic year by a celebrated list of talents who, in recent years, have included Ben Affleck, Javier Bardem, Cate Blanchett, Danny Boyle, Bradley Cooper, George Clooney, Daniel Day-Lewis, Leonardo DiCaprio, Clint Eastwood, Ron Howard, Helen Mirren, Sean Penn, Brad Pitt, Natalie Portman, Charlize Theron and Kate Winslet.
The Awards Gala of the 25th annual Palm Springs International Film Festival is presented by Cartier and sponsored by Mercedes Benz and Entertainment Tonight. The City of Palm Springs is the Title Sponsor of the Film Festival. Presenting Sponsors are Wells Fargo, The Desert Sun and Spencer's. Major sponsors are AARP, Agua Caliente Band of Cahuilla Indians, Wessman Development, Bank of America, Wintec, Regal Entertainment Group, Windermere Real Estate, Eisenhower Medical Center, Guthy-Renker, Integrated Wealth Management, VisitGreaterPalmSprings.com, Ocean Properties, Panavision, Chihuly and Telefilm Canada.