One misconception that forever bothers me is the belief that blogging doesn't work unless it's meta.
People don't believe blogs can be successful unless they are about blogging, marketing, or social media.
What they don't understand is that it's only the marketing blogs that publish things like "income reports" and the like.
Regular blogs in traditional topics don't do this, yet they are still out therekilling it.
Today I'm going to bring you 5 successful blogs, often built solely through publishing great content + guest blogging, that span a huge variety of topics, to prove once and for all that blogging can be used to build an audience in nearly every topic imaginable.
What Are The Guidelines?
Any blog featured here cannot have any of the following characteristics:
Focus on blogging/marketing/social media
The blog cannot be tied to another popular site
Must have an involved community
No "mega" blogs or magazines
I've included data on the approximate (~) subscriber count (when available) and what the major income source seems to be (when applicable).
For sites that have no subscriber count available, I used the Google Reader browse feature, which shows the number of Google subscribers only, so keep in mind that those RSS counts are likely much higher.
Enjoy!
1.) Help Scout blog [Customer Support]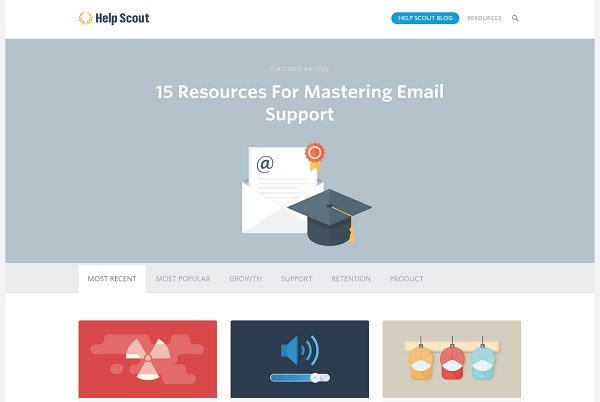 URL: http://www.helpscout.net/blog/
Approx. Subscribers: 65,000+
Main income source: Software
The blog I'm responsible for! Help Scout is support software that is trusted by thousands of small businesses. We run the gamut over on the Help Scout blog, but our bread-and-butter will always be customer support.
2.) Digital Photography School [Digital Photography]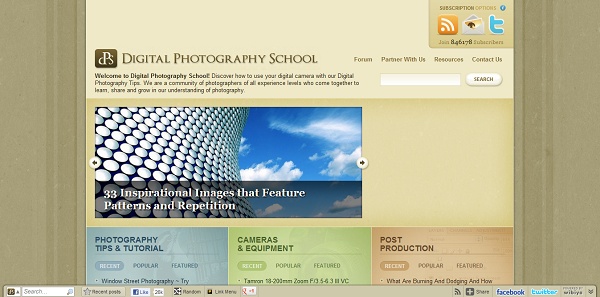 URL: http://www.digital-photography-school.com/
Approx. Subscribers: 846,000+
Main income source: Advertisements, affiliate links, e-Book sales
Run by 'the Problogger' himself, Darren Rowse, this blog is actually his real money maker, not Problogger.net.
This thing is an absolute monster, a huge blog in a very profitable niche. Lots of people buy cameras, and they're expensive.
All of the tips that Darren writes about on Problogger are put into action here, so if you want to watch the Problogger at work, follow the strategies that this blog utilizes, rather than reading the next Problogger post.
3.) Freshome [Interior Design/Architecture]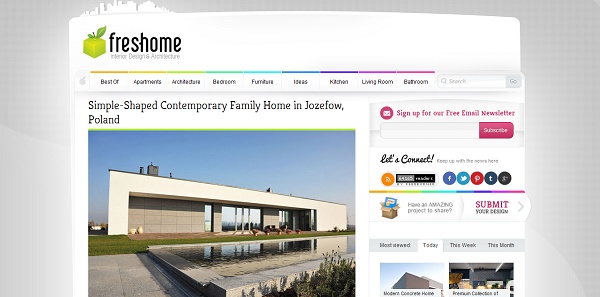 URL: http://freshome.com/
Approx. Subscribers: 64,000+
Main income source: Advertisements, affiliate links?
Let me first say that I love the design of this blog, and it's a good thing to, as it focuses on design, but not the type you see on the web.
No, Freshome is an absolutely astounding architecture and interior design blog.
One of the writers, Ronique Gibson, revealed on Problogger that she has posted over 773 posts (and that was in 2011!), showing how a "curation" style blog, combined with lengthier posts, can create a real winner if it's on a focused topic (and the content is top notch).
4.) PsyBlog [Social Psychology]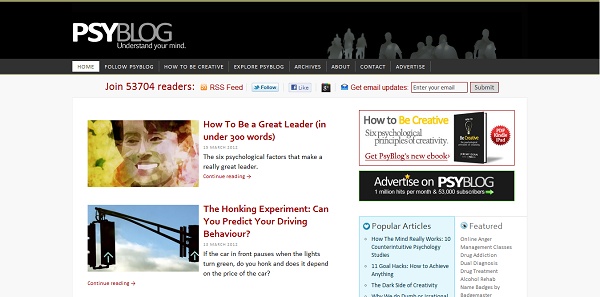 URL: http://www.spring.org.uk/
Approx. Subscribers: 53,000+
Main income source: e-Book sales, advertisements
You can probably guess that this is one of my personal favorites, but it's easy to see why any reader can enjoy this blog.
The author takes psychology studies that they come across (they happen to be a psychological researcher), and relates them to real world issues and in laymen's terms, so that anyone can gain the information that they have to offer.
That's the big emphasis I'd like to make on this blog: you should always be mindful of beginners, it's not that you have to appeal only to beginners, but taking more complex information and boiling it down into something interesting that anyone can read is a formula for a winner, as long as the audience is there.
5.) NerdFitness [Exercise/Physical Fitness]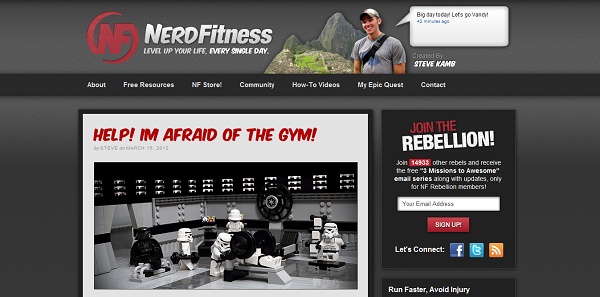 URL: http://nerdfitness.com/blog/
Approx. Subscribers: 50,000+
Main income source: Product sales
Steve Kamb is a guy well known in the marketing niche, but he doesn't write about marketing.
That's because his blog has served as a great example of how to build a successful site full of an endearing personality, outside of the blogging/marketing niche of course.
This is one of the great advantages of being someone knowledgeable in content marketing: you can offer up your success story to all sorts of marketing blogs if you create a popular site in a atypical topic.
Marketing blogs absolutely love case studies of this kind, and you'll get attention and links just by telling your story. It's a method Steve has used multiple times to appear on sites like Lifehacker and ThinkTraffic.