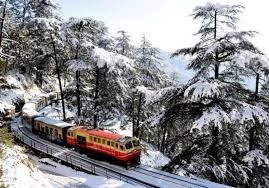 Shimla, is a beautiful destination for tourism, which is located in Himachal Pradesh, North India. It is situated in the north eastern part of the Himalayan mountain range. The location map of Shimla shows the Jakhoo hills, which is the tallest point. The location of the map also shows the highways, railways, roadways, airways, hospitals, hotels, restaurants, police station, churches, temples, etc.
The best places for tourism in Shimla are- Jakhoo temple, Christ Church, the Ridge of Shimla, Shimla State Museum, George Castle, Summer Hill, Annandale, Tara Devi Temple, Daranghati Sanctuary, Wild Flower Hall, Chadwick Waterfalls, etc.
Jakhoo, the highest peak of Shimla, offers a splendid view of Shimla. The ancient temple of Lord Hanuman is located on the top of the hill. You can reach the temple easily from the Ridge. You can also hire a taxi or pony to visit the temple or can prefer climbing hills if you like. The Ridge road is situated at the heart of the Shimla and joins the Mall at the Scandal Point. Lakkar bazaar which is a famous market for wooden items is situated at the east side of the Ridge Road. You will get almost all kinds of wooden materials in this bazaar.
Shimla State Museum, offers ancient sculptures and paintings of Himachal Pradesh. The daily timing of this museum is 10am- 5pm and closed on Monday and on the national holidays. It was founded on 1974 and consisted of arts objects, archaeological and cultural anthropological objects. The galleries appendage to Himachal archaeology, ancient Indian archaeology, Gandhi gallery, Wall paintings gallery, Arms gallery,etc.
Summer Hill is a beautiful place of township on Shimla-Kalka Railway line. It is a pleasant place for visiting particularly in summer and woollen clothes might be needed at night in this place. It is really a pleasant place for tourism.