Hello wonderful citizen of the world! Here I am once again making a comeback post from my inactiveness and busyness for the past three weeks. So allow me to tour you to one of the most visited place in the north, Tagaytay City. There are so many wonderful places in my country, Philippines and I have a goal to explore the hidden treasure of my beloved country. But for now let's start on the place near to me and not requiring me to have an expensive budget to enjoy such beautiful place.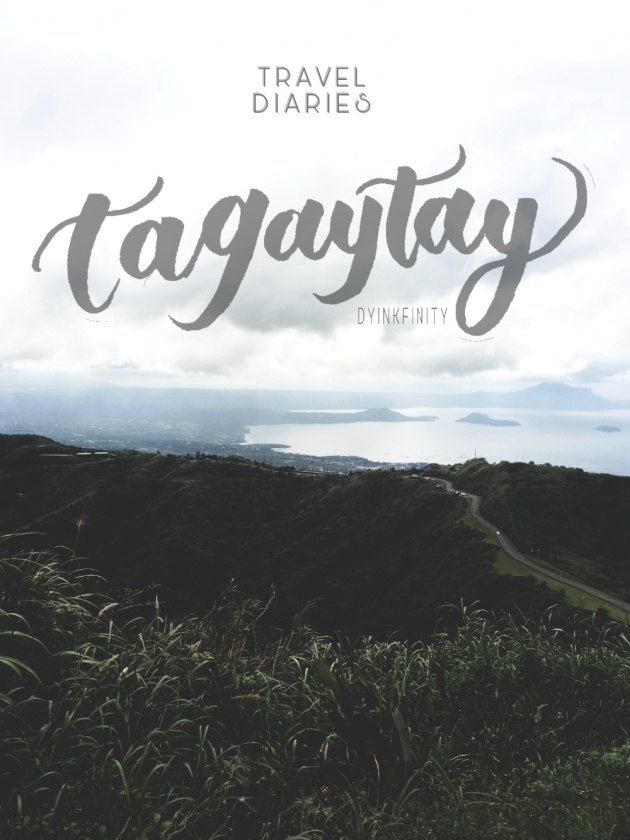 Photo Credits: Yannn via bitlanders.com
But before anything else, this trip is an unexpected trip (as I clearly said to my title), well me and my college buddies believe that if you want your plan to be executed (especially Travel trips) do it Impromptu or unplanned. I am not generalizing all trips okay? Because some trips really need a concrete and Budget plans. I mean the three of us are so busy with our own lives and work so we rarely have an opportunity to catch up with each other. So when @Caaams told me she wanted to go to Tagaytay, I respond quickly, "Let's go later after work". Luckily our similarities is "Going with the flow personality" and as we planned it like 6 hours earlier before the actual trip, one coincident happened. Our other friend Nancy (who work and live in the north) was in Mall of Asia that day. So everything is going well with the plan. After minutes of talking and arguments we decided to push through this trip. So let's begin, shall we?
Tagaytay is a component city in the province of Cavite, in the Philippines. It is one of the country's most popular tourist destinations because of its outstanding scenery and cooler climate provided by its high altitude. Tagaytay overlooks Taal Lake in Batangas and provides views of Taal Volcano Island in the middle of the lake through various vantage points situated in the city.

Tagaytay is relatively close to the capital city of Manila, only 59 kilometres (37 mi) away via Aguinaldo Highway, providing an easy escape for the locals from the heat of the huge metropolis.

Sources: Wikipedia
Because we only live in the metro, we have an easy access to travel and go to Tagaytay. It took us almost 2 hours in the bus to finally arrive to Olivares.
Time Check 12:45am: We arrived at Olivares, the heart of Tagaytay City.
FIRST STOP IS….
DREAMLAND ARTS & CRAFT CAFÉ
Source: DIYCRAFTSPH via youtube.com
It wasn't my first time to visit this Indie-culture type café, I discover this place last January 2017 together with my officemates (which also an unexpected trip for us). So it was me who recommend the place to my buddies. Dreamland Arts & Craft café is just near Olivares, so when the bus dropped you there, you'll have a choice if you want to ride a tricycle or walk just like what we did.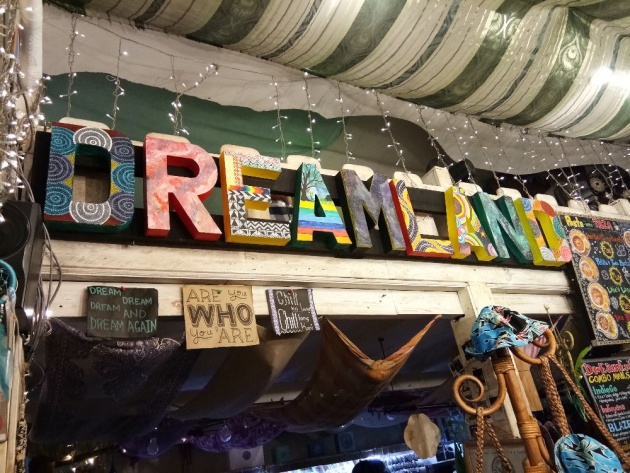 Photo Credits: Yannn via bitlanders.com
Dreamland is such a popular place for teenagers and young adult, I merely guess. Most of visitors are group of friends, like what the old saying says "The more the merrier". Dreamland is not just your typical indie-culture café, it offers good food together with great atmosphere too. Also there are souvenir shop inside the cafe, there are few shirts, keychains, wigs and a DIY set on how to make a Dreamcather. So whether you are a teenager or an Adult there is for sure a reason you will love this place.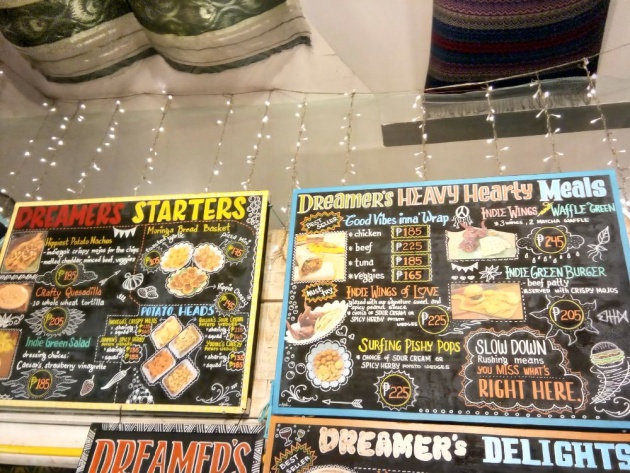 Photo Credits: Yannn via bitlanders.com
And surprisingly, this place is a NO-WIFI ZONE. In a world and millennial generation we have, Internet is a MUST for everyone. And a place such as Dreamland is a good spot to spend quality time with your friends without gadgets. (Although we still used our phones to get some photos and videos) So in every meal you will order, it will give you an opportunity to borrow one board/card game. Of course, you can still see young adults with their phones but having the concept of No WIFI zone is a cool Idea to help people to regain the bond that Social Media hindered us.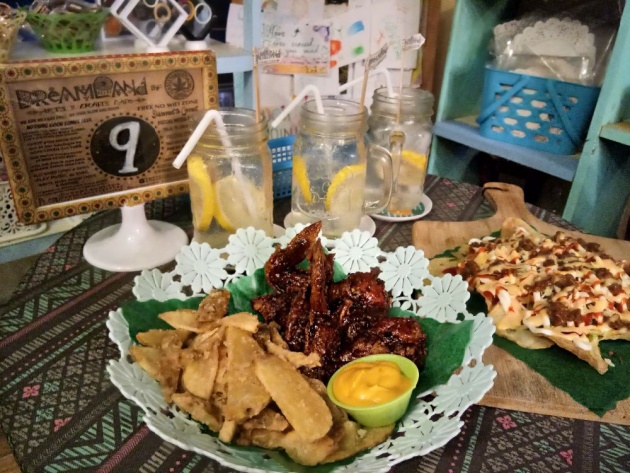 Photo Credits: Yannn via bitlanders.com
So we ordered a buffalo wings, Sour cream Potato Nachos and Lemon water. So with that we have 2 passes to borrow 2 board games, so we borrowed Stacko and Uno Cards. At some point, I can say that the food gave justice to the price of the food. Although we ordered only 2 dishes (I cannot conclude or generalize the whole menu), It gave me a taste that it was worth of your money. We played stacko (If that is what you called the blocks arranged in tower and maing it more higher) first and made a consequence, the loser will have a bit of powder in the face and will lose a turn to eat some food. It wasn't even a punishment but it gets us super excited. And hypes the three of us because we eargerly want to eat the food. Especially its seems delicious right? (And yes it is, to confirmed it. Yum!)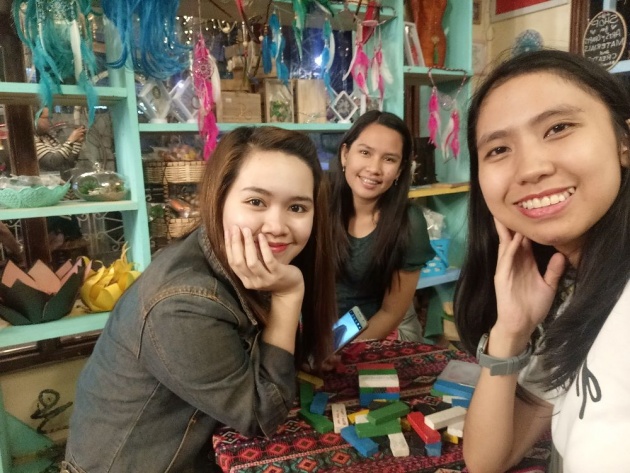 Photo Credits: Yannn via bitlanders.com
We did few rounds of the game and I must say that I miss playing board games and having fun without the means of Internet. Those genuine smiles and laughs, how I miss those things. So after we play, we got tired to play UNO so we just return them. And oh before anything else. We noticed some blocks have names written on it. And of course, your local calligrapher will not let this great opportunity to pass so we wrote ours. We made sure it will stand-out among the others (Your artistic nerd has been summoned) so instead of using a normal pen or marker, I used one of my "to-go" and favorite fine Brush pen.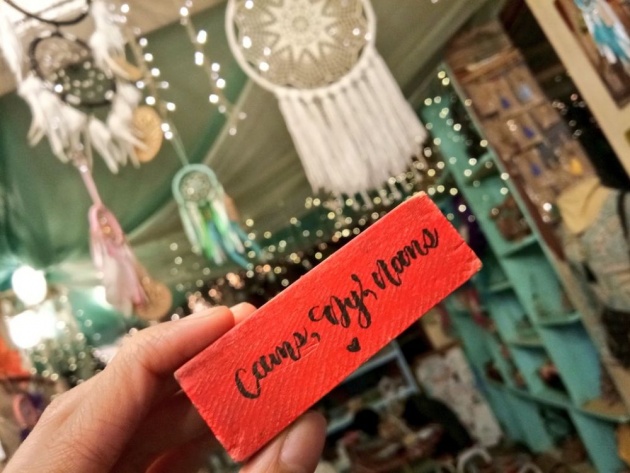 Photo Credits: Yannn via bitlanders.com
Oh how I love this! It feels like it was saying that Me, Cams and Nancy were here and we've played this stacko blocks! Good thing I have my Tombow Fudenosuke pen with me to accompany me in this kind of situation. So after we had fun playing and consumed the food, we now proceed to the photoshoot. Let's not waste this wonderful atmosphere by not taking advantage of it shall we? And besides I am with my friends who are fond of taking pictures. By means of that, I got friends who will not just took a single shot but a several shot in just one background or angle.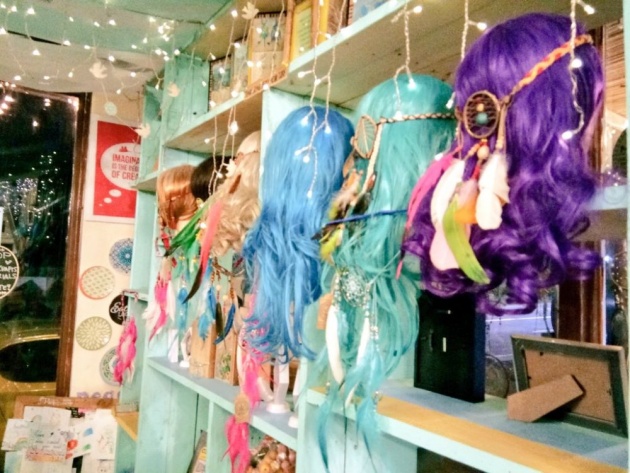 Photo Credits: Yannn via bitlanders.com
The place was not that Big, but surely it was filled with great stuffs. From the ceiling filled with handmade dreamcatchers, to bright light that gave you Aesthetic effect, to beautiful frames with letterings and to different kind of Artwork (some I assumed are works of people who visit the place). I also noticed that you can buy and choose your prefer DreamCatcher or you can simply do a DIY Dreamcatcher where you will make and design you own Dreamcatcher. Truly the place are so pleasing to the eyes or some Millennial's would say "Instagrammble".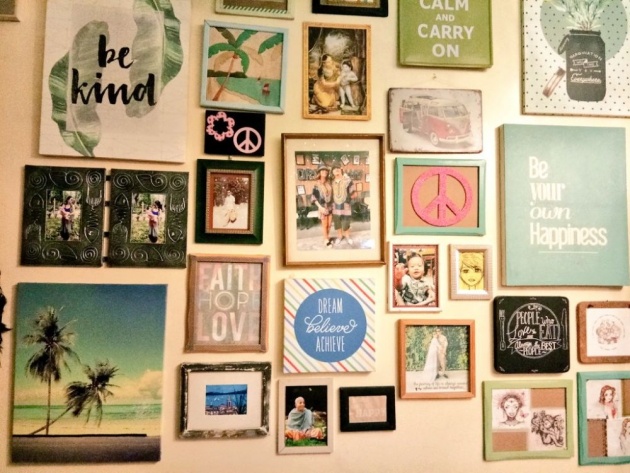 Photo Credits: Yannn via bitlanders.com
To begin with the picture taking, it was like almost 3am. And the Café had barely customers and I just it was a good opportunity for us to be crazy and pursue our photoshoot. We took almost two hundred shots just in the café, I know it was insane but there's so many good photos. Plus @Caaams really took awesome photos, but I have some of my favorites that I'll be sharing with you guys.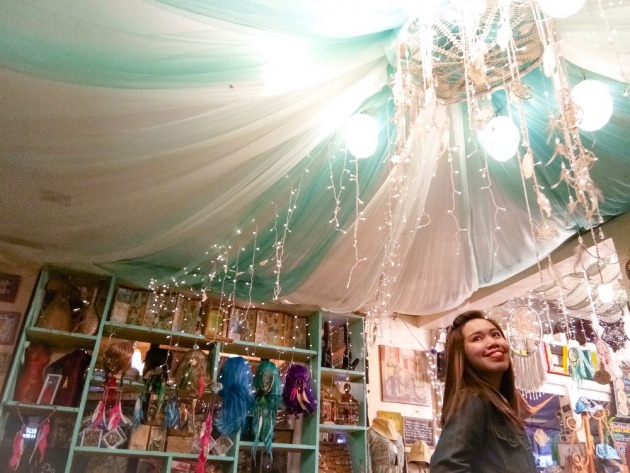 Photo Credits: Yannn via bitlanders.com
I love this shot so much, as if it was Nancy's pre nup photo Hahaha! Well she always want to get married so I think this shot is perfect for her. Plus the ceiling made a "dreamy effect" for her. And I'm glad she is happy with the result of this photo. Aside from that I have this group photo of the three of us, it was the craziest photo but I surely love it so much.

Photo Credits: Yannn via bitlanders.com
Here is the photo I am talking about. Cams set up the phone and have it in timer so that we can have this decent (if you can call this decent though) "Groufie". I mean you can always took a photo like selfie but with this kind of wall, you wanted to maximize the beauty of the background, and you will not be able to capture it in a selfie. From a serious one to a sweet one to a crazy one. How I love this so much. These photos portray our Friendships. We've been through tough and hard times, we've been with each other in Joy and in pain. And we're always together even in the craziest moment of our lives. I'll be always thankful for this Friendship.
So this is just the first part of our Trip. And I just got tons of exciting and crazy stories to share with you in the future blogs. So stay right there! And thank you so much for your time and I hope you'll be able to visit this awesome place too if you'll pass by at Tagaytay City.
For the mean time here's a video of Adventure to Taal Lake of Tagaytay City!
Source: Jared Bodine via youtube.com
Have a Great day! Here's a short querlo chat for you too: