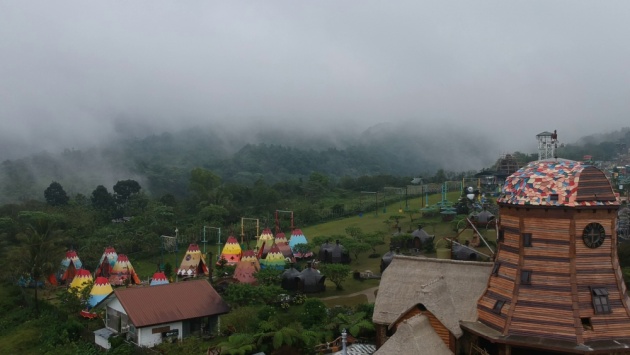 Image credits: Jean Beltran via bitLanders.com
They say 30 is the new 20. So, as James and I both had turned 30 this year, we were both in dire need to go out of the city and just spend our time together as we also celebrate our third wedding anniversary but that's still happening in two weeks time.
Our celebrations don't happen with parties or food trips, we can only rejoice and make this possible through traveling.
So I shout "Hurray" on our first official travel together for 2018! It's quite a hectic schedule we had for this four day- three nights trip to Negros Occidental!
With thorough research, I figured out how to, of course, DIY this trip. Previously, I had shared with you our planned trip itinerary. I always believe in planning because we can't afford to miss anything or even fail in this journey.
Here's our planned itinerary: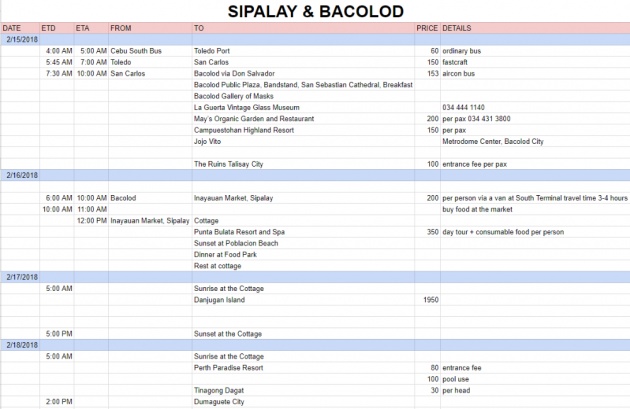 Image credits: Jean Beltran-Figues via bitLanders.com
The Actual Travel: En Route to Negros Island
At three in the morning on Thursday, the alarm started ringing but since we slept only at twelve that evening, we were both sleepy. I turned the alarm off and went back to sleep. I woke up again thinking it was just a five-minute nap but to my surprise, the clock states it was already thirty minutes past three so we got up quickly and prepared as fast as we can.
We were supposed to be at the South Bus terminal at four however because of laziness, we were around 15 minutes late.
The bus hit the road after another 15 minutes. Took its time looking for passengers to fill it in so travel time went longer than what it was supposed to be. At around quarter to seven, we reached Toledo City, took an electric trike going to the main port. I am glad to see electric trikes! The first time I have seen one was in Boracay Island last 2016.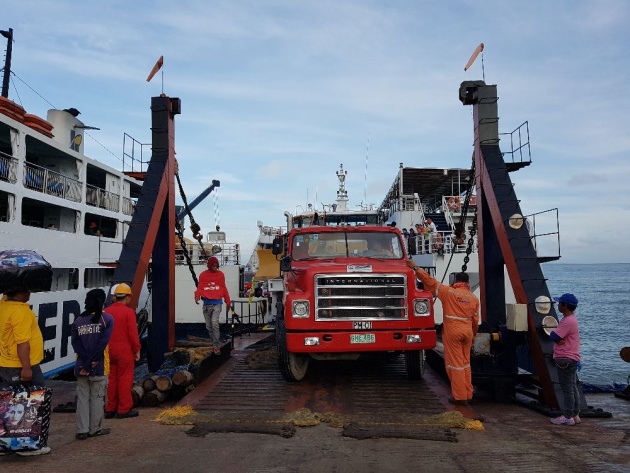 Image credits: Jean Beltran via bitLanders.com
Gladly, we were able to catch up with the 7 AM trip of Fast Cat to San Carlos City. This is such an efficient way of traveling to and from Toledo because it only takes an hour although the vehicle takes trucks and other vehicles in it. I call it a roro and a fastcraft at the same time.
Read related article: FastCat is Indeed Fast!
James and I got entertained with the Tagalog movie starring John Lloyd Cruz and Jennylyn Mercado. It was a funny movie but too bad we weren't able to finish it as the vessel already reached San Carlos City!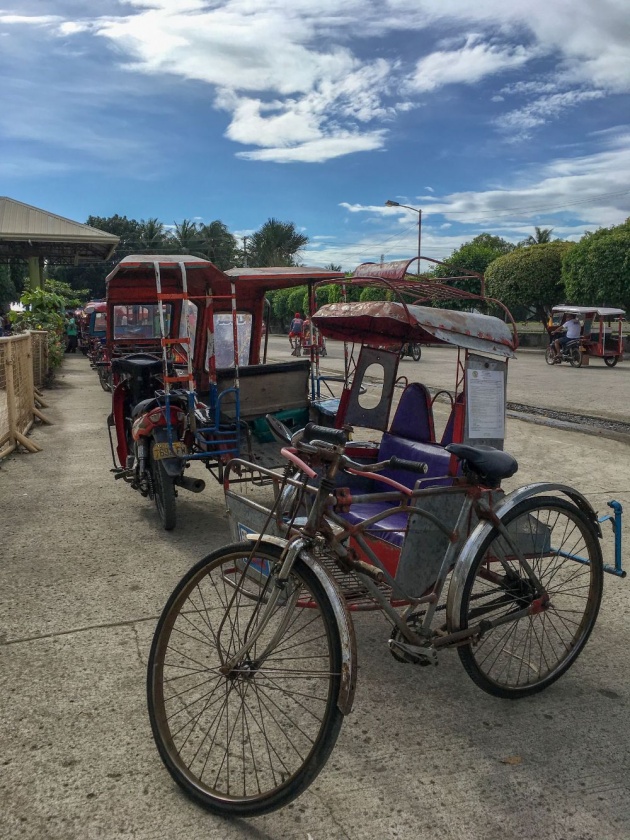 Image credits: James Figues via Steemit.com
From the port, we took another trike, this time a manually pedaled bike going to their bus terminal.
We initially planned on traveling via a bus but the trike driver suggested we take the van because it travels faster! I somehow regret that option because we were kind of stressed with that trip where we have to fit in an old and un-maintained van vehicle, but I guess we arrived earlier so all was well.
Beautiful Don Salvador Benedicto
Video credits: Jean Beltran via bitLanders.com
But if there's one thing that I love about this route is the beauty of Don Salvador Benedicto.
Hairpin curve, steep hills, blind curves, pine trees standing on the side roads, flowers for sale displayed in the streets, wild ferns growing on the hillsides and the picturesque landscapes.
I literally want to drop by Don Salvador Benedicto because of the wonderful beauty that I have seen from the inside. I can't help but adore the simplicity and its pretty ambiance, too bad we didn't have a stop over here.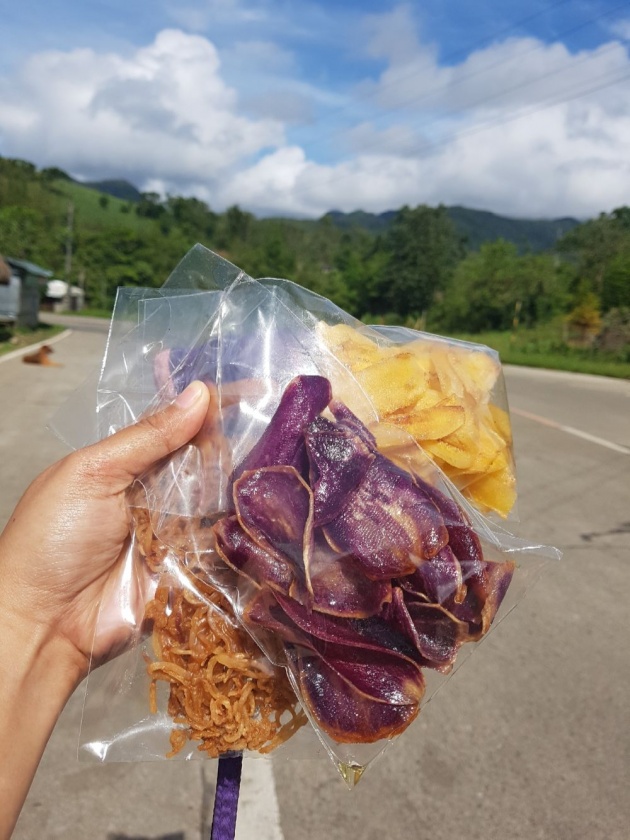 Image credits: Jean Beltran via bitLanders.com
Our stopover was at a nearby place where some locals sell banana chips, camote chips, and "bukayo"! I bought them because although I was not hungry, that purple camote chips was compelling me to do so.
One more striking scene for me was when we pass by a certain Balokon. Here, sign displays an ordinance where no skateboards allowed. I totally understand that because of the steep road and skateboarding would definitely be dangerous here.
Bacolod Traffic
I was ecstatic to reach Bacolod. The almost three hours bumpy ride from San Carlos City to Bacolod was a bit stressful but the most stressful thing was realizing Bacolod City has a bad traffic!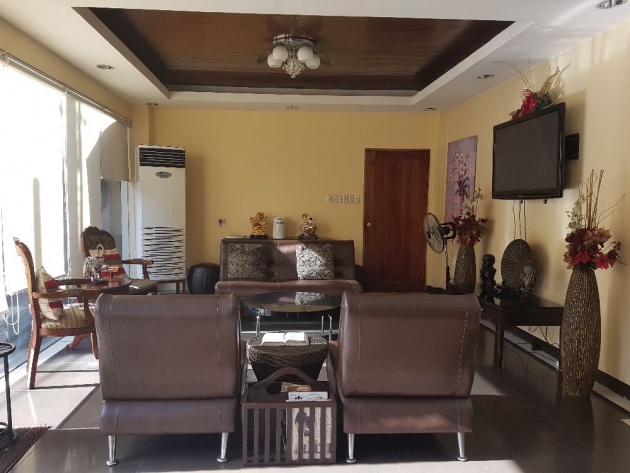 Image credits: Jean Beltran via bitLanders.com
As we arrive in the city, the van slowed down and was taking a lot of time in the streets! We finally reached the terminal and hopped on a trike to bring us to our hotel. Another set of traffic came in our way as we were bound to Eastway Inn.
At around eleven, we reached our hotel and prepared for lunch and we were also set to go to Campuestohan Resort as well as The Ruins.
Originally, my preferred Airbnb was canceled as the host didn't reply back on time. So I checked out affordable hotels. I got Eastway Inn which I had no idea where except that it was located in Borgus street but later on I was thankful that I took this because it was just next to fast food restaurants as well as Save More supermarket plus it was just a few minutes walk away from the pickup point for Campuestohan Resort vehicles!
Bacolod Spots We Visited
Video credits: Jean Beltran via bitLanders.com
I will be creating a separate blog about these two places because this is already becoming lengthy. But to give you an overview, we only had 24 hours in Bacolod. Our main place of stay was in Inayawan, Cayawan about three hours away from main Bacolod City. We only visited Bacolod as a side trip.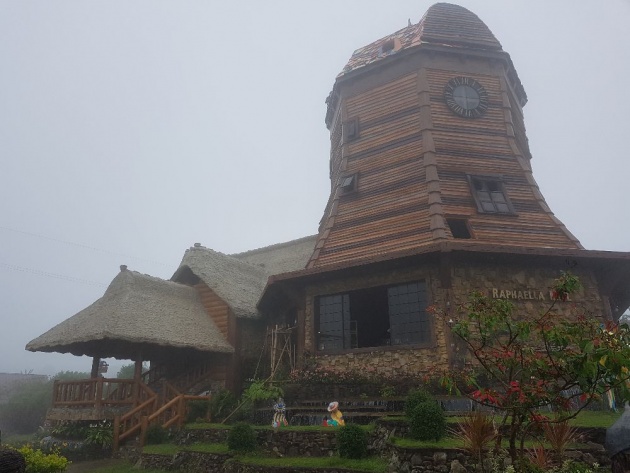 Image credits: Jean Beltran via bitLanders.com
So there were few other places I had added on our itinerary like the Maskara Museum and some organic farm because James love to visit farms but then we can't fit all of them in just 24 hours plus the fact that we reached Bacolod at almost 11 AM.
But we managed to get to two of its main attractions which I believe is good enough.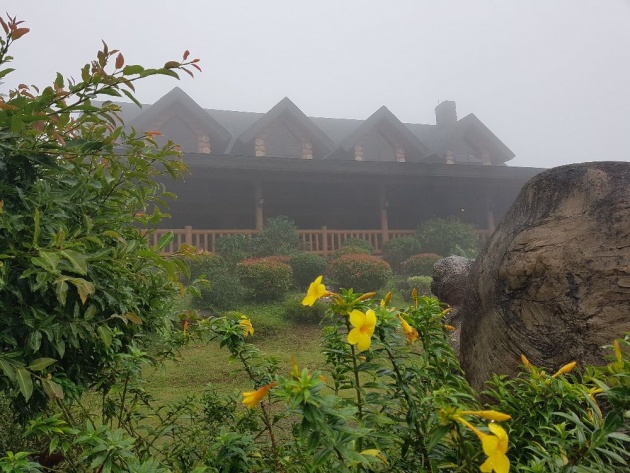 Image credits: Jean Beltran via bitLanders.com
Campuestohan Highland Resort is a huge resort with a lot of interesting stuff in it. There were around three or more swimming pools, there's a shark pool too. There were rooms which looked like hobbit houses as well as Indian huts.
However, my favorite spot is the Raphaella Mill which made me feel like I was in New Zealand or such place similar to that. We spent the entire afternoon here until it was time to go back.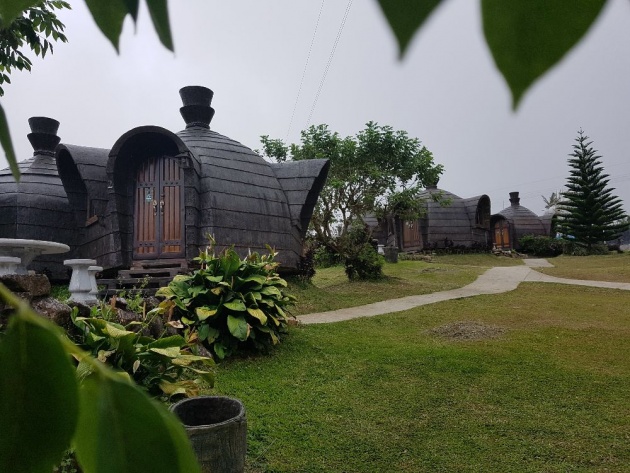 Image credits: Jean Beltran via bitLanders.com
After getting back to the main highway, we hired a trike going to The Ruins. It was already past six. It is still open until eight in the evening so it was just perfect timing.
Both of us were amazed at the structure of this so-called Taj Mahal of Negros.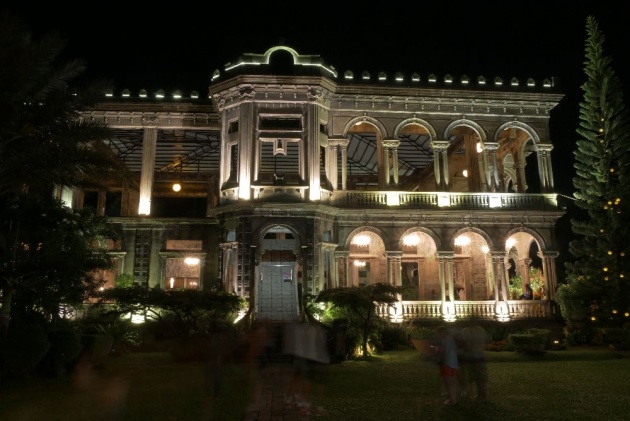 Image credits: Jean Beltran via bitLanders.com
At around quarter to eight, we went to Save More to buy some groceries and also had dinner at Chicken Deli. Lights were off at around 12midnight!
That concluded our first day in Negros.
Recent Blogs:

• Birthday Dinner Mismukuno Teppanyaki and Why it Didn't Disappoint Us!
• How To Survive Valentines Day Being Single
• Mini Santorini Resort in Oslob Cebu
• How I find Inspiration for Blog Topics, Here are the 5 Ways
• What To See at MATA Expo 2018
Blog entry written and published by Jean Beltran-Figues, A Pinas traveler and photography hobbyist, find more travel blogs in my blog section, click here.