At the request of the Houston family, Tyler Perry has posted a photo montage of Bobbi Kristina Brown to Facebook.
The actor/director playwright set the video to You Were Loved, a song by Bobbi Kristina's mother,Whitney Houston.
It was originally played at her private funeral on Aug. 3 near Atlanta.
Family friend Tyler Perry took to Facebook to share a never-before-seen video clip that played during Bobbi's ceremony.
He wrote: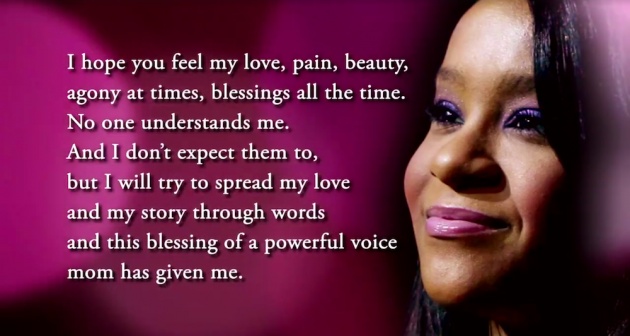 "The Houston estate asked if I would share this tribute that I put together for Bobbi Kristina's private funeral. On behalf of the Brown and Houston families, we would all like to thank you for your prayers and support. God bless."
The four-minute clip shows several family photos and starts off with touching words from Bobbi herself.
"I hope you feel my love, pain, beauty, agony at times, blessings all the time. No one understands me. And I don't expect them to, but I will try to spread my love and my story through words and this blessing of a powerful voice mom has given me."