Actor Vijay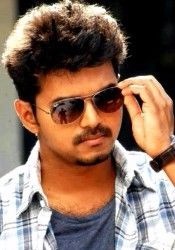 Vijay
Vijay
Name by:
Vijay
Date Of Birth by:
22/06/1974
Place Of Birth by:
Chennai, TamilNadu, India
No Of Movies by:
61
First Movie by:
Naalaya Theerpu
Upcoming Movies by:
Theri , Vijay 60
5.7/10
Rating: 5.7/10 from 2378 users

Biography - Vijay
Joseph Vijay Chandrasekhar, better known mononymously as Vijay, is an Indian film actor and playback singer, who stars in Tamil-language films. He is the son of film producer and director S. A. Chandrasekhar. After performing uncredited roles as a child actor in films produced by his father, he made his debut in a lead role in the 1992 film Naalaya Theerpu. Since then, he acted in several films of action and romance genres. He has also worked as a playback singer in several of his films, as well as a few films starring other actors. During his career in the Tamil film industry, he has won two Tamil Nadu State Film Awards and was nominated for one Filmfare Award.
Vijay has starred in several romance and action films, including the commercially successful films Poove Unakkaga (1996), Kadhalukku Mariyadhai (1997), Thulladha Manamum Thullum (1999), Kushi (2000), Priyamaanavale (2000), Ghilli (2004), Pokkiri (2007) and Kaavalan (2011). He also worked with several corporations as a brand ambassador and is a former brand ambassador of the Indian Premier League cricket team, Chennai Super Kings.
Vijay was born to S. A. Chandrasekhar, a film producer and director and Shobha Chandrasekhar, a Carnatic singer. He attended the "Balalok Matriculation Higher Secondary School" in Saligramam. He began his post-secondary studies at Loyola College in Chennai and entered in the acting field.
During his childhood, Vijay performed in uncredited roles as a child actor in films produced by his father, S. A. Chandrasekhar. At the age of 18, Vijay debuted as a lead actor in the 1992 film Naalaya Theerpu, also produced by his father. In his second film, he co-starred with Vijayakanth in the film Sendhoorapandi. His following films Rasigan and Deva were all low-budget films. In his fifth film Rajavin Parvaiyile in 1993, he co-starred with actor Ajith Kumar, who, like Vijay, was also a rising young actor then. Also released that year were his romantic comedies Vishnu and Chandralekha.
The following year, Vijay continued to pursue romantic comedy films like Coimbatore Mappillai. The Vikraman-directed Poove Unakkaga helped Vijay to become a recognisable actor. Vijay`s tenth film was Vasantha Vasal which was followed by the action flicks Maanbumigu Maanavan and Selva. After more romance films in 1997, like Kaalamellam Kaathiruppen and Love Today, Vijay took up the romantic comedy film, Once More, in which he co-starred with legendary Tamil film actor Sivaji Ganesan. In his next film, the Mani Ratnam-produced Nerukku Ner, directed by Vasanth, he co-starred with Suriya who happened to make his debut in that film. He wrapped up that year with his first commercial success, Kadhalukku Mariyadhai, which was directed by Fazil and earned him a Tamil Nadu State Film Award for Best Actor.
In 1998, Vijay worked in Ninaithen Vandhai, Priyamudan, and Nilaave Vaa. In 1999, his film Thulladha Manamum Thullum earned him a Special Prize at the following year`s Tamil Nadu State Film Awards. This was followed by the films Endrendrum Kadhal, Nenjinile, Minsara Kanna.
At the start of the new millennium he did Kannukkul Nilavu with Fazil. He decided not to commit in films that took a year to release, which changed his trend. His next venture Kushi was directed by S. J. Suryah. At the end of the year, he acted in Priyamanavale. His 2001 comedy film Friends was directed by Siddique and featured him alongside Suriya again. Badri was an action - drama flick which he followed with the romance film, Shahjahan.
In 2002, he starred in Thamizhan alongside the then debutante Priyanka Chopra. Youth and Bagavathi rounded off the year. The following year 2003 began with Vaseegara and Pudhiya Geethai.
Vijay then switched gears with the action-romance flick, Thirumalai, which featured him with a new look. Udhaya, a film which began filming in 2002 but became delayed, finally released at the start of 2004.
Ghilli, which was released in 2004, is considered to be one of Vijay`s biggest hits today. Directed by S. Dharani and produced by A. M. Rathnam, it was a remake of the Telugu film Okkadu, and ran for 200 days in theatres in Tamil Nadu. It was followed by Madhurey. It was in this year which Vijay began to portray his current mass-hero, stereotypical acting style, giving him a major turning point in his career. The following year, 2005, had other major films such as the Perarasu-directed Thirupaachi, the romantic flick Sachien, and another masala film, Sivakasi, again by Perarasu.
His next film Aadhi, was released in 2006. This film failed to reach the expected success and Vijay took a short hiatus from acting. He later accepted work in Pokkiri that year. Directed by Prabhu Deva, it released in 2007 and met almost the same success Ghilli did, in which Vijay played the character of an undercover cop diguised as a local gangster. Vijay`s performance was well praised and he received an honorary doctorate title from the M. G. R. University and received an award from actor Kamal Haasan at Nehru Stadium for his exceptionable performance.
Late 2007, Vijay starred in the romantic drama film Azhagiya Thamizh Magan, and for the first time, he appeared in dual roles, as both the antagonist and protagonist. In 2008, he starred in the action film Kuruvi, again under Dharani`s direction.
The year 2009 started off with the action masala film Villu, which was directed by Prabhu Deva who was keen on working with him again after Pokkiri. The film featured Vijay in dual roles for the second time in his career. Vijay`s next film, Vettaikaaran was directed by Babu Sivan, produced by AVM Productions and distributed by Sun Pictures.
In 2010, Vijay`s 50th film Sura was distributed by Sun Pictures.
He associated with director Siddique again for Kaavalan, the Tamil remake of the Malayalam film Bodyguard. It received positive reviews from both viewers and critics and was declared a successful venture at the box office. As of late-2010, he was working with M. Raja for Velayudham, which is being produced by Venu Ravichandran. He is currently working with S. Shankar for the film Nanban which features Vijay as the main character with Ileana D`Cruz as the actress and Jeeva and Srikanth in supporting roles.
Vijay is expected to work with director Mani Ratnam in his next venture, currently being discussed.
Vijay married Sangeetha Sornalingam of Sri Lankan Tamil descent on August 25, 1999. They have two children, a son Jason Sanjay born in 2000 in London, and a daughter Divya Saasha born in 2005 in Chennai.
In the year 2002, Vijay was chosen as Coca Cola`s brand ambassador in Tamil Nadu. He had acted in a variety of South Indian Coca Cola advertisements, along with Katrina Kaif. In 2008, Vijay was signed up as the star ambassador for the Indian Premier League cricket team Chennai Super Kings, along with actress Nayanthara. In January 2009, Vijay was once again chosen as the brand ambassador for Coca Cola products. As of August 2010, Vijay was signed by Jos Alukkas as their brand ambassador for Tamil Nadu.
Share Your Comments About "Vijay" With Your Friends
....
...