Questions like: "Please tell me a topic to write on" and "What should I write about, guide me" that are FREQUENTLY asked in the Global Chat of BitLanders, usually by newbies made me write this piece of blog post.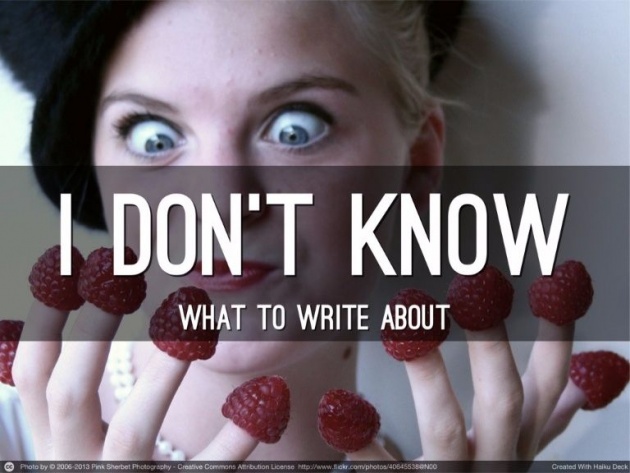 ( Image Credit: Steve Peha Via SlideShare )
Choosing a topic to write on can be a real struggle for some people. Here, in this blog post I am listing a few methods that may help you :)
1- Choose The Topic That Holds Your Interest.
Think about where your interest lies and you can start writing about it.I personally don't understand why people ask others to tell them what to write about. Common! It's you who is going to write then why letting others decide the topic for you? Whatever interests you can become the subject of your writings too. Wondering how? Well here are some ideas.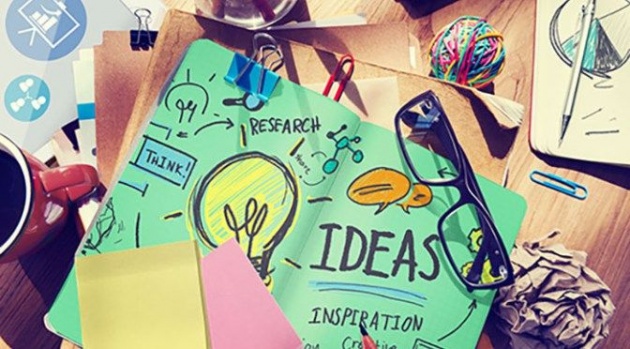 ( Image Credit: Nusrath S. Via thediaryofamuslimgirl.com )
If you like reading books you can start writing reviews. Read a new book and write a creative blog post about how you like the book. Or you can even be more creative, write the things/lessons you learnt from that book. For example you can write on: Ten Lessons The Alchemist [ Or your favorite book's name here ] Taught Me ( By the way it's my most favorite book and I can write more than 100 lessons that this book has taught me :D ) Sounds cool, No?
If your interest lies in cooking or baking and you enjoy coming up with new recipes, you can start your very own recipe diary. Who wouldn't love reading blog posts that contains scrumptious recipes? Well I would!
2- Blog Posts Discussing Your Hobbies
You can write about your hobbies. Blogs are perfectly suited to forming connections, so don't hesitate to utilize yours to end up meeting a group of people that share your interest for baking, knitting, stamp-collecting, book reading or whatever your hobby is.
For Example, If your hobby is watching Netflix (That's mine too), you can write about the upcoming shows and seasons. Express your thoughts about your favorite seasons. Write reviews. Tell people why you love a particular show and why they should watch it too.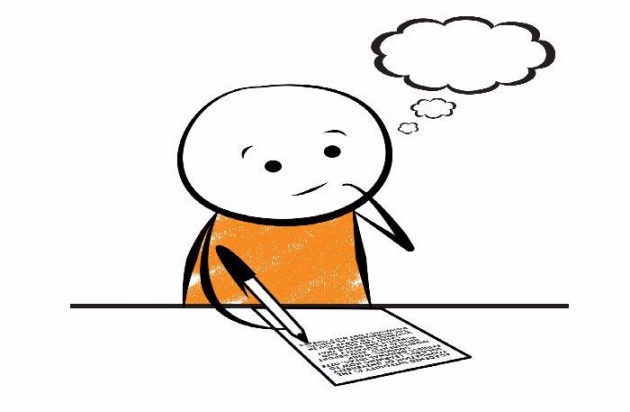 ( Image Credit: Rachel Robb Via Dstorm-Marketing )
3- Choosing Yourself A Particular Niche And Sticking To It
While not required, a niche provides focus and direction, making your blog's purpose easily understood and defined, not only by you, but by your visitors as well.
Credit: Amy Lynn Andrews Via amylynnandrews.com
Choosing yourself a particular subject area and writing about it regularly seems like a good idea, however picking a particular niche and sticking to it only can be a bit tough too. Fortunately you get a lot of scope in what you blog about and how you are going to handle a subject. For example, If you love sports you can stick to this area and write blogs related to sports only.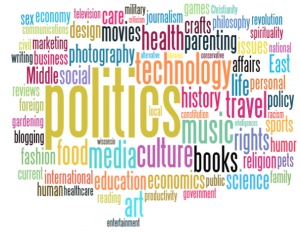 ( Image Credit: Hunaa via bitLanders )
I have interest in technology and I really enjoy writing related to it but that's not the only subject area I write about. I write about almost everything that comes in my mind and this is what you should do to. Here are some of my blog posts:
Artificial Intelligence - The Way To Go?
23 Essential Books Every Film-Making And Directing Student Should Read
Minecraft Wii U Edition Mario Mashup Resource Pack - A Short Review
You can notice I haven't stuck on any particular subject. They were random ideas that took shape of blogs. Remember, Whatever comes in your mind, jot it down. Make notes of your ideas. Write a rough draft and finalize it later on.
Some of the most chosen niches include:
Technology:
Technology has been the center of focus of most of the bloggers. The area of technology is HUGE in breadths and widths. Technology and technology issues has always been the center of great interest. There's always something to write about under this niche.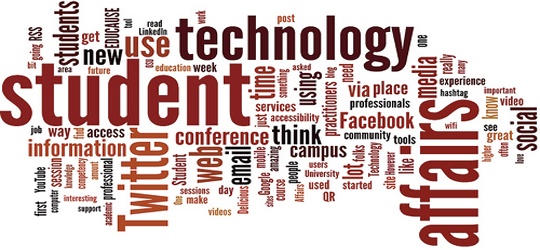 (Image Credit: Syed Faizan Ali Via mybloggerlab.com )
Tutorials, Guides, Reviews ... believe me you can write A LOT related to technology.
Politics:
An interesting topic that gets people attention easily. You are free to express your own thoughts under this category ( at your own risk though ).
Health & Fitness: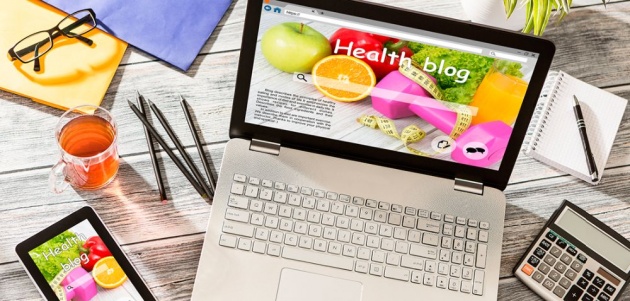 ( Image Credit: Jessica Matthews Via acefitness.org )
One of the most discussed topics ever. You can share ideas or tips that can help others to maintain a healthy lifestyle. You can blog about health related issues. You can also write about the new developments in the field of medicine under this area.
Sports:
If you love sports, you can come up with pretty good articles under this category. You can write your analysis/predictions about any upcoming match or a review about some recently happened game.
Video: Tips on creating a successful sports blog:
( Video Credit: rljmb23 Via YouTube )
4- Feel Free To Share Your Personal Experiences
You can maintain a personal diary containing your experiences by turning them into blog posts. Sounds interesting, No?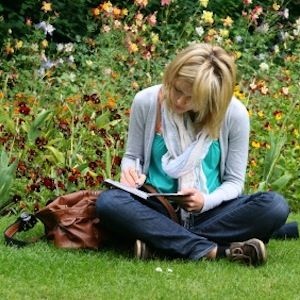 ( Image Credit: TWL team Via The Write Life )
Write down what have you learnt from your life so far. What mistakes you have done that you don't want others to commit.
5- News & Happenings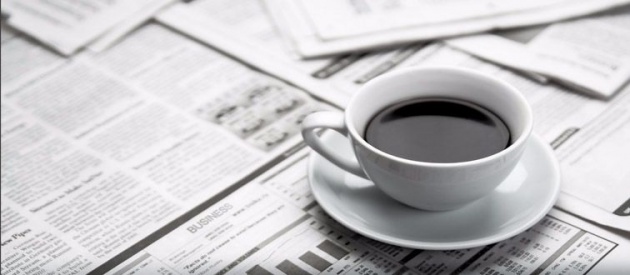 ( Image Credit: Hunaa via bitLanders )
You can always write about what's happening in the world. From recent happenings in Hollywood world to the current affairs of the Techy world, you can find PLENTY of material to write about under this subject area.
6- Identify Others' Needs And Write About It
Develop the habit of observing. Notice on what area others are having problem about. May be you can write a piece of blog post to help them figure out their problem.
What do people get frustrated about? Do you have a solution?
Credit: Amy Lynn Andrews Via amylynnandrews.com
There are always lots of questions, your blog can answer them.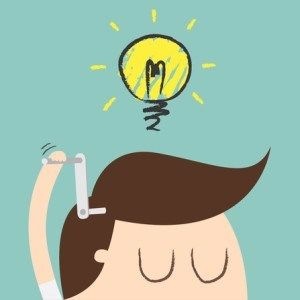 ( Image Credit: Stuart Via nichehacks.com )
The best example regarding this, is this blog post itself that you're reading right now. The idea of writing this piece hit me up while I noticed few people who had joined this site recently were asking other members in the Global Chat to help them in choosing a topic to write on. This was their need and I have tried yo answer it in this blog post.
Final Verdict:
Remember YOU are the one who is going to write the blog so only you should be the one deciding the topic too. Its time you stop asking others and start shaping your ideas into your writings!
I hope you've found this piece of writing useful and have enjoyed reading it as much as I have enjoyed compiling it for you :)
Feel free to leave your reviews/suggestions. Have a Good day, Happy reading :)
Ciao,
- Hunaa