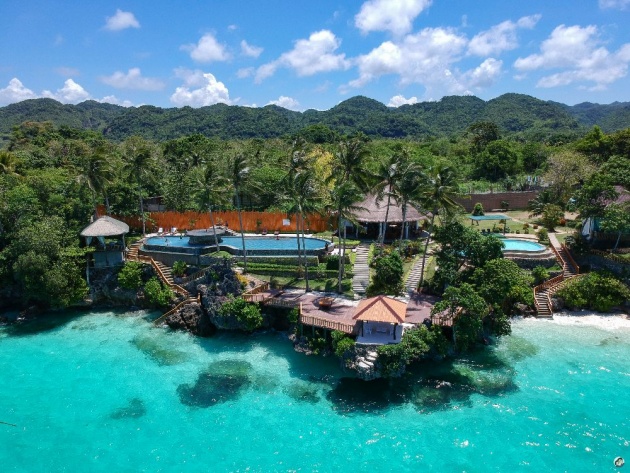 Image credits: Jean Beltran via bitLanders
I got used to going out, bringing the family for lunch or to a resort whenever James and I go home to Bohol. The last time we went out was during the Mother's Day celebration. This week, we went home because of the long weekend and it was also the Father's Day as well as our youngest brother just arrived from the United Arab Emirates.
There was no other resort in my mind but East Coast White Sand Resort when we were talking about going out for a swim and lunch. Although we have been here once a few years ago, I have heard of new things that have changed within the resort and I have to be able to check it out too.
East Coast White Sand Resort Ambiance and Amenities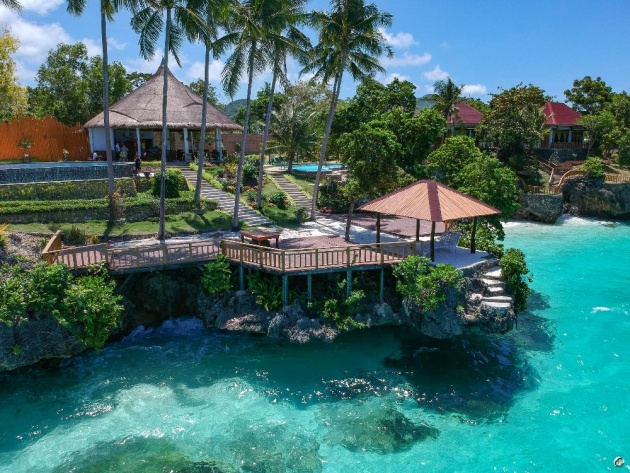 Image credits: Jean Beltran via bitLanders
East Coast resort takes pride in providing a relaxing experience with the beach and their infinity pool. It was opened a few years ago and had been receiving lots of guests already from different parts of the country as well as the world.
Located in the white-sand beach rich town in Bohol, Anda. The resort sits in a cliff, developed and properly designed limestone where their accommodations and rooms provide a good view of the ocean through its glass walls.
Upon entering the resort, the arriving area was made of bamboo and was located right next to the gates, two staffs attended us and confirmed the reservation done by my parents a week ago just to ensure that we will be accommodated.
The lobby has newspapers available for the guests to get busy with but it didn't take long before we were done with the entrance fee payment so we proceed to the main resort which was a few steps away.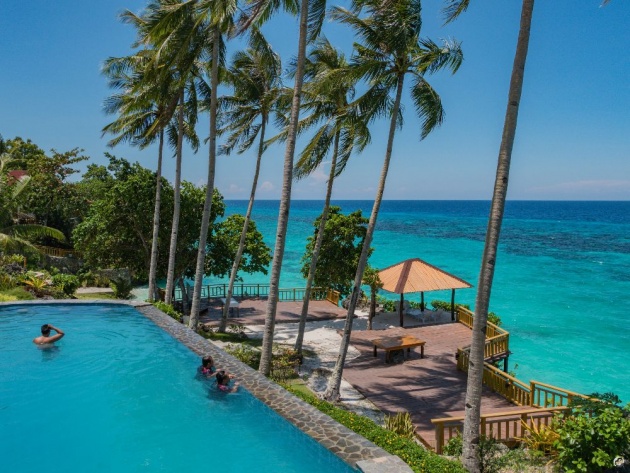 Image credits: Jean Beltran via bitLanders
Three swimming pools, two Jacuzzis and a lot of staircases for guests to have access towards the beach. There were beach chairs too near each pool and the restaurant was moved from the original location behind the first pool to its adjacent area between the first and second pool.
The second pool is bigger than the first, it has been designed where one has to take a few steps through the stairs to get access to the Jacuzzi. The waters coming out from the Jacuzzi drops through the sides of the Jacuzzi circle platform into the pool below, this also creates a waterfall effect.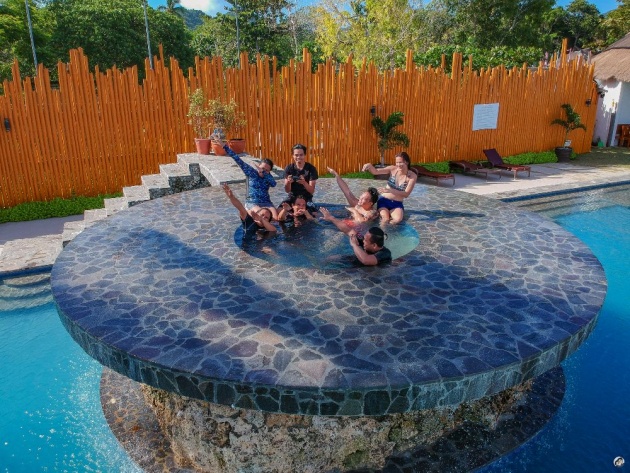 Image credits: Jean Beltran via bitLanders
These are both infinity pools which are open to being used by the day tour guests while the third pool which was tucked in the center area of where the checked in guest rooms are can only be used by the checked in guests as well but the day trippers can still check it out despite the notice that only those staying in are allowed, just ask permission from the staffs.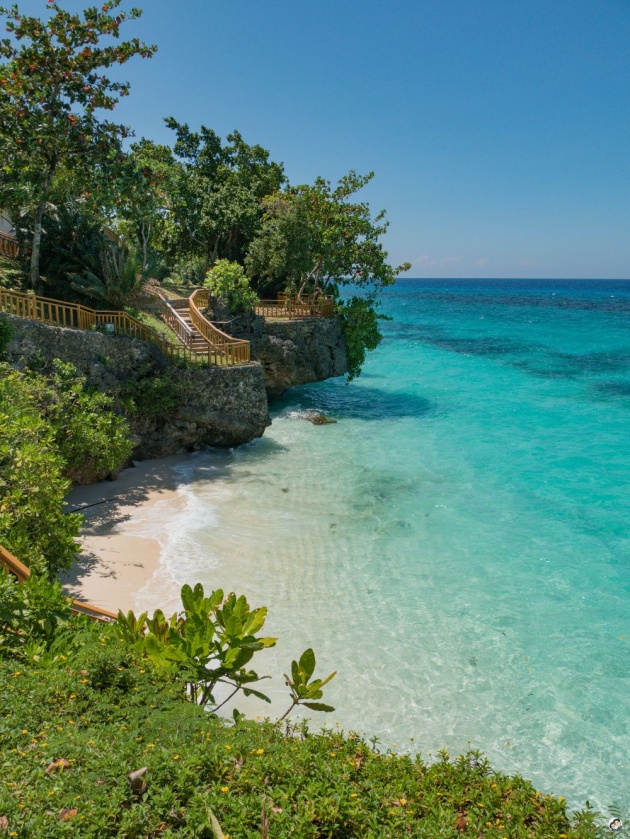 Image credits: Jean Beltran via bitLanders
Tall coconut trees, a romantic wooden lanai with a 180-degree view of the blue ocean as well as a jumping board to where guests can jump off during high tides and a white sand beach shows off during low tide. The resort has given its guests the luxury of selecting which water body would one prefer but for my case, I had to try all pools as well as the salt water although the water was a bit rough.
Video credits: Jean Beltran via bitLanders
Day tour guests can only be at the resort until five in the afternoon. But we were all done before that time and were just really chilling at the restaurant area.
East Coast White Sand Resort Restaurant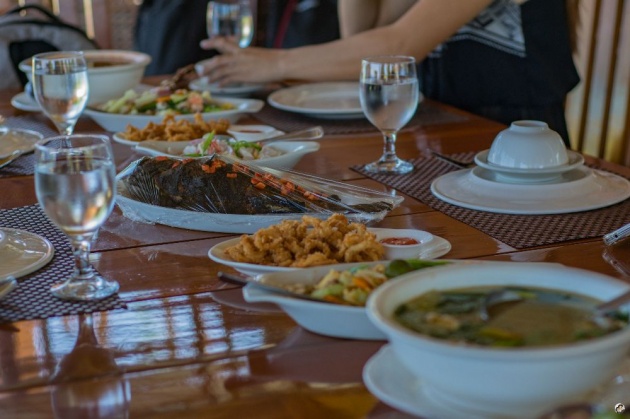 Image credits: Jean Beltran via bitLanders
Included in their entrance fee for day tour is a Php 300 consumable at their in-house restaurant. This is just next to the main pools allowed for day tour guests so we had placed out our orders prior to swimming so that when noontime comes, we have all our food ready at the table for us to dig in.
The menu offers different food options, mostly are Filipino food! But they also offer brewed coffee too not just for breakfast but also on any other time within the day.
A staff gave us the menu and we started picking up what we wanted to eat. Since this was for Father's Day, I let my parents especially my father select the food we will be eating. We had a lot of orders good for seven heads.
Image credits: Jean Beltran via bitLanders
We ordered Tinolang Manok (Chicken Soup) and Shrimp Sinigang for our soup. We also ordered Fish Kinilaw (ceviche) which is our favorite, you might have noticed that we would always order that whenever we eat out, we had Calamari, Pancit Canton, Carbonara, Vegetable Chop Suey, Grilled Lapu-Lapu Fish, Pan Fried Stuffed Squid, Rice and Iced Tea as well as some soda. For snacks, we ordered Halo-halo as well to freshen ourselves!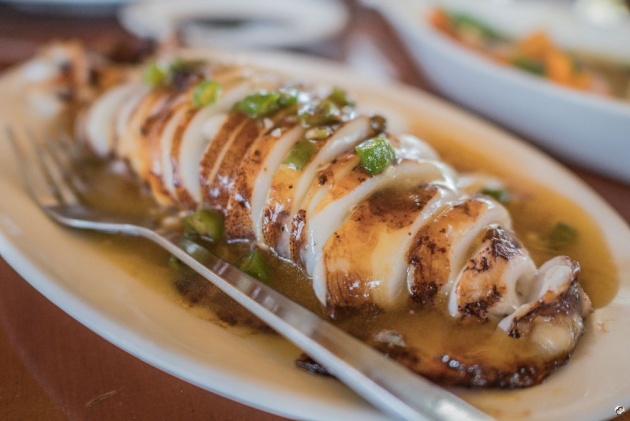 Image credits: Jean Beltran via bitLanders
I can't comment anything bad about the food, everything seems good! However, I regret ordering a lot that we ended up super full to finish everything. The squid was served a little late so everyone was already full so we ended up bringing it home. Also, the grilled Lapu-Lapu fish was a little undercooked but still it was good.
Everyone was satisfied with the food but our most favorite was the Fish Kinilaw and the Calamari. They were the first to get finished off the plate!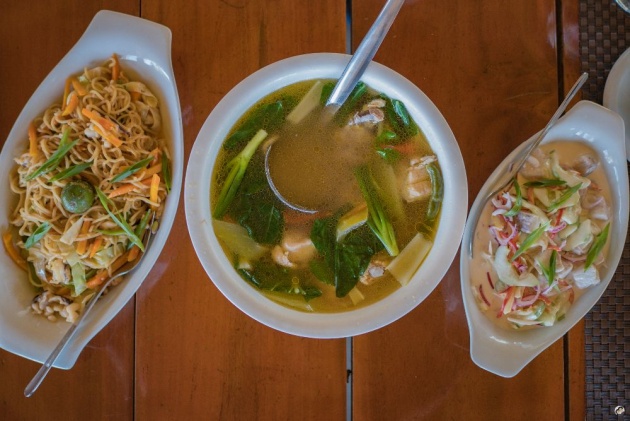 Image credits: Jean Beltran via bitLanders
It also helped that the location was very well ventilated, the high ceiling with a view of some birds flying here and there was a delight to see. The infinity pools were also just next to the restaurant that it allows us to see the ocean and the coconut trees adding a summer vibe while having our sumptuous lunch.
Recommendations to East Coast White Sand Resort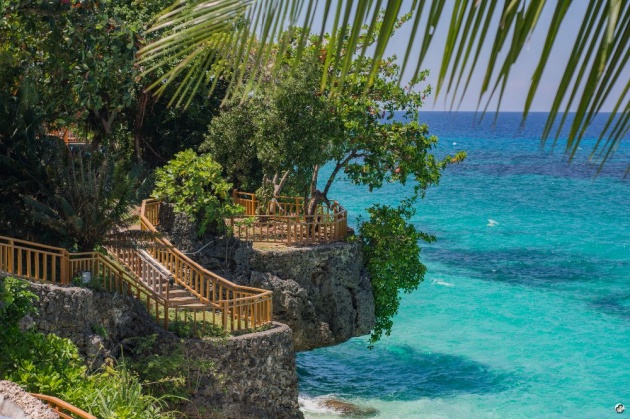 Image credits: Jean Beltran via bitLanders
While I had enjoyed our stay at East Coast White Sand Resort, I believe they still have a lot of things to improve.
First was they should provide a spot where day use guests can place to keep their stuff. Like when we were in Henann Resort in Alona Panglao last year, they provided us with lockers. In East Coast White Sand Resort, since there was no specific place for us to keep our things, we ended up placing them at the restaurant. Good thing there were only a few guests so we were free to use some of the chairs and tables.
Another thing was the comfort room. There were only two available comfort rooms, one for the females and one for the males. The issue was that these were only intended for peeing and not for changing so while I was already able to shower from the outside near the pool, I still had to change my wet clothes to a dry one and it can't be helped that I would need to still take another bath inside. The floor ended up very wet and sandy from my slippers.
Video credits: Jean Beltran via bitLanders
But overall, the experience was great, I love East Coast White Sand Resort and I wish they could provide more amenities for their day tour guests. For sure those who were checked in love the place too and the ambiance. It is best to come here when the weather is good like during summer so the guests can also enjoy the beach. High tide usually occurs in the morning and when we were there, the water was rough but the clear and blue salt water was very evident. It was beautiful and very relaxing to the eyes.
This blog entry was written and published by Jean Beltran-Figues for bitlanders.com.
Join me, click here to sign up.