It all started with filmmakers. They are the inspiration behind Film Annex's model. It

was created to provide independent filmmakers with a platform to showcase their creativity and finance their projects.
Our new motto is #CreativeEmpowerment. Why does Film Annex empower filmmakers?
We believe content creators (filmmakers, writers, photographers, etc.) deserve a place to show their creativity AND be rewarded for it.
So we implemented the BuzzScore, because in the era of the Internet and digital media, it is not only about views anymore. It's about watching content and sharing it with your community.
We are rewarding our content creators in Bitcoin, because we believe in a fair and equal access to financial support, with no regard to nationality or gender.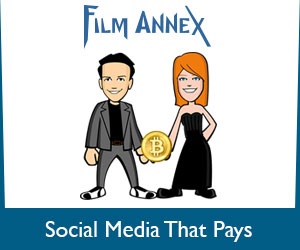 We believe in a new generation of content creators, a collaborative community where they create content and share it with their audience and with each other.

You too are creative, so if you are not yet part of the Film Annex family, join here.