Video Credit: @artbytes via bitLanders
Why I Love Realm Defense
I am not much into playing online games in recent years. The last online game that I really loved was Marvel's Agent of Shield. When Disney decided to shut down the game, I haven't played any online games.
I still play games from time to time on my Android phone. In recent years, my favorite genres are zombies and tower defense. I have played several games under these genres. But mostly I quit after playing some time, even Realm Defense.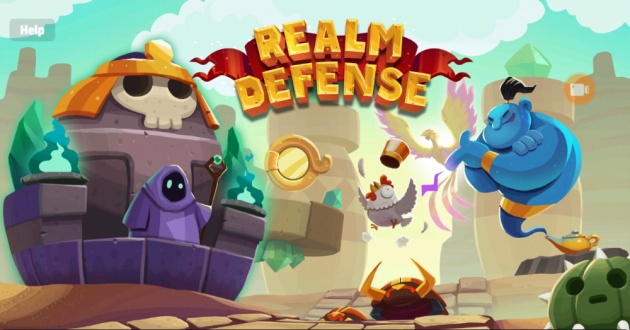 Introduction image of the Real Defense game.
Image Credit: @artbytes via bitlanders
I think it was a couple of years ago when I started playing Realm Defense. After completing the three worlds, the game became a bore. I uninstalled the game.
New Updates
When I saw on the Play Store that the game was updated. That was seven months ago. I Tried it again. The new update brought new worlds, new Heroes, and new challenges.
About Realm Defense.
Realm Defense is a tower defense type of game for Android. You can download the game from the Play Store for FREE.
In a tower defense game, you use different towers with different abilities and effects to stop the enemies from reaching their destinations.
In the other tower defense games that I have played in the past, you just use towers.
Towers and Heroes
In realm defense, aside from the different towers, you can use different heroes.
In each world, there are four types of towers,
Troops- which spawns soldiers. These are great for stopping ground troops
Ranged - as the name implies these towers shoots arrows or spears, or axes.
Magic type- these towers conjure different magic with different effects
Area Effect Towers- these towers shoots ammunitions with area effect damage like the cannon.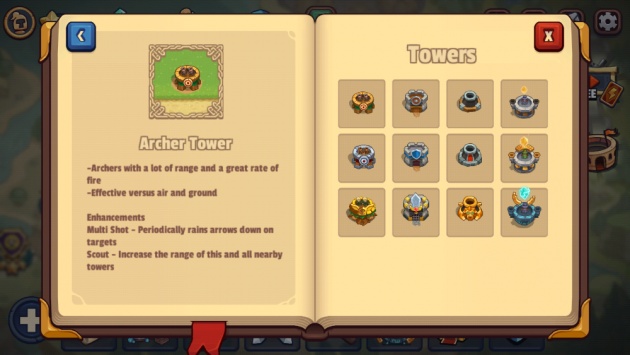 The Towers in Pridefall Map
Image Credit: @artbytes via bitlanders
Although in each world, the types of towers do exactly fall into these categories. For each world, the towers are completely different from each other.
Three heroes can be used for each level. Fee, the archer is the first free hero you can get then Lancelot the knight. Currently, there are 18 available heroes. Each hero has different abilities and powers. It's great to combine three that compliments each other.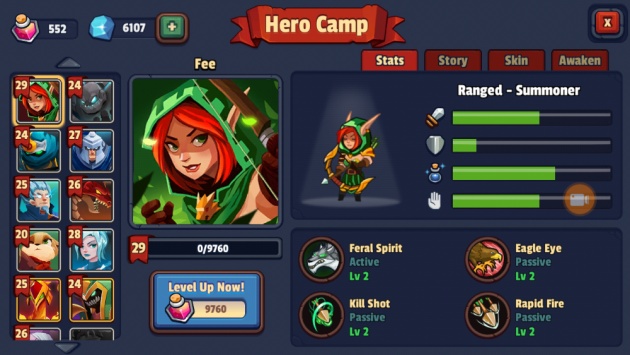 You can hire and manage your heroes in the Hero Camp.
Image Credit: @artbytes via bitlanders
These heroes can be "hired" using gems. The cost ranged from 500 gems to 7500 gems
Elixir, Gems and power items
The Elixir is used to level up the heroes. They can be gathered through the "Elixir Mine". Or bu completing two levels at Realm Siege every day. The Gems, as mentioned above are used to "hire" the heroes or upgrade the Elixir mine and the Forge.
The Power items are:
Freeze Potion - you throw it on the field to freeze the enemies for a second or two. (What else?)
Fire Potion - burn them all!
Summon - summons a monster to help you.
Healing potion- revives and heals your heroes within an area.
Endless Key - the endless is needed to play the endless level on each world.
Raid Ticket- with this, you can gather the rewards from the endless level without fighting.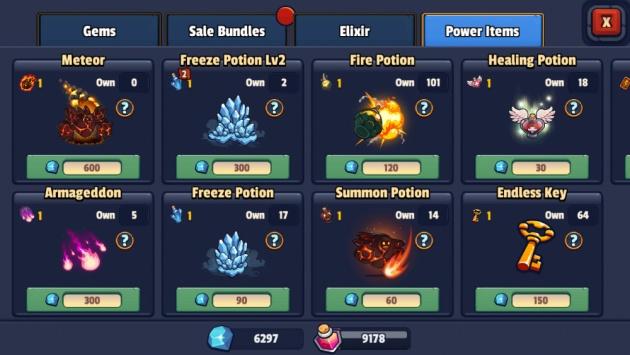 The Power Items
Image Credit: @artbytes via bitlanders
The Forge
With the Forge, you can combine the items to create three new and more powerful items. Using the Forge, you can combine items to create more powerful ones.
Freeze Potion Level 2 - You need two level 1 Freeze Potions. This freezes the enemenies a bit longer.
Armageddon - You need one of each power item. Calls a rain of fire all over the land.
Meteor - You need two armageddon. Summons a meteor shower and a couple of fiery rock monsters.

Note: Forging also consumes at least a hundred Elixir.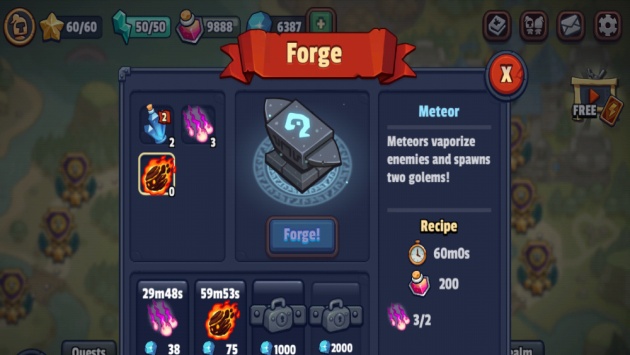 You can create more powerful items using the Forge
Image Credit: @artbytes via bitlanders
How to Harvest Items.
For winning each level with Three stars, you will receive different items plus an increasing number of gems. On the regular levels, however, you can win items only once.
Playing the Endless Levels
Each world has an endless level. If you can survive the endless level for at least 15 minutes, you will get one piece each of all power items.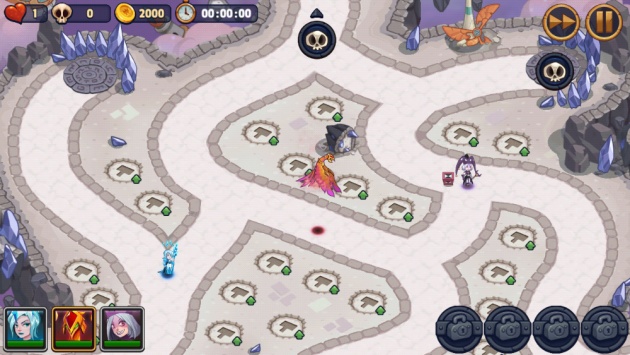 The Endless Level in Caelum Cloudveil
Image Credit: @artbytes via bitlanders
New Worlds
When I first played Realm Defense, there were only thee worlds available. I finished the three worlds in just a few weeks. It took a while before they could come up with the upgrade, so I decided to uninstall the game.
But when I checked the game again a few months later, two new worlds were added. If I remember it right, they added more levels on world 3. Doubling the challenge and the fun on the three later worlds.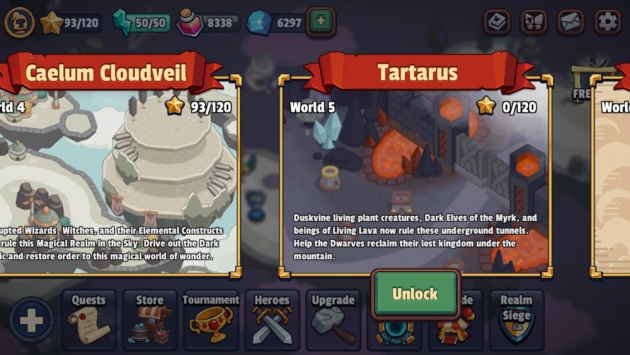 Challenges and Daily Trial
Along with the new worlds and levels, they also added Challenge levels on each world. But you need to have the heroes required in order to play the Challenge levels.
The Daily Trials is also a welcome addition to the game. It's a great way to break the monotony of doing the regular levels every day. Also, it is the best way to harvest free gems.
Video Credit: @artbytes via bitlanders
Weekly Tournament.
If you think Realm Defense is a stand-alone game, think again. It has a weekly tournament in which you compete with other players around the world. It's not a PVP though. In the tournament, you compete for the high score. The top three players get Elixer and gems and a promotion. if you can get into the top ten, you get only Elixir.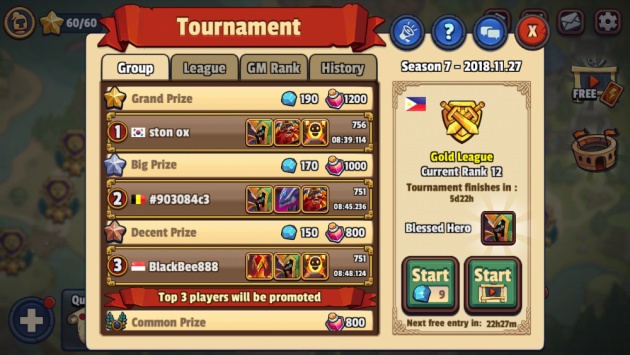 The Top Rank for the Weekly Tournament
Image Credit: @artbytes via bitlanders
The Grand Champion will get a new skin for his heroes.
To date, I was able to get promoted twice. Since I don't have the more powerful and expensive heroes yet, it is very difficult to get even into the top ten.
Other Features.
The game is packed with other features and the developers add something new from time to time. That makes the game more exciting.
Viewing Ads
One thing I like about the game is how the ads are presented. They are not played after every level like in most Android games. Rather the player has the option to play the ad. In return, the player gets something, like a key for the endless level, or another chance to play in the Tournament for that day.
Warning! This game is addictive
I have to admit, this game is addictive. I'm not really a "video game addict" who would play countless hours in a day. But there was a time that I would play this game for hours in a day. I spent more time on this game than necessary and it affected my productivity.
There was even a time that I almost spent some cash to buy some items and get the hero I wanted. I'm thankful I stopped myself.
Overall Rating.
Realm Defense is totally entertaining tower defense game. Once you start playing this game, you might forget the other titles under this genre. It is a very entertaining game, but it requires you to be quick in your decision making and sharp on your strategy.

Overall, I give this game a 5 Stars out of 5.
Thanks for reading.