Xcorps TV X PRESS Tuesday February 25, 2014 San Diego California
Xcorps TV uploads 25 NEW Action Sports and Music VIDEOS to the FILM ANNEX online platform!
The non-stop upload of Xcorps TV on Film Annex continues with the addition of 25 new video segments to the 'Social Media That Pays' platform! This month of February -seg.5 from XC episodes #1 through #25 - have been added to Film Annex. The uploading procedure for video and photos to Film Annex is one of the most streamlined and FUN out there! Compared to the many other video platforms publishing to FA is fast easy and complete with the ability to publish HD size custom poster billboards and promo shots to represent your videos! Can YouTube do that? - No not yet.... but we are sure they are watching FA closely!
For those technically interested each Xcorps 3-5 min. HD 1280x720 H-264 video file Xcorps uploads to FA averages about 1 gig each and depending on web traffic several hours to upload. Xcorps TV has plans to upload ALL 275 of XC show series segments to Film Annex. Also new and exciting XC sports and music TV content will be published as it is produced!
FA is the video platform of choice for watching Xcorps Action Sports Music TV!
Also NEW just created Xcorps HD POSTERS are being uploaded to represent each new video segment! Check out the new poster for XC episode 25 MOTOSK8 which features a crazy group of MOTORIZED INLINE SKATERS tearing down scenic California coast Hwy.101 and being stopped by the local police!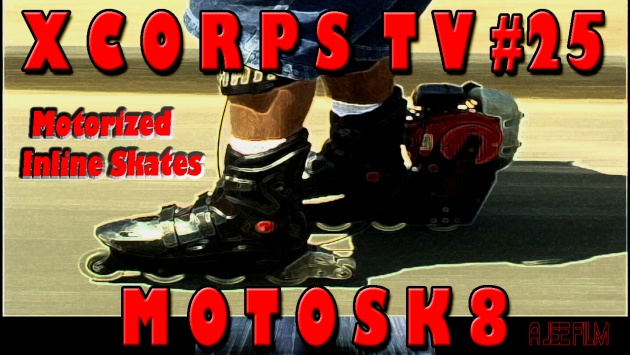 The Xcorps extreme sports and music TV series is produced and edited in the traditional FCC half hour broadcast TV format which is 23 min. of XC total content in 5 separate segments with a total TRT- 30 min. runtime per show.
On broadcast/cable TV – and now web- 30 second commercial spots air in between each of the shows 5 segments. This sponsor driven format of broadcast TV with commercials airing before and after video content is rapidly becoming the format of professional video airing on the web. This is why Film Annex viewers will hear all Xcorps hosts say "Stay Tuned – we will be right back with more XC"!
Xcorps TV has a large web presence and has uploaded partial show segments to all the established online video platforms but only on Film Annex will viewers be able to see ALL of the XC show segments – over 275! In addition to these show series segments Film Annex viewers are also able to view XC action sports, music and motorsports 'Special Reports' videos produced by Xcorps.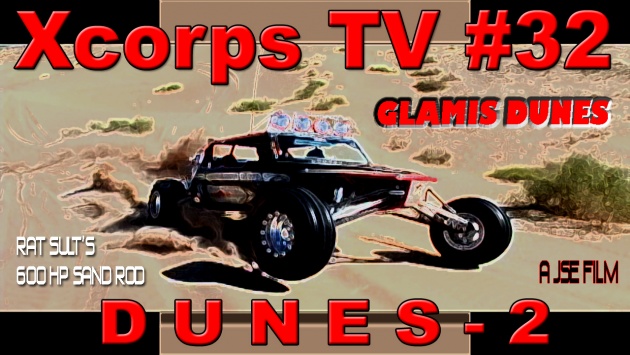 Xcorps TV is NOT your average large LA TV production company. Rather XC which is based in the small San Diego beachside community of Encinitas California is an example of 'Guerrilla TV' and what can be done when a small group of multi talented video journalists, musicians and adrenaline junkie athletes get together to have some FUN and roll cameras! Traditionally it takes a lot of sponsor investment to get a show series produced on TV but now with the relatively affordable HD cameras (Sony-JVC-Canon), computers (Mac) and editing software (Final Cut Pro) available it is possible with a LOT of hard work and persistence to produce a show like Xcorps and get it on TV worldwide! Making a living at this venture is entirely another subject matter which will be taken up in a future XC Film Annex blog!
*Stay Tuned – Now in EDIT - Xcorps will continue uploading an additional 30 show segments to Film Annex. Now in edit is a Special MUSIC presentation featuring the NYC band HUNTER VALENTINE c/o RIVE video promotions hosted by Jason Lazo reporting from the beach at XC headquarters in Encinitas California. JSE.
A J.S.Edmondson Film Production
See the Action Hear the Music Join the Xcorps
©2014 TheXcorps http://www.xcorpstv.com/
http://www.filmannex.com/xcorps
Stay Tuned.
XCORPS ACTION SPORTS TV #21.) ASR SEG.4 - ALL GIRL SKATE JAM