I can't think of a better way to have ended my 14,500 mile trip to Samoa than with the annual "NYAC All Sports Dinner". Having been doing non stop planes, trains, and automobiles for the past 2 weeks, words can not describe the comfort I get being surrounded by great people and athletes.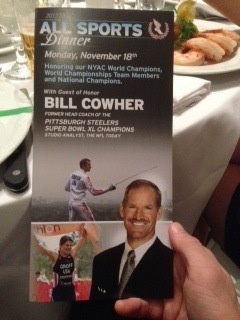 This year the NYAC chose former head coach of the Pittsburgh Steelers and Studio Analyst of "The NFL Today" Bill Cowher as the keynote speaker (as if being surrounded by the national champions, world team members, and Olympians of the NYAC wasn't enough inspiration). Bill delivered an extremely motivating and inspirational speech, hitting on a bunch of noteworthy themes. One of my favorite themes was the idea that we should all "…live for a purpose…".
Mr. Cower also touched upon the fact that the content of a person's character truly shines when the chips are down or things aren't going perfectly. He couldn't be more accurate. It's easy to live life with a purpose and peruse our goals and dreams when everything is going the way we want them to. We are all guilty of loosing focus on what's really important during tough times. Bill further mentioned that his greatest asset during times of turmoil was the people he surrounded himself with.
-LIVE FOR A PURPOSE
-SURROUND YOURSELF WITH GOOD PEOPLE
-DON'T LET HARDSHIPS ALTER YOUR PASSION OR DEVOTION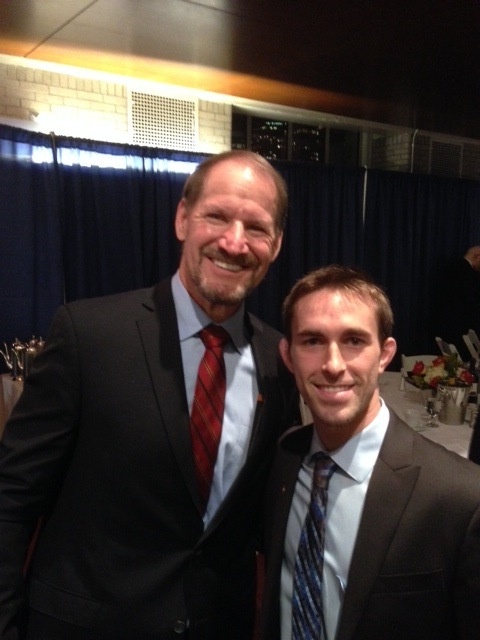 It goes without saying that I am walking away from this years dinner with a refilled sense of optimism. Pairing this experience with my 1st place victory at the Samoa Continental Open has really helped me grow as an athlete and as a person. I feel like I have updated "life homework". I would like to thank the NYAC and Film Annex for their support of my judo career. The relationships I've made while being a member of this prestigious establishment are priceless. I'd love to hear what your life purposes are. Hit me up on Facebook or twitter with your thoughts!