Last time, I talked about designing a zoetrope base that would allow me to play with 20 separate layers of animation. When the finished pieces of the base turned up, I quickly put together a pretty simple test to see if the system would work. This video starts with the After Effects mock up I made, leading on to the actual piece - the 20 layers were all printed out so I just had to cut them up and stick them together before I slotted them into the guides. Here's how it turned out...
I was pretty happy with this (and surprised by the various effects I was able to get from the lighting) and could see some pretty awesome potential for complicated, multi layered, semi-transparent zoetropery, so I started working on the most complex, time consuming mock up so far. It was really hard to get my head around this one though, as the 20 layers effectively became 40 once I'd decided to use transparent material, and the model was also slowing After Effects to a crawl. After a few false starts with overly intricate and unfocused ideas, I came back to the sphere idea I had used to figure out the specs for the zoetrope base. To keep it as controlled and 'simple' as I could, I decided to use circles as the animating element and started to build up the sphere parent shape. You can get an idea of that process in this video of the AE mock up...
Each of those circles (there must be thousands) were spaced out using the align/distribute function in AE, but their height position needed to be done by hand twice per layer so that they aligned with the sine wave, up/down motion of the top and bottom halves of the sphere. Each layer was then offset by two frames to create the wave-like effect, and the plan was to have some sort of light source in the centre, with the innermost two or three layers being tracing paper so that they would diffuse the light.
To be honest, it got to a point where there were so many uncertainties about how the thing would actually look in reality that I gave up developing the idea any further in favour of just finalising it and building the thing. I figured I'd learn a lot more about the possibilities and limitations of the base if I did this, so I started preparing the files for printing and figuring out how to accurately transfer the imagery to acetate. Little did I know how long this would take though!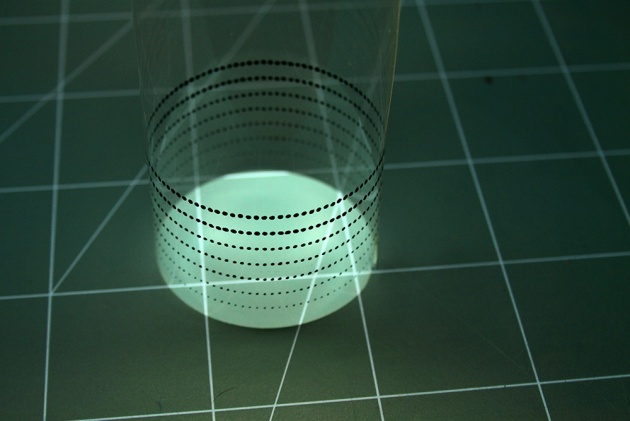 More on that in the next blog entry...