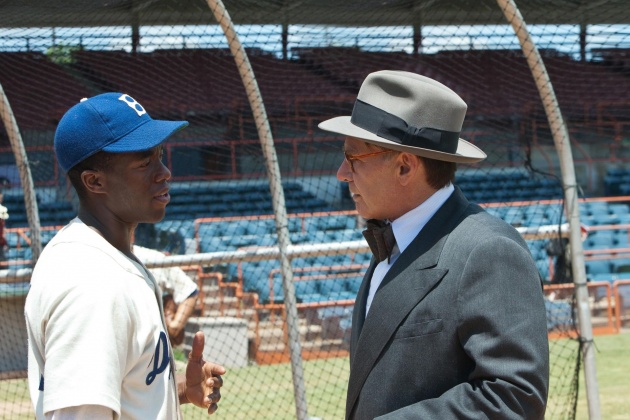 The Jackie Robinson movie, "42," scored at the box-office with $27.3 million debut. The film stars Harrison Ford as pioneering Brooklyn Dodgers executive, Branch Rickey, who signed Robinson (Chadwick Boseman) despite Major League Baseball's color line.

"42" is heartfelt but I found it too earnest. Yet, its heart is at the right place. "42" is shaping up to be "The Help" of 2013.

At No. 2 was the so unfunny it's scary "Scary Movie 5," yup we're now on No. 5 but do you still care? The horror parody featuring cameos from Lindsay Lohan and Charlie Sheen opened in second place with $15.1 million.

Focus Features' "The Place Beyond the Pines" expanded into 514 theaters making $4.1 million for the tenth place. Starring Ryan Gosling and Bradley Cooper from director Derek Cianfrance, "The Place Beyond the Pines" has now accumulated $5.5 million worth of box-office moolah.

Here's the estimated Top 10 Box-Office Movies for Weekend of 4/12/13:

1. "42," $27.25 million.

2. "Scary Movie 5," $15.153 million.

3. "The Croods," $13.2 million.

4. "G.I. Joe: Retaliation," $10.8 million.

5. "Evil Dead," $9.5 million.

6. "Jurassic Park," $8.8 million.

7. "Olympus Has Fallen," $7.3 million.

8. "Oz the Great and Powerful," $4.9 million.

9. "Tyler Perry's Temptation: Confessions of a Marriage Counselor," $4.5 million.

10. "The Place Beyond The Pines," $4.079 million.