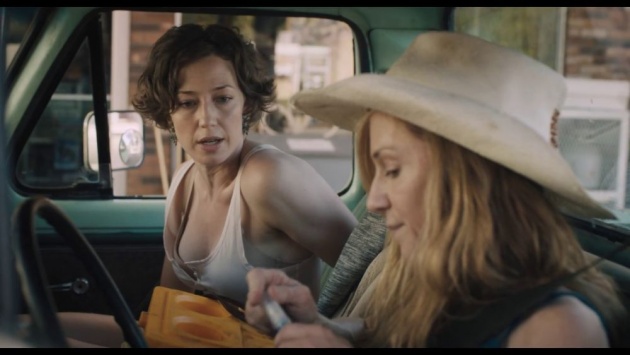 Image: Byrd (Carrie Coon) and Darcy (Holly Hunter) hit the road in Strange Weather, a drama written and directed by Katherine Dieckmann. Still courtesy of Brainstorm Media
Writer-director Katherine Dieckmann (A Good Baby, Diggers, Motherhood) has a mission: to make films centred on women aged 40 plus. It isn't just that Hollywood neglects this demographic but actresses like Ellen Barkin and Debra Winger are relegated to supporting roles once they reach the big Four-whoa! First item of business: Strange Weather, a drama about the search for truth and justice by a grieving divorcee, University Administrator, Darcy Baylor, played by the estimable Holly Hunter, a name to enunciated in boxing commentator terms - 'presenting in the blue corner, multiple Academy Award nominee, winner of one Oscar, the one, the only Hollllllleee Hunnnn-tuh!'
OK, maybe after the first time, it would lose its novelty. But try enunciating Meryl Streep that way - it sounds like a deflating balloon.
Seven years ago, Darcy's son committed suicide. When Darcy discovers that his business plan, the one she helped type up and gave him the inspiration for, god damn it, has been used by a classmate, Mark Wright (Shane Jacobson) to form the basis of a hot dog eatery business, Good Dawg, valued at $5 million, she wants answers. What happened on the evening he died whilst she worked late and was unable to intervene?
This isn't the first film directed by a woman to focus on a suicide – the theme was recently explored in British director Hope Dickson Leach's The Levelling (number 28 in this series: http://www.bitlanders.com/blogs/52-films-by-women-vol-2-28-the-levelling-director-hope-dickson-leach/5546211 ). The films actually have more in common; both have a backdrop of an environmental disaster. Strange Weather takes place during a South Georgia heatwave, 88 days of no rain, just summer lightning. The authorities have restricted the use of hosepipes, meaning that Darcy and her neighbour, Byrd Ritt (Carrie Coon, from the current series of Fargo) have to water their garden at night, away from prying eyes. They decide to go on a long ol' road trip, taking in a visit to an old school friend, Mary Lou (Glenne Headly), Darcy's enfeebled ex-husband, Wes (Johnny McPhail) and one of her son's college mates, Buford LaPierre (Craig Boe) whose family are caught up in the devastation of a post-Hurricane Katrina New Orleans. Byrd wants Darcy to reconnect with the world – seven years is a lot of spent grief – but she isn't keen on the gun in Darcy's (as opposed to Mary Lou's) handbag. She didn't sign up for 'violent intentions'. For her part, Darcy gives her some reassurance.
Strange Weather isn't the first film set during a long hot summer – there was the 1958 Paul Newman picture entitled, erm, The Long Hot Summer. Excessive temperatures are normally the backdrop for steamy film noirs like The Postman Always Rings Twice, Body Heat and The Hot Spot. Dieckmann has intentionally and decisively made a road movie about two friends who have a platonic relationship. Byrd has a lesbian partner, Geri (Andrene Ward-Hammond) but the running joke is that Darcy thinks Geri might be dabbling. After all, as Darcy unexpectedly discovers, Byrd has seen her son's birthmark, and she wasn't child-minding. This comes as part of the big speech: 'you're not the only one who cared about your son'. She wasn't the only one who couldn't stop him using the handgun that his daddy had bequeathed to him, either.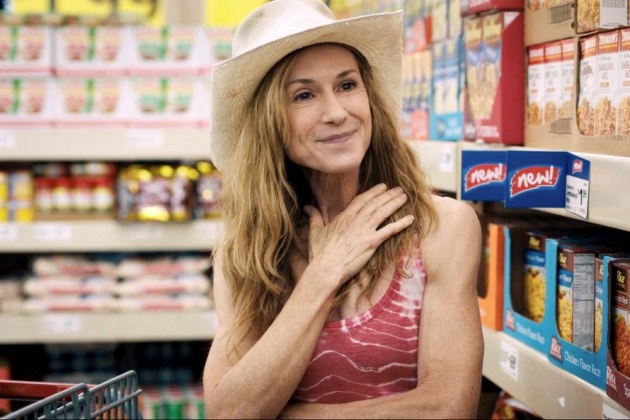 Image: Darcy Baylor (Holly Hunter) is moments away for cooling herself in the chill cabinet in Strange Weather. Still courtesy of Brainstorm Media
Dieckmann rewrites the genre playbook from the start. She shows Darcy involved in an on-off relationship with a barman – they do have steamy, middle-aged, grab-and-go sex – but the scene is over and done with to throw sex out of the window - get your genre elements over with quick. Darcy's conversations with women tend to be non-confrontational, notably abiding by Mary Lou's 'no smoking in the condo' rule ('it saddens me that you do that', Mary Lou adds). Darcy's conversations with Wes and Buford are tense. Wes is incapable of saying a word. He is framed in a tight close-up with Darcy trying to squeeze the last drop of comprehensible speech from his near-dry face. Wes doesn't speak but his dormant volcanic face yields a solitary drip of lava, a single tear. Buford fights to get this old lady (Darcy) out of his face. He doesn't have to talk to her but he mentions the carton of bullets that her son had access to and how he got them.
Dieckmann is great on revealing detail, how Darcy cools herself in a store refrigerator whilst shopping – an old lady, another shopper, smiles at her. We see the effects of uneven water distribution, with flooding blocking one road, whilst other communities run dry. Then there is the issue of proving Mark appropriated her son's plan – she gets her son's proposal, rejected by his teacher – but then she has go dumpster-hunting.
Hunter is electric in a role that she seizes with relish. Hers is a physical performance – she works the telling gesture, the way she part rests on a surface or drags one leg. She has a dancer's physicality and pumps props. On the minus side, as Dieckmann revealed, she doesn't do continuity. Holly won't do the same thing twice, just what is right and in the moment. She'll play with the delivery too.
Darcy looks for justice and settles for truth. This isn't exactly a spoiler. You can't really find an equivalent for the loss of a child. Hunter has a good foil in Coon. Her Byrd is extremely grounded to the point that when the trip gets into its final stretch, she knows what her place is.
The point of Strange Weather is that it isn't Thelma and Louise or Mortal Thoughts, which also starred Headly. Does every woman-led road movie with a gun have to be so determinedly transgressive, so keen to redress balances? Can balances even be redressed? It is a gripping and entertaining film with a coda – education is important and can help actualise a person's potential rather than just be letters after a name. The characters' actions aren't driven by genre requirements but come naturally out of the situation.
The only misjudgement is 'strange' in the title, as if a heatwave is determinedly abnormal. Heavy Weather would be a better title but might be one of those movies that reviews itself.
Reviewed at Edinburgh International Film Festival, Saturday 1 July 2017, 20:55 screening, Cineworld Edinburgh (Fountainbridge) in the presence of the director