Kim Soo Hyun crying scene on the drama My Love From the Star | © Image credits: AminoApps.com
We all have that certain moments that we just want to be emotional. Emotional in a sense that we just lock ourselves up our room, listen to sentimental songs, and watch the most tragic or saddest movies we know. In my case, I really enjoy watching sad movies and I have a feeling of relief after crying. Many people are entertained by watching sad movies despite of the mini-heart attack and sorrow that they may feel during the movie. Maybe because it allows the viewers to feel and live the life of the characters depicted in the scene, and later on reflect on their own lives.
A study says that sad movies can make us happier owing to the fact that as we encountered sadness upon watching, it boosts our happiness due to extreme gratitude.
"People seem to use tragedies as a way to reflect on the important relationships in their own life, to count their blessings."
So I thought of why not make a list of the saddest Korean movies I had ever watched that made my eyes puffy and swollen after watching them. Perhaps, you can include one of these to your list the next time you'll be having a movie marathon.
Are you ready?
Here we go...
09. Hello Ghost
Hello Ghost (헬로우 고스트) is a comedy drama about a man who is alone in life, his name is Sang Man (Cha Tae-hyun). He attempts to commit suicide, but he keeps failing every time. He then starts seeing ghosts when he was once delivered to the hospital after another failed suicide attempt. The ghosts followed him everywhere he goes and begin to meddle with his life. He visits a shaman to seek help and make those ghosts leave him. He learned that to make them dispappear, he must help each of the ghost's to make their unfulfilled dreams so they can go in peace.
Sangman and the ghosts sharing a large fish candy | © Image credits: Imgur.com
The movie was directed and written by Young-Tak Kim. Starring Cha Tae-hyun, Kang Ye-won, Lee Moon-su , Nam Jang Young , Chun Bo Geun, Jeong Gyoo Soo, Go Chang Seok. It was released on December 23, 2010 and considered as 9th highest grossing Korean film in 2010, with a total of US $19,774,455 admissions nationwide.
Side Comment: I am really impressed with this movie. The twist is unpredictable. At first I was enjoying the humour of this movie and laughing so hard, but at the end it pierced my heart so deep.
08. Train To Busan
Train To Busan / Busanhaeng (부산행) 's story covers about Seok-Woo (Gong Yoo), a seperated man from his wife is a busy manager that is living with his daughter Soo-An (Kim Su-an). Being a workaholic, he tends to ignore his daughter's much needed attention which results to the girl wanting to live with her mom instead. On the day of her birthday, Seok-Woo agrees and decides to take her to Busan by boarding to the KTX train from Seoul Station. Before the train departs, a virus-infected girl embarks on the train which starts the zombie virus outbreak inside the train. Now, all the passengers including Seok-Woo and Soo-An battle to survive and fight for their lives against the terrifying zombies.
Random scenes inside the train full of zombies | © Image credits:John Leavengood

This thrill-filled film is directed by Yeon Sang-ho written by Park Joo-suk, with the star casts Gong Yoo, Ma Dong-seok, Jung Yu-mi, Kim Su-an, Kim Eui-sung, Choi Woo-shik and Ahn So-hee. This record breaking and high-grossing movie was released on May 13, 2016 (Cannes) and July 20, 2016 (South Korea).
Side Comment: I've been hesitating if I should put this on my list since this is a zombie apocalypse action thriller film. Then I decided to put this since it's a really sad movie if you realized the whole thing that happened. My expectation in this movie would be scary because of the zombies. It came out as thrilling and despairing film.
07. A Moment to Remember
A Moment to Remember / Nae Meorisogui Jiugae (내 머리 속의 지우개)'s love story starts when Soo-Jin (Son Ye-jin) goes into a convenience store to buy a soda drink, but accidentally leaves it on the counter. As she recalls, she goes back to the store and sees a man walking out of the store with a can of soda. Soo-Jin assuming that it was her soda, she snatches it from the man and drink in one gulp. Afterwards, she remembers that she also left her wallet, upon getting her thing back, the clerk hands her the wallet plus the soda drink she left behind. She was embarrassed by herself then. One day, Soo Jin sees a foreman at construction site name Chul Soo (Jung Woo-sung), it was the same man she mistakenly regarded who took her drink. Soo Jin pursues Chul Soo as she as she begins to fall inlove with him. Soon after, they became a married couple and live a great life. Unfortunately, Soo Jin soon was diagnosed with unusual kind of Alzheimer's disease.
Soo-jin's heartbreaking line in the movie | © Image credits:AwesomeAsianMovies

A South Korean film based on the 2001 Japanese television drama "Pure Soul". It stars Son Ye-jin and Jung Woo-sung. Released on November 5, 2004, directed by John H. Lee and written by the latter and co-written by Kim Young-ha.
Side Comment: This is the sweetest movie I had ever seen, however at the same time it is the most painful one. Soo-jin's letter will surely make everyone cry.
06. Always / Only You
Always / Ohjik Geudaeman (오직 그대만) centers the story of a blind woman and a former boxer. The latter Chul-min (So Ji Sub), became distant with the wold and starts his new job as a parking lot attendant. Their first meeting takes place as the blind telemarketer Jung Hwa (Han Hyo Joo), walks into his tollbooth to watch television with him. Chul Min falls for Jung Hwa's positivity in life despite of her situation. As a result, they both starts a new and simple life together filling each other's heart with love and joy. But, there comes a point in Chul-min's life that he needs to make a big decision that may change their lives.
Jung Hwa who's unable to see touching Chul-min's face | © Image credits:AminoApps.com
A melodrama movie directed by Song Il-gon, written by himself and Roh Hong-jin. The film's leading the casts, Han Hyo Joo and So Ji Sub. The film was released on October 20, 2011.
Side comment: Love is literally blind in this movie, heart can see what the eyes can't see. A true love indeed! A love that sees that's not based on physical appearance. Oh I wish everyone could love the way Jung-hwa and Chul-min. Also, I wish I could find a man like Chul-Min. Hehehe!
05. Unforgettable / Pure Love
Unforgettable / Soonjung (순정) happens in the year 1991 in a small village near the sea. A five friends who spend the summer vacation together namely Beom-Sil (Do Kyung-soo), Soo-ok (Kim So -hyun),San-Dol (eon Jun-Suk), Gae-Duk (David Lee) and Gil-Ja (Joo Da-Young). A shy boy, Beom-Sil has this noticeable admiration to Soo-Ok. Meanwhile, Soo-Ok suffers from a leg impairment that makes her walk difficult and painful, so Beom-Sil always carries her at his back. Their adventures together makes their friendship and love go deeper. At the present, on a live broadcast, radio DJ Beom-Sil, receives a letter from his first love that shares stories of the friendship and first love that happened 23 years ago.

The "Umbrella Kiss" by Beom-sil and Soo-ok | © Image credits:AminoApps.com
This story that depicts a man's undying love for his first love is directed by Lee Eun-hee. Starring EXO's Do Kyung-soo and Kim So-hyun, with Yeon Jun-Suk, David Lee and Joo Da-Young. A special valentine movie released on February 24, 2016.
Side Comment: I had watched this film before knowing that Do Kyungsoo is actually a member of EXO. I was so impressed by his acting same goes with Kim So Hyun. Everytime I watch clips from YouTube, it still makes me cry. It is not about first love but also about true friendship.
04. My Annoying Brother / Hyung
Hyung (형) tells a story about two brothers who hate each other. Doo-Sik (Jo Jung-Seok), a con man who is in prison for 15 years appears uses his brother's disability to plead for his release. Later on, he gets his release on the condition of taking care of his brother. Meanwhile, Doo-Young (Do Kyung-soo), the younger brother, is a skilled Judo athlete who loses his eyesight due to an accident during a national contest. Since both of their parents passed away, Doo-Young lives alone and in their house and has hide himself from everyone. Except for his judo coach Soo-Hyun (Park Shin-hye), that still keeps in contact with him. Suddenly, Doo-Sik shows up at home and the two brothers begin living together again.
Doo-Sik cheering up Doo-Young 'coz it's his first time to meet a girl | © Image credits:Soompi.com
A comedy drama movie released on November 23, 2016 starring Jo Jung-seok, EXO's Do Kyung-soo and Park Shin-hye. This fun and family-oriented film is directed by Kwon Soo-kyung.
My Annoying Brother Official Trailer | Video Credits: Cj Entertainment
via YouTube
Side comment: When it is about family, I think it would be easy to make you cry. Expect that this would make you cry hard even you don't have a brother in real life. This is a comedy drama so it can also make you laugh hard, don't worry.
03. Miracle of a Giving Fool
Miracle of a Giving Fool / Babo (바보) involves Ji-Ho (Ha Ji-Won), a good pianist, who returns home from abroad. She wasn't able to pursue her career due to serious instance of stage fright. She reunites with her old friend in her primary school named Seung-Ryong (Cha Tae-Hyun ). Seung-Ryong with a mental capacity of a child lives with his one and only family, his younger sister, Ji-In (Park Ha-Sun). The former had an accident with his father when he was younger that caused him to act and think abnormally. His father died from the said accident while his mother died few years after. In spite of his situation, he still makes a living by selling a toasted sandwich outside to take care of his sister. Ji-In hates her brother seeing that he is useless and it's an embarrassment to her. Ji-In happen to get sick and Seung-Ryong's friend falls into issue with a some criminals. With these difficult situations regarding his family and friends, Seung-Ryong makes a turning point decision that changes his fate.
Seung-Ryong's happiness as he sees Ji-Ho from afar | © Image credits: Tumblr.com

Released on February 28, 2008, this webtoon-based movie is directed and written by Kim Jeong-Kwon and co-written by Kim Young-Tak. This extraordinary movie's starring cast includes Cha Tae-Hyun and Ha Ji-Won.
Side comment: It is Cha Tae Hyun everyone, the Cha Tae Hyun. His acting is great as always and I never expected that I would cry because I was so focused with the love story of Ha Ji Won and him. Please prepare a LOT OF TISSUES or even TOWEL. Remember this line, "Vaseline for hurts, toast for stomach, a dollar for the can."
02. Miracle in Cell No.7
Miracle in Cell No.7 / 7beonbangui Seonmool (7번방의 선물)'s misfortune happens when Lee Yong Gu (Ryoo Seung-Ryong), a mentally sick father with the intellect of a six-year-old tries to save an unconscious girl on the ground by doing CPR. However, a woman passes by and mistakes him to be molesting her, and eventually calls the police to report.
The chielf of the national police comes out to be the father of the dead child. Poor Yong Gu is falsely accused of the murder, kidnapping, and rape. Even the police forces and threatened him to admit the crimes, while ignoring the lack of evidence. Yong Gu is taken into prison and allocated to Jail Cell No. 7 together with other five inmates.
During a complicated day inside the prison, Yong-Goo covers his body to save Yang-Ho, one of his cellmates, from being stabbed. As a returned favoe, Yang-Ho offers to help Yong-Goo in any way he can. Yong-Goo's wish is to see his daughter Ye-Seung (Kal So-Won), a very bright daughter that loves her father so much. The five cellmates teams up and comes up with ideas to bring the daughter inside the cell.
Later, his grown-up daughter Ye-Seung (Park Shin-Hye) becomes a lawyer and fights to prove that his father is innocent.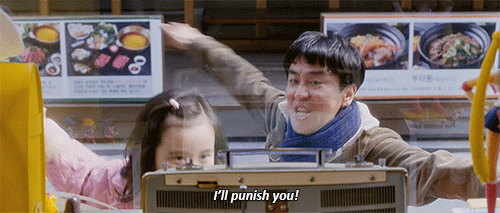 Father and daughter watching Sailormoon on TV | © Image credits: AminoApps.com

This melodrama-comedy film is written by Yu Young-a, Kim Hwang-sung and Kim Young-seok in the direction of Lee Hwan-kyung. It was released on January 23, 2013 starring Ryoo Seung-Ryong, Park Shin-Hye and Kal So-Won.
Side comment: I think everybody had already seen this movie. But, I'll still put this on my list because of course, even a cold hearted person will surely melt his heart when he watch this! Kudos to the whole cast for making the acting so real. If you haven't watched this yet and you want to torture yourself, please watch this.
01. Werewolf Boy
A Werewolf Boy / Neukdae Sonyeon (늑대소년) is a fantasy film in which the story revolves around a teenage girl named Soon-Yi (Park Bo-young), who suffers from a bad health condition so she and her family decided to move into an old large house in a rural area as advised by his doctor. She then discovers a strange looking boy living and hiding from a dark room in the barn next to their new house. Without a proper identity, the family has no choice but to take him in. Believing he is just an orphan who can't talk and uncivilized, they keep him, dress him up, feed him and considers him as part of the family and named him "Chul-Soo" (Song Joong-ki). The teenage girl becomes cheerful unlike before and starts to teach the boy with basic knowledge as a decent human. As days go by, the two became friends and understands each other. It seems that they begin to develop interests towards one another. However, what will happen if the boy's identity will be revealed?
Soon-Yi crying scene on the movie "A Werewolf Boy" | © Image credits: DJ Pixyl via Tumblr.com

Starring Song Joong-ki and Park Bo-young, written and directed by Jo Sung-hee. This successful Korean melodrama of all time was released on September 11, 2012 (Toronto International Film Festival) and October 31, 2012 (South Korea).
The Werewolf Boy Official Trailer | Video Credits: Movieclips Trailers via YouTube
Side Comment: I chose this as my top 1 because I also considered the overall elements of the movie. From the cinematography, computer graphic effects to the effort of the lead male actor to perfectly represent a wolf. This is not your typical korean movie. Prepare your tissues for this.
Thank you for reading guys. Please look forward to watching this list. I highly recommend those movies aforementioned. I really love every one of them, do not worry before you start bawling, I am sure you're gonna laugh or even feel butterflies in your stomach first. Hope had fun reading, 'cause I had fun writing.
To end this blog, I'll give you some FYI regarding the benefits of watching sad movies in you body.
Did You Know?
....that psychologists say that watching tearjerker movies can actually benefits our body? It boosts endorphin levels in your brain. It also increases your pain tolerance by the brain's natural painkiller system.

I also want to talk about the movies you prefer? Here's a Querlo chat for you.
☄mhaiiiself 2018