On March 13, 2019- early morning, my family traveled from Butuan city to Cagayan de Oro. Google Map says that it only takes four hours and 19 minutes ride from Butuan city to Cagayan de Oro, but it depends on the driver's speed and traffic. After Cagayan de Oro, were very enthusiastic to finally spot the Dahilayan Adventure Park in Bukidnon.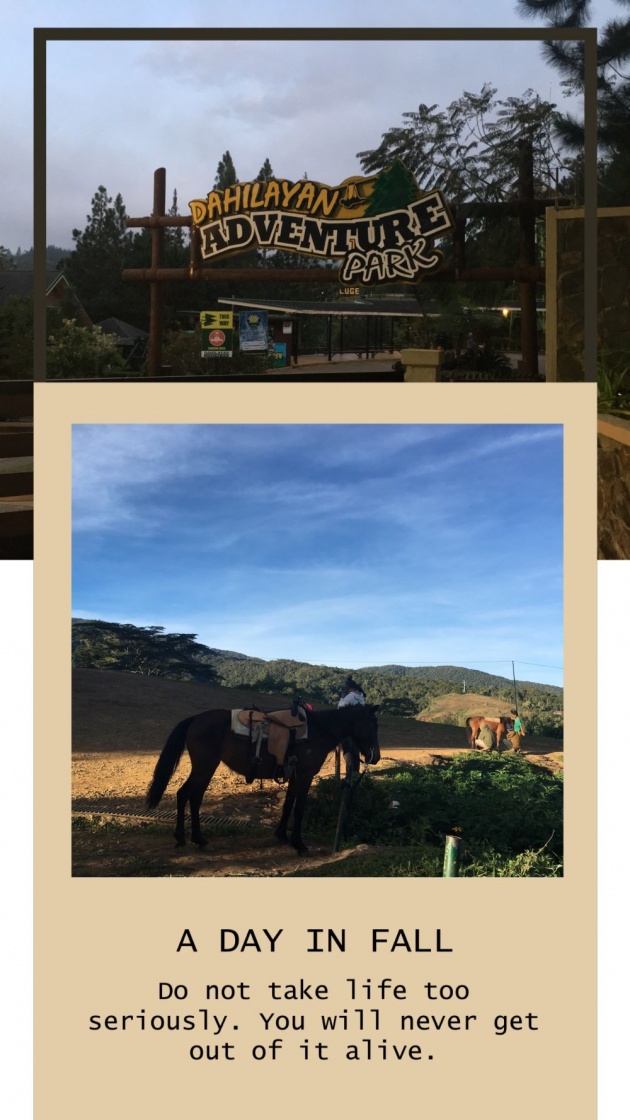 Image © Jack Williams via Bitlanders.com
Why is it Exciting to Explore the Dahilayan Adventure Park?
Since the Philippines is a tropical country, it is expected that the country's places have a regular hot climate, except for Baguio. But in Dahilyan Adventure Park, seems like we're a foreign country as to the cold weather. Of course, a place filled with trees has always a chilly climate compare to the places without trees. This process is called 'transpiration cooling' (in which we plant trees to cool the environment) since the air from the leaves that evaporates is changing from liquid to water vapor. It is a tree role to ascend water to the atmosphere. The Dahilayan Adventure Park is more than a hundred percent approved by DENR (Department of Environment and Natural Resources) because they simply follow the rules of preserving the trees even in their complicated landscapes.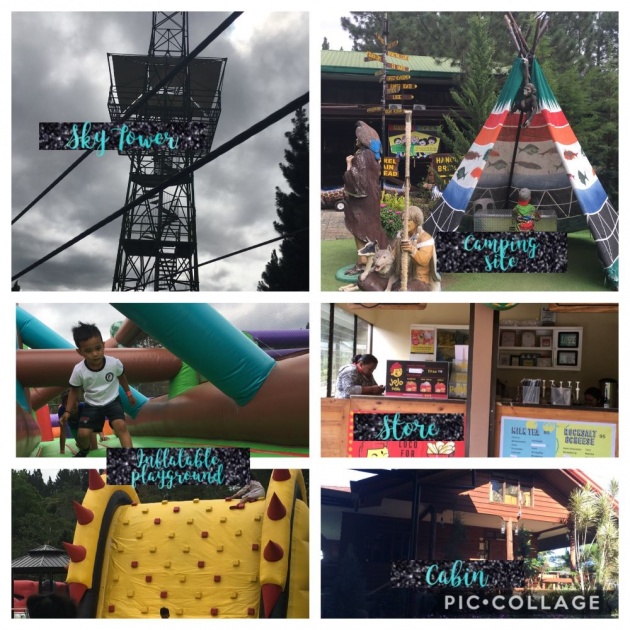 Image © Jack Williams via Bitlanders
Dahilayan Adventure Park is known of their longest ziplines in the Philippines. Another famous recreation to do there is jumping from the peak of the 8-story cell site tower. They call this recreation as Sky Tower base jump.
The park is full of amenities such as Sari-Sari Store, Restaurants, Bar, Picnic Area, Camping sites, Casa, Inns, Hotels, Wifi, and inflatable playground for kids.
On our first day, we were impatient to wait for the ticket booth to be opened at 8 am. We hiked from the Pine Groove hotel going uphill where the Forest Park door is located. Outside the forest park is an exclusive area for horse-riding for 150 pesos (2.85 USD) beside the cheap eateries and flower stores.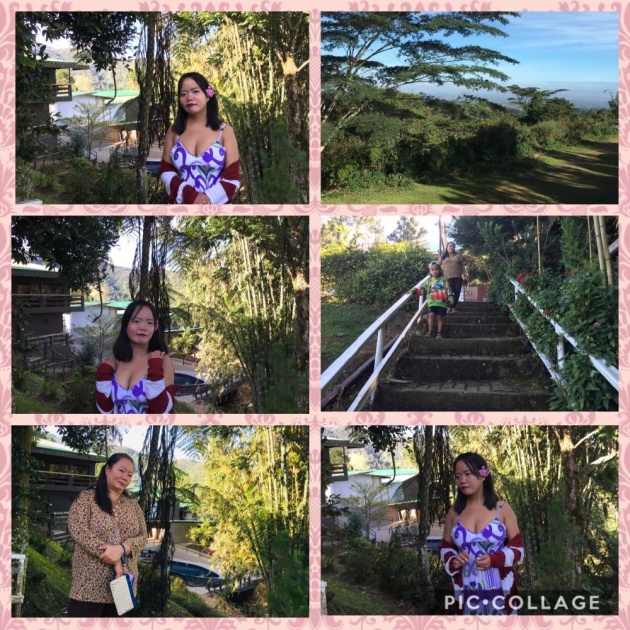 Image © Jack Williams via Bitlanders
Hiking to the northeast is seeing the hidden cabin below the hillside's cemented stairway. The cabin has a surprise swimming pool at the loan while facing the forest and the downhill. However, it is not suitable for a family with kids. The lawn faces the deep portion of the mountain.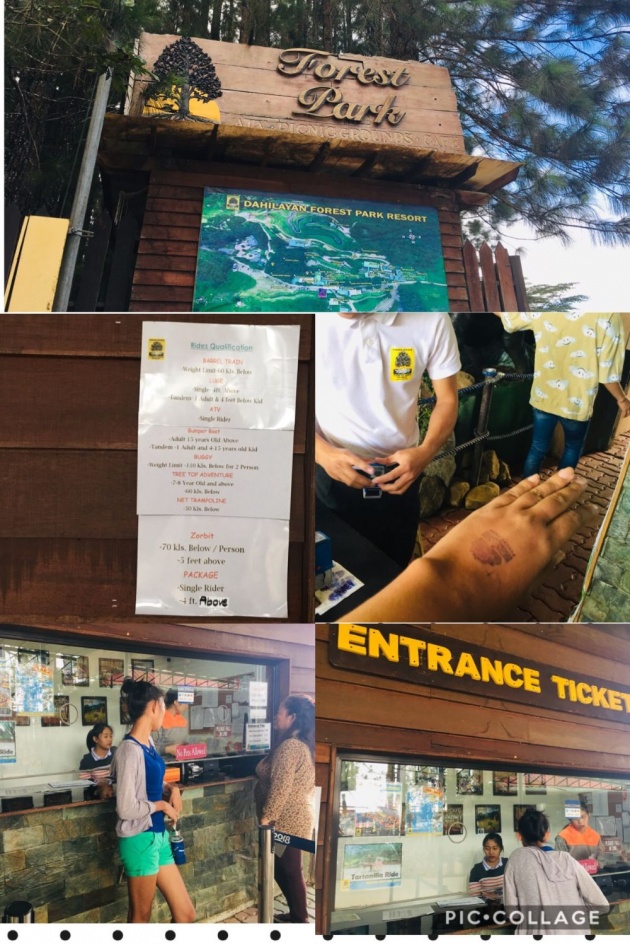 Image © Jack Williams via Bitlanders
Moving forward at the uphill is on the way to the entrance of the Forest Park. In front is the ticket booth where we need to pay 100 pesos per person for entrance excluding the payment of the activities we like.
Below are the following activities to do inside Dahilayan's Forest Adventure Park.
Ride Package for 750 (14.25 USD) exclusively for forest luge, hanging bridge, mini-golf, go-kart, and bumper boat.
Per ride rate:


ATV

----> 750 pesos (14.25 USD)


Buggy

----> 1,200 pesos (22.79 USD)


Bumper boat

----> 250 pesos (4.75 USD)


Forest Luge

---->650 pesos (12.35 USD)


Hanging bridge

---->100 (1.90 USD) pesos for adult and 50 (. 95 USD) pesos for kids


Minigolf

if 50 pesos (.95 USD)


Treetop adventure

----> 250 pesos (4.75 USD)


Monkey Tree Challenge

----> 50 pesos (.95 USD)


Barrel Train

----> 50 pesos (.95 USD)


Trampoline

----> 50 pesos (.95 USD)


Zorbit ---->

250 pesos (4.75 USD)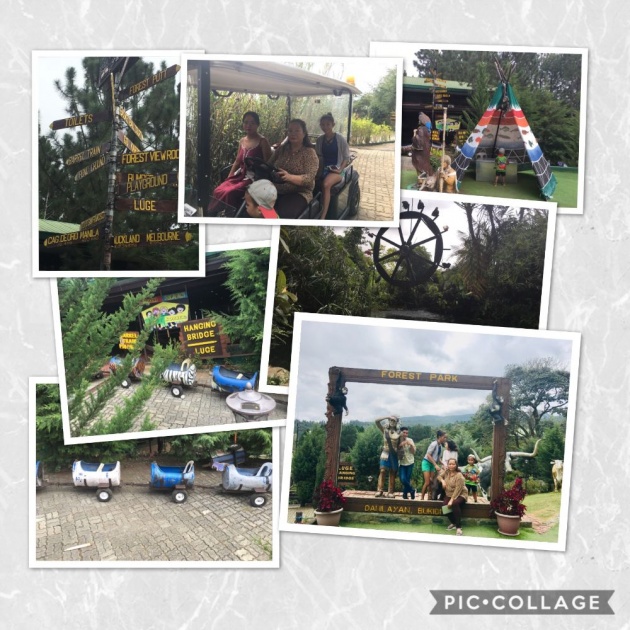 Image © Jack Williams via Bitlanders
Amenities and entertainments inside the Forest Park are Forest Putts, barrel train, picnic ground, playground, luge, basketball courts, sari-sari stores, restaurants, camp for camping, zip line spotting, pasalubong center (a store to buy souvenirs from Dahilayan), clean comfort rooms, large picture frames for a family picture, posts for climbing, wishing well, and wooden hammocks convenient for relaxation under the pine trees.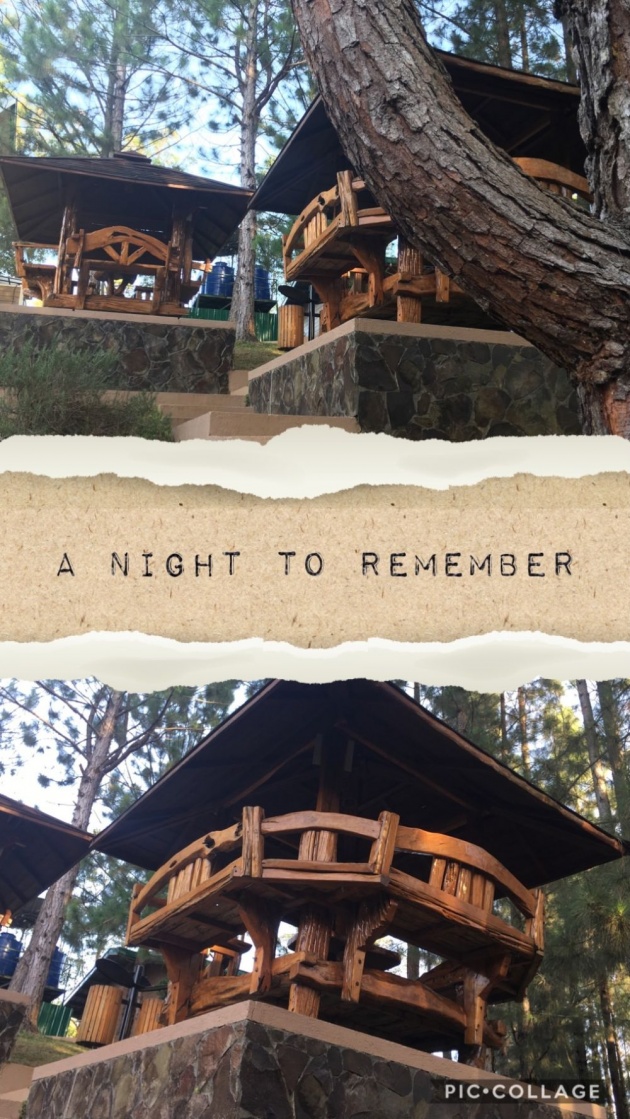 Image © Jack Williams via Bitlanders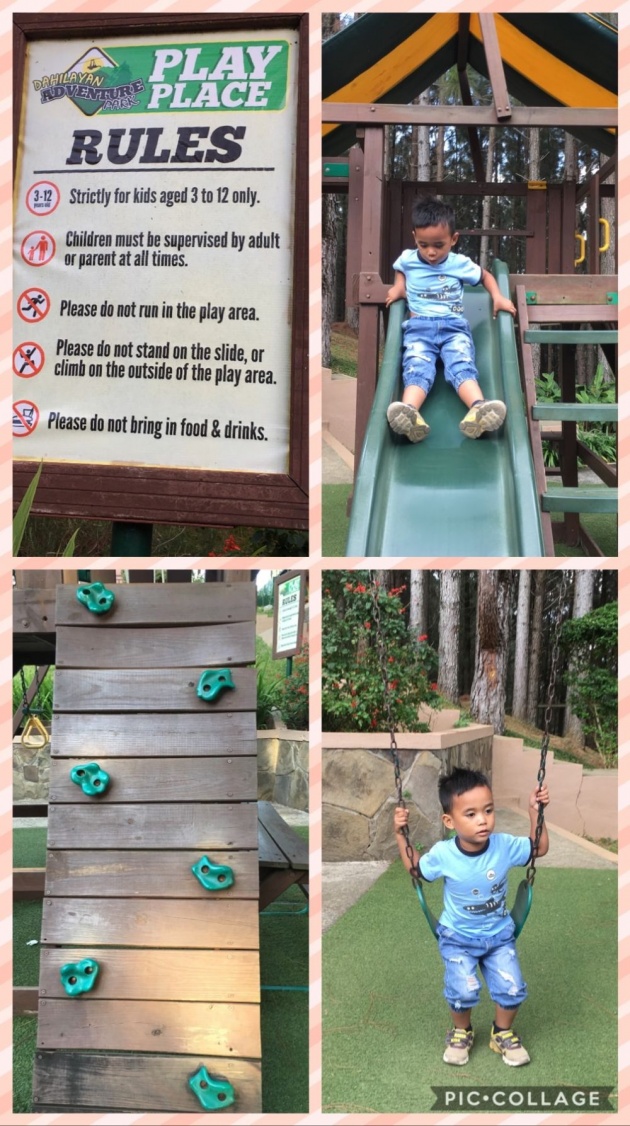 Image © Jack Williams via Bitlanders
Going back to the downhill at the Pine Groove hotel, the lawn has two wooden gazebos at the hillsides. Kids can enjoy the provided playground to slide, wall climbing, and sway in the air at the wooden hammocks. However, the children should be supervised by their parents or another member of the family because looking under is the height. Staying in midday at the gazebos is entertaining. It is in time to see the tourists flying above on the cables.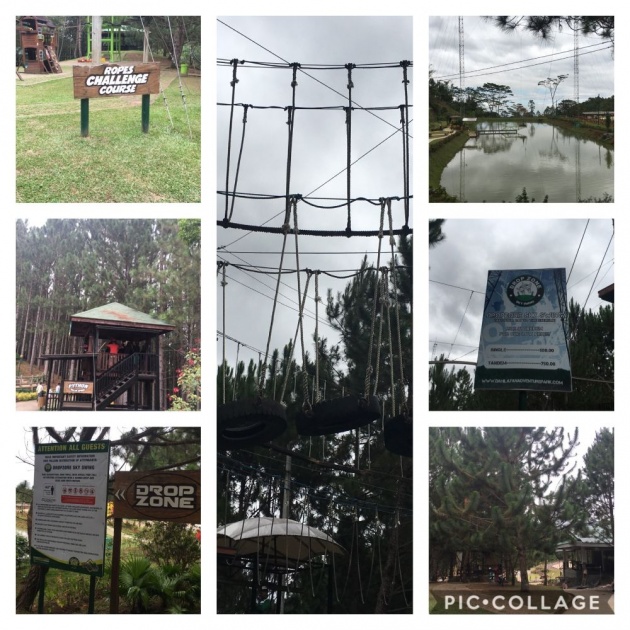 Image © Jack Williams via Bitlanders
Below the PineGroove hotel is the lowest portions of the place. To go there is to hike at the narrow-cemented stairway about 2 kilometers. You can also go downhill by non-motorized cars and boat bumps. Before going there, you can pass by the small platform or zip line cell for a phyton activity. A person that goes inside get ready to fly above going back and forth.
The small cabins with playing music for relaxation is located at the downhill. We will be astonished to see the lake nearby that is enclosed with many flowers. This area is the dropzone of the zipliners. It is also an area where we can play the Rope Challenge Course.
Outside the trees is the boot camp for kids, but older members of the family can join too. Children can play the massive inflates for 3 hours from 9 am until 12 noon and 1 pm to 4 pm. There is no pet allowed inside. Smoking is prohibited because inside the arena are also installed generators to inflate the huge balloons in case they lose the air. Make sure to bring your own pair of socks if you don't want to pay 200 pesos for each pair. The arena's ticket booth is beside where we can also buy our basic needs like water.
The payment of the booth camp depends on the kid's height. Because my little sister was tall, we paid 250 pesos for her every 3 hours and 150 for my 5-year-old nephew. Kids will surely enjoy leaping, playing hide and seek, climbing, and running. The camp has a shower too. Be reminded to bring their extra cotton clothes.
How to Ride from Butuan City to Dahilayan Adventure Park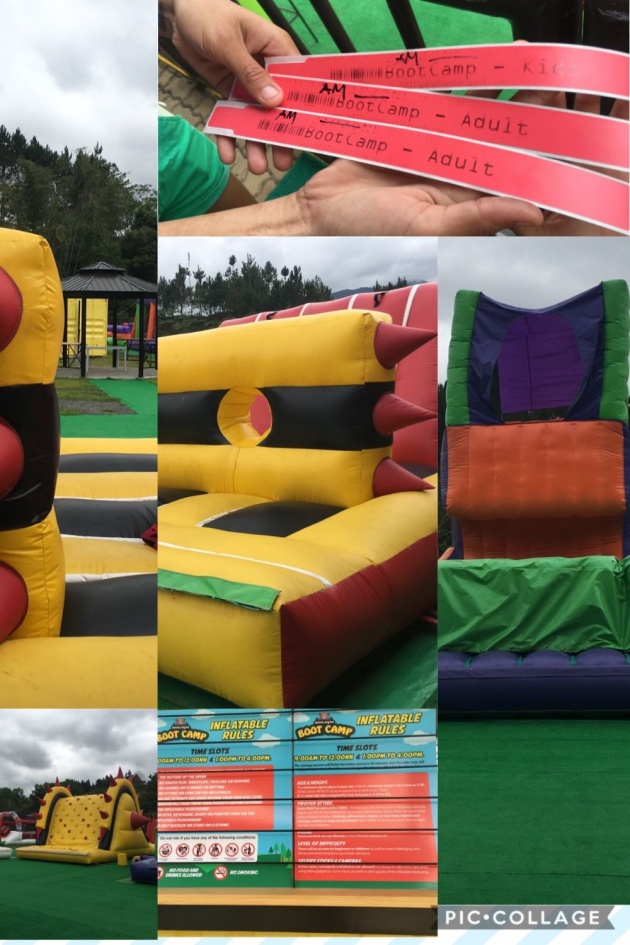 Image © Jack Williams via Bitlanders
Dahilayan is a small barangay inside the small town of Manolo Fortich in Bukidnon. Traveling from Butuan city going west in Claveria takes about 4 hours and 9 minutes if no traffic at the highways of Gingoog city. It's a shortcut journey but is certainly enjoyable to see the beauty of Claveria.
A not shortcut tour is from Butuan city to Bukidnon, going northwest- passing by the Gingoong city, Balinguan, Salay, Balingasag, Jasaan, Taguluan, Cagayan de Oro, to the Bukidnon's Manolo Fortich-going southeast at the Dahilayan Adventure Park. When you arrive, you can see the green fields with pine trees, cute and stunning cabins, and the peak view of the forest park. There are many hotels, inns, and cabins to choose from. We have many choices whether we're looking for a cheaper price too.
Negotiation of transport from Butuan city to Dahilayan costs 4,000 (75.95 USD) pesos/ day to rent. Because we don't have a family member who can drive, we also paid a driver for 700 (13.30 USD) pesos a day, plus the diesel that costs 3000 (56.98 USD) pesos.
Tips Before Visiting the Dahilayan Adventure Park
Image © Jack Williams via Bitlanders
The place has a very cold climate. Bring jackets, socks, and pajamas. These clothes will make you feel comfy to sleep at night. The park has the coldest weather I've experienced among all places in Mindanao. Don't forget to bring your pet's coat if you're planning to bring her.
The park is very far from

Butuan city

. Make sure to bring a pocket WIFI to access a google map and GPS oftentimes. Cagayan de Oro is a way big city as well as Bukidnon.
Only Globe communication service for a cellular phone has a fast signal at the hotel we stayed in. Please be aware that you should also need your globe prepaid card to connect with your loved ones there.
The place has many beautiful views to take pictures. It is a good idea to bring a power bank or at least more than one camera so you won't miss the amazing spots to take pictures with. It is a once in a lifetime experience!
Don't lower your expected expenses. It is clever to expect big costs than the small one to avoid experiencing a shortage of budget.
Book a hotel online to choose the cheaper rooms. Booking online is also advantageous to seek for a nice accommodation. Dahilayan park has no tourist guide to help. The employees are not hospitable. If you'd like to be accommodated, booking online is what you need to do.
My Review of Dahilayan Adventure Park
It is the most magnificent view I have ever been to in Mindanao. Pine trees are every corner. It has the most astonishing weather. The surroundings are clean as well as the hotels and restaurants. The trees, flowers, roads, and landscapes are taken care of well. The only downfall of the Dahilayan Adventure Park is its unaccommodating employees and the poor Internet signal.
Courtesy: Abs-Cbn News via Youtube
✽ ✽ ✽ ✽ ✽ ✽ ✽ ✽ ✽ ✽
The list credits, by the article, the sources of illustrations, used by the author of "An Travel from Butuan City to Dahilayan Adventure Park in Bukidnon". The images are owned by the author.

All rights reserved. No part of this article
may be reproduced without the author's personal experience.