The idea of writing blog on Afghan weddings came to my mind after attending my cousin wedding where i came across some unique things about Afghan weddings, the way guests are welcomed and entertained, i could not stop myself from sharing what i experienced and what i saw with my naked eyes.
Normally weddings are arranged in halls based in Kabul decorated with lights and color full carpets laid from main gate to the end of hall.Guests are invited through invitation cards. Guests are welcomed with long queue of host team waiting for guests to arrive. Hand shaking and hugging is unique part of Afghan weddings where hosts welcome guests by hand shaking and hugging.Normally male and female waleema is arranged in different halls of same hotel.
After welcoming guests, then it starts serving guests with food.In winter season, it starts with chicken corn soup and after that, it comes unique Afghan food that includes Kabuli Pulaw, fish, chicken, meat balls, fruit etc. After serving guests with food, they are asked to stay for music party.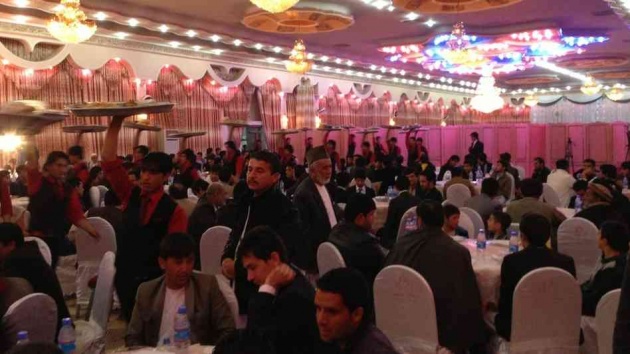 At the end of the party, guests are entertained by music party that includes traditional Afghan dance that is Attan. Group of youngsters perform attan to entertain guests. Attan is performed in very unique way. During entertainment, guests are served with green tea and sweets. Its unique experience attending Afghan weddings that have everything for guests.