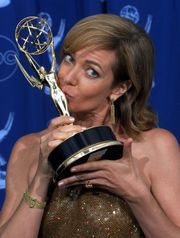 Allison Janney won the first of her five Emmys as freshman drama 'The West Wing' swept that year's awards. (Photo: BOB RIHA, JR., XXX USA TODAY)
Britney Spears shed what was left of her good-girl image with a striptease number to open the MTV Video Music Awards. Eminem won the Video of the Year award for The Real Slim Shady.
The West Wing won Emmys for best drama series, supporting actor (Richard Schiff) and actress (Allison Janney) route to a record nine awards for a freshman series. Will & Grace was named the best comedy with Megan Mullally and Sean Hayes sweeping the supporting races.
O.J. Simpson tried unsuccessfully to block a TV miniseries about his murder trial; FX plans to debut American Crime Story, its series about the case next year with Oscar winner Cuba Gooding Jr. playing Simpson.
American Psycho, starring Christian Bale as a Wall Street trader with a secret life as a serial killer, debuted on movie screens.