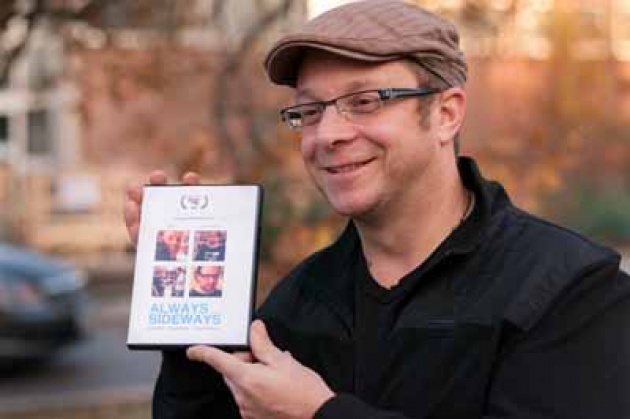 Photo by Bruce M. Walker
Steve Mitchell showing off his DVD "Always Sideways"
In August of 2012, at the Mississauga Independent Film Festival (MIFF), we attended an afternoon of screenings of Short Movies. One of these was a charming little item called "Always Sideways", written, directed and produced by Steve Mitchell.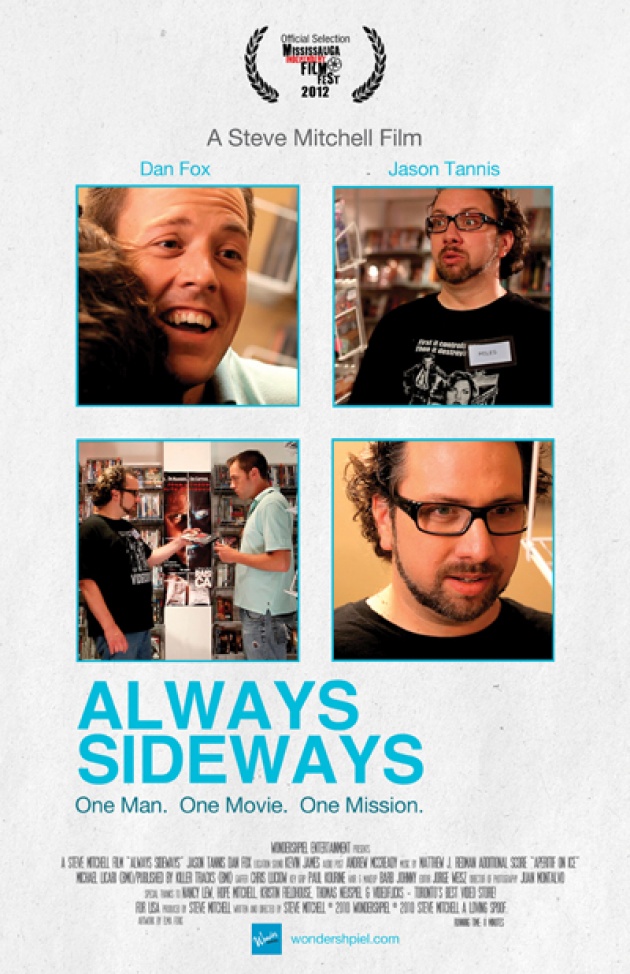 Always Sideways poster courtesy Steve Mitchell
We really enjoyed "Always Sideways" and felt that it held up very well beside the other shorts. It may have been shot on a low budget, but that didn't show in the final product.

We particularly enjoyed this tongue-inside-cheek short because we happen to love the movie "Sideways", Alexander Payne's Oscar-winning 2004 comedy of two friends romping through California wine country starring Paul Giamatti, Thomas Hayden-Church, Sandra Oh, and Virginia Madsen.

We had hoped to catch up with "Always Sideways" Writer/Director Steve Mitchell right after the screening in August, but he had to rush off on an urgent family matter - welcoming a new baby into his life.

Several months later, we contacted Steve and suggested we'd like to do an interview, take some photos and a do short video. Steve was very gracious and said he would be glad to meet us in a local coffee and pastry shop in Toronto. So one fine Fall day we made our way over to the trendy, but crowded coffee shop, and began the interview.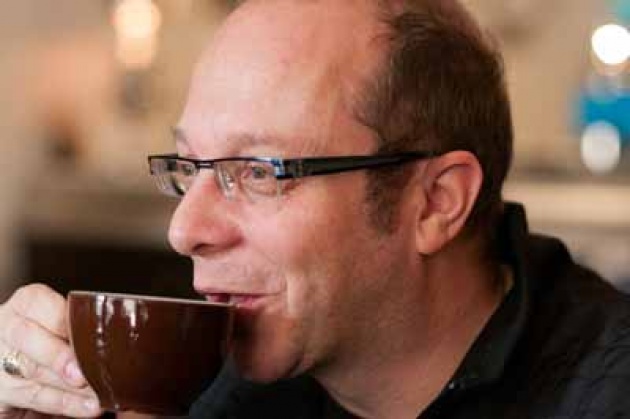 Photo by Bruce M. Walker

Steve became interested in film in his teens. He would hop on his bicycle and travel about 10 km to the local repertory theatre in London, Ontario and watch Classics and obscure Arthouse movies including Swept Away, Fitzcarraldo, Lianna, Clockwork Orange etc. Watching these movies whet Steve's appetite for film and he dreamed of one day making his own movie.

This interest persisted through the years, and even though he ended up taking a degree in Business, and his day gig is creating advertising, he continued to nurture the dream that one day he would make a movie. Fortunately, just as he made the time and commitment to shoot something, the DSLR camera era dawned and videos could be made that had the film 'look' that Steve had always loved. Suddenly, he saw that he was a lot closer to realizing his dream than he had ever considered possible.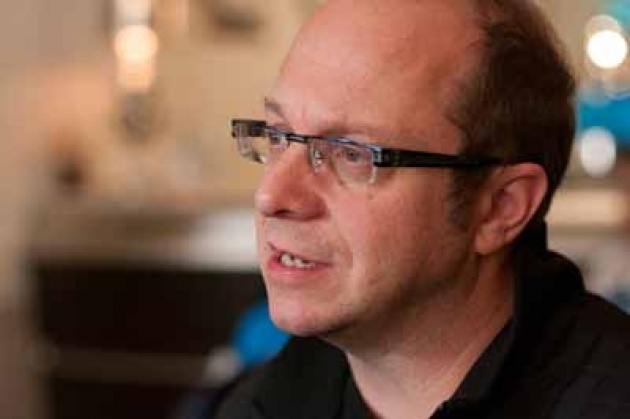 Photo by Bruce M. Walker

Although he has little formal education in filmmaking, Steve has spent many days on TV commercial shoots in his day job, read a lot of books, watched a lot of movies, and eventually just went for it.

Steve's favorite directors are too numerous to list but include William Friedkin, Steven Spielberg, the Cohen Brothers, Alexander Payne, and Quentin Tarantino. For Steve it's all about a really good script. "One of the best pieces of advice I ever heard was from a Creative Writing teacher I had. She said 'Pay attention to what you're paying attention to. Steve said "I learned that if you find something really interesting, now matter how offbeat you can probably make it entertaining for others."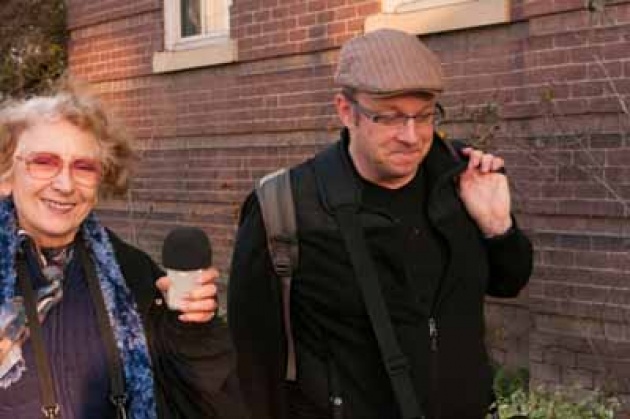 Photo by Bruce M. Walker
Interviewer Louise Peacock chatting with Steve Mitchell
So with that in mind, and finding himself between contracts in 2010, Steve came up with the idea for "Always Sideways". He decided that it was now or never, and went into high gear with the blessing of his then girlfriend, who was in the midst of dealing with their wedding plans, and was delighted to get him out of her hair for a bit.

He came up with the idea for the script because of his love of the movie Alexander Payne's Sideways, a near-obsession which was a bit of an in joke between he and his wife. One day he asked her: "Well, what if we did a short about a person obsessed with Sideways and had that person work at a video store, where he always tried to rent Sideways to every customer? " "You mean, a story about yourself, except for the video store employee part?" "yes", he sheepishly replied. They both liked the idea a lot and he decided he would dedicate it to her for her 'suffering'.

Once he had decided to move ahead with the plan, Steve wrote the 8 page script; found a willing venue - his fave video store actually - "Video Flicks" on Avenue Road in Toronto; auditioned the actors - Dan Fox and Jason Tannis; lined up the Director of Photography/Cameraman Juan Montalvo; brought in Sound guy, Kevin James; enlisted Chris Luciow and Paul Kourine for lights and Key Grip. He then created some key props: a map of California, a mockup of the car used in Sideways (He was able to make use of the existing videos on the shelves for additional props), and some additional set dressing.

Next he scheduled shooting time at the store. It turned out because the venue was an actual operating video store, they had to do the shooting after hours.

Steve said that squeezing the shooting in after business hours at the store was a bit tricky. They had to go in after the store closed, shoot for 12 hours through the night and into the wee hours, then pack up just before the place opened for business in the morning. This is essentially what Indie Director Kevin Smith did with the convenience store he worked at to shoot his 1994 debut smash 'Clerks'. Some cast and crew still had to go to their "day" jobs, and everyone was operating on very little sleep. after 12 hours people were pretty worn out, but Steve credits them all with making a fantastic effort. Another challenge was the heat. The film was shot in the midst of a heat wave in July, so they would have the air conditioning on for a bit in order to cool the place down, then when the actual shooting began, they had to turn the air off because of the noise. Fortunately, it only took two nights.

They kept camera set ups as simple as possible - they had the ideal venue - the video store, they carefully planned out the number of shots they would do, planned to use a minimum of equipment. Director of Photography /Camera operator Juan Montalvo DP used a Canon 5D Mk 2; Sound guy, Kevin James used a combination of boom microphones and lavaliers or on-body mics; Lighting was done with existing lighting supplemented with two or three Redheads, plus adjusting a few bulbs here and there in the store to get the colour temperature right.

Because Steve was fortunate enough to find a fully dressed realistic venue in which to shoot, and kept his technical expenses low, his overall budget of $3000 was quite realistic. He is proud to say that he was able to compensate all those involved for their services in one way or another.

The next part was going to be the actual editing of the clips, often the most time-consuming part of the process. Steve pulled in film editing expert, Jorge Weiss. Although the project from script to shooting had only taken 6 weeks, the editing on "Almost Sideways" would take a year to complete. Although, as Steve points out, during that year, there were gaps when nothing much was happening for one reason or another including the his life getting busy with career or family matters.

Now that "Always Sideways" is finished, Steve has plans for a new short project which he hopes will become a reality in the next year or so. He's also working on an original feature script titled "Last Days of Lucky Dragon", which is the story of a Canadian Chinese family who decide to sell their long held restaurant, and all the awkward family dynamics that result.

However, that's one he won't be directing. "My general objective is to write movies that i can afford to shoot myself, but my vision for 'Lucky Dragon' is bigger than my indie resources will allow. I'm writing it because i can see it in my head. Hopefully someone else will too when the read they read script and it can get made."

As the afternoon wound to a close, Steve had two things to say. First, "thank you so much to everyone involved in making, watching, or writing about "Always Sideways". it has been so encouraging. If you haven't seen it, it is posted in full on YouTube and Vimeo." and second, "but first you really owe it to yourself to watch the original "Sideways". You can understand my short without it, but without the brilliance of "Sideways" there would have been no "Always Sideways".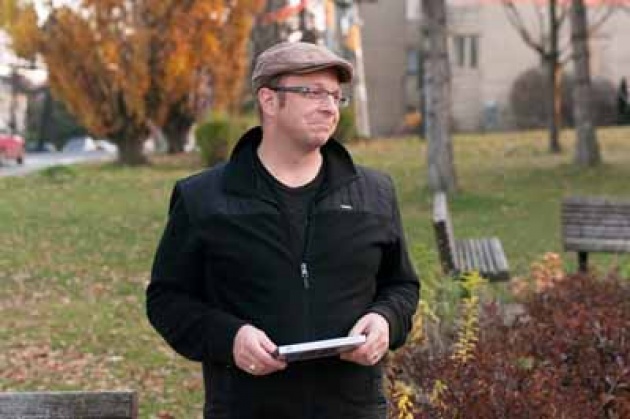 Photo by Bruce M. Walker
Still photography for this article is by Bruce. M. Walker