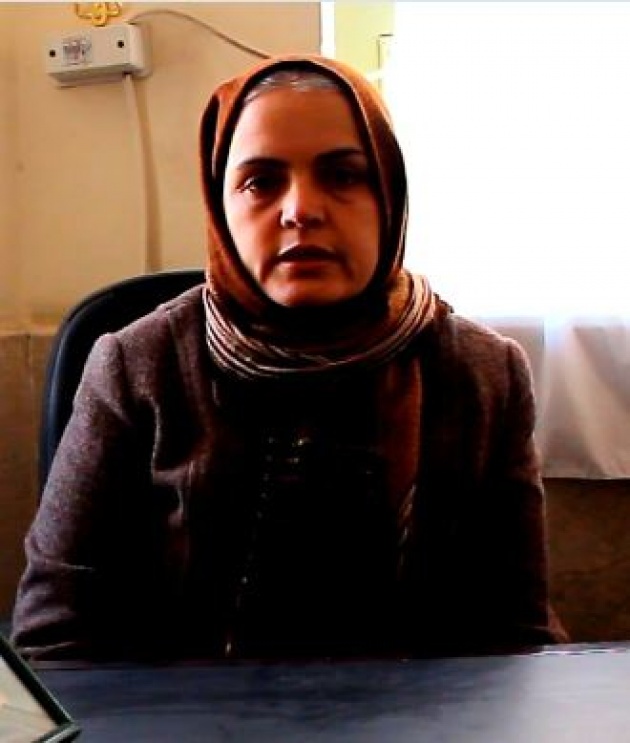 Rahima kawesh is instructional assistant of Alisher Nawaie High School. She has been working in different school of Herat and Kabul provinces.
Here is a brief interview with her about Afghanistan educational system.
FA: Can you talk about the school's history?
RK: Amir Ali Sher Nawaie was established in 1990, it was both male and female school but in different shifts until 2011. In 2011 it parted from male school and now it is a female school and students are studying in three shifts. It has 29 classes, more than 4000 students and 155 teachers. It located in north part of Herat city on Qhol Ordo Street.
First the number male and female was about 460 students and day by day it increased. This school has two buildings which were built by an Iranian whose name was Makhmal Baf.
FA: Can you please talk about your background and education?
RK: My name is Rahima kawesh and I am instructional assistant of Alisher Nawaie High School. I graduated from Amiri high school in 1978 and I selected as a teacher of Amiri high school in 1979.
I have worked in different high school in Herat and Kabul and finally in 2008 I selected as an instructional assistant in Alisher Nawai School.
FA: What are your school best consequences till now?
RK: In these years our school is more improved, it's equipped with physics, Chemistry and mathematics laboratory and has two computer classes. One was founded by PRT and another built by film annex recently. This is one of the fifth school which is in British Council Project in Afghanistan, the project is to connect these 5 schools Herat(Ali sher Nawaie, Tajrobawi, Goharshad,Tohid,Enqhelab) together and finally connect them with London school students to learn new methodologies and technologies. Alisher Nawaie won in Photography and poems competition which was held by British Council and took the first position among other schools.
FA: What do you think about the education system in Afghanistan? How can it be improved?
RK: As everyone knows, education system in Afghanistan not improved as well and doesn't have any modern learning methodologies for the school student. In my opinion it would be better to we start from the basic point of our education system, we should hire bachelor degree teachers in school or hold more training for teacher to utilize their knowledge skills that they can learn the student better and provide an equipped environment for student to they learn practically too.
FA: What else would you want to be built in Afghan schools in addition to the Internet classrooms? What do the kids need?
RK: Beside of this computer class, our students will need to computer training courses too and fortunately the Afghan Citadel company will hold these courses for our school students.
In addition as I told before for having a better and high quality teaching in schools we need an a good and equipped environment for our student for example our students really have interest to sport but they the school doesn't have any a good coliseum to they can play volleyball , football or other sports.
FA: What do you think about the Examer system in your school?
RK: As I know online examination system is taking online exam from student, this system will provide more facility for teachers and student too and it will surly improve education system in Afghanistan and bring more accuracy to education system.
رحیمه کاوش معاون تدریسی لیسه امیر علی شیر نواهی میباشد . ایشان در سال 1356 از لیسه امیری ولایت هرات فارغ گردیده و در سال 1357 در این لیسه به صفت استاد شروع به تدریس نموده اند. خانم رحیمه کاوش در مکاتب مختلف ولایت های هرات و کابل ایفای وظیفه نموده اند و بلاخره در سال 1386 منحیث معاون تدریسی مکتب علی شیر نواهی در ولایت هرات انتخاب گردیده اند.