Heey! It's me! So how was everyone doing? It's been 2 years since the last time i wrote a blog here (As far as I checked lol) So allow me to share some memories I treasured from the past.
So me and my brother has this common denominator as Siblings, we both love Anime. Yeah yeah I know some of you might thought that we are too old for this, but as C.S. Lewis wrote to his book
"Time will come that you will be old enough to read Fairytales again. " -The Chronicles of Narnia: The Lion The With and The Wardrobe
And guess what last September 30, 2017, we've attended a Convention called Cosplay Mania 2017 or mostly known as "Cosmania 2017" @ SMX Convention Center, Pasay City.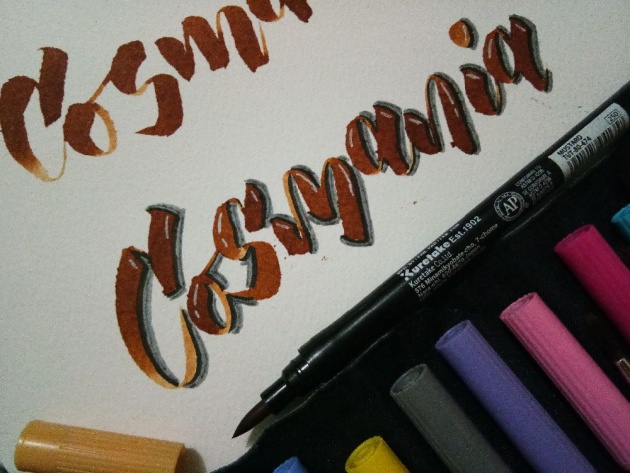 Photo Credits: Calligraphy by yours truly @Yannn
So what is Cosmania?
Cosmania is an Annual Cosplay convention in which people who are fond of Anime also known as "Otaku" gathered to portray their favorite Characters by imitating them. Portraying not just by the looks but also adapting the whole attitude and character of one's character.
For more information about Cosplay Mania, you can visit their site Here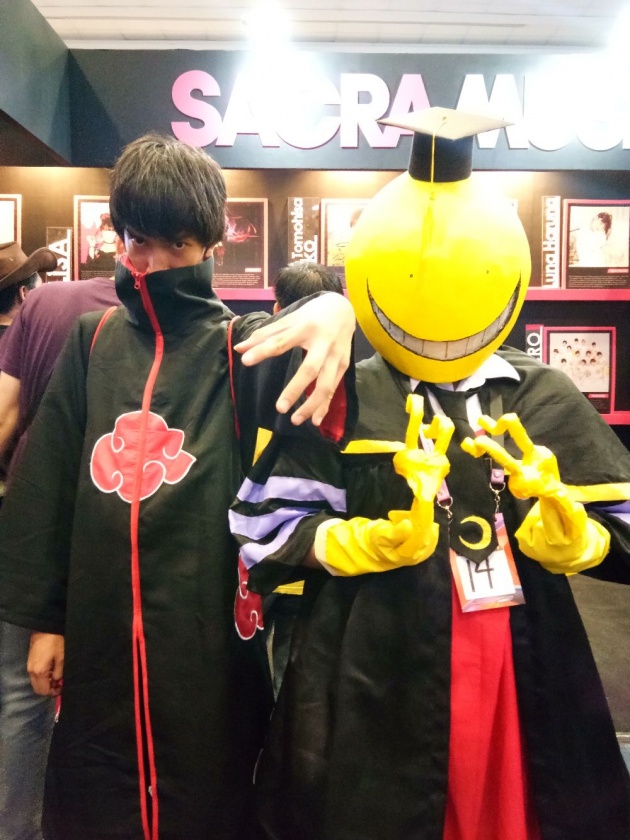 Left: My brother who cosplay one of the Akatsuki, Tobi.
Right: Someone who cosplay "Korosensei" from the Series Assasination Classroom
Photo Credits: By yours truly @Yannn
As I mentioned in the caption, my brother choose to cosplay "Tobi" one of those Akatsuki. The famous group of Antagonist in the Anime called "Naruto".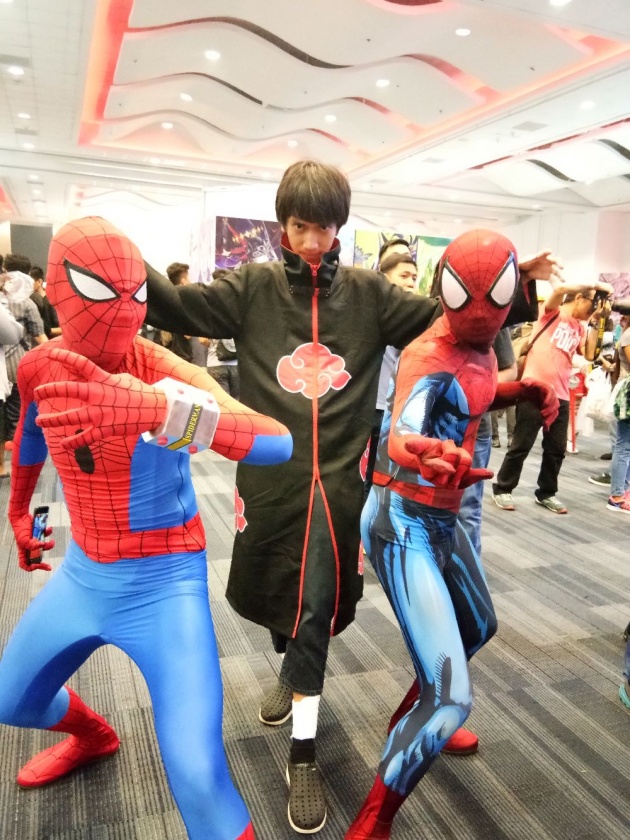 Left: SpiderMan, Middle: Tobi, Right: SpiderMan v. 2.0
Photo Credits: By yours truly @Yannn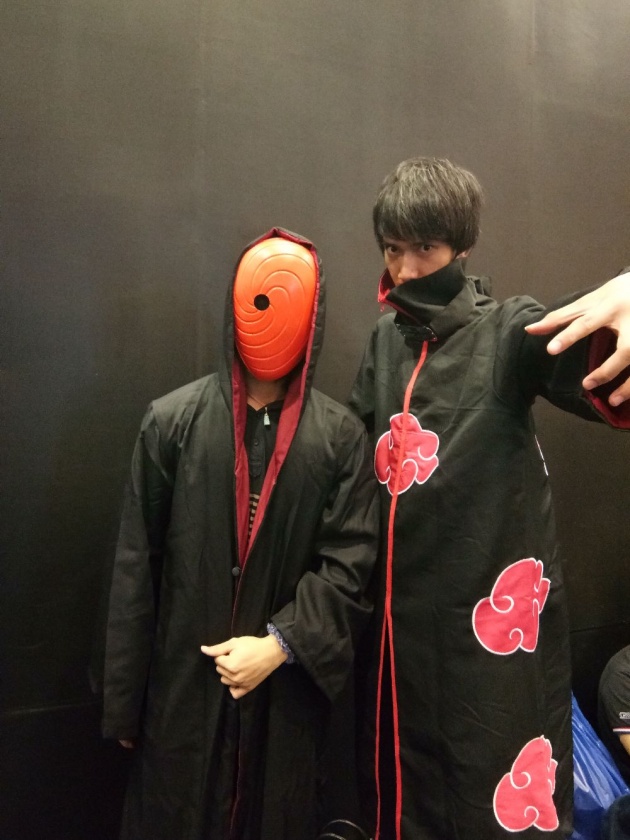 Photo Credits: By yours truly @Yannn
And Hey look at those twins. Hahaha My brother found his long lost brother. How sweet is that. Hahaha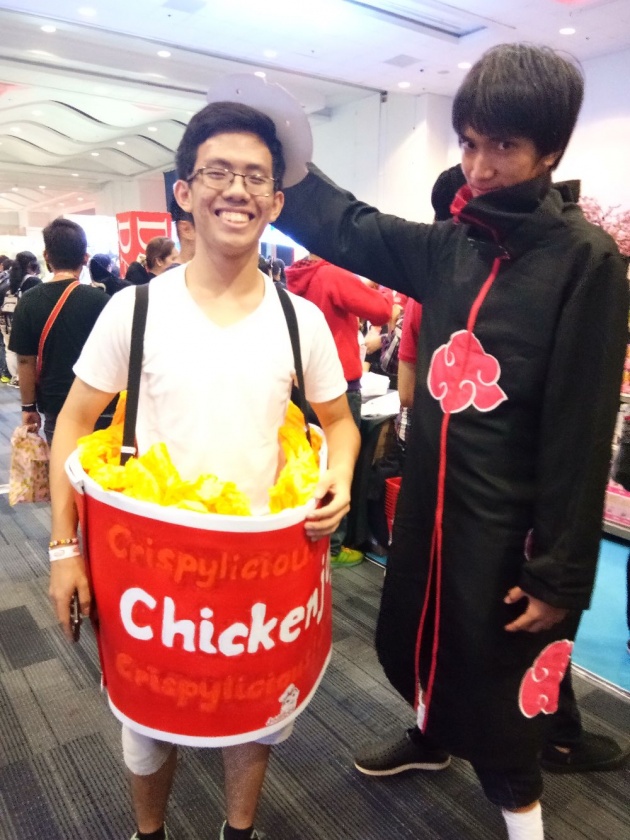 Photo credits: By yours truly @Yannn
Okay, this is the Best cosplay I've ever seen in the event. I mean who doesn't love Chicken Joy right? This guy right here is so brilliant that he captured my heart (Well not really Haha)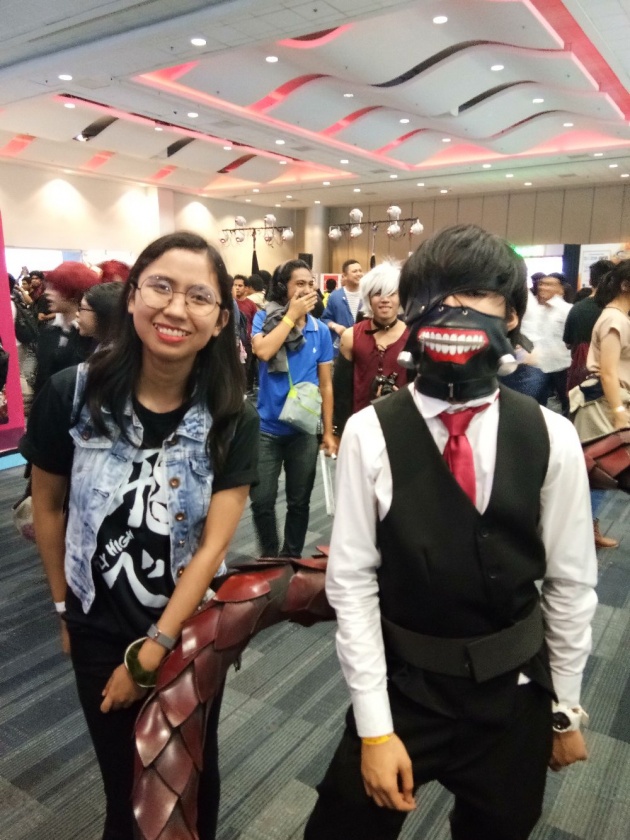 Photo credits: By yours truly @yannn
Okay let me compose myself first. AHHHHHHH. IT'S KANEKI KEN RIGHT THERE BESIDE ME. (well a Kaneki Ken cosplayer to be exact). Sorry but I just love Tokyo Ghoul so much (But not as much I love Kuroko No Basket and Haikyuu hehe) This awesome Ken really got me amaze especially seeing his handmade Kagune. Sogoi!!!
Kaneki Ken is from thr Anime Tokyo Ghoul in which known as a half human and half ghoul.
Ghoul is a creature more likely similar to a Vampire. They drink blood and eat human flesh, but coffee is one of their alternatives to satisfy their hunger especially when they don't like killing human being.
But if you are not fond of Cosplaying, it doesn't mean that this event is not for you. I, myself thinking that I cannot portray any single character (even If I want) still went to this event and guess what, I really did had fun. Well one of the reason I went to this convention (Aside from my pushy brother who wants to go) is to meet some of my mutuals/virtual friends I met in twitter. Yay!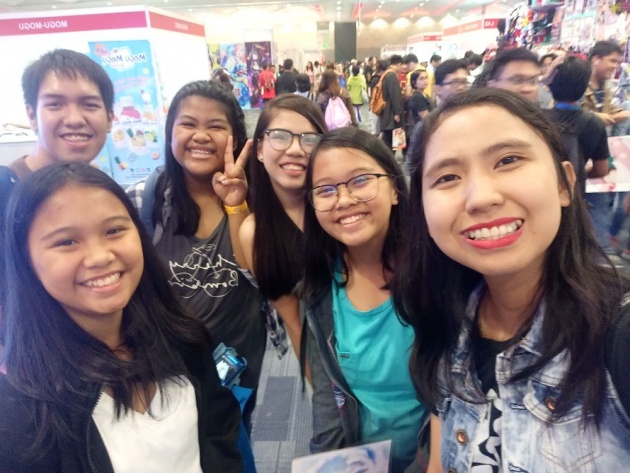 Left to Right: Deric, Prangy, Hara, Gab, Pio and Me
Photo Credits: By yours truly @Yannn
Well, first I met Hara who hugged me by surprise from the back when I was in the line. Huhu Then I suddenly met Deric, Gab and the twins. Yes the ever so talented twins Prangy and Pio. They are so young yet so talented. I wish I could draw just like they do it, effortlessly.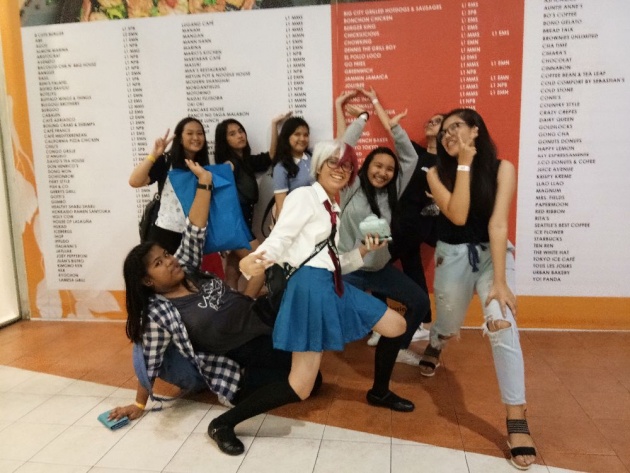 Left to Right: Ekei, Hara, Shiori, Abi, Cel, Cam, Chels and Gab
Photo credits: by yours truly @Yannn
Okay this photo was totally insane, we were looking for somewhere to eat then they saw "Jollibee" and started to do this post. But we ended up eating in Nishinoya I mean Yoshinoya. Hahaha That was a joke. And look at Cel cosplaying female Shouto from Boku No Hero Academia.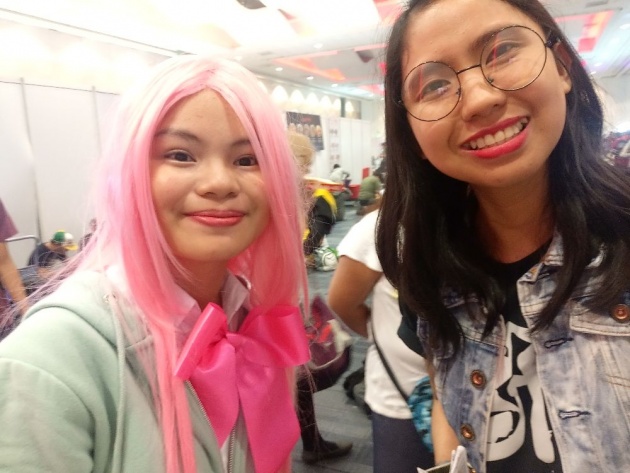 Left: Mari who cosplay Satsuki of Kuroko No Basket
Right: Nah It's just me.
Photo credits: by yours truly @Yannn
So I also met this kawaii girl who cosplay Satsuki from KNB, Mari. She is so cute and kind, not mentioning that she also do calligraphy. Woot. Woot.
Satsuki also known as momoi is from Kuroko No basket. She is the former basketball manager of Teiko and currently the manager of Tōo University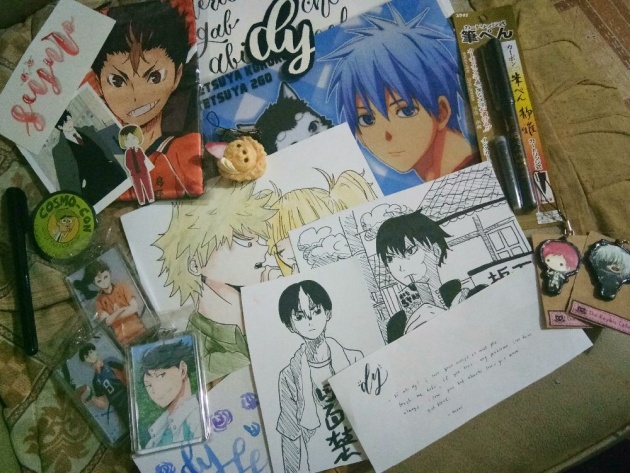 Photo credits: by yours truly @Yannn
Some haul i got from the event, but most of it were from my virtual friends. (I TOLD YOU THEY ARE SO TALENTED). I also met Rei, huhu she is so soft and kawaii, and I wanted to pinch her cheeks so bad lol. She's the one who gave me a sketch of Tobio, Kageyama and Yuu, Nishinoya from Haikyuu. And the colored Bakugou one too. Then if you can see the one written "Seijuro" and "Dy" with dedication it was all from Mari. And the Embossed calligraphy "Dy" where from Cel. And lastly the printed Kuroo and sticker kenma was edited and made by Chels.
Kageyama Tobio is the genius setter of Karasuno High School. While Nishinoya Yūu also known as the "Guardian Diety", a great Libero from Karasuno High (and not mentioning my loves Hihi). Then we have Tetsuro Kuroo, the Captain together with the brain of
Nekoma Volleyball club, Kozume Kenma. All of them were from the Anime Haikyuu. (No i don't like this Anime, I loved it).
Then the rest were merch i got from the convention.
It was really a crazy day with them. My whole experienced of Cosmania was unforgettable because of them, and Ken. Hahaha
And before I forgot, aside from people who cosplay, the event has also organized some guess from Japan like "Sayo Yamamoto" the director "Fuuko Noda" the producer of Yuri on Ice. Plus they invited Hikari, a well known cosplayer from Japan. Not mentioning Kradness, a famous Artist/Performer from Japan was there too. But it was exclusive for those people who got VIP tickets.
Here's a sneak peak of Cosmania:
Credits to: Jin! Behindinfinity from YouTube.com
And of course booths will never be absent in such event, where did you think I got my merchandise from? Different booths and online sellers were there to showcase their products inspired by so many Animes. So if you are planning to go to next conventions, please preapre your wallet well. Hahaha

To sum it up all, It was a surreal experienced. It's a bit tiring going and walking around but hey I really did had fun. And I'm looking forward for Cosmania 2018 next year. Woot. Woot.
Thank you for reading! Have a great day!
-Yannn / Dy ✨