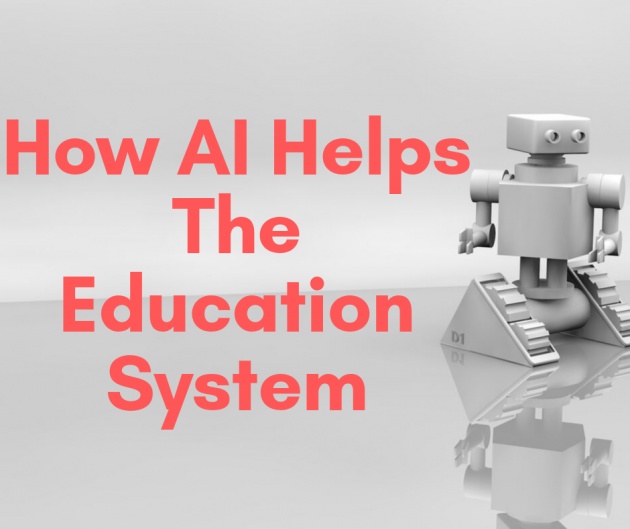 Image Credit: freelancermariagrace via Bitlanders
Artificial Intelligence has opened the doors to different sectors such as banking and finance, hospital and education system. There are many reasons to love AI, especially the fact that it has been helping a lot of people from all over the world. Schools are taking advantage of the AI, too, because it isn't only helping the students but the instructors as well. Remember, education plays an important role as it helps to give all of us the knowledge of the world, and is one of the keys to a successful life. Also, it brings confidence, allows you to think logically, and the list goes on.
Increasingly, we are embedding artificial intelligence into the core of the clients' businesses across every function and process."
The academe is becoming more accessible and tailored with the help of different AI applications for education. Students and instructors can easily access them using a laptop, personal computer, smartphone, or tablet. AI strives to fill the gaps in learnings and teaching styles and allow the schools and faculty members to do better than ever.
What Are The Examples of Artificial Intelligence in Education
Smart Content is a textbook in a digitized form that can help students and teachers at all levels. It makes learning a lot easier by breaking down the content of a textbook into a simple smart guide that comprises flashcards, multiple-choice practice tests, etc. And with the help of technological advancements, they were able to improve the smart content feature that allows teachers to design their content and syllabus using the technology that the school has. Now, they can incorporate media like audio or video to make learning more fun and interactive. Also, it will assist the teachers in having additional skills and receiving feedback so they can improve and provide better work output next time.
The idea of a Virtual Facilitator sounds quite impossible, but it will happen in the coming years for sure. A Virtual Facilitator will act, interact and think like a real teacher, and can answer to using both verbal and non-verbal communication. They can help schools that have a shortage of teachers and provide a more advanced environment for students. Artificial Intelligence has a lot of advantages without a doubt. While we are far from seeing robots in the classroom, AI is making its way to improve the education system globally.
Artificial Intelligence and The Future of Education Systems | Bernhard Schindlholzer - Video Credit: TEDx Talks via Youtube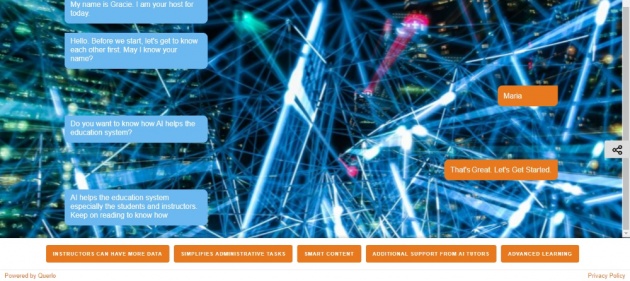 Image Credit: Querlo
What is The Role of AI for Students and Educators
Artificial Intelligence has been around for ages and has been supporting the academe for a lot of ways. One of which is to make learning simpler for students. If you are a student who is having a difficult time to learn Mathematics, AI can help you. There are many applications that teach you problem-solving methods, etc.
But of course, you have to be responsible when using AI for education. Why? Because anything in excess can have a negative effect not only in your school but in your life in general, too.
Do you want to chat with me? Check this How AI Helps The Education System that I made using Querlo.
On The Final Note
Artificial Intelligence has been helping people from all walks of life, especially the academe where it can help students and even educators have a brighter future. However, there is a fear that AI can take over educators. But hopefully, they will study carefully whether AI will be good for the education system or not. It should not be a threat at all, especially for educators who need a stable job.
Thank you for reading, guys! God bless us all!
Written by: freelancermariagrace for bitLanders