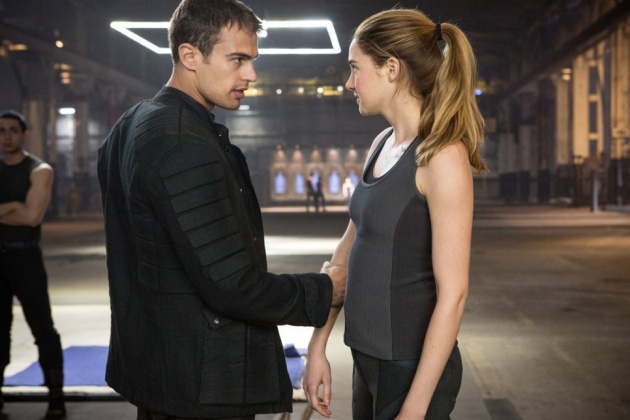 Interscope Records has partnered with Summit Entertainment to bring us the rockin' soundtrack to one of the most anticipated movies of the year -- "Divergent." The soundtrack will be released on March 11th while the original score will be available on March 18th. The movie opens nationwide on March 21st.
But you can pre-order the soundtrack on iTunes beginning today!
The soundtrack features a brand new song by multi-platinum British singer/songwriter Ellie Goulding entitled "Beating Heart" as well as songs from Goulding's sophomore album, Halcyon. Goulding will also contribute vocals to the film's score composed by Grammy®-nominated and multi-platinum electronic artist Junkie XL and executive produced by Grammy® and Oscar®-winning composer Hans Zimmer (The Dark Knight, Inception).
I cannot wait for the soundtrack and to see the film directed by Neil Burger from a screenplay by Evan Daugherty and Vanessa Taylor. The film stars Shailene Woodley, Theo James, Ashley Judd, Jai Cortney, Ray Stevenson, Zoё Kravitz, Miles Teller, Tony Goldwyn, Ansel Elgort, Maggie Q, Mekhi Phifer, and Kate Winslet.
Here's the full press release on the "Divergent" soundtrack:
"We started working with songs from Ellie Goulding's album Halcyon and soon found that the texture of her music and the tone of her voice perfectly matched our film," says Divergentdirector Neil Burger. "In many ways Ellie has become the inner voice of our heroine Tris."

In addition to "Beating Heart," the soundtrack album features music by Zedd (the track "Find You," featuring Matthew Koma and Miriam Bryant) and brand new songs from Snow Patrol,Tame Impala and Kendrick Lamar, M83, A$AP Rocky featuring Gesaffelstein, Pretty Lights, Skrillex and Pia Mia featuring Chance The Rapper. Songs from the Original Motion Picture Soundtrack are prominently featured in the film.

North American fans can pre-order both Standard and Deluxe editions of Divergent: Original Motion Picture Soundtrack on iTunes today Tuesday, February 25th. Those who pre-order either the Standard or Deluxe Edition (which includes additional songs) will receive instant downloads of Goulding's "Beating Heart" and Zedd's "Find You."

Target is the exclusive retailer offering the deluxe version of the soundtrack on physical CD, with pre-orders now available on Target.com. Pre-order bundle options available atwww.divergentsoundtrack.com include the soundtrack on 12" picture disc vinyl as well as a pre-order exclusive poster with the names of fans who order.

The film, which is based on the best-selling novel Divergent by Veronica Roth and hailed as the most highly anticipated movie of 2014 by social media research firm Fizziology, will be released in theaters and on IMAX® screens nationwide on March 21st. Divergent is the first installment in the Divergent Trilogy, which were the top three books on USA Today's best-seller list in 2013. The story is set in a world where people are divided into distinct factions based on human virtues. Tris Prior (Shailene Woodley) is warned she is Divergent and will never fit into any one group. When she discovers a conspiracy by a faction leader (Kate Winslet) to destroy all Divergents, Tris must learn to trust in the mysterious Four (Theo James) and together they must find out what makes being Divergent so dangerous before it's too late.

Divergent is directed by Neil Burger from a screenplay by Evan Daugherty and Vanessa Taylor. The film stars Shailene Woodley, Theo James, Ashley Judd, Jai Cortney, Ray Stevenson, Zoё Kravitz, Miles Teller, Tony Goldwyn, Ansel Elgort, Maggie Q, Mekhi Phifer, and Kate Winslet.

The track-listing for Divergent: Original Motion Picture Soundtrack is as follows:

"Find You" — Zedd featuring Matthew Koma and Miriam Bryant

"Beating Heart" — Ellie Goulding

"Fight For You" — Pia Mia featuring Chance The Rapper

"Hanging On" (I See MONSTAS Remix) — Ellie Goulding

"I Won't Let You Go" — Snow Patrol

"Run Boy Run" — Woodkid

"Backwards" —Tame Impala and Kendrick Lamar

"I Need You" — M83

"In Distress" — A$AP Rocky featuring Gesaffelstein

"Lost And Found" (ODESZA Remix) — Pretty Lights

"Stranger" — Skrillex with KillaGraham from Milo & Otis and Sam Dew

"Dream Machines" — Big Deal

"Dead in the Water" — Ellie Goulding

Also included on Deluxe Edition:

"I Love You" — Woodkid

"Waiting Game" — Banks

"My Blood" — Ellie Goulding