WANNA BE A MEMBER???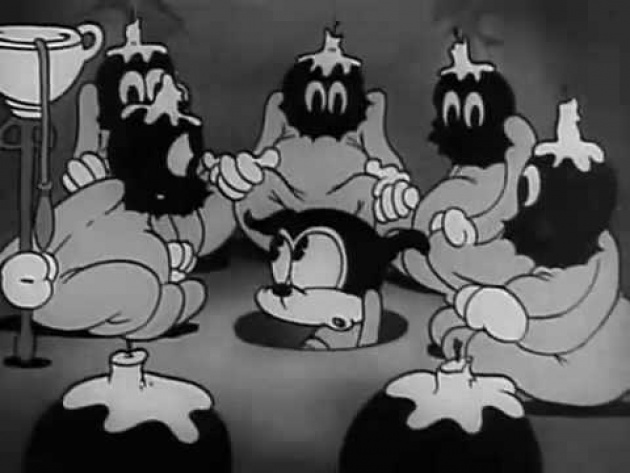 Max Fleischer's Betty Boop cartoons are some of my favorite animated shorts of all time. It's a pity that they are mostly known today just for the titular character and her goofy vocal sayings as opposed to being known for how utterly awesome, bizarre, and transgressive they are as a whole! They are works of art that are well worth reinvestigating.
'Bimbo's Inititaion' is a majestic work of utter nonsense. It begins with good ol' Bimbo the dog walking down a city street, whistling a tune and bouncing to the beat (as is usual in these 'rubber hose' styled animations). His happy walk takes a sudden rough turn though when he falls down an open manhole (which then gets locked by a very Mickey Mouse-ish mouse!) and finds himself whizzing down a crazy looping secret underground slide!
Bimbo is spat out of the mouth of the slide (literally!) and lands in a room full of lumpy secret society members wearing white robes, black hoods, and lit candles upon their heads. The leader sings to Bimbo, saying that they are 'The Order of the Goom Gooma Hotcha!' He then repeatedly asks Bimbo 'Wanna be a member? Wanna be a member?' This becomes the repetitive auditory hook of the whole animation... Of course Bimbo wants no part of this crazy cult so in response he shouts 'No!'
This turns out to be a bad decision for it sets Bimbo racing into a wild series of increasingly elaborate death traps (Think Rube Goldberg meets the Devil himself!) that he has to survive anyway he can. Rooms spin around, knives come out of walls, floors move up and down rapidly, mystery doors open up to reveal skeletons on telephones, and constantly cultists pester Bimbo about becoming a member! It's shockingly nightmarish and one can imagine that to an unsuspecting kid in the 1930s, that it was the stuff of nightmares. Indeed even today it comes across as wildly strange and eerie, albeit comically so (For instance Bimbo gets so scared at one point that his heart accidentally comes up and out of his mouth and he has to swallow it back down!)
It feels like a worrisome animated dream that seems to be saying that behind any closed door within any regular old town or city, may be unbelievably strange and wild things being done by cults whose practices beggar description! That's some heavy subtext for what most would argue is just a children's cartoon...
Check it out for yourselves and enjoy the madness...