Bollywood Movie Review - Bajrangi Bhaijaan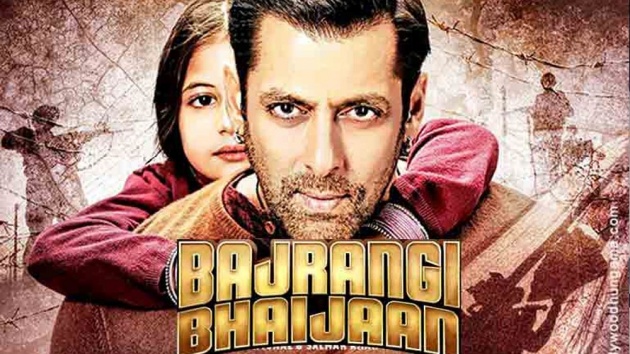 Image Credit: zeenews.india.com
✔ Introduction

Hello Friends, I hope you are doing fine and are having a good time on bitlanders. Today I have come up with my another new blog with the title of "Bollywood Movie Review - Bajrangi Bhaijaan". In this blog, I shall review a recently released Bollywood Hit movie "Bajrangi Bhaijaan". This movie is about a little girl who is six years old and is a dumb girl. She accidentally loses her mother on her way to India from Pakistan and is then brought back by an Indian without passport and visa after a long drama filled with emotions and some action along the way. This commercially successful movie was released in 2015 and was a huge Hit across the world. This film was directed by Kabir Khan who is a very renowned Film Director in the Indian Film Industry and he also co-produced and co-wrote the dialogues for the movie. This film was production of Salman Khan Films company and was appreciated by Bollywood movie critics and movie lovers around the world. Although relations between both the nations Pakistan and India remain tense all the time but in this movie there were some scenes win which people from both sides show respect and affection for each other which is a very good sign for peace lovers.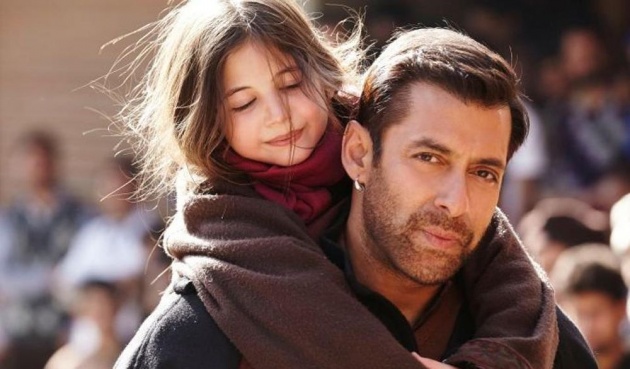 Image Credit: www.hindustantimes.com
The movie "Bajrangi Bhaijaan" was released on July 17, 2015 on the occasion of Eid-ul-Fitr under the distribution banner of Eros International. Some details of cast of this movie is as under:
✤ Salman Khan as Bajrangi Bhaijaan
✤ Kareena Kapoor as Rasika
✤ Harshaali Malhotra as Shahida (nick name Munni)
✤ Nawazuddin Siddiqui as Chand Nawab
✤ Meher Vij as Munni's Mother
✤ Om Puri as Maulana Asad
✤ Sharat Saxena as Rasika's father
✤ Mir Sarwar as Munni's Father
✤ Rajesh Sharma as Police Officer Hamid Khan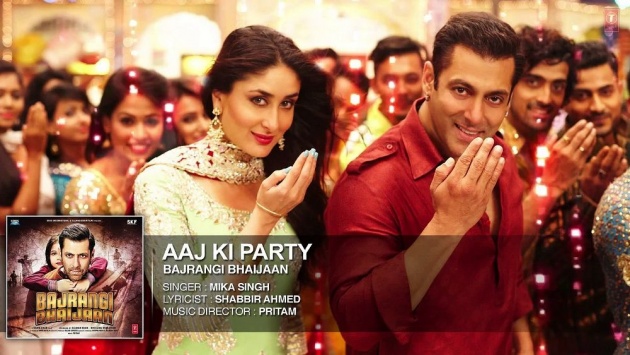 Image Credit: www.bollywoodlife.com
Facing borders and biases, lacking a visa, called a spy, can Bajrangi get Munni home - and return to India himself?

With Bajrangi, you meet a whole new Salman - this is not the shirt-ripping, ab-flaunting, dialogue-maro-ing Khan but a simple, innocent and honest man, who fails, gets tricked and beaten up - but never shaken from his purpose. With gentleness and no gimmicks, Salman puts on a polished, luminous performance - and is matched by little Harshaali, whose vulnerability and warmth are amazing.
Information Source: timesofindia.indiatimes.com
Video Credit: Eros Now via youtube.com
✔ Plot Of The Movie
✿ Munni Is Born In Kashmir And Parents Later Realize That She Is Dumb
The movie begins as a large crowd in Kashmir gathers to watch a Cricket match transmission on television. The match is between Pakistani and Indian Cricket teams and since majority of the crowd is Muslim, therefore, they are supporting Pakistani Cricket Team. In the end, the crowd celebrates in joy as Pakistani Cricket Team wins the match. Among the crowd, there is one woman who is nine months pregnant and as the match finishes, she goes into labor and delivers a cute baby girl "Shahida". Her husband is a retired Army soldier and is very happy after the birth of his daughter. As the time passes, both parents realize that their daughter is dumb and their own way of treating this ailment has not been beneficial. Therefore, her mother decides to take her to a shrine of a Muslim saint in India as she has faith that visiting the shrine and asking for help will be fruitful as that saint is very famous all across the Indian Sub-Continent. Therefore, she takes a train to India from Pakistan with her daughter Shahida. The father could not get the Visa and therefore, he stays back home.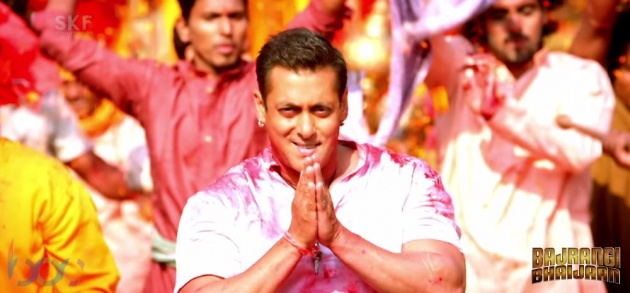 Image Credit: boxofficecollection.in
✿ As The Train Approaches India, Munni Disembarks And Gets Missing
At the border of India and Pakistan, the train halts and Shahida sees a lamb outside which is stuck in the bushes, she gets off the train while her mother is asleep. As she tries to come back the train starts to move and she misses the train. Later, she finds a goods train and she embarks upon it and reaches another state Haryana in India. She finds there Bajrangi and tries to communicate with him as he was the only one in a large crowd who noticed her. He understands that this little girl has lost her home and tries to find her house in the neighborhood but fails to locate as Shahida (who he names as "Munni") is unable to help him find her house. In disappointment, he takes Munni to his house which is his father's friend's house in Delhi. He is living there because he is learning wrestling as his father's friend (Dayanand Pandey) is a wrestling coach and his father had sent him there because he was not good at studies and failed frequently. Dayanand Pandey is quite a strict Hindu and follows the religion completely. He has a daughter Rasika with whom Bajrangi is in love and she also likes Bajrangi. However, he has to get stable and financially sound first in his life to get married as Dayanand has given him this task.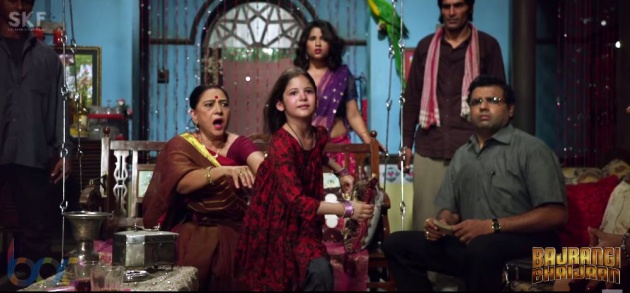 Image Credit: boxofficecollection.in
✿ Munni Conveys She Is A Muslim From Pakistan
All the efforts to find Munni's house have been futile and Munni starts living in the house as another family member. Dayanand Pandey assumes that since Munni has a fair color, therefore, she must be from a Hindu family. On one eventful day, when Bajrangi along with Rasika takes Munni for shopping in the market, Munni sees a mosque and enters into it for offering prayers. Furthermore, when the whole family is watching a Cricket Match between Pakistan and India, Munni starts celebrating when Pakistani team wins the match. This cast a huge shadow of doubts on the whole family's minds and when they ask Munni through sign language whether she is a Muslim from Pakistan, she nods her head and this creates a very difficult situation for Bajrangi as he introduced Munni as a Hindu girl. Dayanand Pandey gets very angry and asks Bajrangi to hand over the girl to Pakistani High Commission in Delhi and get rid of the girl as soon as possible. However, there are protests going on around the Pakistan Embassy and due to closure of Embassy, Bajrangi can't do anything about it. He then contacts an agent who claims that he can send Munni to Pakistan without Passport and Visa by trafficking her. Bajrangi hands him the girl but the agent instead takes the girl to Brothel to sell her. However, Bajrangi reaches there having followed the agent and beats the agent as well as other people at Brothel who try to stop him.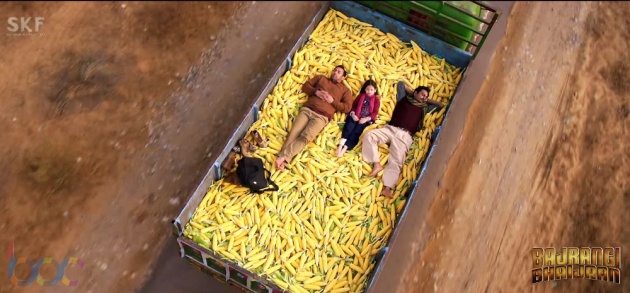 Image Credit: boxofficecollection.in
✿ Bajrangi Takes Munni To Pakistan Without Passport And Visa
Finding not any other feasible option, Bajrangi decides to take Munni to Pakistan on his own without Passport and Visa. Dayanand Pandey thinks that this is tantamount to committing suicide as Bajrangi is very likely to get killed at the border if he tries to enter like a smuggler without official documents. However, Bajrangi has taken this decision and stays stuck with it. He takes Munni to the border and is arrested by Border Police but manages to escape with Munni. At this, the Police starts a thorough search to find him and also transmit messages on TV and Radio that an Indian Spy has entered into Pakistan and people should be alert. Bajrangi meets a Pakistani TV Reporter Chand Nawab who understands his story and befriends with him. Bajrangi has now help of Chand Nawab who manages him to escape from the area near border into a main city in Pakistan. Chand Nawab thinks that it can become a great cover story and his channel could get famous if it plays the story of Bajrangi who is not a Spy but on a mission to hand over a dumb girl to her parents. However, his channel refuses to play that story citing security reasons and instead inform the Police who starts searching for Chand Nawab as well.
Image Credit: boxofficecollection.in
✿ Munni Identifies A Picture Which Looks Like Her Village And Bajrangi Takes The Girl There
While they are on a run, Munni sees a calendar picture and it has a scenery of a place which looks like her village. She informs Bajrangi and Chand Nawab through hand signals and they realize that it is in Northern part of the country. They take the girl there by a bus, where coincidentally, Munni sees her other mother riding a bus going to her hometown. At this, Bajrangi along with Chand Nawab and Munni follow the bus in another bus which is going towards the same place. On their way, they are stopped by the Police and Bajrangi hands over the girl to Chand Nawab and jumps off the bus into bushes and Police follows him. He eventually gets caught and taken to the prison. On the other hand, Chand Nawab secretly takes the girl away to her hometown and manages to reach Munni's house and hands over the girl to her parents. Since Chand Nawab had been recording videos of his journey along with Bajrangi and Munni, he uploads all the videos on youtube and informs that Bajrangi is not a spy but a common person who came to Pakistan to return the girl who had mistakenly lost her parents. He is successful as Bajrangi gets the sympathy of a large mass and they want Bajrangi to be released. eventually, Bajrangi is released and he is allowed to enter the Indian Border in the presence of a large crowd in which there is Munni who waves her hand and bids goodbye to him.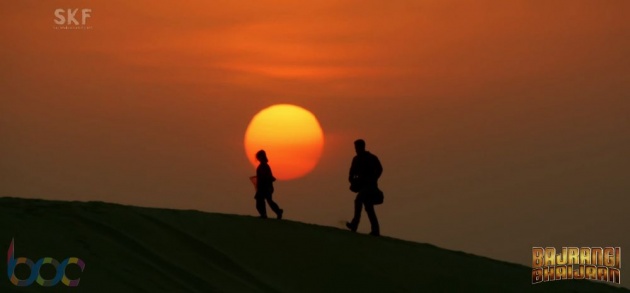 Image Credit: boxofficecollection.in
✿ Here is

Querlo Chat

for you. Isn't it fun to chat with a Chatbot ?
Video Credit: AMANZI via youtube.com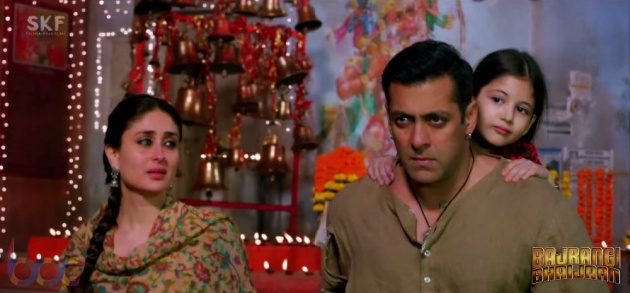 Image Credit: boxofficecollection.in
✔ My Movie Review - Conclusion
The movie Bajrangi Bhaijaan is a nice movie. It gives the message that people may be differentiated with borders but hearts feelings and social norms can't be differentiated. Pakistan and India are estranged neighbors and have been at war-like situations on more than 3 occasions. They both got freedom from British Colonial back in 1947 but have been struggling to make normal relations with each other. There is a big difference in culture, religion and social ethics between people of India and Pakistan plus the leaders on both sides have been using this enmity for their own benefits. Therefore, no solid measures have been taken so far to reduce the tension between the two countries. Kashmir itself is the bone of contention between these two countries as the case for freedom in Kashmir is on the agenda of United Nations. Pakistan claims that since at the time of freedom in 1947, the people of Kashmir wanted to be part of Pakistan as any other region in the sub-continent but the ruler of Kashmir was a non-Muslim who gave his vote in favor of India and India has occupied the Kashmir since then without giving the right to its people to make their own choices to live with Pakistan. On the other hand, India claims that Pakistan has occupied half of Kashmir and should either be contained with it or allow its people in Kashmir to make their own choice as to which state they want to join with and Pakistan regard this claim as an infringement of agreement on which the sub-continent was divided into Pakistan and India as people of certain regions had to decide (based on their religion) as to which country they want to join and now the question of only Indian-occupied Kashmir exists rather than the whole Kashmir including Pakistani administered Kashmir.
Keeping all the arguments and altercations apart, this movie has conveyed a nice message of friendship and respect between two countries which is a very positive sign. The filming sequence, story, visual effects, screenplay and the acting have been very good in this movie. The Director and Producer of the film have done a remarkable job and came up with this masterpiece. This movie managed to make a very good box office business and managed to earn more than US Dollar 151 Million whereas this movie's budgeted cost was less than US Dollar 15 Million. This movie was a huge Hit financially and commercially and was welcomed by all the Bollywood movie lovers across the globe.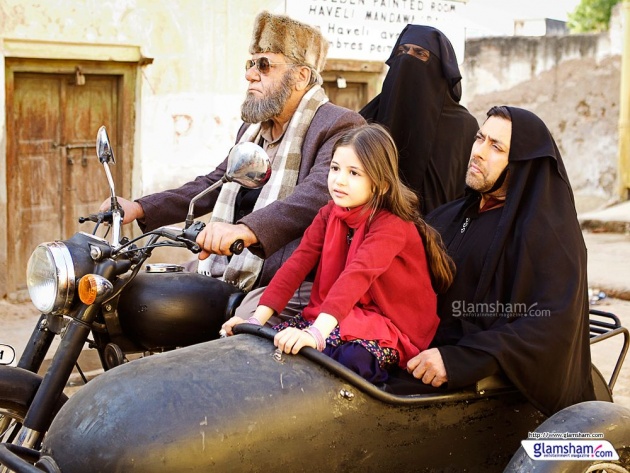 Image Credit: www.glamsham.com
✿✸✔✤✪ - - - - - - - - - - - - - - - ✿✸✔✤✪ - - - - - - - - - - - - - - - ✿✸✔✤✪ - - - - - - - - - - - - - - ✿✸✔✤✪

Thanks for Reading. This Blog was written by Rafaquat Noman (a Resident of Saudi Arabia and a Traveler) for bitlanders.


DISCLAIMER: The contents of Blog above are that of the author and does not represent his company or agency. The sites, videos, and photos used in this Blog are for information purposes only and links are available for direct access. The author does not receive any monetary benefit from those companies or sites.
✿✸✔✤✪ - - - - - - - - - - - - - - - ✿✸✔✤✪ - - - - - - - - - - - - - - - ✿✸✔✤✪ - - - - - - - - - - - - - - ✿✸✔✤✪