Bollywood Movie Review - Entertainment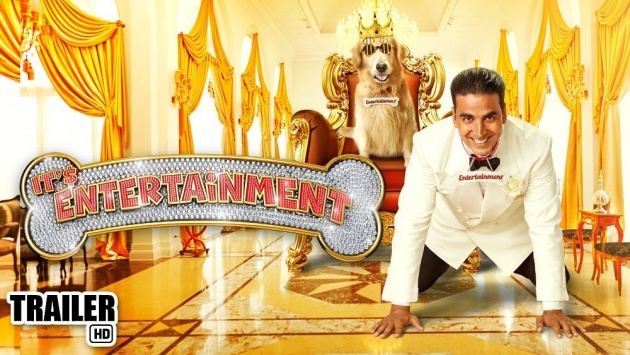 Image Credit: www.huffingpost.ga
✔ Introduction
Hello Friends, I hope you are doing fine and are having a good time on bitlanders. Today I have come up with my another new blog with the title of "Bollywood Movie Review - Entertainment". Friends, in this blog I shall review a unique Bollywood Hit movie "Entertainment". I call this movie unique because this movie is about a dog who shows love and emotions for the owner more than any other human being. Dogs are known to be faithful animals who love to remain close to their masters and cherish their companionship as well as protect their masters even at the cost of their own lives. This movie is about love of a dog and the love it receive from its masters. The film "Entertainment" was a blockbuster movie after its release and all the Bollywood movie lovers welcomed the unique idea this movie presented. This film was written and directed by Sajid Samji and Farhad Samji and was produced by Jayantilal Gada under the support of Tips Industries Limited which is a huge name in Music & Film Production, Promotion and Distribution in Indian Cinema Industry.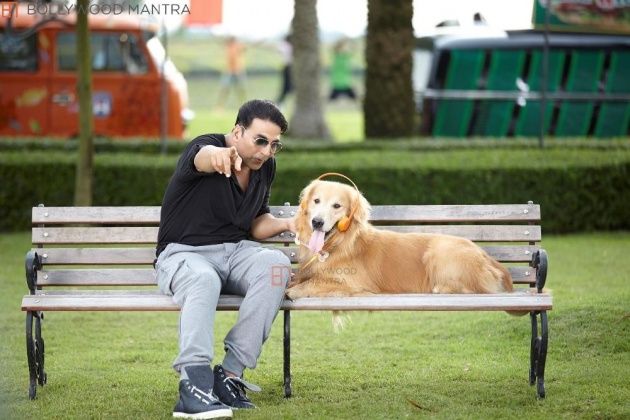 Image Credit: www.bollywoodmantra.com
This movie "Entertainment" was released on August 8, 2014 under the distribution banner of Pen India Limited. Some details of cast of this movie is as under:
✤ Akshay Kumar as Akhil Lokhande
✤ Tamannaah Bhatia as Saakshi
✤ Krushna Abhishek as Jugnu
✤ Johnny Lever as Habibullah
✤ Prakash Raj as Karan
✤ Sonu Sood as Arjun
✤ Mithun Chakraborty as Saakshi's Father
✤ Junior-The Wonder Dog as Entertainment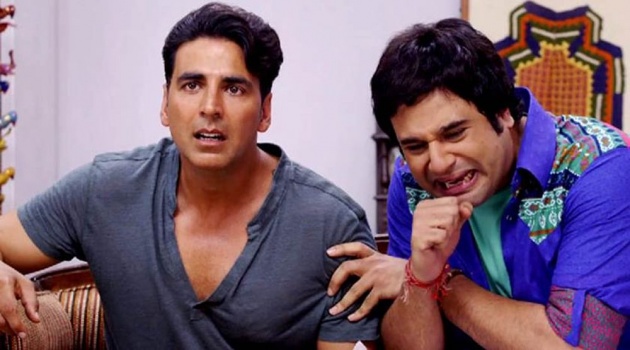 Image Credit: www.pinterest.com
Once in a while, Bollywood churns out a classic comedy. It's either a genuinely funny film (like Hera Pheri), or a movie that is so bad that it's great fun (like One Two Three). Entertainment is a multilayered landmark that commands both those qualities and adds a third layer – it satirizes all the awful Sajid Khan-Anees Bazmee movies and even takes potshots at everything that is wrong with desi cinema and television.
Review Extracts From: www.firstpost.com
Video Credit: Tips Official via Youtube.com
✔ Plot Of The Movie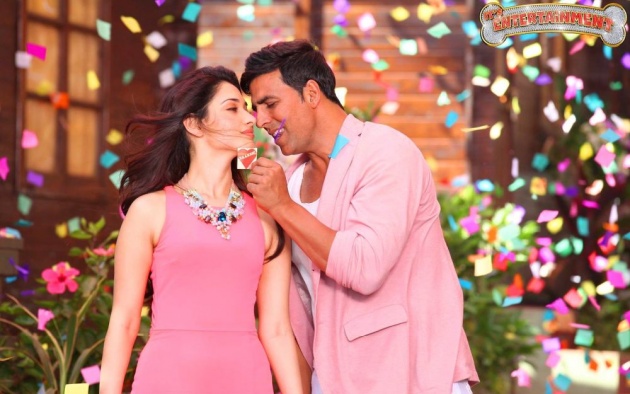 Image Credit: www.newhdwallpapers.in
The film begins as Akhil Lokhande is living hand to mouth along with his friend Jugnu. Akhil works in different places to earn as much money as possible for the treatment of his father who is in hospital. He loves his father and treats him very well. He is also in love with a part-time actress Saakshi who is also looking for a break in the showbiz industry in order to become famous and rich. After a shoot of Saakshi, Akhil and Saakshi went to her house and meet with their father where Akhil asks his father for Saakshi's hand for marriage. Saakhshi's father is very greedy and also very mean and tells Aakhil that he can't marry his daughter until and unless he becomes a Millionaire and asks Akhil to promise him that he will never meet Saakshi until he becomes a rich person to which Akhil makes promise to himself and Saakshi's father that he will only come back again when he becomes a Millionaire. He along with his friend visits Father's hospital where they see that Akhil's father is enjoying his time with hospital nurse and when nurse tells him that he is wasting his son's wealth to which aakhil's father replies that Akhil is not his real son. Akhil and his friend assault the so called Akhil's father who discloses the truth that he found Akhil as an infant in a train accident for which he received money from the Government as his mother had died in the accident.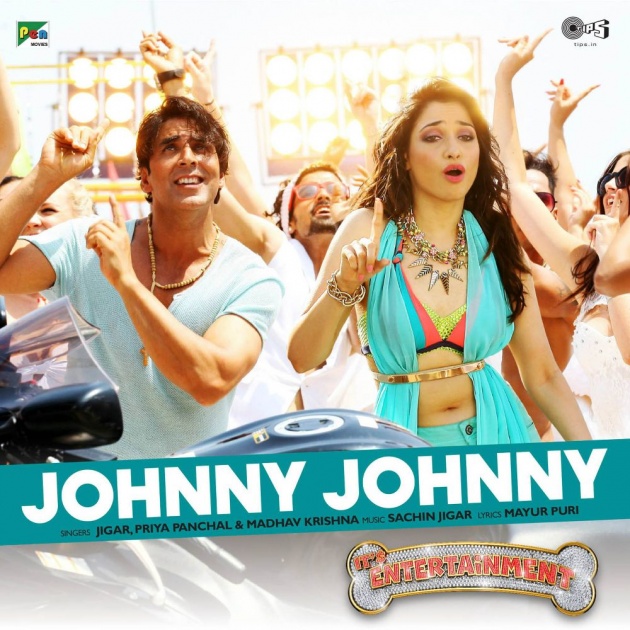 Image Credit: www.deccanchronicle.com
After leaving his fake father at the hospital, Akhil goes back home and opens his mother's suit case which he had never opened before. He finds out that he is actually the son of a Billionaire Pannalal Johri based in Bangkok because he finds Pannalal Johri's love letter to his mother and also a locket which has pictures of his parents. Akhil is very happy to know this as he thinks he has become a Billionaire over the night. He manages to reach Bangkok and goes to his father's mansion only to find out that his father Pannalal Johri has just died and has left behind his wealth worth Indian Rupees 3000 Crore to his legal heir. He meets there with acquaintance of Pannalal Johri whose name is Habibullah and Akhil tells him that he is the legal heir of his father's wealth and brings a DNA as a proof which proves his claim. Habibullah informs him that Pannalal Johri has made his pet dog his declared owner of property. It is a big shock to Akhil who never expected such a situation. However he decides to stay at his father's mansion and tries to befriend with the dog whose name is "Entertainment" only to kill the dog and to become his father's next legal heir. Now two brothers Karan and Arjun who are cousins of Pannalal Johri make entry into the movie by escaping jail where they were completing their sentences for fraud. When they come to know that Akhil is here to claim inheritance from his father, they devise plans to kill both Akhil and the dog in one go so that they could occupy the wealth of Pannalal Johri.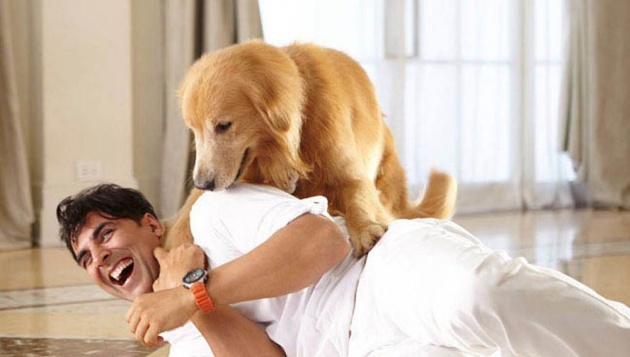 Image Credit: imperiya.by
Now when two brothers try to execute their plan to kill Akhil and the dog in the frozen lake, the dog saves the life of Akhil by risking its own life. Akhil gets emotional at this and he starts loving the dog because it saved his life. Now the matter of inheritance goes to court where Karan and Arjun manage to win the case by bribing the judge and kick out both Akhil and the dog along with Habibullah from the Mansion of Pannalal Johri. At this stage, Saakhsi along with her father reach Bangkok and vow to help Akhil and the dog to regain their wealth from the greedy brothers Karan and Arjun. By taking the advantages of weaknesses of both the brothers Karan and Arjun, they manipulate the situation in such a manner that both brothers quarrels and fight with each other over monetary issues etc while Habibullah records their fight which include confessions that they have been involved in wrongdoings and have falsely occupied the wealth of Pannalal Johri. Fight ensues there and in the process Karan shoots the dog and it gets injured very critically. The dog is taken to hospital where after a lot of efforts, the doctors manage to save the life of the dog. In the ending scenes of the movie, Karan and Arjun apologize for their actions and Saakshi' father gives his consent for the marriage of Akhil and Saakshi as Akhil has managed to become a Millionaire now.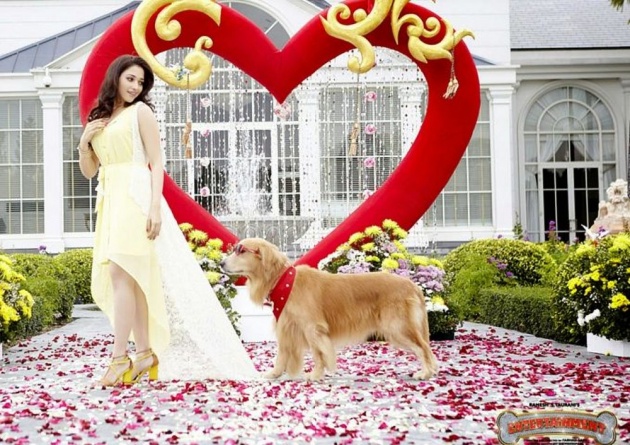 Image Credit: latestdesktopwallpapers.com
✿ Here is Querlo Chat for you. Isn't it fun to chat with a Chatbot ?
Video Credit: Pen Movies via Youtube.com
✔ My Movie Review - Conclusion




Image Credit: www.yotrythis.com
The movie "Entertainment" is literally full of entertainment. The movie has a full pack of comedy and laughters. All the actors have done a remarkable job by keeping the momentum of laughters in action all the time. The movie shoes different emotions and feelings such as pet-love, greediness and empathy. In one scene, when Saakshi's father comes to know that Pannalal Johri's wealth has gone to the dog instead of Akhil then he tries to convince her daughter to marry the "Dog" by saying that after all men become dog after their marriage, therefore she should get married with the dog thus creating a big comedy scene which shows the high level of greediness as well. The movie managed to earn more than Indian Rupees 1 Billion on the box office internationally and was declared as a Hit movie both inside and outside India. Both the Director and the Producer deserve applause for very well execution on filming sequence, visual effects and acting.
✿✸✔✤✪ - - - - - - - - - - - - - - - ✿✸✔✤✪ - - - - - - - - - - - - - - - ✿✸✔✤✪ - - - - - - - - - - - - - - ✿✸✔✤✪






Thanks for Reading. This Blog was written by Rafaquat Noman (a Resident of Saudi Arabia and a Traveler) for bitlanders.



DISCLAIMER: The contents of Blog above are that of the author and does not represent his company or agency. The sites, videos, and photos used in this Blog are for information purposes only and links are available for direct access. The author does not receive any monetary benefit from those companies or sites.





✿✸✔✤✪ - - - - - - - - - - - - - - - ✿✸✔✤✪ - - - - - - - - - - - - - - - ✿✸✔✤✪ - - - - - - - - - - - - - - ✿✸✔✤✪