Bollywood Movie Review - Happy New Year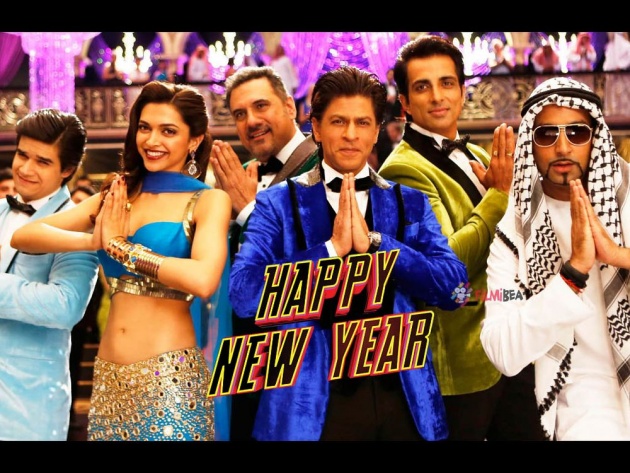 Image Credit: wallpapers.filmibeat.com
✔ Introduction


Hello Friends, I hope you are doing fine and are having a good time on bitlanders. Today I have come up with my another new blog with the title of "Bollywood Movie Review - Happy New Year". Friends, this blog is about a recently released and a Mega Hit Bollywood movie "Happy New Year". This movie stars Shah Rukh Khan who is internationally recognized as the King of Bollywood. This movie is about a sweet revenge in which Hero of the movie takes down the enemy of his father. This enemy who is also the villain of this movie wrongfully trapped the Hero's father due to which he was sent to prison for a long time. The methodology of the revenge is so unique that Hero and his companions take part in a Dance Competition to loot the enemy's wealth in order to square with him. This movie is more like a comedy and dance movie with a lot of entertainment in it. The movie "Happy New Year" was directed by Farah Khan and was produced by the Red Chillies Entertainment, which is an Indian Film Production House and a Distribution Company.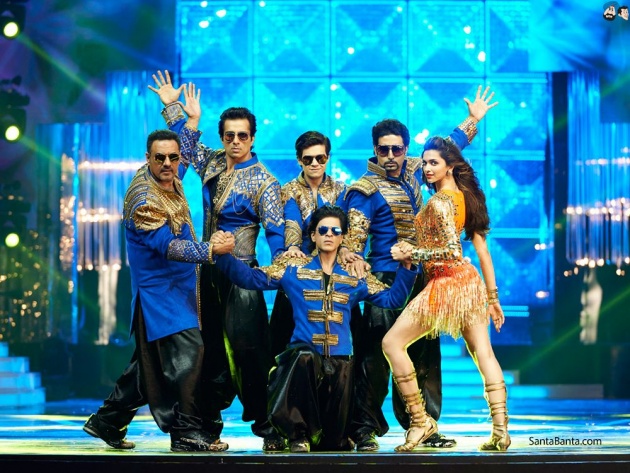 Image Credit: www.santabanta.com
The movie "Happy New Year" was released on October 24, 2014 under the distribution banner of Yash Raj Films. Some details of cast of this movie is as under:
✤ Shah Rukh Khan as Charlie
✤ Deepika Padukone as Mohini
✤ Abhishek Bachchan as Nandu & Vicky Grover (Double Role)
✤ Jackie Shroff as Charan Grover
✤ Anupam Kher as Charlie's Father
✤ Sonu Sood as Jag
✤ Boman Irani as Tammy
✤ Vivaan Shah as Rohan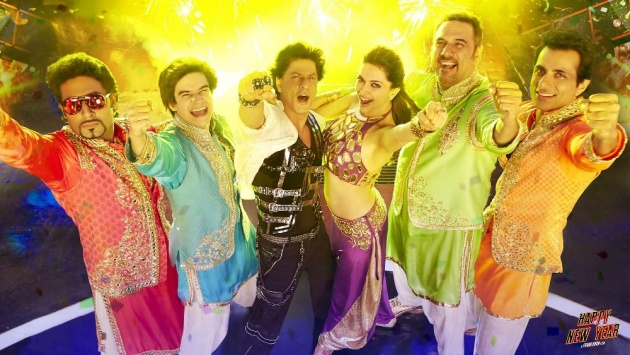 Image Credit: www.pinterest.com
The story is simple, perched on a lavish canvas – glitzy, glamorous, gorgeous bodies (read: male torso) and with self-deprecating humour which stands out and entertains in parts (a recap of moments from SRK's own films!). The first half spends too much time setting a plot that's fairly uncomplicated. It's not a film about an ingenious heist (far from 'Oceans Eleven') or dance, it's a film about everything genuinely Bollywood – where logic gets a 'fit', gloss covers up the glitches, cameos creep in without a warning; and the rest of the plot finds comfort in the hero's hot-bod (anything from 6 to 8 packs – take your pick!) and outstretched arms. The cast pulls off their acts well; and leave you with some feel-good moments, but not enough to last three long hours.
Review Extracts From: timesofindia.indiatimes.com
Video Credit: T-Series via Youtube.com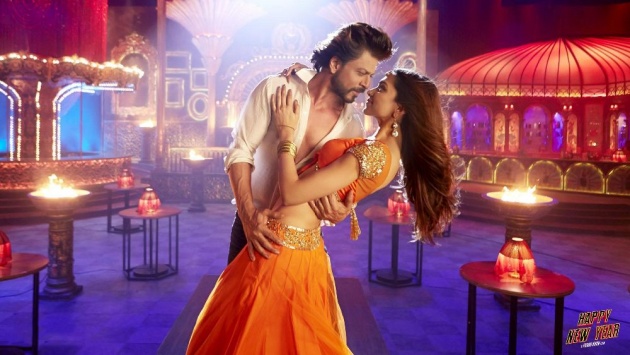 Image Credit: www.1freewallpapers.com
✔ Plot Of The Movie

In the film, an ill motivated person Charan Grover traps Charlie's father Manohar Sharma and as a result sends him to jail when he made Manohar Sharma steal his diamonds from the vault and he was caught by the Police as the main suspect and the Diamonds went missing. The whole family fell in despair and their social lives were destroyed as people labelled them "Children of Thief". Manohar Sharma vanished from the scene with Diamonds in order to live a happy life abroad. Now, after about 10 years, Manohar Sharma's son Charlie is willing to take revenge on Charan Grover as he ruined his family's life. He has always been following Charan Grover on the media and he comes to know that Diamonds guarded and held by Charan Grover worth US Dollar 300 Billion are being brought at Atlantis, The Palm in United Arab Emirates. In the same hotel, a Dance competition is to be held between different nations and its final will be played on the Christmas Day on which they can steal them with a little effort. Charlie devises a smart plan to steal the diamonds and to treat Charan Grover with his own medicine of theft.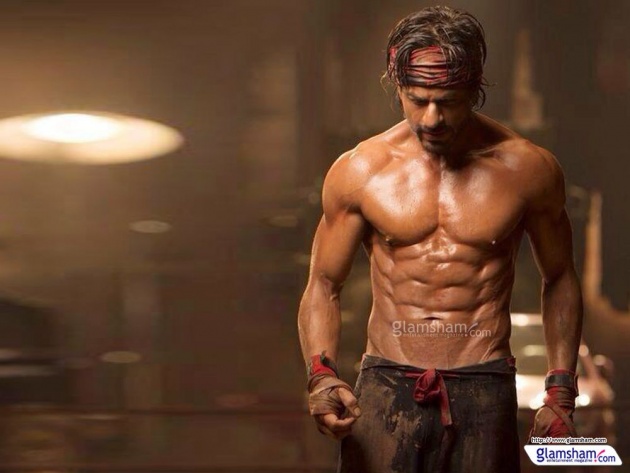 Image Credit: www.glamsham.com
Charlie starts up making his team, he finds Jag who once served the Indian Army but was sent home later because he can't control his anger when he supposes someone is abusing his mother (because he is partially deaf). Another part of this dance team is Tammy who is an expert in opening any kind of lock and has been thrown out by his mother because she thinks he is of no use. Charlie's team next member is Jag's nephew Rohan who is an IT expert and loves to hack computers, Charlie feels that he can be helpful in order to control the computers at the Atlantis, The Palm where diamonds will be kept. Mohini Joshi is another team member who loves to dance and wants to open her own dance school in order to promote the Indian dance techniques. Next team member is Nandu who extremely looks like Charan Grover's son Vicky Grover and Charlie feels that he can be very useful as a replacement of Vicky in order to reach the diamonds. Charlie tells all the team members that they will take in the dance competition. He is hardly able to convince them because they know they can't dance as they are not professionals and will surely fail in the dance competition. However when Charlie tells them the real motives behind this participation in the competition then they all agree to go on with the Charlie's mission and give their consent for participation.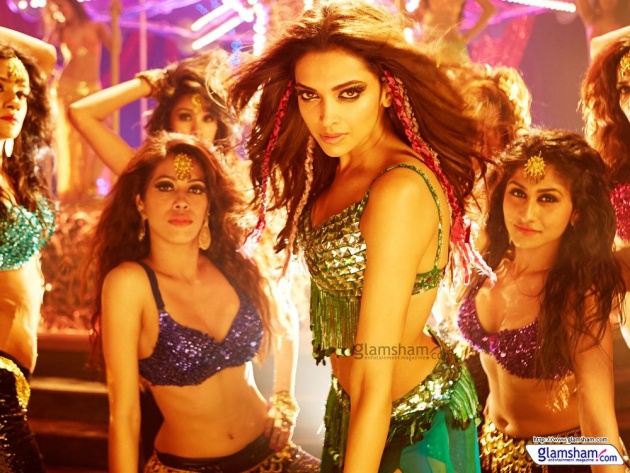 Image Credit: www.glamsham.com
In the Dance Competition at Dubai, different nations team will appear and therefore, Charlie has to make sure that his team manages to become Team India in the competition. Therefore, they work hard and also bribe the judges in order to be successful in initial stages of selection. When there is a final selection through online votes, Rohan hacks the computer and generates votes for his team. When the result is announced, they manage to win and are selected as Team India to participate in the competition. When they reach Dubai, they are not welcome by the crowd, especially the Indians because they clearly think that this team is disgusting and can't believe that Indian management has sent this team for participation. However, the competition starts and Team India manages to reach the final and on the day of final they technically steal the diamonds and trap Charan Grover in the very same manner that he once did to Charlie's father. All the team members except Mohini want to leave the place secretly but she convinces them not to let down the name of India as everybody will be sure that they are the thief. On her insistence, Team India participates in the final and manages to win it and takes the trophy along with the diamonds back to India. When the Police arrests Charan Grover and is taking him to Police Station, Charlie comes near him and informs him that he is the son of Manohar whose life was ruined by him and now he has taken his revenge which will never be forgotten. Charan Grover looks at him in disbelief that someone could trick him in his own manner.
Video Credit: T-Series via Youtube.com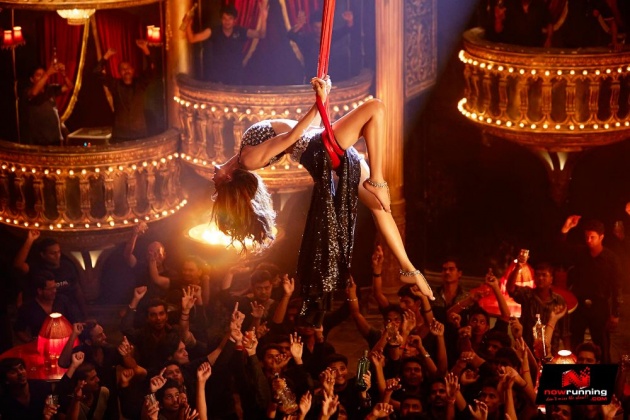 Image Credit: www.nowrunning.com
✿ Here is Querlo Chat for you. Isn't it fun to chat with a Chatbot ?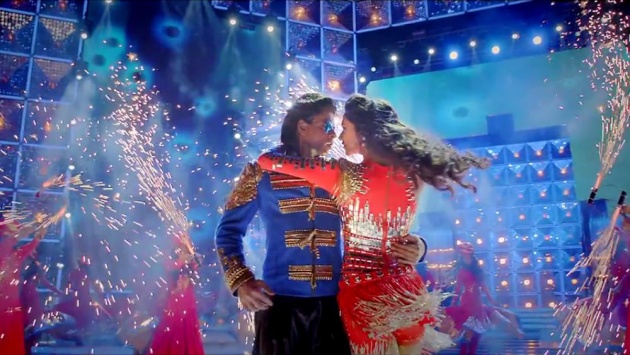 Image Credit: www.popopics.com
✔ My Movie Review - Conclusion
The movie "Happy New Year" is full of entertainment and comedy. All the actors played their character very well and gave their superb performances. The flow of the movie is awesome and it remained active throughout the movie thus avoid being boring the audience. All the characters are not the best dancers but the Director of the movie "Farah Khan" who started her career as a Choreographer has done a marvelous job and made the characters dance easily. the comic factor in the movie was awesome and all the moves were genuine and fresh causing the movie to be a blockbuster movie. The movie had the production budget of Indian Rupees 1570 Million and it managed to earn more than Indian Rupees 3970 Million on the box office. On the whole, I shall rate the movie 8 out 10 stars and I feel that one should not miss the movie because it is the best alternate for their time and money.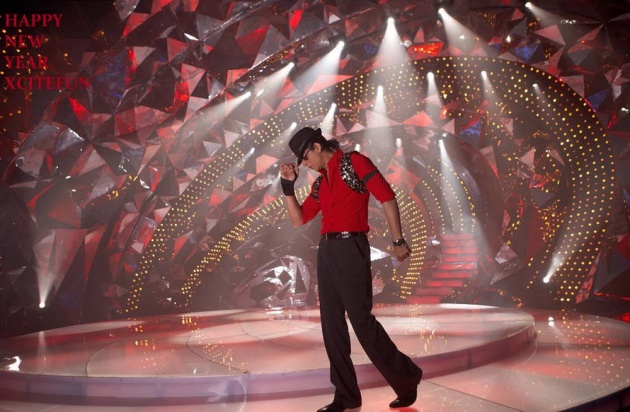 Image Credit: freehdwallpaperscollection.blogspot.com
✿✸✔✤✪ - - - - - - - - - - - - - - - ✿✸✔✤✪ - - - - - - - - - - - - - - - ✿✸✔✤✪ - - - - - - - - - - - - - - ✿✸✔✤✪

Thanks for Reading. This Blog was written by Rafaquat Noman (a Resident of Saudi Arabia and a Traveler) for bitlanders.


DISCLAIMER: The contents of Blog above are that of the author and does not represent his company or agency. The sites, videos, and photos used in this Blog are for information purposes only and links are available for direct access. The author does not receive any monetary benefit from those companies or sites.
✿✸✔✤✪ - - - - - - - - - - - - - - - ✿✸✔✤✪ - - - - - - - - - - - - - - - ✿✸✔✤✪ - - - - - - - - - - - - - - ✿✸✔✤✪