Bollywood Movie Review - Tere Bin Laden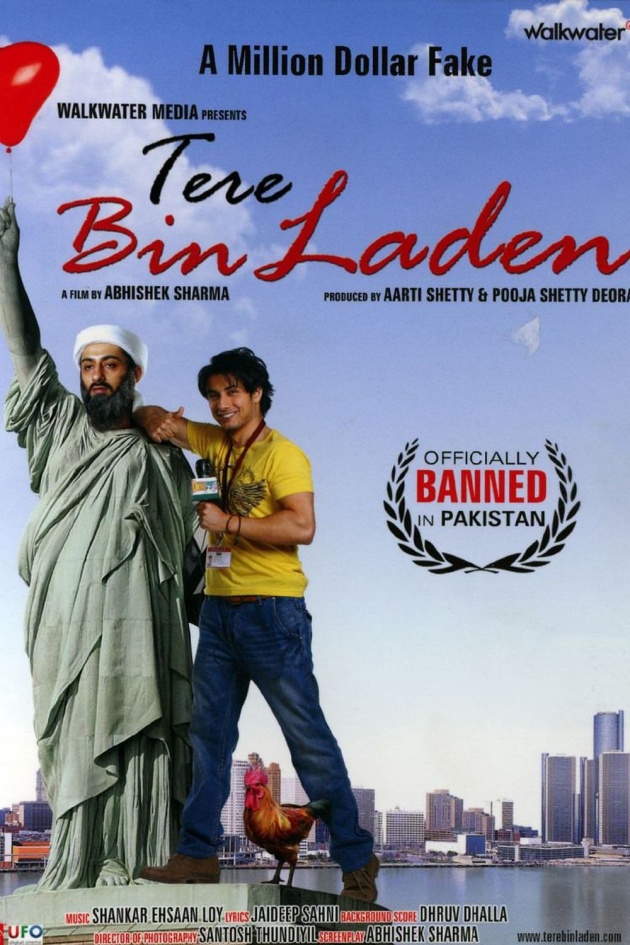 Image Credit: alchetron.com
✔ Introduction



Hello Friends, I hope you are doing fine and are having a good time on bitlanders. Today I have come up again with my another new blog with the title of "Bollywood Movie Review - Tere Bin Laden". Friends, this blog is about a Hit Bollywood movie "Tere Bin Laden" in English (Your Bin Laden). The story of this movie is based on a Pakistani TV Reporter who is not happy with his job with meager benefits and perks. His ultimate aim is to go to the Unites States of America by using any means whatsoever. Since, this is the era of Terrorism and at that particular time of this movie, USA was looking for the whereabouts of Bin Laden, therefore, he devises a plan which in the ends lands him into the USA after quite a lot of incidents which for the viewers created humor but for them involved a lot of life threats. This story for this movie was written by Abhishek Sharma who also directed the movie. The movie was produced by the Walkwater Media Company which is involved in Indian Film Making and Production.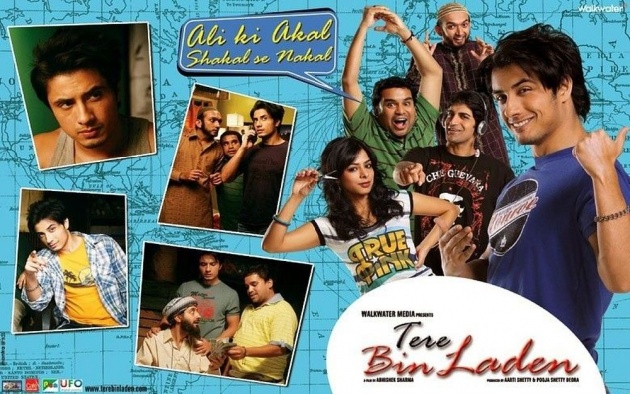 Image Credit: alchetron.com
The movie "Tere Bin Laden" was released on July 10, 2010 under the distribution banner of UTV Motion Pictures. Some details of cast of this movie is as under:
✤ Ali Zafar as Ali Hassan
✤ Pradhuman Singh Mall as Noora
✤ Sugandha Garg as Zoya Khan
✤ Nikhil Ratnaparkhi as Gul
✤ Piyush Mishra as Majeed Khan
✤ Seema Bhargav as Shabbo
✤ Rahul Singh as Qureishi
✤ Barry John as Ted Wood
✤ Chinmay Mandlekar as Usmaan
✤ Chirag Vohra as Lateef
Now this one's a real cornball. It maybe a shade amateur and have loads of rough edges to its canvas, if you compare it to a regular Bollywood comedy. But when it comes to content, the film scores above several of the recent laugh riots that may have done well at the box office, but definitely didn't have an intelligent script to boast of. Tere Bin Laden has both: a smart script and some smart acting.
Review Source: timesofindia.indiatimes.com
Video Credit: walkwatermedia via Youtube.com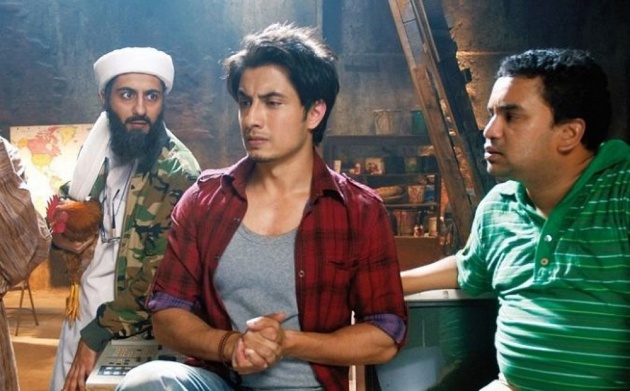 Image Credit: www.catchnews.com
✔ Plot Of The Movie
The film begins as TV reporter Majeed Khan is at Jinnah International Airport Karachi and is giving live reports about an airplane which is the first American Airline airplane landing at Karachi after the incident of 9/11. He further informs that there will be one flight form Karachi to America which will board all American passengers except one, Ali Hassan who has been trying to go to America for a very long time. In the flashback, it is shown that Ali Hassan had a dream to go to America since his childhood and when he grew older, he became TV reporter for the Channel "Danka" and always wanted to be part of an American TV Channel "News America" as a Reporter some day. With the same ambition, Ali Hassan boards a plan and starts making a demo tape in which he talks about terrorism, bombings and other terror causing words. The situation for him even got worse when an air-hostess dropped the knife and he picked it up, then he went to the air-hostess who mistakenly thought that Ali Hassan was attacking him, thus causing panic and emergency situation. The same ends in Ali Hassan being thrown out of the plane and handed over to the security personnel for further investigations.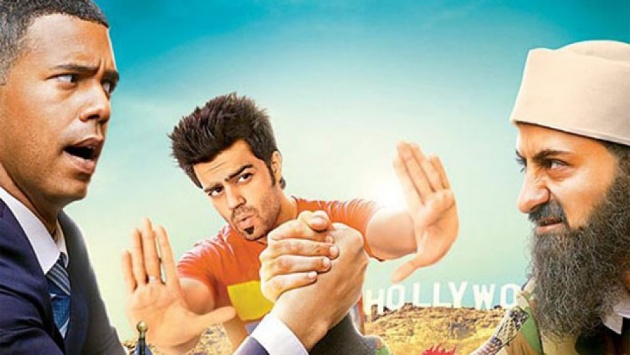 Image Credit: www.dnaindia.com
Because of the incident, Ali Hassan gets black-listed and his further requests for the American Visa get rejected six times continuously. Ali Hassan contacts the human smuggler who tells him that he can send him to America but there he may have to face life threats like firing from the border force. Fearing his life loss, Ali Hassan leaves this idea and then, dejected Ali Hassan joins the Danka Channel again as a TV Reporter. The Chief of Danka TV Majeed Khan sends him to cover a Rooster Show in which Roosters from different areas of Pakistan will participate. Over there, Ali Hassan meets a local Rooster Farm House Owner Noora who is extremely look alike of Osama Bin Laden. Since Ali Hassan wants to go to America by hook or by crook, he devises a plan and meets Noora in his Farm House. First he comes to realize that Noora is a village person who does not know much about America and Osama Bin Laden. Noora is only interested in increasing the number of his roosters and hens in his farm. Ali Hassan tells him that he is from a TV Channel and he wants to record his message for chicken farmers. Ali Hassan manages to trap Noora and with the help of his fellow TV reporter and other Makeup Artist friend Zoya, he makes an Osama Bin Laden tape and releases it on TV.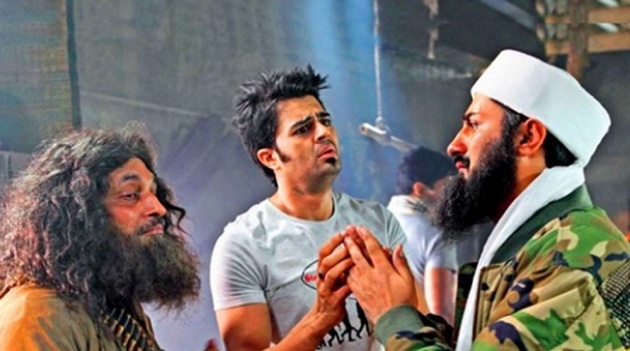 Image Credit: indianexpress.com
When the video of Noora gets viral as of being the Osama Bin Laden's video, American and Pakistani Intelligence Agencies start tracking the location of Noora and Ali Hassan thinking them as Osama's friends. Soon they are captured and taken into custody. However, when FBI Commander Ted Wood comes to know that captured Osama Bin Laden is actually Noora who can't even speak Arabic and is a local village guy, he gets infuriated. At this time, Ali Hassan gives an idea to Ted Wood to record another tape of Osama Bin Laden in which he will declare ceasefire with America. In order to save his job and reputation, Ted Wood agrees and another tape of Osama Bin Laden is released which makes the American authorities happy that Osama Bin Laden does not want any more war with America. As a result, Ted Wood gets a promotion as Defense Secretary and Ali Hassan finally manages to get American Visa and he enters into the USA soil to pursue his dreams. Noora also starts a new life and expands his business as the film ends.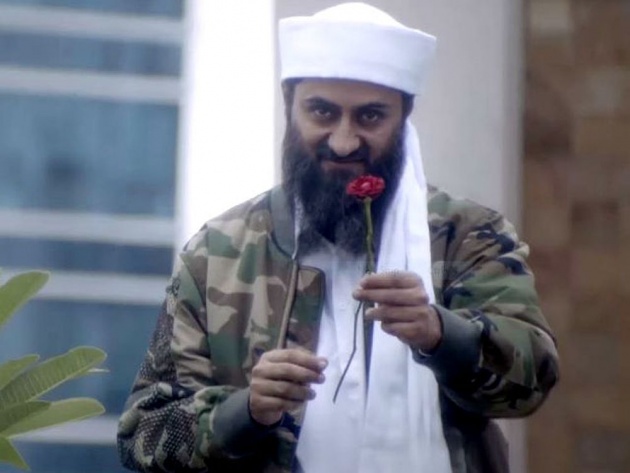 Image Credit: movies.ndtv.com
Video Credit: Mubashar Islam via Youtube.com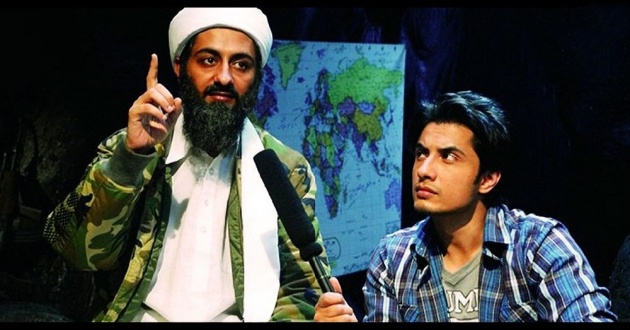 Image Credit: www.brandsynario.com
✿ Here is Querlo Chat for you. Isn't it fun to chat with a Chatbot ?

Image Credit: www.thequint.com
✔ My Movie Review - Conclusion
The movie "Tere Bin Laden" was full of comedy, humor and laughters. I enjoyed the movie very much because it keeps giving giggles throughout its playtime. In the wake of terrorism threats to the peace of entire world, such movies are a very pleasing sign and provide with full entertainment to their viewers. The Director, Producer and all the acting team have done a very good job. Although almost all the acting team is new and does not include any veteran actors, but still the whole acting team was superb and made this movie a treat to watch. The character of Osama Bin Laden was well justified by Pradhuman Singh Mall and this has been his best movie so far apart form some other movies he has appeared in. I shall rate this movie 8 out of 10 stars.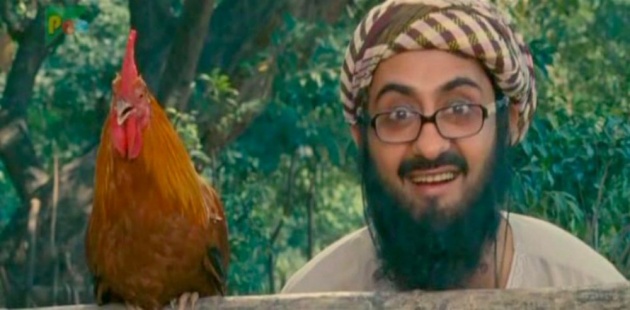 Image Credit: www.indiatimes.com
✿✸✔✤✪ - - - - - - - - - - - - - - - ✿✸✔✤✪ - - - - - - - - - - - - - - - ✿✸✔✤✪ - - - - - - - - - - - - - - ✿✸✔✤✪

Thanks for Reading. This Blog was written by Rafaquat Noman (a Resident of Saudi Arabia and a Traveler) for bitlanders. If you wish to join bitlanders, Click Here.


DISCLAIMER: The contents of Blog above are that of the author and does not represent his company or agency. The sites, videos, and photos used in this Blog are for information purposes only and links are available for direct access. The author does not receive any monetary benefit from those companies or sites.
✿✸✔✤✪ - - - - - - - - - - - - - - - ✿✸✔✤✪ - - - - - - - - - - - - - - - ✿✸✔✤✪ - - - - - - - - - - - - - - ✿✸✔✤✪