"Britain's GOT entrepreneurs"
In May 2012 I was an unemployed illustration graduate. In April 2013 I am now an entrepreneur. Just under a year it has taken me to realize that self-employment is an option. Being 'young ' with little knowledge of 'business' tends to stereotype the overall meaning of an entrepreneur. We think that these successful business owners have some kind of ultimate brain span or a hefty bank balance to begin with, but that's not the case! It has taken only 4 months for me to realize that literally anyone can become an entrepreneur. An idea is all it takes, 'Think outside of the box' It takes just one idea, one belief, and a ton of passion to get the fuel to ignite the engine.
'Entrepreneur' is a word that means nothing to Britain's average young person- why? Because It's a word that is not taught enough, it's a sign that one has 'already achieved entrepreneurship' so therefore our youth are oblivious to the fact that it does apply to them, as well as anyone else.
I suffer day to day from witnessing so many people who are in the same position as I was 6 months ago- not knowing what to do, where to go, who to speak to, but knowing only ONE thing "I WANT TO BE SOMEBODY" That's exactly what I refused to let go. "I am somebody and will make sure that you know I am somebody."
Given today's situation in Britain- we have a lot of changes going on -debatable of good and bad. For instance: Education. Our youth just about to leave secondary school now have no choice what so ever in the matter of getting a job or becoming self-employed until the age of 17 (soon to become 18) So for a start we are holding them back with a rule book. The very day they become 'a free spirit' is taken away. Secondly: Student fee's have rose so impeccably that young people are scared to take the risk, or yet do not have the financial background to just sign the form. Think back to the young boy George Sampson a young passionate 14 year old with talent, who won Britain's got talent in 2008- if he did not enter the competition he would have never won. How can Britain's next successful entrepreneur win if they cannot enter?????? Or even still, do not know how to enter!?
"Britain's GOT entrepreneurs!"
There are many citizens of Britain that agree with the new terms of benefit laws from the government, and I too understand why they are being put into place. BUT the government has forgot that human beings are unique to one another, (and yes I will put it as blunt as that) WE ARE INDIVIDUAL - Not all of us wish to watch day time TV for the rest of our lives, not all of us believe that claiming JSA is the same as a wage slip! If you file us away in the same category then how is Britain ever going to succeed? You are turning your own away without realizing. Britain has not yet put in a filtering system, it has only put in place a system for confused, rebellious youth's to take action- and I don't blame them!
I am now 25 years old, and have only in the last 4 months realized what self-employment is, and that it is open to anyone, and all I want to do is spread the word, and make people like me understand that it is possible- there is help- people do want you to succeed!
"Entrepreneurs are made, not born - we were born, so let us be made"
The help
Young Britain have come up with a marvelous idea! Not only do they already help young entrepreneurs in their early start up stages, but now they are introducing 'Entrepreneur internships' So they can offer even more help, and that's just what our young people need! It's a way to 'sign off' the JSA. Giving young people a chance to earn whilst they set up a business. No more weekly signing on, no more endless advisor meetings (that advise nothing useful) no more spending hours completing application forms for jobs that you don't want! - This is the way forward!
Anyone starting a business will tell you how intense and testing it can be, without having the job Centre on your back, constantly forcing you to do things you don't want to do! Leaving you bitter and miserable. This is where Young Britain can help – why? Because they LISTEN to you, and WANT to help you.
"Lets destroy youth unemployment, the self-employment revolution is here" Fay Easton, Young Britain Co Founder.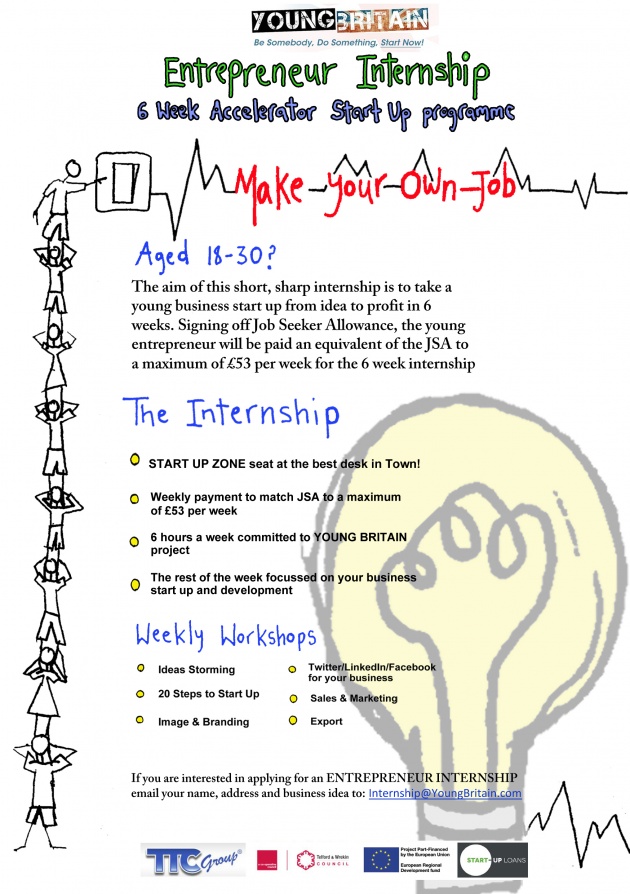 If you've got an idea, a hobby, a talent, get in touch with Young Britain now!
Facebook- Young Britain
Twitter- @youngbritain