Banking sector in Afghanistan has shown improvement in last ten years with more people having access to banking services now.Currently there are 3 public and 14 private banks working in Afghanistan with more than 800 branches spread all over Afghanistan providing facilities to customers but still there is need of improvement in banking sector as growth rate is quite slow in Afghanistan.
According to leading Afghan bankers, only 4% of Afghans have access to proper banking system in Afghanistan. There are various issues preventing them from better access to banking system making it tough for bankers to attract new customers especially investors hardly showing any interest in banking sector.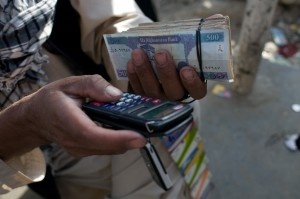 Businessmen and traders hardly use bank facilities for transfer of money in Afghanistan. Hawala system is used by majority of people in Afghanistan for transfer of money from one place to another place. Customers do not feel safe and secure depositing their money in banks.Two years ago, lack of proper supervision led to collapse of major bank in Afghanistan that was huge set back for banking sector since there growth rate was good those days.
One main barrier to improvement in banking sector of Afghanistan is interest system of banks since interest is forbidden in Islam and people hardly show any interest to work with banks. Government will announce mortgage law that will boost banking industry in Afghanistan. Majority of banks working have less reserves that make it difficult to offer big loans to investors. None of bank working have capital above $100 million that make it more difficult to offer big loans to set up large scale businesses.