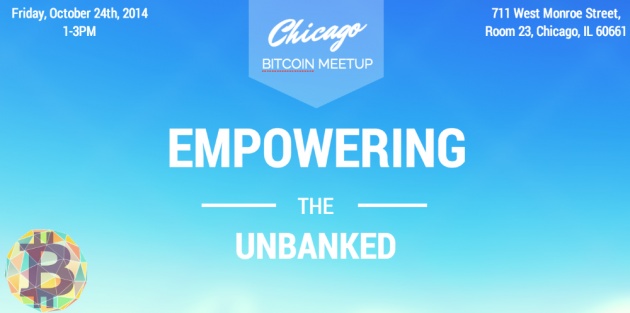 Friday, October 24, 2014, 1:00 – 3:00pm

711 West Monroe Street, Room 23, Chicago, IL 60661
Matthew Kenahan, founder and CEO of
The Bitcoin Society
, Pamela Morgan, attorney and Bitcoin educator & entrepreneur, and Marty Kenahan, former Executive Director of Coprodeli USA are hosting a Bitcoin Meet Up focusing on how Bitcoin and other FinTech innovation is revolutionizing operations amongst NGOs and creating new financial opportunities for billions of people in the developing world.
You are invited to join representatives from international NGOs working on three continents as they learn how their own efforts can benefit from the ease of sending funds to support their work across many borders while avoiding large transaction fees in a financial environment where every little bit counts.
In addition to looking at how NGOs can trim their administrative costs, this Bitcoin Meet Up will feature information on how digital payment systems are leveling the playing field the world over and granting more opportunities and control for people living in the vastly unbanked third world.
This Bitcoin Meet Up will be held at Old St. Patrick's Church which has an active global outreach mission supporting international NGOs working in India, Africa and Latin America:
1.
Coprodeli
works in marginalized communities in Peru empowering individuals as participants and leaders in self-sustaining education, preventive health, nutrition, humanitarian aid, housing, job training and micro-entrepreneurship programs with nearly 100,000 people.
2.
Fabretto Children's Foundation
works with over 16,000 people providing education, nutrition and community development in Nicaragua, the second poorest country in the Western Hemisphere.
3.
Global Alliance for Africa
partners with locals in Sub-Saharan Africa designing and developing unique and innovative economic strengthening programs for households and communities who take care of and support thousands of children and youth who have been orphaned or made vulnerable by HIV/AIDS.
4.
LIFT
(Leading India's Future Today) works on three tenets: Educating Children, Creating Leaders & Transforming Communities. Since its inception in 2004, LIFT has educated more than 350 children including some who have completed university studies and are now working professionals in southern India. All LIFT graduates provide leadership and mentoring to current students.
So, as old methods of seeking capital are no longer the only ones available to struggling entrepreneurs from shantytowns near Lima, Peru to remote villages in rural Nicaragua, and from crowded slums in India to dusty, forgotten villages in Africa, come see how Cryptocurrencies are creating new opportunities for micro-businesses serving millions of customers in these humble neighborhoods.
We're excited and humbled to have the opportunity to demonstrate the benefits of Bitcoin to these major global organizations. However, the event is open to the public and we encourage any and all to attend the event on Friday, October 24, 2014, 1:00 – 3:00pm

Our team will show you how Bitcoin & digital currency can help the unbanked poor as well as bring a new level of operational efficiency to your organization which will allow you to better meet the goals outlined by your mission.